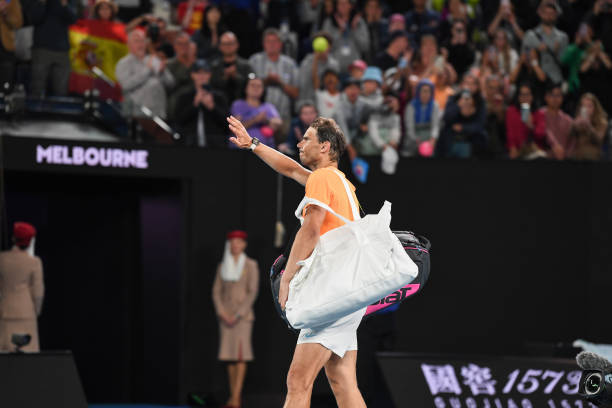 Reigning Australian Open champion Rafael Nadal was soundly beaten by 27-year-old American Mackenzie McDonald, a straight-sets defeat compounded after straining his left hip flexor deep in set two and severely struggled with subsequent movement. Iga Swiatek and Maria Sakkari had contrasting wins, Felix Auger-Aliassime recovered from two sets down to beat Alex Molcan while Auckland titlist Coco Gauff won a rocky battle against Emma Raducanu elsewhere.
McDonald puts injured Nadal to the sword
McDonald bt. Nadal 6-4, 6-4, 7-5 – defending champion's earliest Aus Open exit since 2016
"I'm happy with how I played, served well and returned too, took it to him but tough to stay mentally engaged… He's an incredible champion, never gonna give up, I tried to focus on what I did, got me out of my rhythm but got through," McDonald afterwards
McDonald reveals in presser he spoke to close friend Tommy Paul yesterday, who gave him "a little bit of a gameplan, not too dissimilar from my coach…" citing Nadal's United Cup defeats against Norrie and de Minaur as key: "I wasn't going to fear him this time."
27-year-old will play Japan's Yoshihito Nishioka or Czech qualifier Dalibor Svrcina in R3, part of a section withtwo US Open semifinalists – Karen Khachanov and Frances Tiafoe
Nadal in post-match press conference admits he's unsure whether it's a new or recurring issue, as he hasn't felt this amount of pain before – "so much that I couldn't move…"
What a time for a career-best win. Mackenzie McDonald avenged a straight-sets defeat at the same stage he was blasted off the court by Rafael Nadal en route to his 2020 French Open title.
He was glad afterwards that his strategy worked a treat: the ability to consistently blast the ball in their rallies, hitting flat and taking the game to the Spaniard on a hard court – where the world no. 2 has recently struggled, losing seven of his last nine including two at the United Cup.
"Last time I played him was at [Philippe] Chatrier and he kicked my butt, it's tough on clay but I take it to him on a hard court, got away with it," he said in his post-match interview. Nadal was far from fortunate with how his latest injury blow occurred, but McDonald earned this victory.
The 27-year-old served well and peppered the baseline corners as the American seized the early initiative during another tetchy Nadal display, though the tournament's reigning champion predictably responded encouragingly at the start of set two. It wouldn't last though.
His jabs at umpire Marijana Veljovic came to the fore shortly afterwards, first about the towels and then appearing unhappy about her starting the shot clock too early, not giving him a chance to properly reset and recover some energy between points.
He appeared distracted by that exchange and a few loose shots later, including a lax drop shot into the net, McDonald broke him to go 4-3 up – consolidating it as the physio was called to court after Nadal appeared to pull his left hip flexor straining to return a forehand.
Following a medical timeout off court, Nadal held serve and asked McDonald the serve it out question for a second consecutive set. Despite appearing tight, with a double-fault and sliced backhand long, Nadal netted successive forehands and was now staring at a two-set deficit.
Set three was tense and awkward, McDonald unsure of what to expect while Nadal – clearly still hampered – would either fire off a winner or amble by, there wasn't much in-between.
He couldn't push off or generate much power when serving and his movement was stifled, though he kept pushing before it appeared he pulled up once again. Limping and clearly still compromised, McDonald put him out of his misery shortly afterwards to career win.
They tallied 42 winners apiece, McDonald served 14 aces while recording nine less unforced errors by contrast too. Rod Laver Arena fell silent after it was clear he was injured, before giving him a rousing send-off as the 36-year-old departed into the night, unsure what's next.
---
Gauff holds her nerve, battles past Raducanu
Gauff [7] bt. Raducanu 6-3, 7-6 (7-4)
Raducanu had seven break point opportunities across three Gauff service games in the first set, but was only able to break once – and got broken straight back to go 4-2 down.
Gauff saved three break points at 5-3 and on her second set point, seized the first frame in a match that could've easily gone the distance.
Perhaps that's why the 2021 US Open champion sounded so downbeat in her post-match press conference, aware that – limited practice time or not – she hung in there against the world no. 7.
"All the chips were against us, the chances of me playing this tournament were low.

13 days ago if you told us we'll be in the draw and win a round, wow. On day one, I was on crutches and doing pool rehab… doing everything and taking care of what we can control, a lot we can't, a great collective effort. The limited practice time, to be in that sort of condition… got a lot of work to do from here."

Raducanu reflects on a speedy but busy injury comeback in her presser
This was billed as the most-anticipated second-round match of the tournament across both tours and lived up to the billing on Rod Laver Arena, with a mixture of excellent ball-striking and patchy errors (83 total between them) making for a tense finish in set two.
A really weird game saw Gauff unravel rather quickly on serve and just like that, having gladly taken an early break after a Raducanu double-fault, they were back on serve.
She suddenly struggled to hit first serves, Raducanu targeted the faltering forehand corner and the American teenager appeared to be playing passively.
Her mum in the player box couldn't bare to look. However, she fended off two set points to level again at 5-5 – Raducanu had the set on her racquet but netted a drop shot, and Gauff's athleticism came to the fore in their longer rallies – particularly during a tiebreak.
Raducanu's level improved as she continued constructing their longer rally points well, but wasn't able to finish them and was stung by overcooking rally balls all too often against a more seasoned player responding in time to halt the momentum surge sending them into a decider.
"It was a bit rocky in parts but yeah, hope we delivered to everyone's entertainment. We were both nervous but she handled the pressure well.

At a Grand Slam you have to win seven matches, expect to beat the best, you hope it's not in the second round but yeah… Emma had a tough week in Auckland, good for her to play this level after such a scary moment.

Conditions were slow, tried to hang in there, hard for me to hit through the court, first time playing with the roof closed at night – relieved – I got a peek at my mum with her head down, I don't wanna know what she was thinking."

Gauff about the nerves, praising Emma and more in her on-court interview
On the Eurosport broadcast, there were a number of interesting observations. Former British no. 1 Laura Robson conducted the on-court interview, having watched from the whisper position during the match. When asked about whether she spotted Raducanu struggling physically:
"I was speculating because i could see her touching left ab, I don't know if it was just her skirt or a physical issue – hard to tell in the moment – took pace off the first serve then added more when she needed it most. We have no idea, wait and see what she says in the press conference."
Raducanu didn't give much away when asked the question in press, instead reaffirming a need to keep working on her physical fitness with the rest of her team – indirectly suggesting moments where she was captured wincing, clutching her rib was related to lacking match sharpness.
Tim Henman, a vocal supporter of Raducanu during her US Open triumph two years ago, tried breaking down the Brit's strategy and put things in perspective.
"You can put her unforced errors down to keeping rallies short given Coco's physicality, being over-aggressive to play tennis on her terms. Trying to find the balance in a big match on Rod Laver Arena, that can take time to adjust.

When I watch her play, there's this huge ability because she's such a good player but relatively inexperienced.

Still got a lot to learn but hopefully she can string together more matches, tournaments and move up the rankings – trying to put pieces together."
Gauff will play compatriot Bernarda Pera in R3, after the 28-year-old recorded a surprising 6-4, 6-4 win over China's 29th seed Qinwen Zheng – thus equalling her best ever Grand Slam result.
Raducanu ended her post-match presser referring back to what she'd said previously: the pair represent the next generation of women's tennis and will have many battles in future.
As far as what's next, the 20-year-old hasn't looked that far forward yet. The presence of more niggling issues in recent months isn't an encouraging sign given her lack of tennis, but at least she's buying into with new coach Sebastian Sachs and the rest of the team.
---
Sinner, Sakkari and Swiatek all in the win column
On another day impacted by poor weather, last year's quarterfinalist Jannik Sinner was the first man into the third-round after making quick work of Argentina's Tomas Martin Etcheverry.
6-3, 6-2, 6-2 was the final score in less than two hours for the 21-year-old, who has a stern test against either Marton Fucsovics or Lloyd Harris next – both possible banana skin opponents.
Maria Sakkari is one step closer to equalling her best-ever career result at this tournament, after recovering from a set down to overwhelm Russian teen qualifier Diana Shnaider: 3-6, 7-5, 6-3.
The sixth seed was 4-1 up in set two, and didn't make things easier for herself, but ultimately emerged through after what would've felt like agonisingly long service games.
Iga Swiatek knew a first-time meeting with Colombia's Camila Osorio could be difficult, but raced into an early double break lead and never relinquished control against her agemate: 6-2, 6-3 the final score for the Pole, who'll play 25-year-old Spanish qualifier Cristina Bucsa in R3.
2-6, 7-6 (8-6), 6-4 the final score and a surprising one, given the circumstances: Bucsa saved match point during the second set tiebreak, then they went to-and-fro in the deciding set and 2019 US Open titlist Bianca Andreescu was wayward all too often during the biggest points.
Andreescu won seven more total points (103-96), they both had 31 winners each and the Canadian coughed up three more unforced errors (53-50) in the bigger moments, which ultimately proved costly despite doing well enough to recover from 5-1 down in set two.
"I'm very happy, my best round in the tournament, hope to play well against Iga. It's incredible, I've never had the crowd supporting me like this. My dad, he teaches me, is very tough everyday, this match is for him."

Very big challenge [against Swiatek], she's the greatest player. I'm going to do my best and hope to see you guys again in the next round."
---
Pegula prevails, Kvitova out and Auger-Aliassime recovers
Set two was predictably tough, but world no. 3 Jessica Pegula fended off Aliaksandra Sasnovich's fightback to ultimately win 6-2, 7-6 (7-5), as the Belarusian was punished for her high unforced error count – 41 to Pegula's 22 – their second H2H meeting in four months.
The first was back at the US Open, where Pegula progressed and lost in the quarter-finals to eventual champion Swiatek. If they're to meet this fortnight, it'd be at the semi-final stage.
The American no. 1 will play either Australian wildcard Olivia Gadecki or Amanda Anisimova's conqueror Marta Kostyuk in round three.
The day's first seed to fall also came on the women's side: Ukraine's Anhelina Kalinina ousting Petra Kvitova [15] 7-5, 6-4 in another error-heavy showing by the two-time Grand Slam champion, who has now crashed out at this stage or worse in three straight seasons.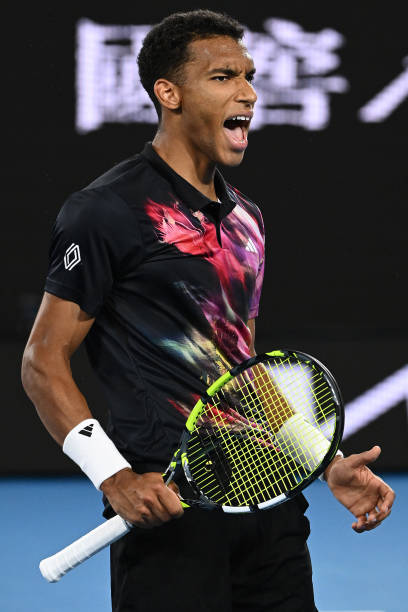 Felix Auger-Aliassime quickly found himself two sets down – even more trouble than against compatriot Vasek Pospisil, but uncle Toni Nadal's charge also started playing with more freedom and began hitting better as a result against Stan Wawrinka's conqueror Alex Molcan.
Into a fifth set they went, a second time in three days for the Slovakian, and it was first blood to Felix as Molcan netted a two-handed backhand on break point.
He consolidated that with a quick service hold and some big serves, before expert shot-making during their longer rally exchanges helped him go 4-1 up. Molcan made him work for it in the end, but Auger-Aliassime finished with a flourish: 3-6, 3-6, 6-3, 6-2, 6-2.
"I was just trying to spend a little more time on court in-front of you guys, find a way to make the match tough and longer.

I got a lot of self-belief and positive thoughts after winning the third set, thought maybe I can comeback… thrilled to come through, a tough day for me.

Just had to keep playing my game with less mistakes, the numbers show it but he was way more consistent than I was, made me work and I missed too much.

It's not rocket science [laughs], I had to put the ball in the court without missing, make it simple and glad it worked out."
He also admitted his serve – 23 aces and 78% first serve percentage in sets four and five – was decisive, helping him stay in and later close out an eventful contest, without much difficulty on serve. The sixth seed will play either Francisco Cerundolo [28] or Corentin Moutet next, in R3.
Tiafoe tames teenage qualifier Shang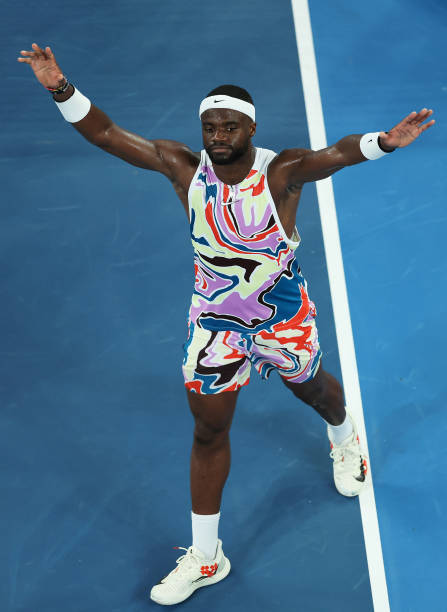 US Open semifinalist Frances Tiafoe knew he had a tricky match on his hands against 17-year-old Chinese qualifier Juncheng Shang, but stayed composed defensively when pinned under pressure during rallies and did better in the big points to earn an early first set advantage.
There was some annoyance after a six-minute break between sets, though the 24-year-old responded in the best way: some fearsome forehands to carve open another break of serve.
Shang showed great court coverage and blistering sprint speed when called upon, racing to return some of Tiafoe's drop shots and defending well whereas most wouldn't have the fearlessness to try.
However, he had no answer for the American's timely big serving – another eight aces further increased his lead. After more hard-fought rallies, Tiafoe had another early break to lead 2-1 in the third. It took him seven match points on the Chinese' serve, but he won 6-4, 6-4, 6-1.
"That dude is special, gonna be a problem for a long time, 17 hitting the ball, moving like that, he's gonna be mean, take all the money from these dudes!

I'm a big fan of his, his weight of shot for how he looks, you wouldn't think he hits the ball as hard as he does – forehand, great shots on the run, skilled, can slice – his serve can get better, he'll be tough. Only 17! Well-coached, got Dante [Bottini], who coached Kei Nishikori and Grigor Dimitrov, keep your head up."
---
Press conference tidbits
Some short, sharp comments from a cluster of post-match press conferences today:
Nadal's conqueror Mackenzie reveals he hesitated and was overthinking a bit after Nadal's injury, but stuck to his guns and was happy with how he executed given the circumstances
"It's really big for me but honestly, not much has changed. Keep going about how I'm doing things… I've got a match to prepare for," 27-year-old says with Nishioka next on Friday
"I practiced with him recently, his anticipation still as good as ever, gonna be ready for the best version of him and play aggressively," Thanasi Kokkinakis says  before Andy Murray in R2
Madison Keys declares United Cup as the "best two weeks" of her life, glad the team camaraderie has continued after tournament victory to start new season
Frances Tiafoe says he's playing some of the best tennis of his career, been motivated by coming so close to "doing something so special," at Flushing Meadows
"Coco is a good mover, one of her strengths is being an athlete and teases errors out of you… I had some chances in the second set, could've done better," Raducanu after her R2 defeat
Tsitsipas on potentially flying under-the-radar over this fortnight: "When I see [just] the two of you [journalists] tonight, I don't mind it… [laughs]. It's fine, better to have a quiet atmosphere, rather have this than a media [scrum]. It's like we're friends, having a conversation!"
Medvedev admits last year's five-set final defeat negatively impacted him and rest of his season, but also expresses happiness with the crowd response so far this term after undergoing hernia surgery, Wimbledon ban and losing to Nick Kyrgios at US Open
"I was really close [to a second Slam], you lose the connection. I enjoy being here and the crowd, super special in Adelaide, a super good atmosphere and look forward to what's next."
I'll be producing daily round-ups with the latest results, game reports and news at this year's Australian Open, so be sure to stay tuned — moandsports.com for the latest coverage.
Picture source: Getty Images, quotes via Eurosport broadcast unless stated otherwise