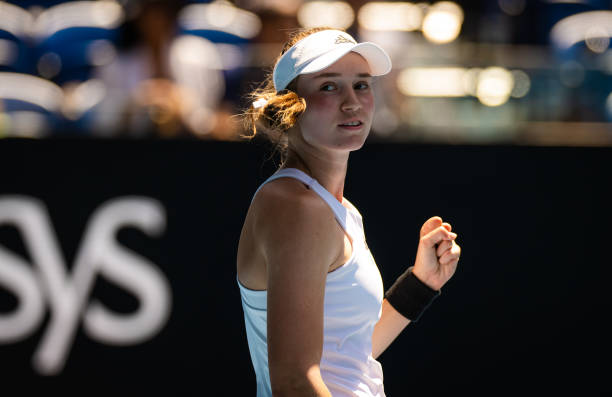 Neither played badly, but both were second best on the biggest points as world no. 1 Iga Swiatek and Coco Gauff suffered straight-sets defeats against a pair of Grand Slam champions in Elena Rybakina and Jelena Ostapenko on a busy Day 7 at this year's Major. Elsewhere, Jiri Lehecka's giantkilling run continued and he'll face an in-form Stefanos Tsitsipas on Tuesday.
Rybakina-Ostapenko as Swiatek, Gauff beaten in straight-sets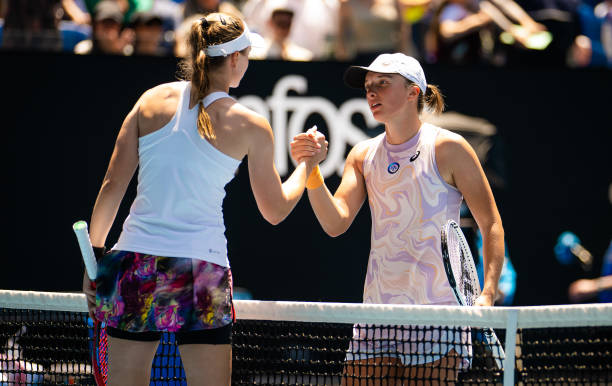 Wimbledon champion Elena Rybakina is into the Australian Open quarterfinals for the first time in her career, after disrupting rhythm and maintaining pressure aplenty en route to earning a straight-sets victory over world no. 1 and fellow Major titlist Iga Swiatek (6-4, 6-4).
Swiatek's serve was under pressure from the very start, and although Rybakina can be guilty of spraying rally balls wide, she also crunched them into multiple winners on this occasion.
Rybakina recorded nine more winners (24) and eleven more unforced errors (25) than the world no. 1, who wasn't allowed an opportunity to get going.
Whenever she had a break, it wasn't there long enough in a closely-contested clash – evidenced by just eight total points between them by the finish line.
"A really tough match, really respect her because [of] the streak she had, Grand Slams… she's a young player, plays really well and today I was serving also good, just struggling on one side but important moments I played well and that made a difference.
Emotionally collected? Of course I feel nervous like everyone but always calm, trying not to show emotions, my coach said I need to show them sometimes… it's a big win and I'm happy to get into the next round."
When asked about watching Gauff-Ostapenko, in progress during her interview: "Yeah we will watch but I'll be ready because it's gonna be another tough match, I know how both play."
---
Unlike most of her high-profile Major defeats in recent seasons…
Auckland titlist Coco Gauff had ample opportunities during a long-running first set, but an inability to take the bulk of them ultimately proved decisive as 2017 French Open champion Jelena Ostapenko got better with time and continued making inroads on the American's serve.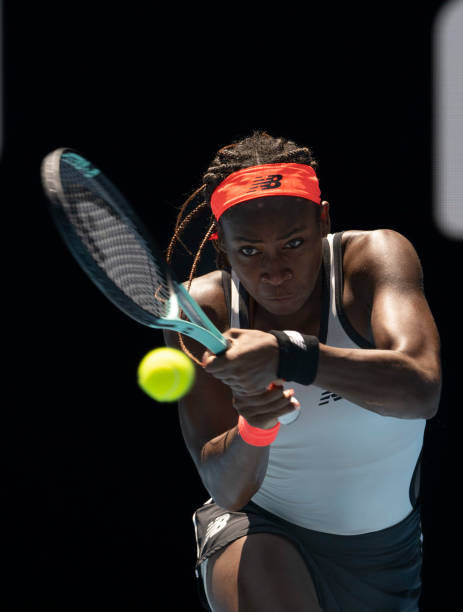 There was a fitting stat flashed across the screen after the Latvian cracked a forehand up-the-line winner to earn (and subsequently seize) a break point at 7-5, 4-3: she had won 23 of 36 pressure points at that stage, and soon Gauff looked resigned to defeat.
Ostapenko's serving ticked up, Gauff's opportunities to break dwindled and the 25-year-old's confidence grew as her ball-striking was rewarded with shorter rallies, more momentum and less fuss in the latter stages.
The pair hadn't played one another since 2019 in the Linz final (Gauff won that in three sets), but Ostapenko avenged that loss in style, making her first Australian Open quarter-final:
"She's such a great player, super young, fighting until the last point but I had nothing to lose, just tried to show my best, fight for every point and make it hard for her.
Stay positive all the time, play aggressive, knew if I do everything right, I'll put balls into the court and put her under pressure."
On facing Swiatek's conqueror Rybakina next for a semi-final berth: "She serves well, most important is for me to be aggressive again and play my game, try to enjoy as much as I can."
Gauff didn't play poorly by any means, but Ostapenko won the bulk of their most important points and marginal gains were key: Jelena had a 15% higher total first serve percentage, while winning all three break points she earned.
Nine more winners (30) and 13 more unforced errors (27), perhaps there's a Day 7 theme that the high-risk, high-reward players were being rewarded.
---
A weird but winning feeling for Khachanov, korda up next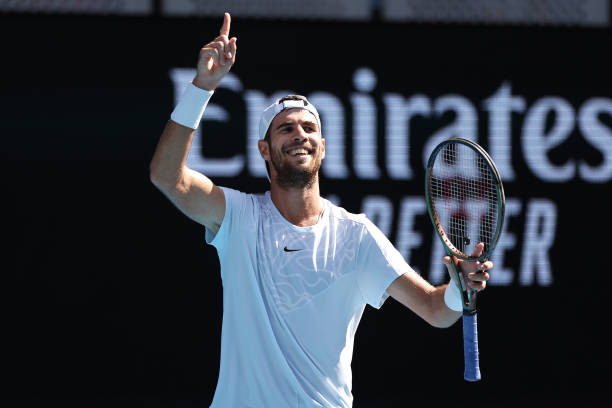 Just like the aforementioned winners, US Open semifinalist Karen Khachanov can also be that sort of player, but experienced a weird fourth-round match against Japan's Yoshihito Nishioka.
Not for the first time this month, Nishioka appeared increasingly angry – at himself, his team, everything – as things weren't going his way. Quickly staring at an ominous deficit on the scoreboard, it only continued as he found himself down 6-0, 6-0 in 45 minutes.
He got a warning for racquet abuse after smashing one to a pulp, continued chuntering without much of a say in games, let alone the sets themselves, before the crowd's eagerness to see him finally get one on the board helped spur him to an unlikely inroads early in set three.
The 27-year-old worked harder, ran faster, hit with more depth and variety as Khachanov did well to stay even-keeled – fending off two break points at 4-4 – and soon they were in a breaker.
The 31st seed let twice (2-1, 4-3), but the Russian replied rather decisively: four consecutive points to secure a maiden Australian Open quarterfinal.
"I didn't know what was going on in the first two sets but it was too easy, looking at the scoreline. Yoshi pumped up the crowd, I tried to stay focused, third set was really tough but I'm playing well."
It'll be interesting to see how he fares and handles another crowd who prefers his opponent to him, a youngster finding himself in new territory: Sebastian Korda, after recovering from a set down to edge past Hubert Hurkacz in a deciding set tiebreak: 3-6, 6-3, 6-2, 1-6, 7-6 (10-7).
It was a nervy watch for the 29th seed, who left it late – and almost lost it – but eventually backed up his Daniil Medvedev scalp from the previous round. Hurkacz started well, while Korda struggled to find the court early on (43% first serve in set one).
It wouldn't last though, as he applied pressure on the Pole's service games early in set two and got his reward soon enough – cleaner ball-striking saw him take the third too.
Hurkacz wouldn't go away, winning 12/13 points behind his first serve in the fourth, and Korda's frustrations boiled over as he couldn't do the same.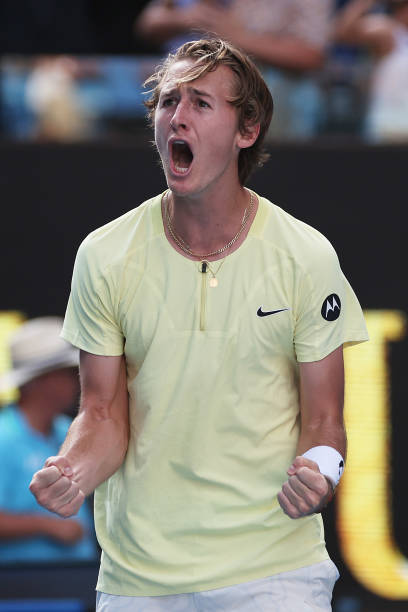 Into a deciding set they went and it made for compelling viewing, the 22-year-old American expertly saved two break points at 5-5 and a ten-point tiebreak to finally settle them felt fitting given the efforts of both.
Korda was 3-1 up, then 7-3 ahead after Hurkacz surprisingly netted a forehand smash. A few loose points later, it was 7-7 and they were finely poised once more.
An excellently-constructed point, finished with a smash sending Hurkacz sprawling near the service speed monitor – before a big serve forced an error.
Two match points as the crowd bayed for him to finish it, Korda obliged: a forehand up-the-line winner to finish a 27-shot rally.
"I couldn't have done it without you guys, wasn't feeling too much energy in the fourth and fifth, you guys picked me up. Just tried to stay calm, coming to play in the day with different conditions is difficult. Lost it a little bit but tried being positive."
---
in-form Pegula pushes one step further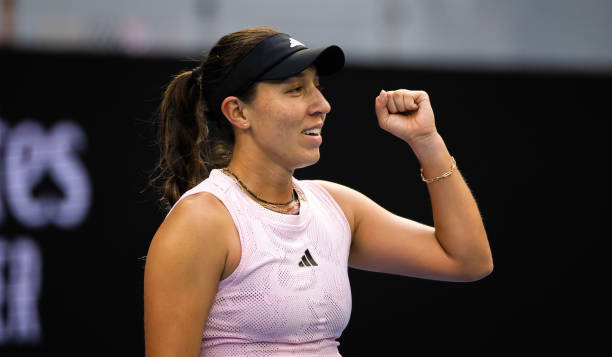 World no. 3 Jessica Pegula was made to work hard for it, but eventually earned a 7-5, 6-2 win over 2019 French Open champion Barbora Krejcikova. She twice served for the first set, with Krejcikova doing well defensively to pose all sorts of questions for the American.
There was a moment where Pegula could've gone into a shell and lost her way quite quickly before set one's conclusion, being punished for failing to quickly follow her drop shot at the net.
Instead though, as her coach David Witt looked confused, she stayed composed under duress and produced more big ball-striking.
Krejcikova could only watch with frustration as she walked to the chair, after a close call replay showed the ball narrowly kissed the far right tramline on Pegula's third set point.
They exchanged breaks to start set two, but Pegula's clean hitting and pressure on the Czech's serve proved key – winning five of the last six games to finish a convincing winner.
"I returned really well, got a better feel for her serve. After I scraped the first set, was proud of how I fought back in – was getting annoyed but stayed focused and got it out. I perform best when I'm relaxed. Hitting is boring, I'd rather play doubles with Coco – I know she lost but she had a good tournament, rather compete than sit around nitpicking things that can go wrong."
As for who's next, Pegula revealed that she had practiced with Tuesday's opponent back home in the US, while they played at this event two years ago – Pegula won 7-5, 6-4 in the very first round.
That will be two-time Australian Open champion Victoria Azarenka.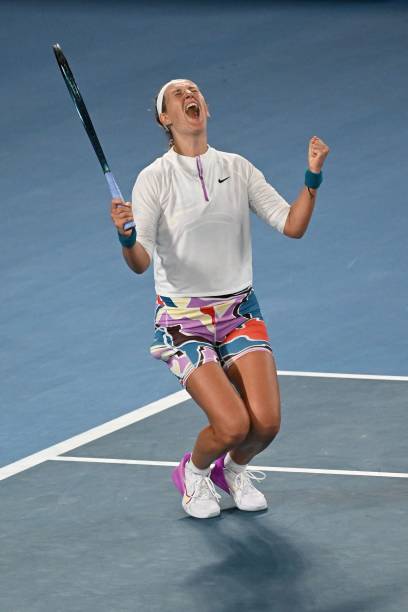 You could tell by her passionate reaction full of relief immediately afterwards, just how much it meant to overcome adversity against China's Lin Zhu.
She was, predictably, put through her paces and had to save a pair of break points in the final game, eventually recovering from a set down to beat the 28-year-old.
Zhu, who took out Maria Sakkari in the previous round, was ready to produce another late night upset.
Azarenka knew she'd have to mix aggression with depth and precision, constantly keeping the Chinese on her toes and guessing during their rally exchanges.
That came to the fore during pressure points in the deciding set.
However, the new world no. 54 will perhaps have regrets about how things finished: both break points were quickly saved before overcooking a forehand crosscourt passing shot on deuce – with Vika scrambling – to give the Belarusian match point.
A backhand passing winner of her own sealed victory in two hours 40 minutes.
---
Lehecka-Tsitsipas, as Auger-Aliassime and Sinner beaten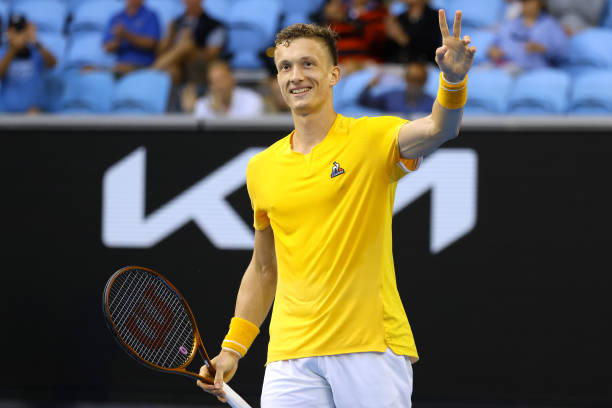 Czech rising star Jiri Lehecka's giantkilling run continues, and he was excitedly keen to stress it's not over yet, after holding his nerve in two consecutive tiebreaks to oust last year's quarterfinalist and tournament sixth seed Felix Auger-Aliassime: 4-6, 6-3, 7-6 (7-2), 7-6 (7-3).
"I'm super happy that I'm through and excited. I felt good from the baseline, helped myself with the serve a lot, he [Felix] knows how to finish points after big first serves, so I had to focus on that myself."
He cited losing their previous meeting (Rotterdam) last season as motivation, fancying his chances against Tsitsipas on Tuesday. It very nearly wasn't him in the last-eight, though.
Two days ago when reviewing Sinner's comeback win over Marton Fucsovics, I said he couldn't afford a slow start against familiar foe Stefanos Tsitsipas. That proved prophetic earlier today, as Tsitsipas endured a fiery mid-match fightback by the Italian en route to his own five-set victory.
Sinner didn't do much wrong in the first two sets, but lost the bulk of their most important points and struggled to seize many break point chances on the Greek's serve. He was 2-of-8 in that period, and just 4-of-26 (15%) overall. Whichever way you look, that just isn't good enough.
Sinner was more assured on his serve and made Tsitsipas uncomfortable around the baseline during their rally exchanges, and soon seized openings he hadn't previously.
But as the 24-year-old revealed to Jim Courier post-match, a technical tweak to start the deciding set proved key: "I just released my arm a little bit, wrist on the serve, generated more power and accuracy – which I wasn't doing before – minor adjustment helped me serve it out pretty well without being tense." 
Those in-game changes are exacerbated from Sinner's perspective when you fail to take advantage of prior openings. He fought well given the circumstances, but ultimately it's a familiar feeling for the Italian – now 1-5 in the historical H2H matchup against Tsitsipas.
I'll be producing daily round-ups with the latest results, game reports and news at this year's Australian Open, so be sure to stay tuned — moandsports.com for the latest coverage.
Picture source: Getty Images, quotes via Eurosport broadcast unless stated otherwise