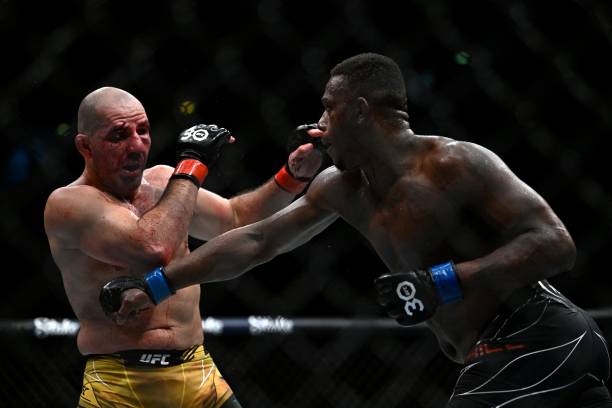 Jamahal Hill became the first Dana White's Contender Series graduate to earn UFC gold after a dominant, exhausting five-round decision win over former champion Glover Teixeira, who announced his retirement post-fight. Elsewhere, Brandon Moreno ended his Deiveson Figueiredo series with a third-round TKO before his rival confirmed he'll be moving up to bantamweight – while there were emphatic victories for Gilbert Burns and Jessica Andrade.
How do you like me now?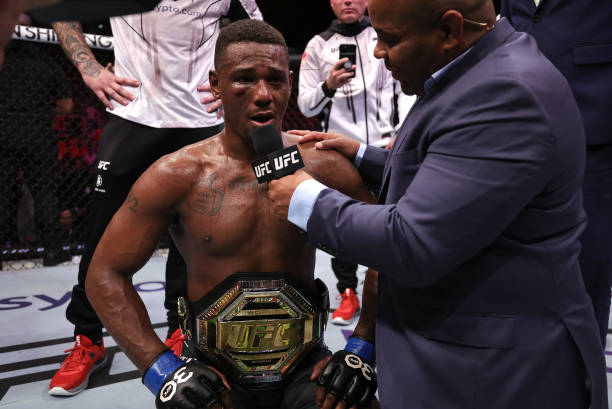 50-44, 50-44, 50-44: Jamahal Hill bt. Glover Teixeira via unanimous decision, becomes new light-heavyweight champion
"I told [my team], the toughness, speed was there, I felt great in this fight… I think I'm too tough for my own good, I can't keep up anymore. I'm gonna focus on Poatan, he'll reign for a long time and then go up to light-heavyweight," Teixeira says, confirming retirement
"Where I came from, to get to this… too many people told me I couldn't do it, it was impossible… has to be inside a round, I couldn't go five [rounds], what you got to say now? Everyone that's coming, you see where I'm at," Hill declares, welcoming challengers
After Jan Blachowicz vs. Magomed Ankalaev debacle last month meant the title remained vacant, Hill is the first Contender Series alum to become a UFC champion
The dream scenario for former champion Glover Teixeira was to produce an impressive showing, rolling back the years on home soil in Rio de Janeiro, then retire on top of a division littered with movement at the top over the past three years.
Instead, the 43-year-old knew he'd be in for a difficult assignment early on after repeatedly threatening takedowns that were constantly stuffed by Hill. In response, the #7 ranked contender landed good kicks and was flowing well with his stand-up skills too.
"Move your head, stop with one strike at a time, give me some two and threes," was the command from Glover's corner – easier said than done given the speed differential between the pair, something Hill continued to exploit throughout.
Jamahal seriously wobbled Teixeira in R2 after landing a trio of left head kicks, an uppercut through the guard and some straight shots too.
Guilty of being overeager, he survived a bit of danger himself as the roles reversed briefly – Teixeira finally getting him to ground, though not for long enough to fashion a submission.
Teixeira was leaking blood and running on fumes in the third round after absorbing one too many head kicks flush, stumbling to the mat and just when you thought referee Marc Goddard would stop the contest, he'd throw wildly and do enough to keep the official away.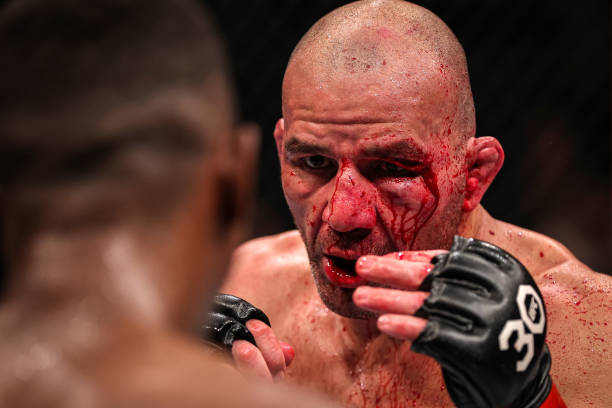 Hill's success levels increased though, as Teixeira couldn't see out of his left eye properly and was sporting some rather gruesome cuts around both his eyes before R4 began.
He threatened a hail mary, but not much else in the first championship round as many called for Teixeira to be mercifully stopped for his own good.
Hill's piercing jab had landed early on, and now he kept persisting with those aforementioned kicks, knowing he kept defending takedowns with relative ease while being content in his ability to outstrike the former champion – whether up close or at distance.
Despite having so much blood in-and-around his eyes that he couldn't see properly, Teixeira avoided the same fate as Figueiredo – more on him later – passing the doctor's assessment before the fifth and final round.
Hil meanwhile, had unofficially surpassed Marvin Vettori for the most significant strikes landed in a light-heavyweight contest and knew there'd be more work to do still. The pro-Teixeira crowd were in for an early, fleeting surprise to start the fifth: a rare takedown for their man.
The 43-year-old got the hands locked and secured only his second in 17 attempts, in what felt like his final throw of the dice. He scrambled to secure full mount and got it momentarily, before Hill reversed position and held firm, the final act typifying a dominant victory on enemy soil.
---
Staying patient pays off for Moreno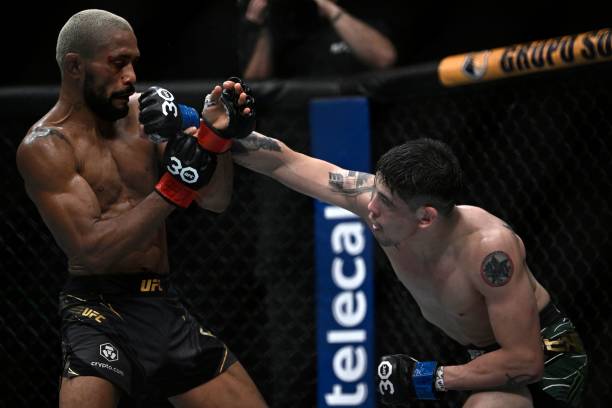 R3, 5:00 – Brandon Moreno (ic) bt. Deiveson Figueiredo (c) via TKO (doctor stoppage), unifies titles to become two-time flyweight champion and end tetralogy
"I understand the people [booing], but they need to understand we were trying to get food for our families. I was so emotional on the last one, just tried to make him tired, take my time and that's it. Viva Mexico!" Moreno is now a two-time champion at 125lbs
"Unfortunately it's time to leave this division, I'm moving up. It was Brandon's night, 'm tired of making this weight," Figueiredo confirms he'll move up to bantamweight
Moreno fought the perfect fight through 10 minutes, with wrestling and grappling aplenty to frustrate the champion – who threatened a guillotine choke midway through R2 but was comfortably second best, unlike their trilogy matchup twelve months prior.
Moreno, who returned to action later in the year with a R3 TKO win over Kai Kara-France at UFC 277, was again noticeably much faster during their stand-up exchanges while staying defensively responsible, which wasn't the case as he found himself outpointed at UFC 270.
Moreno's left hook in R3 saw Figueiredo recoil in pain and immediately complain to referee Herb Dean, who ignored his protests about a possible eyepoke. Replays showed that was justified.
Moreno raced to log more ground control time with another takedown, wearing on the God of War's physical reserves as he was still visibly bothered by the eye issue in bottom position.
Although his corner delivered instructions, they didn't matter. Figueiredo couldn't see out of his right eye and after a brief doctor's assessment, the fight was ended between rounds.
An anti-climactic ending to an unexpected four-fight series, sure. Figueiredo looked slower and lacked urgency, much like their rematch two years prior, and it'll be interesting to see how he campaigns at 135lbs – he's not young (35) and the division is a deep, tough one.
---
Elsewhere on the main card…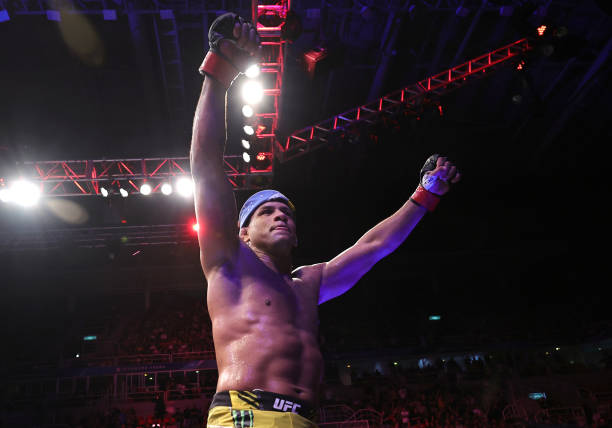 Former welterweight title challenger Gilbert Burns [5] insisted "they're not on my level," when asked about prospective opponents post-fight – having eased to a R1 head-and-arm submission win over Neil Magny [12]. One thing's clear though: he wants a quick turnaround.
There wasn't much upside for Durinho besides dusting off the cobwebs when this fight was announced after being involved in a FOTY contender against Khamzat Chimaev last April.
However, he did as promised: delivering a stoppage win against a tough test in Magny, before passionately calling out former interim titlist Colby Covington.
It quickly became a tough watch, but a predictable outcome all the same as former women's strawweight champion Jessica Andrade scored a number of new career-highs during a dominant decision win over former title challenger Lauren Murphy (30-25, 30-25, 30-26).
After a display like this, where she again showcased her strength by defending takedowns and refusing to get involved in grappling exchanges, she might just get the Zhang Weili title shot.
In the main card opener at 205lbs, Johnny Walker [12] earned an unorthodox first-round TKO win over Paul Craig [9] – landing a stinging right cross before following up with a series of strikes after a leg kick was caught, leaving the Scotsman defensively helpless shortly afterwards.
---
Prelim, early prelim results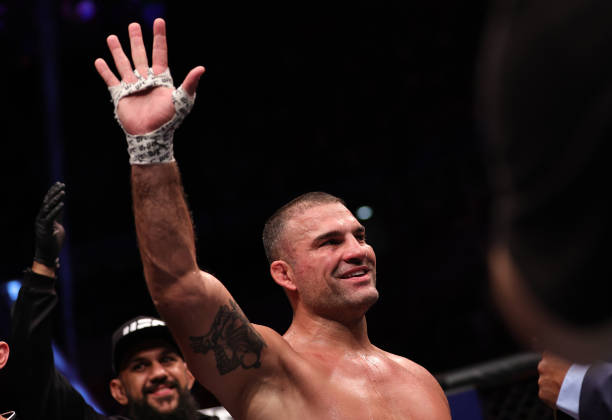 In the featured prelim, former light-heavyweight champion Mauricio Rua suffered a second stoppage defeat (R1 TKO, 4:05) in his last three fights against Contender Series graduate Ihor Potieria, before the 41-year-old legend confirmed he'll retire during the post-fight interview.
Middleweight Gregory Rodriguez, who earned bonuses for stoppage wins over Julian Marquez and Chidi Njokuani in his last two fights, couldn't string together a three-fight win streak with the promotion as he fell short rather emphatically (R1 KO, 4:13) vs. compatriot Brunno Ferreira.
After two defeats against now-champion Islam Makhachev and Spain's Joel Álvarez in the second-half of 2021, former ranked lightweight contender Thiago Moises continues his quest on the winning trail. This time around, it was against short-notice replacement Melquizael Costa.
A fight on home soil is never a given for Brazilian fighters, especially after COVID-19 made travelling almost redundant of late. Originally slated to face Guram Kutateladze, he wasted no time against the newcomer (R2, 4:05 – face crank) in the promotion's return to Rio de Janeiro.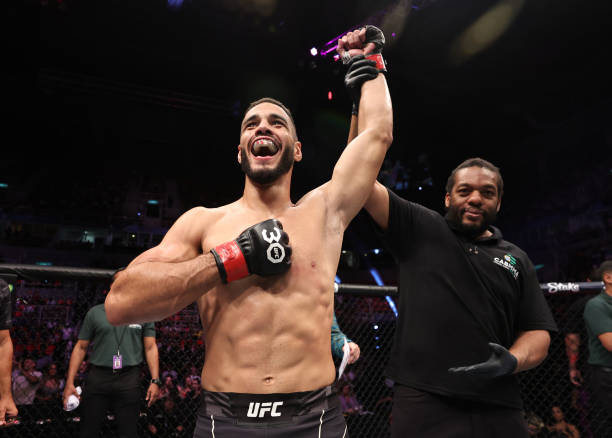 Including his UFC debut on Fight Island in July 2020, Tunisian welterweight Mounir Lazzez is now 2-2 with the promotion after suffering a first-round submission defeat (via guillotine choke) by unbeaten Brazilian prospect Gabriel Bonfim (14-0).
A submission specialist, the 25-year-old still hasn't gone the distance in any of his fights to date… and certainly looks the part to cause some damage at 170lbs.
27-year-old lightweight signee Ismael Bonfim, older brother of Gabriel, made his UFC debut one to remember as he scored a second-round flying knee KO win against Terrance McKinney.
After logging a decision win on the Contender Series back in early September, he produced his ninth knockout victory against a gamely opponent whose fighting style has produced plenty of dramatic, one-round endings – including his own razor-sharp debut at UFC 263.
---
jailton almeida – One to watch: brazilian into division's top 15
Jailton Almeida was almost a -1000 betting favourite heading into this contest with Shamil Abdurakhimov [14] and within a few seconds, you could understand why.
After landing a high head kick, he absorbed a big right hand – then charged for a takedown and secured a big one, slamming the Russian on the mat, much to the crowd's delight.
A leg trip takedown gave him a more favourable position closer to the centre of the cage after the 41-year-old returned to his feet briefly, before finding himself in full mount.
Quick, slick transitions saw him secure back control and threaten chokes, while ground strikes – slicing elbows through the guard – landed as the 15-year pro just managed to survive the round.
Fight back was the cry from referee Fernando Portella after R2 started in similar fashion and while he was desperately looking for a way out of danger, Jailton's quick thinking and physical strength were on display as he dragged him back to the canvas during an ominous sequence.
Soon enough, the home favourite rained down with a flurry of unanswered punches in top position and it was all over (R2 TKO, 2:56). Now on a 13-fight win streak, he's only behind Islam Makhachev, Sergei Pavlovich and Jalin Turner (all 5) with longer active stoppage streaks.
Now with a number next to his name, he inflicted the fourth straight defeat of Abdurakhimov's UFC stint and he was released from the roster after that latest beatdown. "I'm ready for whoever," he declared post-fight. Heavyweight will be glad to have a new contender in the mix.
---
In the first of three fights at welterweight on the night, it was veteran Nicolas Dalby who remains on the winning trail: edging a split decision victory (29-28, 28-29, 29-28) against Warlley Alves.
Bantamweight stalwart Cody Stamann has won two fights in a row for the first time since March 2018, after outpointing Luan Lacerda over 15 minutes en route to a 29-28 UD scorecard.
Josiane Nunes defended her top-15 ranking in the women's bantamweight division, despite going up a weight class to outpoint France's Zarah Fairn Dos Santos (29-28 x 3), who returned to the Octagon after a near three-year layoff, but now finds herself on a three-fight losing skid.
In the card's opener at bantamweight, Peruvian hopeful Daniel Marcos scored a second-round KO against Saimon Oliveira – landing a knee to the body and following up with punches, on his debut after earning Contender Series success as well as a promotional contract in September.
What's the next UFC event? Fight Night card at the Apex on February 4, headlined by hard-hitting heavyweights Derrick Lewis [7] vs. Sergey Spivak [12] before UFC 284 in Perth, Australia.
Picture source: Getty Images