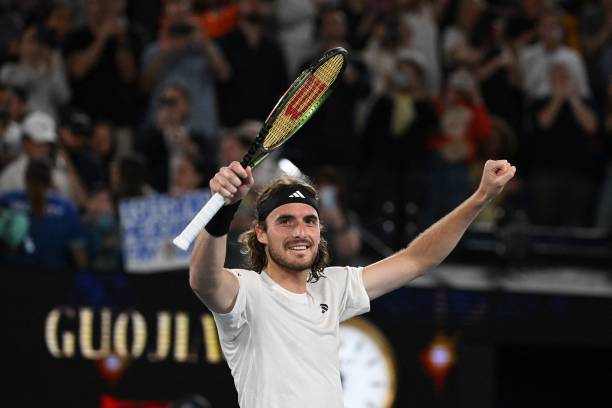 Victoria Azarenka started well and didn't let up, as she ended Jessica Pegula's eight-match winning streak – to punch her ticket into a ninth Major semi-final. She'll face reigning Wimbledon champion Elena Rybakina on Thursday, who dropped just one more game against Jelena Ostapenko. Elsewhere, Karen Khachanov will target a first competitive H2H win over Stefanos Tsitsipas after their contrasting wins over Sebastian Korda and Jiri Lehecka on Day 9.
Azarenka ascends to convincing win, ends pegula's streak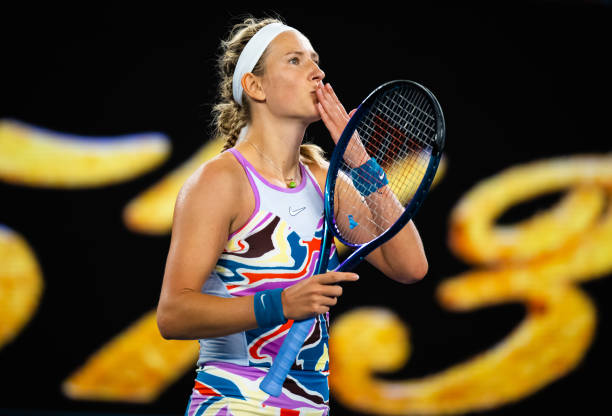 Azarenka [24] bt. Pegula [3] 6-4, 6-1
Pegula entered this contest on an eight-match winning streak, and Azarenka has been a slow starter recently against Madison Keys and Lin Zhu. She certainly wasn't here. 3-0 up in no time, the world no. 3 saved six break points to finally get on the board after an 11-minute service hold.
The match commentators were questioning Azarenka's ability to sustain such a high level, and understandably so, because she was hitting all of her spots and applying suffocating pressure on Pegula – who worked considerably hard to give herself a chance at keeping things competitive.
Like Alex de Minaur and others yesterday though, the American was chasing a lost cause. Azarenka was inspired by her purposeful start up a break and, even after being broken back at 5-4, responded by winning four of the next five points – on Pegula's serve – to take it 6-4.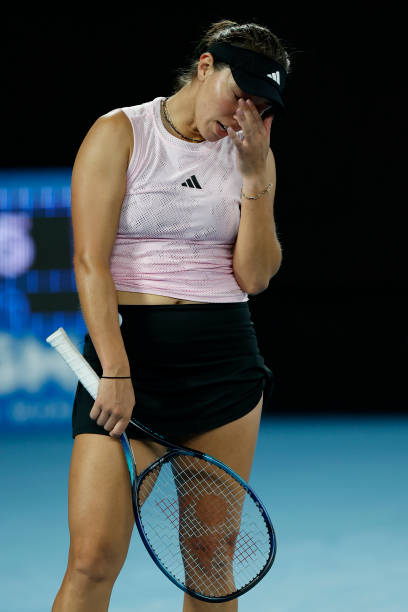 The 28-year-old was visibly unhappy and rightly so, as the scoreline continued to mount against her after spraying more groundstrokes long. Azarenka greeted each one with a clenched fist, gaining momentum and growing in confidence after threatening to drop her own level slightly.
Pegula was agitated and unable to mix up her game with much conviction, despite some spotty success with drop shots and slice variation bringing the Belarusian towards the net.
It wasn't long before the 33-year-old read those shot choices and duly adjusted, or watched Pegula unable to sustain long baseline rallies with depth without spraying a forehand long. Her 46th Australian Open win, she's two away from sealing her third Major title – all at this event.
Afterwards, she discussed the difficulties of playing a friend with so much at stake for both before providing some insight into how her mental state has improved over this past offseason:
"It hurts to beat her because I want her to do well but have to play my best tennis [against her], she's been playing amazing, we had so many rallies and I wanted to stay there, take my opportunities because if I don't, she'll take them. I'm very proud I executed, it's amazing to be in another Grand Slam semi-final.
My tennis wasn't bad but I wasn't there mentally last year, played with a lot of fear, it was difficult to be brave and make the right decisions. I was hesitant but worked a lot on mindset and challenging myself. When you achieve great success, you're conservative and hesitant to try new things, this offseason I was open-minded and put my head down, just worked hard."
---
after overcoming ostapenko challenge, Rybakina awaits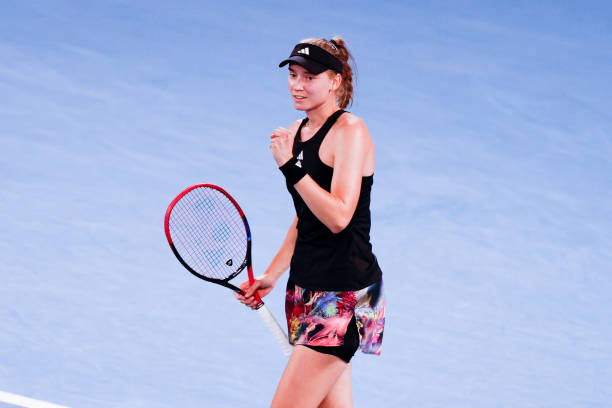 Rybakina [22] bt. Ostapenko [17] 6-2, 6-4
Azarenka will now look to avenge her Indian Wells defeat last March by Wimbledon titlist Elena Rybakina, who held off a second set fightback against Jelena Ostapenko earlier in the day.
Just like against Iga Swiatek, Rybakina put down an early marker of her intent. 14 minutes in, she had a break point for a 4-1 lead against 2017 French Open titlist Jelena Ostapenko. Some untimely rainfall meant a 30-minute delay, but the hard-hitting Kazakh got it.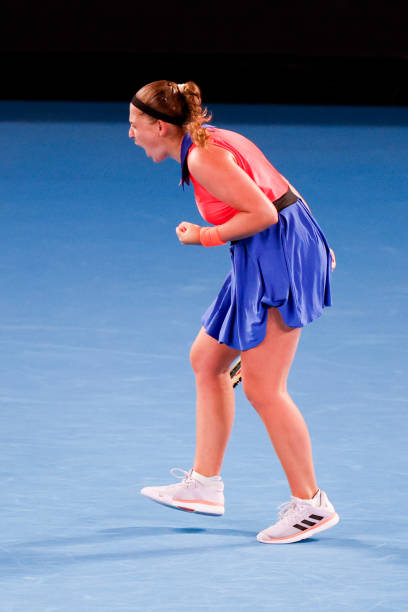 Ostapenko's errors from both corners crept up as time wore on, finding herself compelled to go for lines with shots and apply pressure on Rybakina.
It worked at times, but failed in other moments and she needed to reset in set two after watching two break point chances flash by.
To her credit, the Latvian did so and let out a roar of come on after Rybakina netted a forehand down break point – leading 2-0 and serving to increase her advantage.
Her 150km/h serve out wide was met with a forehand crosscourt winner, during a loose service game that quickly evaded her grasp. So much for that audible assertiveness earlier on.
Rybakina saved four break points in an eight-minute service hold to level at 2-2, broke in the subsequent game, and the writing was soon on the wall for Ostapenko. She saved two match points down 5-4, but the 23-year-old's 11th ace – eighth in set two – sealed a well-earned victory.
---
Khachanov breaks new ground as Korda retires injured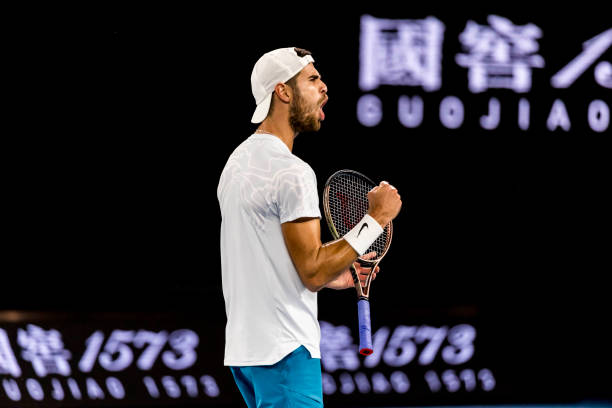 US Open semifinalist Karen Khachanov [18] is into his second Major semi-final, after a 7-6 (7-5), 6-3, 3-0 ret. win over Sebastian Korda [29], who couldn't continue after sustaining an innocuous wrist injury midway through set two – which worsened despite medical treatment.
He led 3-2 in the second set, a welcome response after narrowly losing the tiebreak, but called for the trainer at the changeover and his right wrist appeared in considerable discomfort.
They re-taped it, but that only restricted his movement, and it was soon clear this wouldn't last much longer. He didn't win another game.
The Olympic silver medallist started brilliantly and threatened to blow Korda off the court after 20 minutes. He led 5-2 at one stage, but some improved ball-striking and better decision-making by the 22-year-old saw that commanding advantage disappear when he served for the set at 5-3.
His persistent power and flurry of aces (12, 7 in set one) helped strengthen the cause early on, but his pressure to keep the American pinned behind the baseline was also key in allowing him to continue crunching the ball like a metronome during their longer rallies – while forcing errors.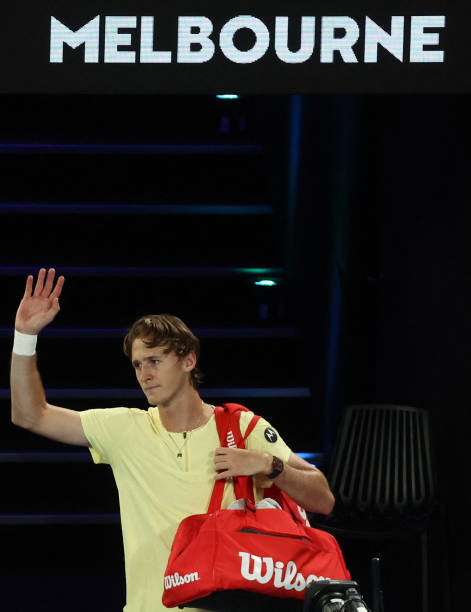 There were a few points Korda would've wanted to replay during the latter stages of set one, particularly in the tiebreak after some cheap mistakes behind his serve, but even if he'd edged that tiebreak, it's hard to envisage him winning given the condition he was in by the end.
It'll be a tough blow to take for Korda, who started his season well in Adelaide before narrowly falling short in the finale against Novak Djokovic. He reached a Major quarter-final for the first time in his career – fittingly at the very same event he won five years prior as a junior.
Winning ugly isn't desirable but it's necessary and he did so against Hubert Hurkacz on Sunday, backing up the Daniil Medvedev scalp. With more luck, who knows what might've happened?
---
Tsitsipas next, after he ends Lehecka's first Major run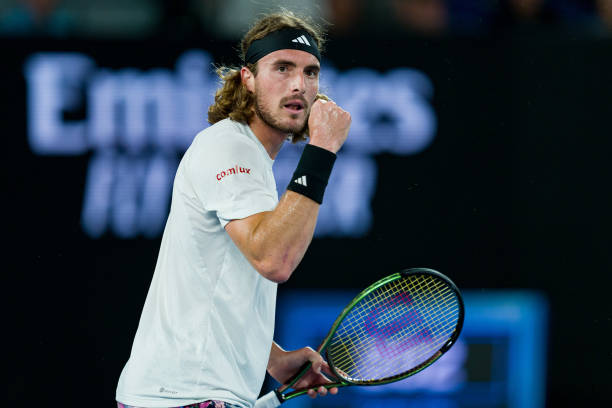 As for Khachanov, the tests don't get any easier: Stefanos Tsitsipas on Friday, after a 6-3, 7-6 (7-2), 6-4 win over first-time quarterfinalist Jiri Lehecka to conclude the day's night session.
He said all the right things to Jim Courier in his on-court interview, but was about a split-second away from being defaulted midway through set three. After an errant return on the Czech's serve at 4-3, 30-15, he angrily swatted a ball and almost hit one of the ball kids at the back of the court.
It's another insight into how he's teetering on the edge between expressing emotions and needless overenthusiasm, all things considered. For someone who has consistently been at the latter stages of Majors and is ready to win one, that moment was far from a reassuring sign.
His serve was again a weapon, though nine aces on the evening don't do him justice. He came into the contest having saved 85% of the break points faced during this tournament, and saved all eight in just two games as Lehecka's opportunities were few and far between.
Explosive ball-striking from both suited the Greek, who started better and repeatedly punished the 21-year-old's inability to close out tight games.
Lehecka settled as the first set scoreline suggested another early night, but was unable to take any of his five break point chances at 2-1 in set two. It came back to haunt him, despite taking that set into a breaker, which Tsitsipas began aggressively and was quickly up 4-0.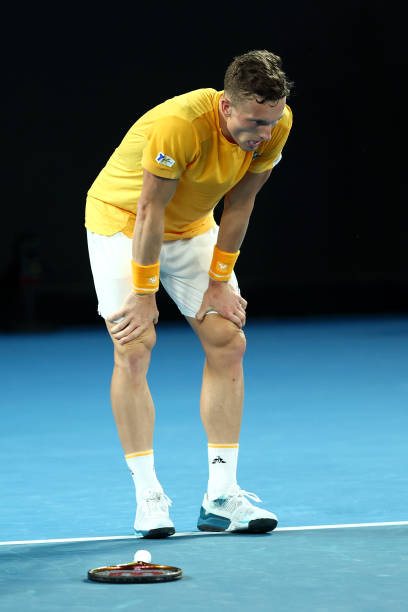 Lehecka's resolve started to wane midway through the third, framing shots and inadvertently firing rally balls into the night sky without warning.
He was under scoreboard pressure, serving second, and should've taken one of the three chances at 3-3, 40-0 on Tsitsipas' serve.
The 24-year-old said his experience and a 'spartan attitude' saw him recover from such a position, but that tongue-in-cheek reply may have got a crowd reaction but won't soften the blow for Lehecka. On the first, he netted a forehand on Tsitsipas' 149km/h second serve.
Another second serve came on the next, and he was comprehensively wrongfooted with a forehand winner into the corner.
How about a 188km/h ace down the t on the third? He set up the point well, but a backhand sliced volley didn't make it over the net on deuce. Tsitsipas was soon back in his chair, pumping himself up and it was over not long after, an experience both will learn from in different ways.
"One of the most difficult three-set wins in the competition, Jiri had a good tournament and is a great player. I had to deal with heavier, deeper groundstrokes, really put my heart out there, the tiebreak was crucial… my opportunity to take a massive lead – happy with how I closed it."
---
so, what's next?
Singles quarter-finals
Wednesday
Karolina Pliskova [30] vs. Magda Linette
Aryna Sabalenka [5] vs. Donna Vekic
Ben Shelton vs. Tommy Paul
Novak Djokovic [4] vs. Andrey Rublev [5]
Thursday: semi-finals
Elena Rybakina [22] vs. Victoria Azarenka [24]
Pliskova/Linette vs. Sabalenka/Vekic
Friday: semi-finals
Karen Khachanov [18] vs. Stefanos Tsitsipas [3]
Shelton/Paul vs. Djokovic/Rublev
I'll be producing daily round-ups with the latest results, game reports and news at this year's Australian Open, so be sure to stay tuned — moandsports.com for the latest coverage.
Picture source: Getty Images, quotes via Eurosport broadcast unless stated otherwise