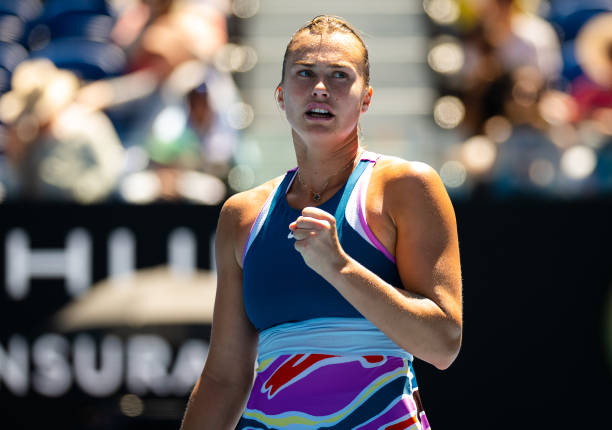 Magda Linette's Major run continues after she downed an errant Karolina Pliskova, with Aryna Sabalenka to come in the second of Thursday's semi-finals as the fifth seed was a convincing winner against Donna Vekic. Afterwards, experience proved key for Tommy Paul as he ousted young compatriot Ben Shelton in a battle of two first-time quarterfinalists, setting up a Friday fight against nine-time champion Novak Djokovic after making quick work of Andrey Rublev.
Linette stifles error-prone Pliskova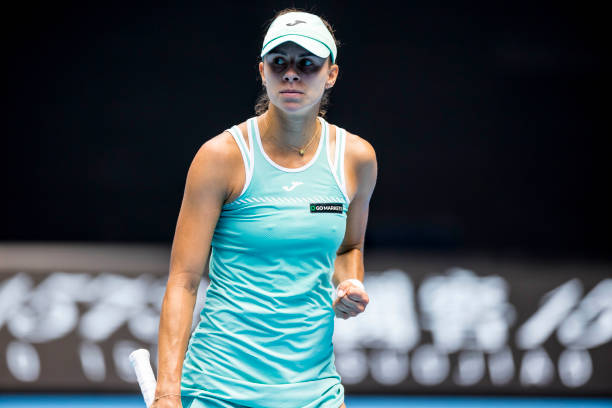 Karolina Pliskova might've hinted at being happy with her draw during Monday's press conference, but those comments came back to bite her in a big way as Magda Linette's career-best Major performance continues after a 6-3, 7-5 win over the two-time Grand Slam champion.
After beating Shuai Zhang in less than an hour in R4, the former world no. 1 said: "I don't want to say it's a good draw, but if you look at the ranking… of course, it's her first quarters.. I've watched her a bit this week, I think she's really improved her game and is starting to belief, is a fighter from the baseline. If I serve well, yeah, but it's not going to be easy."
Having exchanged breaks to start the match, Pliskova was spraying errors (14-4) in set one and that proved decisive in a set that could've gone either way. She set up a break point opportunity in the ninth game, but overcooked a forehand on Linette's 123km/h second serve.
That proved her only chance to restore parity, as two more unforced errors followed and Linette had a set to build upon, watching Pliskova smash her racquet in frustration down the other end.
The 30-year-old outlined how her serve would need to be a weapon, and it was anything but in the early going – three double faults, 45% first serve and 2/11 second serve points won too.
In fairness to her, the level was markedly better in set two – 74% first serve, despite having to save three break points in successive service games at 2-2 and 3-3. The exchanges were longer and as such, Linette hit more unforced errors too (12).
However, she earned a quick service hold to prolong the set when down 5-4, and the pressure suddenly mounted for Pliskova. She served two double-faults at 15-all, before netting a forehand to gift-wrap the Pole a chance to close it out.
That she did, despite losing the game's first point after a nine-shot rally. Not to worry, as she'd have the last say in a 13-shot exchange to set up match point. Pliskova netted a forehand, and Linette's expression of disbelief returned once more – she's into the semis.
---
sabalenka overcomes vekic in scrappy straight-sets win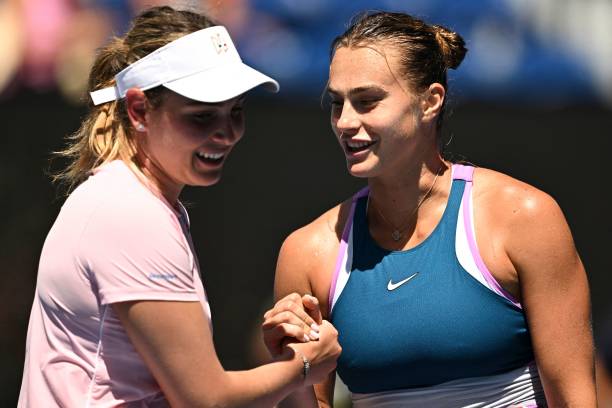 Linette will play Aryna Sabalenka, after she won 6-3, 6-2 against Donna Vekic in the day's other women's quarterfinal matchup. The Belarusian is now a four-time Major semifinalist, but lost in all of her three previous encounters at this stage – so will look to rewrite the story tomorrow.
When asked in her press conference about playing the fifth seed, the Pole shifted pressure onto her shoulders. On paper, she should be an overwhelming favourite to make it into Saturday's final, especially if their last meeting at the Tokyo Olympics (6-2, 6-1 victory) is anything to go by.
Pliskova was guilty of falling into the same trap though, and the early stages of a topsy-turvy contest against Vekic – who has dominated their H2H – meant this match was there to be taken.
In set one alone, there were 15 break point opportunities across eight service games. Pliskova-Linette had 13 total. Vekic's serve was jarring to watch and that weakness would always hurt her against Sabalenka, who doesn't need help blasting opponents off the court once she gets firing.
Sabalenka wasn't much better, but masked it with considerably more winners (20-11) and kept the Croatian from a comfortable service hold throughout.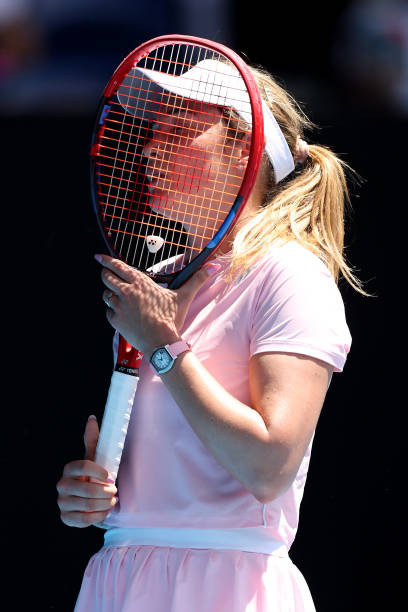 After briefly recovering from 0-30 down on serve with a forced error and ace down the t, a Vekic double-fault at 30-all in the eighth game gave Sabalenka another break point. She gladly took it, during a lengthy encounter with one more total unforced error (60) than winners between them.
The pattern continued in set two, after Sabalenka saved a break point herself in the subsequent game, but this time the Belarusian had more breathing room: an early double break, 3-0 ahead.
This was Vekic's second Major quarter-final (2019 US Open) and despite producing some morale-boosting moments to pump up a crowd thirsty for more tennis, she'll wish her serving didn't break down so dramatically when the fine margins dictated she would need it most here.
---
Paul propels past Shelton in four sets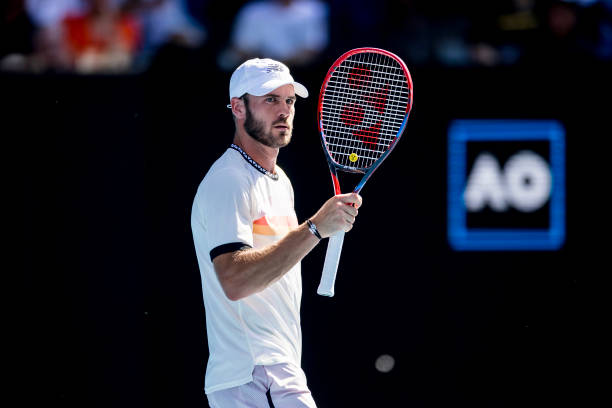 Tommy Paul's experience proved pivotal in a battle of first-time quarterfinalists against Ben Shelton, as he emerged 7-6 (8-6), 6-3, 5-7, 6-4 to continue his first deep Major run.
In an all-American affair that was compelling for the first hour or so, the 25-year-old got his nose in-front after holding firm in the first set tiebreak – Shelton netted two successive rally balls and that was all the encouragement Paul needed to charge ahead.
Consistent pressure on the 20-year-old's serve saw his resolve deteriorate over time, despite having the lion share of crowd support on his side. He couldn't convert either of his two break point opportunities in the fifth game of set two, then was broken in the very next game himself.
Both had been virtually faultless up until then on serve, so Paul wasted no time earning a two-set lead. Shelton was guilty of overcooking some forehands and being a little tentative during their longer rally exchanges, but showed good composure to save three break points at 1-1.
Paul set up a fourth after winning a tense rally with a sliding backhand winner on the run that kissed the outside line, before more big serving stifled that opportunity too. A serve out wide, Shelton's 13th ace of the afternoon, ensured he came through a 10-minute service hold.
The fact it took so long to win said all you needed to know, Paul making every point difficult.
That much was evident at 3-3, as Shelton framed an overhead smash to give Paul a break point he would subsequently seize. Shelton did well in breaking straight back though, before his biggest weapon – a 220km/h serve – helped him save three break points in the next game.
Both held to love as Shelton's level increased with pressure no longer on him, and despite losing a 25-shot rally at 30-30 in what would've taken their match to a tiebreak, the youngster profited from successive errors to narrowly edge the third set. Predictably, it proved a false dawn.
He was immediately broken at the start of set four and looked jaded, aware of the task at hand. Paul wasn't going to give him a second invitation to creep back in.
"Yesterday, I was doing a few interviews and said semifinals sound better than quarter-finals… I'm pumped to be there. Making it to a second weekend of a Slam is everyone's dream when they start playing tennis, not just exciting for American fans but those around the world.
I'm really excited for Ben [future prospects], Foe made US Open semis, I made semis here… we have a good crop coming up. Had trouble all day on big points, really happy to get through the match – not much rhythm, but he's a tough player to play against."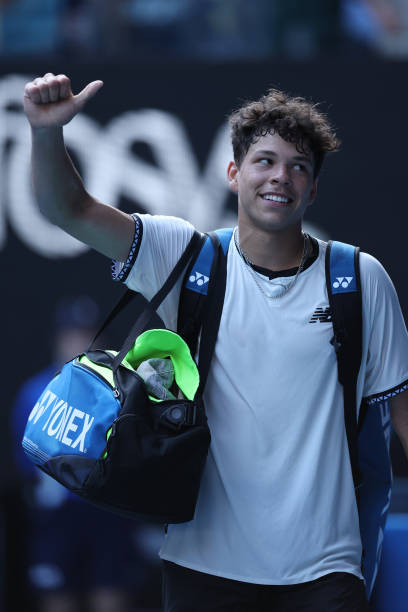 A little bit of perspective for the spirited loser… Earlier in the tournament, Ben Shelton described it as a pinch me moment that he was through into the fourth-round of the Australian Open.
Not bad for a youngster who was ranked #570 last year, and will catapult inside the world's top 50 (#43) after an unlikely Major tournament run.
"I would've been happy with anything in the top-100, didn't want to chase points or get things I didn't deserve at the moment… I'm really pleased with where I am right now. First 12-13 years of my life, I swore I wouldn't play tennis but I fell in love, hopefully I can make a career of it."
He'll receive a check for $383,437 (£310,509) and have free reign, unlike most in his age range and development, to enter bigger events through ranking – rather than a wildcard or qualifying.
---
no time to waste: Djokovic decisive, ends rublev's qf run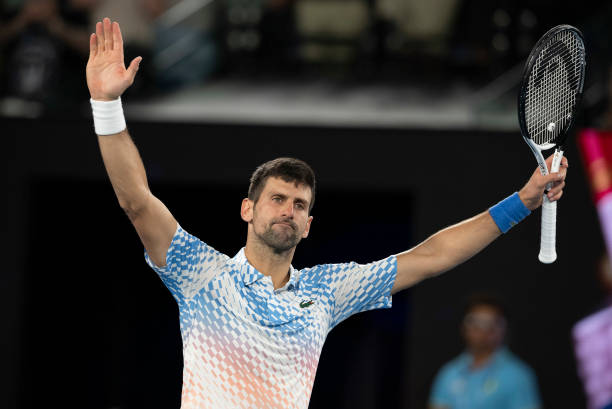 Novak Djokovic's post-match assessment: the scoreline belied what was a competitive affair with tense moments from both. However, the 35-year-old again produced his best tennis in the match's biggest moments to emerge victorious with a 6-1, 6-2, 6-4 win over Andrey Rublev.
After both began their first service games with a double-fault, it was the Russian who got tight early on – handing Djokovic a break to go 3-1 up. The fifth seed duly consolidated it, before Rublev again found himself under the kosh on serve in the subsequent game.
Despite saving four break points, Djokovic gradually wore him down and took it on the fifth attempt after a forward foray to the net. The Serb's big timely first serves saw him save two break points in the next game, before defending expertly well behind the baseline to set up set point.
A 6-1 set in 39 minutes. It wasn't looking good for Rublev, who cut an increasingly forlorn figure – even though the stats were much closer than it seemed.
There were 10 total points between them (37-27), Djokovic had five more winners but two more unforced errors, yet Rublev's inability to breathe without pressure on serve was decisive. Set two started better for the fifth seed, who held serve well early but it wouldn't last.
Excellent point construction into the corners saw Djokovic in the ascendancy at 2-2 on Rublev's serve and he couldn't find a first serve to bail him out. Corner-to-corner the 25-year-old was being pulled and he exhaled with a sigh of resignation, having saved one break point.
He couldn't save two more. Djokovic suddenly found himself having to save two in the next game, but did so with a 192km/h first serve and forehand winner to finish a 15-shot rally.
4-2 up and safe from the immediate break back, it was about to get even better. Rublev audibly fumed towards his player box after there was deja vu about what came prior: another double-fault giving Djokovic a 5-2 set two lead.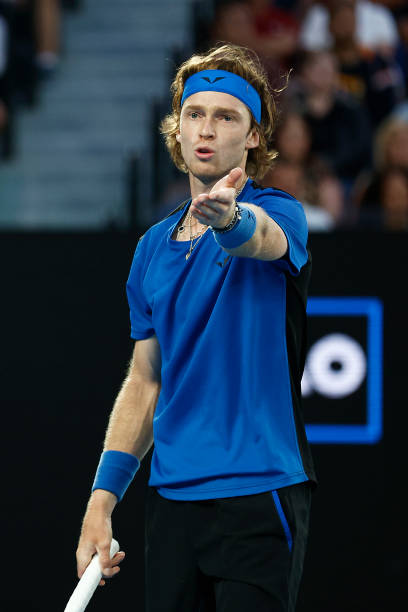 He saved four set points but a fifth came and was taken, before being broken to start the third even as Djokovic looked in discomfort after pulling up on his left hamstring again. That was all the impetus he needed, never relinquishing more than one point on serve to finish without fuss.
Alex de Minaur was unconvinced on Monday night when asked about Djokovic's injury – understandably so – but if anyone can sustain a high level from the first ball and keep the Serb uncomfortable, who knows what might unfold? Easier said than done.
Ultimately, no-one has managed to stay close enough. Tommy Paul will try next. When asked to assess the match and where he'd rank this win as far as 2023 is concerned so far, he said:
"I'd rank it number 2, close to Monday, was solid from the back of the court and happy with my tennis. You have to adapt [to the wind], it wasn't as much when I was warming up and it might not look it, but [windy conditions] makes a huge difference, playing with pressure, having to pick and choose your shots to open up the court… the ball toss is a gamble.
Overall the scoreline doesn't speak the truth of the match, some really close games. Andrey has one of the biggest forehands, one of the best players, huge respect to him. I found my best in the most important moments, makes me pleased."
He also revealed that rest days at this tournament have seen him be connected to 'all kinds of machines' to better nurse his ailing left hamstring, while looking ahead to a first-time meeting with Paul – saying the American has played great over the last 12-15 months – this weekend.
Taking time to thank his physio, Miljan Amanovic, who had "been through hell" with him over the last 10 days, with Andy Murray's mum Judy echoing that sentiment on BBC Radio 5 Live.
"I've known Miljan as long as he has, they would've tried every possible thing… certainly working but he looked uncomfortable at the start of the match. Rublev had no answers because Djokovic was too good."
Rublev had a good tournament all things considered, and it wouldn't have helped his case to face the toughest remaining player in the draw – whether at 100% or as he is now. He'd fancy his chances against everyone else, including Tsitsipas, but perhaps this loss is a blessing in disguise.
As has been the case throughout this tournament, the 25-year-old said all the right things post-match about wanting to improve the weaker areas of his game and twelve months ago, probably wouldn't have had the mental fortitude required to overcome Rune in that five-set thriller.
He's effective at the net – although not always comfortable there – and it'll be interesting to see how that, coupled with his movement, is worked on by his coaches. It won't all click overnight, especially at the start of another arduous season, but there is much to take heart from.
---
SO, WHAT'S NEXT?
Thursday: semi-finals
Elena Rybakina [22] vs. Victoria Azarenka [24]
Magda Linette vs. Aryna Sabalenka [5]
Friday: semi-finals
Karen Khachanov [18] vs. Stefanos Tsitsipas [3]
Tommy Paul vs. Novak Djokovic [4]
I'll be producing daily round-ups with the latest results, game reports and news at this year's Australian Open, so be sure to stay tuned — moandsports.com for the latest coverage.
Picture source: Getty Images, quotes via Eurosport broadcast unless stated otherwise