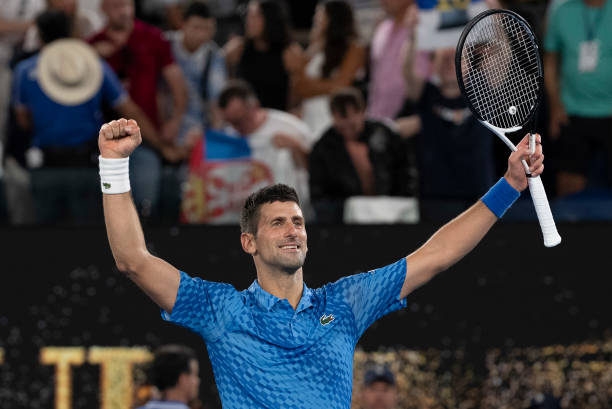 Novak Djokovic stuttered early but produced some of his awe-inspiring groundstrokes late on as he booked his place in Sunday's final after a straight-sets victory over unseeded American Tommy Paul. He'll face an in-form Stefanos Tsitsipas after the Greek held firm despite a spirited showing by Olympic silver medallist Karen Khachanov in the day's earlier semifinal. It means the pair – who met in the 2021 Roland Garros final – will do battle for world no. 1 status too.
Tsitsipas tightens grip on historic major with Khachanov win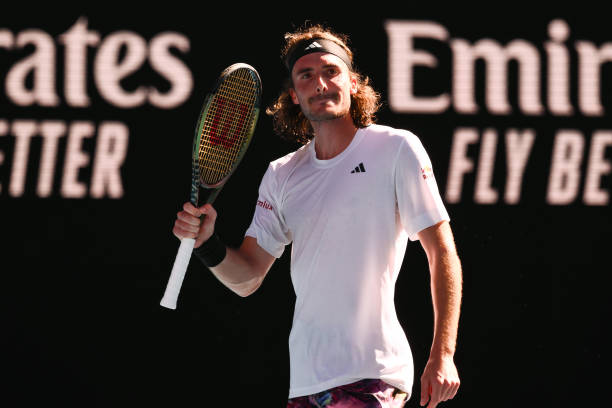 Tsitsipas [3] bt. Khachanov [18] 7-6 (7-2), 6-4, 6-7 (8-6), 6-3
"I feel blessed, the fact I'm able to play tennis at this level… so grateful I get [crowd] support like this, never would've thought I would be treated so well here, extremely happy to be in the final and let's see what happens," 24-year-old says in on-court interview
His four-set win over Khachanov means he's the youngest Australian Open finalist for 12 years and will be competing for world no. 1 status in Sunday's final against Djokovic
"I like that number [world no. 1]. These are moments I've worked hard for, to play in finals like this, that have a bigger meaning – a childhood dream and I'm close. Happy the opportunity comes here," injured Carlos Alcaraz will subsequently drop to world no. 2
Stefanos Tsitsipas is into his second Major final and had to overcome some spirited adversity before securing his place in Sunday's showpiece, earning an early break in the fourth set to eventually come through 7-6, 6-4, 6-7, 6-3 against Olympic silver medallist Karen Khachanov.
The Russian's lateral movement is a weakness that was duly exposed by the 24-year-old, who didn't start serving well but grew as time wore on – 46% in set one, up to 72% in set two – as he served 18 aces overall and held his nerve to earn a commanding two-set advantage.
---
Tsitsipas' match stats in bold
winners: 66-46
unforced errors: 34-32
first serve pts won: 69/82 (84%) — 62/94 (66%)
total points won: 145-123
---
Being able to race through service games is always important and Khachanov used that momentum to stage an unlikely third set fightback.
He was down 5-3 at one stage, with Tsitsipas serving for the match in the subsequent game – but a backhand and two forehand unforced errors levelled the score at 5-5.
Soon enough they entered another tiebreak, and the 26-year-old saved two match points playing the type of gutsy tennis that one would in such a situation.
A pair of deep forehand winners on consecutive points saved them, before two more errors from Tsitsipas' racquet meant they were going into a fourth set after all.
Given how one-sided their first set tiebreak was, this didn't feel surprising. Khachanov had never beaten the Greek in five previous H2H meetings, but notched a set in two of the last three.
Tsitsipas' tendency to play defensively when things get close can come without warning, something he later echoed in his Eurosport flash interview.
Khachanov's aggression paid dividends. However, he was still facing a significant deficit and after a tight opening service hold to start the fourth, Tsitsipas broke immediately afterwards.
Three forehand winners proved key as he found a way through, and this time didn't relinquish his grip on a match everyone fancied him to prevail.
"I watched [Marcos] Bagdatis do it a few years ago, dreamed as a kid to maybe one day play on this court and compete against the world's best, I'm happy with the fight I made."
on facing Djokovic or Paul in the final, he said: "Well we have one [Djokovic] who has… nine finals here? I grew up playing with Tommy in juniors, we've played a lot of times… it's beautiful to see him come from behind, play in a Grand Slam semi-final, brings back memories for sure."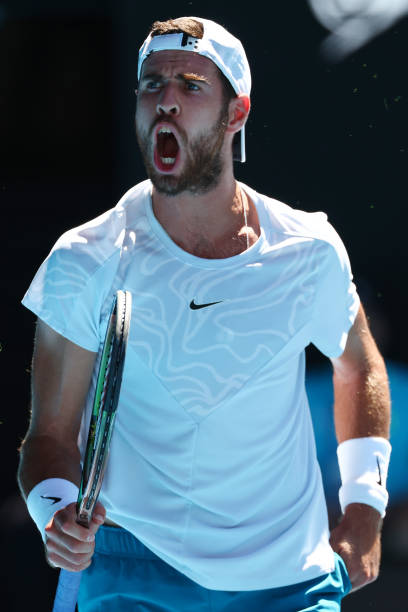 In his post-match press conference, Khachanov admitted he had mixed feelings after his third and most notable defeat of the season so far (8-3) but was right: he has much to be proud of.
For someone who many have forgotten, as far as the younger generation are concerned, he's improved to a point where earning two Major semi-finals – while admirable – both ended in four-set defeats (Casper Ruud at 2022 US Open).
Of the 10 players – excluding Djokovic and Nadal – ranked above him after this fortnight's play, only three have managed better Slam consistency: Tsitsipas, Ruud and Daniil Medvedev.
The latter is a champion, Ruud a two-time finalist and Tsitsipas bidding to join Karen's compatriot with a Major triumph against Djokovic. Can he bridge the gap or is this his ceiling?
"I'm super happy, proud with my results lately – second consecutive Grand Slam semifinal – I fought hard, was losing in the third set, I never give up and think it was very close, he took over in some important moments."
I felt really, during the tournament, a lot of fans… were cheering more for my opponent and then the last one, they were really almost equal, gave me so much love, want to appreciate them – Russians, Armenians – who came to support with the flags, really great support.
There is no draw in tennis, unfortunately, one guy has to go through and one has to lose. I can go with my head high, rest for a couple of days, have a team meeting to discuss moments we need to work on. Hopefully I can keep believing and pass this step next time."
---
Djokovic weathers rough spell, downs maiden semifinalist paul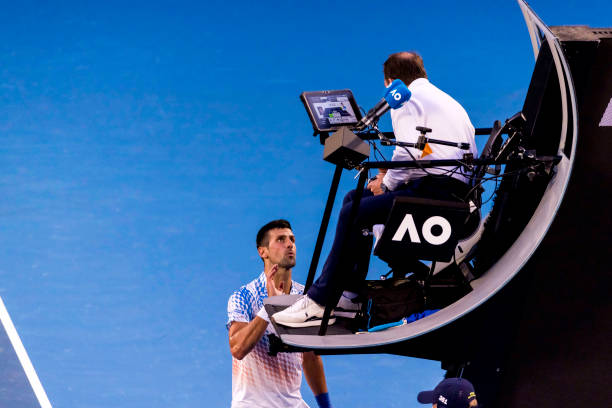 Djokovic [4] bt. Paul 7-5, 6-1, 6-2
"It was the first time I came back from two sets down to win a Slam – a real emotional, physical battle with Stefanos. I respect him a lot, think he is one of the most interesting on tour but it's all business on Sunday, let the better player win," Djokovic on Tsitsipas matchup
"Hopefully get some titles, I wanna have my name on some trophies," Tommy Paul, who rises to new career-high world no. 19 ranking after Major semi-final finish, tells press he'll strive to prove he's not a one-hit wonder, targets silverware and finishing 2023 in the world's top 10
"I do want to make more history, no doubt, I feel game-wise physically I still can sustain and maintain the top level. As long as that's the case, why not keep going?" Djokovic doubles down on his longevity, insatiable desire to keep making records in post-match presser
Pat Cash on BBC Radio 5 Live said the 43-year-old likes to pick fights with players and umpire Damien Dumusois had a hint of a smurk across his face as Novak Djokovic approached him, mid-game, to put his point across – understandably so – but at precisely the wrong moment.
The Frenchman had begun the 25-second serving shot clock before he'd reached his towel on the far side of the court. It was the sort of needless, pedantic action from the official that would have been best ignored, but Djokovic – not for the first time – expressed his discontent.
Moments prior, the Serb netted a forehand during a rally that would've seen him snatch the first set in 35 minutes. Given his faulty start, that typified an even slower opening for first-time semifinalist Tommy Paul, who conceded in press the match was going way too fast for him.
---
Djokovic match stats
set one: 24 unforced errors — 12 winners, set two: 6-8, set three: 9-11
total unforced errors: Djokovic 39, Paul 32
first serve pts won: Djokovic, 40/53 (75%) — Paul, 24/45 (53%)
aces to double-faults: Djokovic 12-5, Paul 4-0
---
Djokovic was distracted by the aforementioned moment and Paul hit a backhand down-the-line winner to set up break point. Another unforced error, the 35-year-old's 18th in a wacky first set of tennis, saw a 5-1 lead suddenly turn to 5-3, 0-15 after he served his third double-fault.
He'd lost nine straight points – seven of them errors – and before long Paul briefly found himself level with a 5-5 scoreline.
The next ten minutes or so were a blur to the 25-year-old American, who lost seven consecutive games as the Rod Laver Arena crowd's hopes of an entertaining semifinal quickly fizzled out.
How? Well, Djokovic – like Tsitsipas earlier – gradually got better, was forcing errors and started swinging freely once he'd overcome the first set blip to own a commanding advantage.
Paul won most of their longest rallies and produced some excellent shots upon occasion, like a beautiful drop shot winner on the slide or a sliced backhand down-the-line winner, but wasn't able to back them up with consistency. He wasn't allowed a chance to implement his gameplan.
"I wanted to serve and volley, didn't do it once. My first serve percentage (58%) was pretty low, he returned to the baseline and I was automatically on defence. Down 0-30 on service games, it's hard to be like okay now I'm gonna serve and volley.

Couldn't change it up with drop shots either, he was hitting so deep. Change the pace with the slice? Missed my first three so switched it up to the backhand. He didn't let me do any of those [tactics] because of things he did so well." 
Even his fast serves, reaching 212km/h, weren't enough to sustain him against a returner who put him on the defensive almost immediately when returning serve.
A graphic popped up on screen, with Djokovic 7-5, 6-1, 4-0 up: he'd won 36 of their 54 pressure points played. It said all you needed to know. Eventually he won, but Tsitsipas will pose different questions this weekend. Playing like he did for sustained periods in set one won't be enough.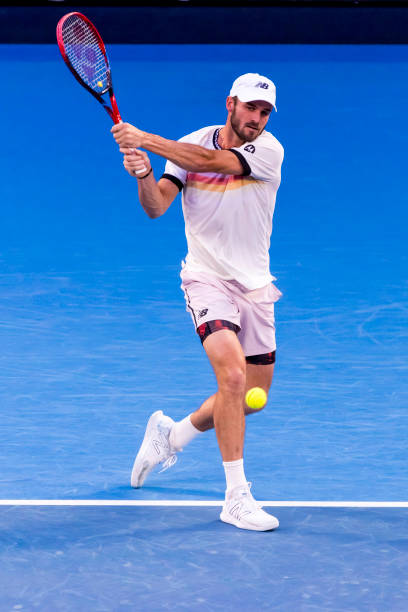 Paul became the first American man to reach the tournament's semifinal stage since Andy Roddick did so back in 2009, and how he would've liked to play the other beaten semifinalist – Khachanov – instead of Djokovic.
"He's definitely an unbelievable player – especially here in Australia – no-one wants to see him on their part of the draw but in Slam semis, you're not gonna get a bad player.
To play him here was a cool experience, I knew he was going to play really well, wish I played better but he made me play bad," he said in his post-match presser.
As far as progress is concerned, he's saying the right things – as are Taylor Fritz (#8) and Frances Tiafoe (#15) – the other Americans inside the world's top 20 rankings.
Making sure he remains committed behind-the-scenes shouldn't be a problem anymore, though backing up this result in the smaller tournaments will be the next development hurdle to jump.
As far as age is concerned, he's in that sweet spot at 25 among the likes of Andrey Rublev and Hubert Hurkacz. Can he beat the world's best players consistently though? We'll have to see.
---
This year's Australian Open has been fun to cover throughout and now we're down the home straight as the second weekend is upon us. Be sure to stay tuned before Rybakina-Sabalenka in the women's final and more besides — moandsports.com as always for the latest coverage.
Picture source: Getty Images, quotes via Eurosport broadcast unless stated otherwise