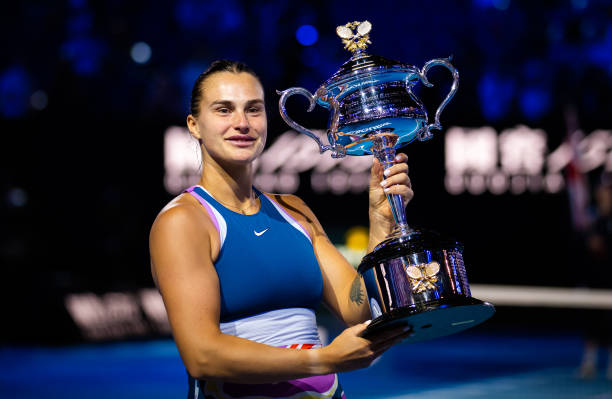 The achievement must feel long overdue, but Aryna Sabalenka is now a Major singles champion. She needed four championship points to get the job done – but was courageous on serve and crunched 51 winners over two-and-a-half hours, recovering from a set down to overcome Wimbledon titlist Elena Rybakina in three sets during a nailbiting women's finale.
Sabalenka storms back from deficit, sealing first Major title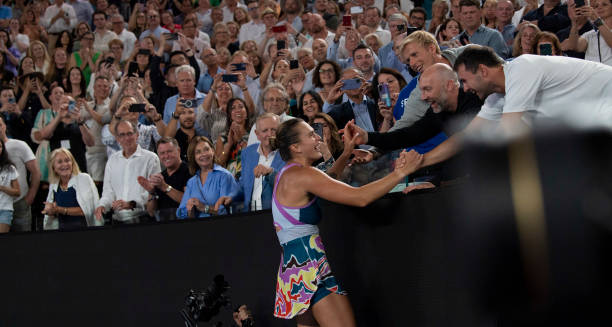 Sabalenka [5] bt. Rybakina [22] 4-6, 6-3, 6-4
"I had goosebumps when everyone was cheering for us, looking forward to coming back next year… hopefully with an even better result," Rybakina gracious and motivated in defeat
"We've been through a lot, worked so hard and you guys deserve this trophy. It's more about you than me, thanks for everything you do," Sabalenka praises her team in speech
Rybakina, the first woman to beat three Major winners at the event since Jennifer Capriati in 2001, 0-4 H2H vs. Sabalenka – but into world's top 10 after fortnight's play
Sabalenka declares it the best match of her career to date after extending winning streak to 11 matches, having also won Adelaide 1 title against Linda Noskova on Jan. 8
It feels fitting that, much like Elena Rybakina herself at SW19 last summer, Aryna Sabalenka's route to the ultimate triumph was a recovery win in three sets.
Afterwards, she spoke of the relief and joy about achieving something that most on the tennis tour don't manage in their respective careers. Three Major semi-final defeats, a lot of other big-match disappointments and scar tissue was beginning to build for the 24-year-old, they said.
Now? The Belarusian did what compatriot Victoria Azarenka managed one decade earlier on the same court: going the distance before seizing the title against an evenly-matched opponent.
Rybakina joked in her post-match press conference that with a 0-4 competitive H2H record against Sabalenka, she'd much prefer to play almost anyone else on tour – not many girls can apply such pressure on a consistent basis with aggressive groundstrokes and thunderous serves.
However the roles were reversed early on, as Sabalenka found herself punished from a commanding position on serve. 40-0 up, some loose errors and a double-fault gave the hard-hitting Kazakh an early break, which she soon consolidated.
A 178km/h ace down the t was exactly the sort Sabalenka tried to connect on as commentators remarked about her ball toss before delving deeper into last year's serving struggles.
Through seven games, Sabalenka had won just two points on the Rybakina serve. Surely she'd pick it up? Right on cue, she broke at 4-4 with a passing backhand winner to finish.
The double-faults weren't going anywhere in a hurry, and she was immediately broken back with her fifth of the set. Rybakina raced through her next service game, to finish set one in 34 minutes.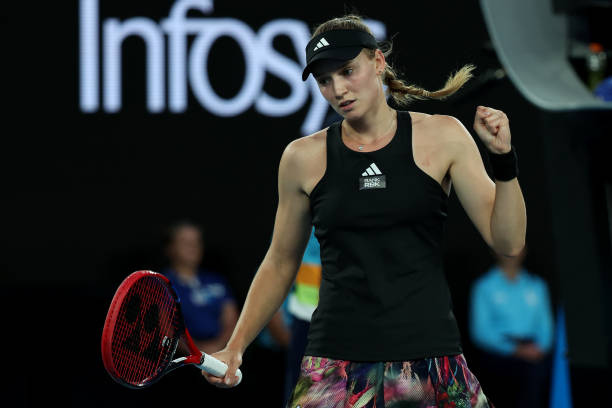 Whether it was a dip in concentration or just an inability to truly get going quickly enough, Sabalenka needed to be more assured on serve while targeting the Rybakina forehand.
Longer rallies, making her move, would keep the 23-year-old uncomfortable and increase the chances of an error down the other end.
She began set two needing to save two break points and fend off doubts in the next service game, but that pressure fired her up as Rybakina soon found herself under the kosh on serve.
An excellently constructed point to go 30-30 on Rybakina's serve was the catalyst to a break and 3-1 advantage for the Belarusian, who endured a lengthy service game and produced a seismic hold given what had happened before.
33 minutes after five games in set two, compared to a 34-minute first set consisting of ten games. 4-1 up, even after another double-fault threatened to unsettle her minutes prior, Rybakina's level had dipped while Sabalenka was understandably enthused by her own improvements.
Rybakina saved two set points to ask the serve it out question, and that she did – two aces down the t, including one second serve, helping level the scores at a set apiece.
Her serving was noticeably better in set two (72% first serve, 7 aces and one double-fault), but would she be able to sustain it in the decider?
Very much so. Excellent shot-making in periods by both on serve saw things finely poised at 3-3, Rybakina having saved break point in the previous game with a 191km/h serve. It was nip-and-tuck, but Sabalenka needed to capitalise on one of her break points before she'd rue them.
Rybakina spoke about feeling the relentless pressure on serve afterwards, and a Sabalenka smash secured a 4-3 lead.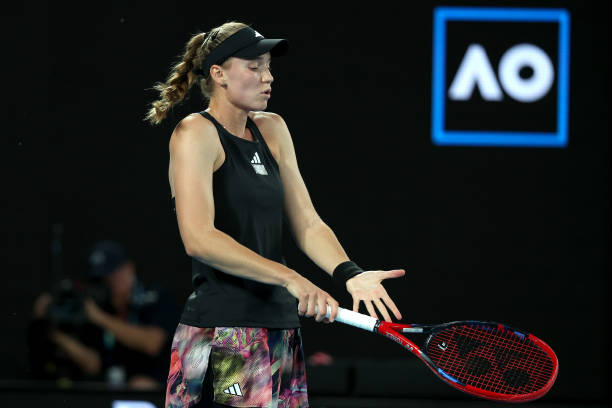 The importance of finding consistency on first serves came at deuce on two separate occasions – they won't be recorded as aces in the match stats, but both were virtually unreturnable.
A 174km/h serve saw her hold at 5-3, and Rybakina responded by forcing her into three errors and reeling off a forehand winner – her 13th of the evening – to ask the serve it out question.
---
fitting of the contest: A nervy final game to finish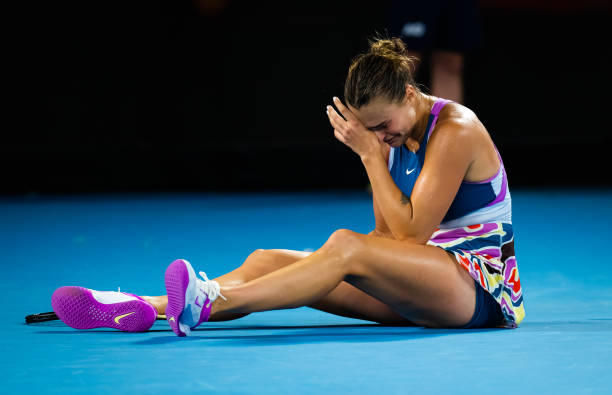 The match's longest game, and one where Sabalenka would've felt a whirlwind of emotions.
After all, she double-faulted on championship point – having previously served a 188km/h ace to set it up. Others might've gone into their shell but there she was, still piercing the lines as an almost dismissive forehand crosscourt winner kissed the sideline for her second opportunity.
Rybakina reiterated in press that she didn't take her chances and while Sabalenka was understandably nervous, there was one break point for the Kazakh, down 5-4.
It didn't seem like the cleanest forehand, but a well-earned winner having repeatedly pressed Sabalenka back behind the baseline before swiping a short rally ball.
Predictably, it was saved before she even had a chance to set up an attack: a 192km/h serve out wide forcing a backhand error. The fact she reached it in time was a surprise in itself.
Rybakina had the right idea but wrong execution as she attempted to wrongfoot the new world no. 2, but netted a forehand. The crowd started to stir and wonder which way this would turn next, after Sabalenka narrowly missed the far tramline on the next point, but she persisted.
Another big serve opened up the court to give her a fourth chance, before Rybakina framed a forehand to end the contest as the 24-year-old fell to ground in tears.
---
Post-match press comments, what's next for both?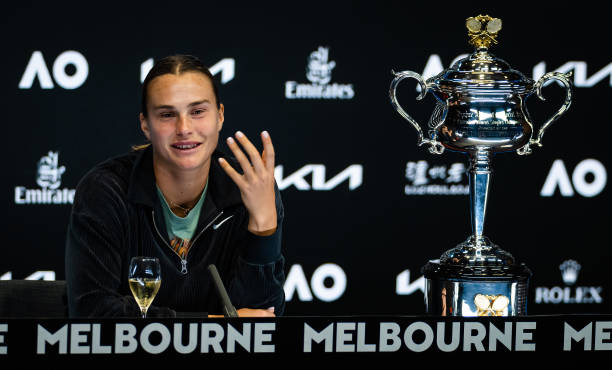 Sabalenka was shaky and nervous during the ceremony speech, so apologised in advance before addressing the Rod Laver Arena crowd. She admitted in the Eurosport flash interview that it'll take a few days for her to truly realise the scale of what has just happened, but she's relieved.
"Kinda relieved because I've been in the top-10 but didn't have a Grand Slam trophy yet, really tough to get it, every Slam [defeat, disappointment] was super emotional. I felt responsibility [to win it] for them, these guys deserve it."
In her presser, among some light-hearted moments and predictable questions too, there were some interesting tidbits the 24-year-old – back at a career-high world no. 2 – revealed.
"I was super happy to handle all those emotions and win. It's more enjoyable after all those tough matches, really needed the tough losses to understand myself better, preparation for me.
I'm happy I lost those, so I can be a different player. I fought so hard to win this one and tennis was great, really happy it wasn't an easy match, enjoyed the battle. I was nervous in the first set, told myself to keep going, trying, fighting… I will have my opportunity to come back."
On what she's learned and tried to adopt with a more calm demeanour on court:
"I have to be calmer on court, don't have to rush things… just have to play my game, be calm and believe in myself that I can actually get it. During this two weeks I was super calm on court, really believe and that my game will give me a lot of opportunity in each game to win this title."
Also conceding that she previously doubted herself, something aided by not being a Major champion, but that's no longer a problem as she has a newfound self-respect for her abilities:
"I just changed how I feel, respect myself more, having this understanding that I'm a good player, can handle a lot of emotions."
It's easy to say in hindsight now but it always felt like a matter of time – rather than a question – before Aryna got her hands on a Major title.
Stats show she's been among the most consistent players on tour since 2018 and Swiatek's recent admission amplifies how difficult it is to stay at that level mentally as well as physically.
Women's tennis is booming right now, with a fun mix of youthful exuberance and steely experience on tour. Sabalenka's success should spur others in her age-group, like Olympic titlist Belinda Bencic and her close friend Paula Badosa, to do even more to match her.
Equally, she can't afford to rest on her laurels if she wants to leapfrog Swiatek as the world no. 1 in future. Those comments about how defeats have sharpened her motivation were heartening, as she looks more ready for the biggest rewards now than she might have in 2021 or earlier.
We've already see how well the Pole responds to adversity, so can Sabalenka use this as a springboard for more success?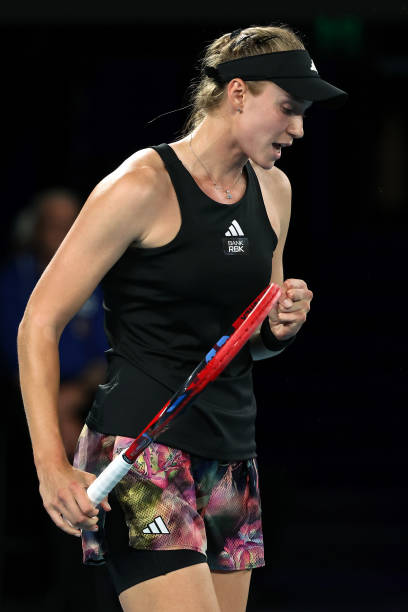 After taking the lead in her second Major final this time around, Rybakina had to raise her level in the decider but was outshone during the bulk of their baseline rallies.
Ultimately, it's refreshing to see that she's taking the defeat well and has confidence for the rest of the season.
"I had a really good two weeks, it was a really tough match today… motivation for the next tournament.
I'm not gonna feel different because of the ranking [update] tomorrow, it'll be different in the smaller tournaments – I'll be seeded, not play many first-rounds, there are some benefits but I don't look at that.
Aryna raised her level in the second set, played really well and aggressive with less mistakes.
I should've been more aggressive in some moments, I had some chances but she played well, was stronger mentally and physically. Served really well today, hit a few first serves on second serves – I know how much work it takes [to develop an ailing serve].
That's the goal, to be in the second week of all the Slams. I have more confidence even after this final, need to work hard as I did during preseason, be healthy and the results will come.
Not many girls can put me under pressure, she has a great serve and plays really aggressive. She was returning really well, I felt the same against Azarenka, we played many long games on my serve… I could've served a bit better, just here-and-there in a few moments."
There was a lot of armchair analysis across social media pretty quickly post-match about Rybakina's tactics and how prospective opponents could exploit her decision-making in future, the same way Sabalenka was able to read and dice her crosscourt shots in sets two and three.
That's easier said than done, while conveniently ignoring the fact no player has a better H2H record against the Kazakh than Sabalenka. When she's firing on all cylinders, like in her fourth-round win over world no. 1 Swiatek, it's just deemed unplayable tennis.
We've seen before – with both finalists – their aggressive play isn't pretty to watch when they are spilling unforced errors aplenty. That's the risk you run.
Both know that and it's no surprise Sabalenka was pleased upon hearing her winner-UE ratio in the presser, aware she needed to produce most of that brilliant ball-striking just to keep Rybakina at bay. On another day, it would've been a different story entirely.
It'll sting, but Rybakina – much like Ons Jabeur last year – should take comfort in the fact she has backed up the Wimbledon result, on another surface in quick succession. The level is there, so overthinking the small details won't help her move on productively from another tight loss.
Instead, she'll continue incrementally improving as has been the case with her coach Stefano Vukov and look to build upon some underwhelming results in February-June.
Picture source: Getty Images, quotes via Eurosport broadcast unless stated otherwise