For the best part of eight rounds, Anthony Yarde made everyone inside the OVO Arena believe. The unthinkable looked likely at times, especially in R5. Tunde Ajayi saw the writing on the wall though, watching his charge absorb a knockdown in the eighth, and a back-and-forth battle was ended abruptly – Artur Beterbiev retaining his WBO, IBF and WBC light-heavyweight titles.
Beterbiev edges Yarde in back-and-forth battle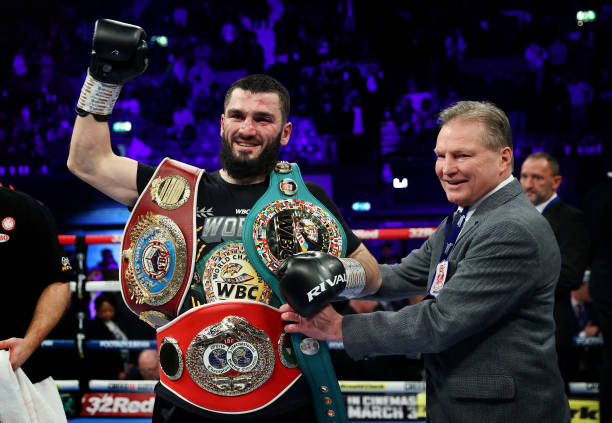 It was far from straightforward and you only have to look at his cherry red face to make your own conclusions: Beterbiev, known for his slow starts, gradually got warm and absorbed some punishment along the way – more than most expected – before earning an abrupt stoppage win.
25 months ago, critics and their knives were out in full force after Yarde's surprise split decision defeat by domestic rival Lyndon Arthur. He should make the long overdue decision to leave Tunde, change camps and make some tough choices surrounding his future, they insisted.
The 31-year-old blasted past Alex Theran inside a round on his return eight months later, dismantled Arthur with a R4 KO in their rematch and pursued what many regard as the most dangerous challenge in the sport right now: facing Beterbiev for his three world title belts.
He went Stateside to watch him produce a demolition job on Joe Smith Jnr last June, seizing the American's WBO title in the process, and the biggest soundbite from the bullish Brit's impromptu press call was an honest admission he felt Beterbiev was slower than he expected.
This slugfest was anything but, and that's all down to Yarde's encouraging start – facing danger head-on, aware of the potential catastrophic consequences if he got the smallest details wrong.
Judging by their synchronised oohs and aahs when Beterbiev connected clean, the crowd knew too and were backing their man. Who said home advantage was overrated?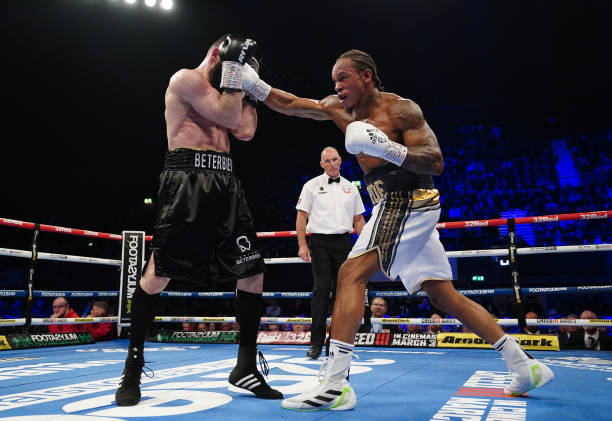 Ultimately, that fast start foreshadowed an even sharper ending for the courageous challenger as it wore on, having endured damage aplenty and he wore it across his face early too. Those cuts would only worsen, as did the right eye and more not immediately clear to the naked eye.
Beterbiev may have looked like he wasn't breaking a sweat in the first few rounds, but found himself drawn into a firefight that could've easily had a different outcome.
Yarde began by flicking out the jab and making the champion dance to the beat of his drum in the first three rounds, but an inability to box on the back foot convincingly made the decision to stay near the ropes a puzzling one, as Beterbiev's best punch sequences were in those moments.
You started to see the light-heavyweight champion go through the gears at the end of R3, having landed a series of lethal left hands which connected clean on Yarde's chin without reply. If that was good, the start of R4 was even better for the unified titlist as he went about stalking his prey.
Conversely, the first 45 seconds of the fourth saw Yarde in crisis mode: Beterbiev was allowed to chain punches together, pinning him up against the ropes, with the Russian's pressure and sharp power leaving him on wobbly legs. Fighting at such a pace, it's no wonder he looked so tired.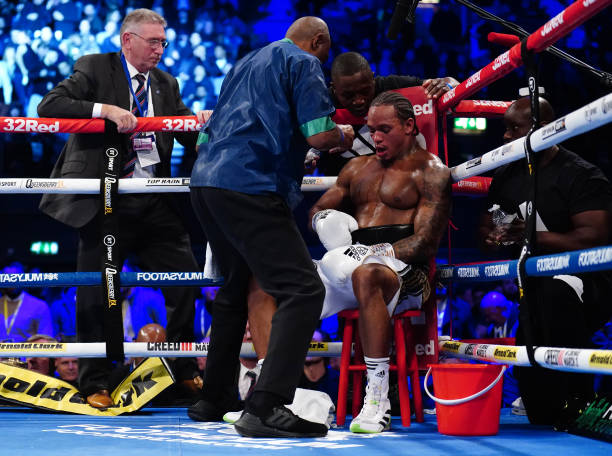 Although he was breathing heavy and had his mouthguard fall out in consecutive rounds, hardly a reassuring sign, that detail about his weaning physical reserves was almost immaterial.
The crowd roared with delight in R5, almost akin to England scoring a crucial goal during a knockout tournament, when Yarde snapped the champion's head back with a superb right hand.
He landed a sneaky left hook that stung Beterbiev too, but rather than follow up, the challenger was punished for being overzealous – and missing – wildly, as Beterbiev showed ring generalship to effortlessly reverse position in the corner and unloaded on him for the final seconds.
The seventh began tense, but ended frantically as Yarde unleashed uppercuts aplenty despite being hurt up against the ropes. Was he just too stubborn, or tired to move off?
Perhaps, but Beterbiev benefited from these mistakes and appeared to relish the challenge, problem-solving his way to victory. Yarde landed some rights early in the eighth, but it was that very same shot which dropped him to his knees midway through the round – without warning.
A short, sharp straight right and an overhand left him stumbling, referee Steve Gray assessed him and allowed the fight to continue, but it was only going one way.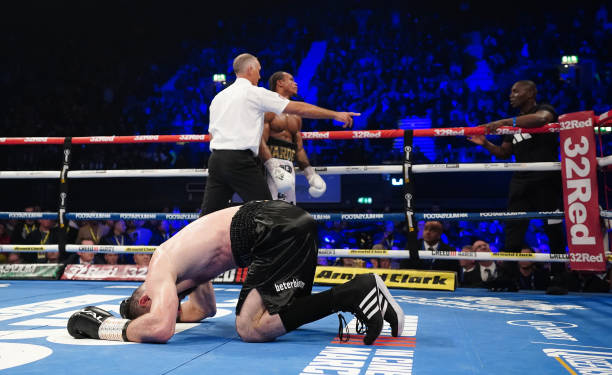 A left uppercut and overhand right combo came raining down on the home hopeful, who wasn't even looking at where the punches were coming from. It made for an anticlimactic ending, but Ajayi rightly stood on the ring apron at that stage, allowing Yarde a chance to fight another day.
---
Contrasting wins for Fletcher, debutant Moses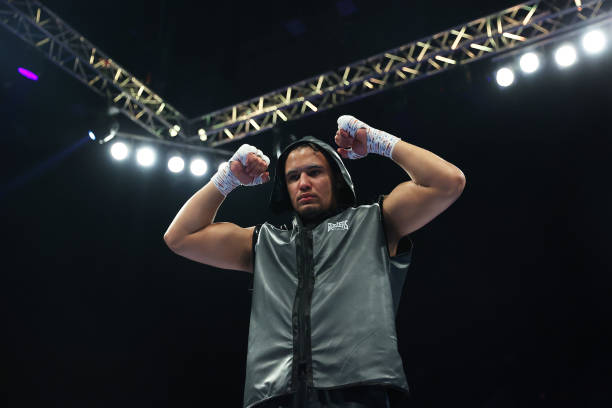 In the prelude to the main event…
Highly-rated teenage heavyweight prospect Moses Itauma wasted no time on his professional debut, needing just three punches to leave Marcel Bode in a daze, as the referee wisely stopped their bout after just 23 seconds – Bode couldn't continue after being knocked off his feet.
Some may complain that Bode didn't even absorb the punches clean, but they were thrown with bad intentions and would've hit him much harder than it seemed on the camera replays.
At cruiserweight, Tommy Fletcher improved to 4-0 – but laboured to a decision win (60-54) against journeyman Darryl Sharp. The Mancunian was happy to bide his time and play about, as the prospect threatened a stoppage in R3 and R6, where both landed their fair share of offence.
---
Karol stunned against Maderna
9-0 unbeaten light-heavyweight prospect Karol Itauma suffered the first defeat of his professional career, a stunning fifth-round knockout by Argentina's Ezequiel Osvaldo Maderna in a matchup for the WBC International title.
The OVO Arena crowd couldn't believe what they were witnessing, especially as large sections were distracted by the arrival of WBC heavyweight champion Tyson Fury ringside.
By the time their attention turned to the ring, Itauma lay flat on the canvas and was scrambling to beat the referee's count. He didn't, and will now have to regroup from a display where he threatened upon occasion, but wasn't able to sustain his attacks.
A straight right landed clean on him in R1 and while the crowd responded encouragingly to spur him on, it was a slow start and foreshadowed a startling finish.
Itauma began the second better, they exchanged shots in the pocket and he landed a series of good sneaky scoring punches while keeping the Argentine pinned near the corner.
That said, he failed to move out of range quickly enough to avoid counterpunches – something quickly forgotten as he wobbled the visitor with a stiff right before the round ended.
In the third, they engaged in some rough-housing clinch work, while Itauma connected on some good uppercuts against the ropes, punching through the guard. His work wasn't tidy, but he was active enough to edge that round.
In R4, he was chasing but not successful in attempts to cut off the ring. Maderna was content circling, landing shots from the outside, while landing a significant combo to the body and head, which appeared to do some lasting damage.
That's because, in the fifth, a straight right through the guard was enough to send the prospect down and an 18-1 betting underdog scored a stunning victory. It'll be interesting to see how Karol's handlers look to rebuild his confidence after falling short like this, a stoppage too.
---
Dalakian racks up another title defence
In a matchup for the WBA world flyweight title between two unbeaten boxers, early pressure and punch accuracy proved David Jimenez's undoing as long-reigning champion Artem Dalakian made the sixth defence of his title with a UD win (116-112, 115-113, 115-113).
A tentative, tactical start cost him.
He was leaking blood around his right ear after the fifth round, having repeatedly swung wildly without sustained success against the Ukrainian titlist – who grew in confidence as time wore on, throwing flashy shots and power punches with predictable attacks coming back his way.
R7 was a better one for the challenger, while the eighth was scrappy. R9 was back-and-forth, with both having periods of success.
The tenth was a bit more dramatic in parts, but Dalakian made a conscious effort to finish it stronger by reverting to his boxing after tempting danger with clinch work.
Jimenez pressed intently to start R11 and while caught on the back foot, Dalakian didn't seem worried and repeatedly used the looping left hand to good effect.
R12 was predictably frantic in parts and messy in others, Dalakian again connecting well moving backwards while Jimenez kept walking forward but couldn't chain his attacks together.
The challenger nodded his approval as the crowd reacted after seeing him absorb a left uppercut, while you could see the Puerto Rican's cornerman stressing urgency. It wasn't enough.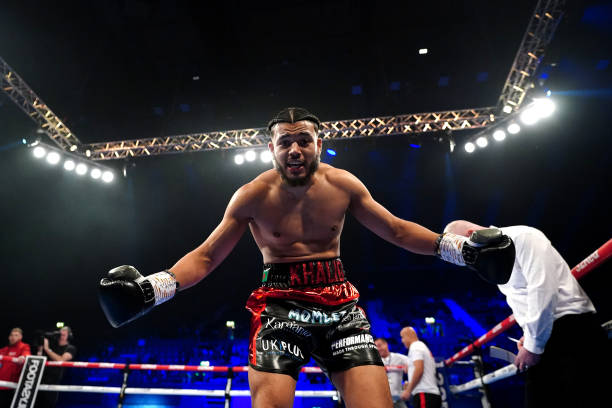 Rising welterweight prospect Khalid Ali fulfilled his pre-fight promise, scores three knockdowns – including one at the final bell – en route to a stoppage win (end of R1, corner retirement) against overmatched opponent Ivica Gogosevic.
After three appearances in 2022, the 22-year-old acknowledged a need to be active and while some will question what he gains from fighting journeymen, it won't be long before he's facing stiffer opposition if he keeps winning in the same fashion. Whether he'd be ready for that, we'll have to wait and see.
---
On the undercard…
There were decision wins for four unbeaten prospects: siblings Charles and Joshua Frankham against Joe Hardy and Joshua Ocampo at light-welterweight and lightweight respectively.
Meanwhile super-featherweight Masood Abdulah scored a knockdown en route to another points win, this time against Lesther Lara. Elsewhere in the welterweight division, Sean Noakes improved to 4-0 (2 KOs) with a fifth-round TKO win against Santiago Garces.
Umar Khan's wait for a first stoppage win continues, after the 20-year-old featherweight improved to 6-0 with a decision victory against Sandeep Singh Bhatti.
Picture source: Getty Images