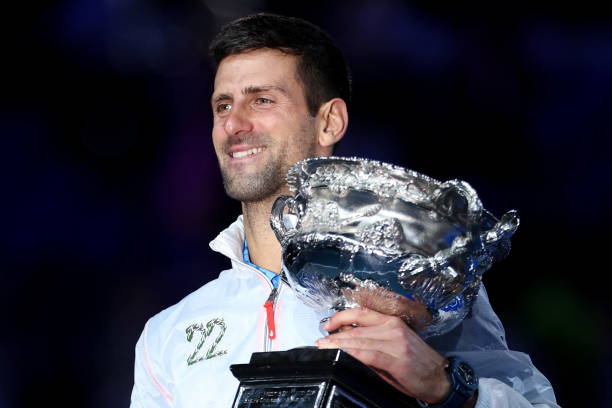 Novak Djokovic stressed in the build-up he was ready to go the distance, given both entered the finale in formidable form and what was at stake for the winner. Instead, he needed just shy of three hours, increasing his level in two tiebreak sets, beating Stefanos Tsitsipas in this year's Australian Open final – meaning he'll return to world no. 1 – after clinching a record-extending tenth Major in Melbourne, moving level with long-time rival Rafael Nadal on 22 overall.
Determined djokovic does it again, wins tenth AO title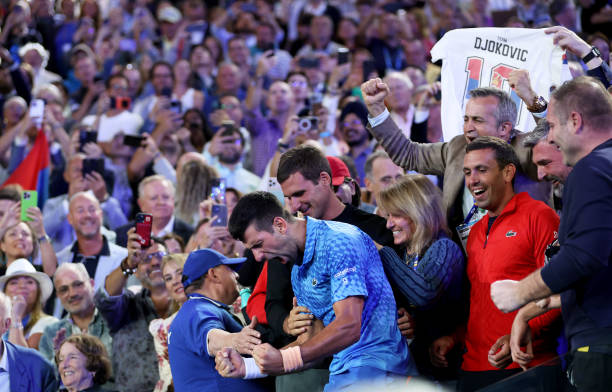 Djokovic [4] bt. Tsitsipas [3] 6-3, 7-6 (7-4), 7-6 (7-5)
Despite hamstring injury hampering him throughout, Djokovic secures 22nd Major – level with Rafael Nadal for all-time record of men's singles titles while joining Spaniard on ten at a single Slam, surpasses the 36-year-old's tally for ATP Tour-level titles (93).
Wimbledon 2001 champion Goran Ivanisevic, his coach, declares 97% of players would've withdrawn if they received the MRI results Djokovic did on eve of the event
"The guy is unbelievable, I don't know how to describe it… you think you see everything, then this. 97% pull out but he's from outer space, his brain is working completely different. Everyday was kind of better, I honestly didn't expect this. I was shocked," 51-year-old admits
Tsitsipas admits he wanted the title 'really badly', but is motivated by Djokovic's success: "Dreaming won't make it happen, you gotta act. I felt there were moments I was close but the tiebreaks didn't really show that. Take the good and move on, it's a long and exhausting season, gotta be physically ready for difficult matches against the world's best."
There was a moment in the set two tiebreak where it could've all unravelled. Successive double-faults – Novak Djokovic's first of the match – saw a commanding 4-1 lead quickly evaporate.
The Rod Laver Arena crowd were stirring in their seats. Stefanos Tsitsipas was now three points from levelling the match at one set apiece and had been even closer before the Serb saved set point, down 4-5 on serve, hitting a forehand winner to finish a 15-shot rally 20 minutes earlier.
Yet, as it always does, the pressure of the moment on his shoulders sharpened his focus. That's why, after the euphoria of championship point had subsided and he celebrated in his players box with friends, family and an evergrowing support team, he was overcome with emotion.
Having held his nerve in two tiebreak sets – this was closer than the scoreline shows – he lay on the ground as several hands surrounded him in comfort, weeping. All that had come before, the self-doubt, a troublesome hamstring injury, the sudden story with dad Srdjan and more.
Job done, he could finally let it all out. In a familiar place that was content deporting him on the eve of this very event twelve months ago, this was poetic justice on the biggest stage. No. 22.
It's no wonder he didn't hesitate to call it one of the top three career victories to date, during his Eurosport flash interview with Barbara Schett: "Considering the circumstances, what was on the line… after last year's events, stuff off the court adding tremendous pressure, enormous mental energy, a huge release now. Feels like a balloon with no air – in a good way – now it's over."
Unlike their Roland Garros final in the summer of 2021, Djokovic benefited from a purposeful start – leading 6-3 after 36 minutes, dropping just one point behind his first serve (17/18).
Faultless when he charged towards the net and returning well enough to constantly keep the Greek under pressure, it wasn't long before he secured and consolidated the break.
No-one is immune to a slow start, Aryna Sabalenka can attest. However against the very best, it's hard enough without juggling an uphill climb too. As such, the real story arrived in set two.
Tsitsipas benefited from serving first – an ability to apply scoreboard pressure – and he watched a Djokovic backhand up-the-line whistle narrowly wide of the baseline to give him set point.
It was saved defiantly as is typical of the man, but who knows what might've happened had the roles reversed on that very point. Tsitsipas with momentum is tough to stop and Djokovic was visibly venting to his box repeatedly – would he have managed to steady the ship in time?
It's easy to speculate in hindsight now, but those fine margins are even more heightened in the biggest moments. Tsitsipas, not for the first time, did all he could to even the odds in his favour.
When he's serving well and his forehand is firing on all cylinders, the 24-year-old fancies his chances against anyone. That's even acknowledging (or purposely ignoring) the fact he'd lost the last nine H2H meetings with the new champion. Djokovic rose his level, and it was soon ten.
Whether injury-related or pure coincidence, Djokovic's increased aggression with forehand groundstrokes during rally exchanges has garnered a lot of attention over this fortnight, as another astute tactic used to stymie opponents while keeping them constantly uncomfortable.
Having served those two straight double-faults and being broken to start the third set, Djokovic responded well as the finish line neared.
He won 17 consecutive points on serve, no further hitches in his service game to give Tsitsipas or the rowdy Greece contingent in the crowd much hope of a rousing comeback, as a fitting graphic flashed across the screen at five games apiece in set three.
Tsitsipas led 22-20 in pressure points played, but there just hadn't been enough for him to sink his teeth into for over half-an-hour. Another tiebreak arrived, another flying start for the Serb.
A second serve return ace, as well as repeated depth and an uncanny ability to produce some gasp-inducing gets forced Tsitsipas into more unforced errors. He did well to save two championship points on serve, down 6-3, but Djokovic served it out with the third.
---
Post-match comments, what's next?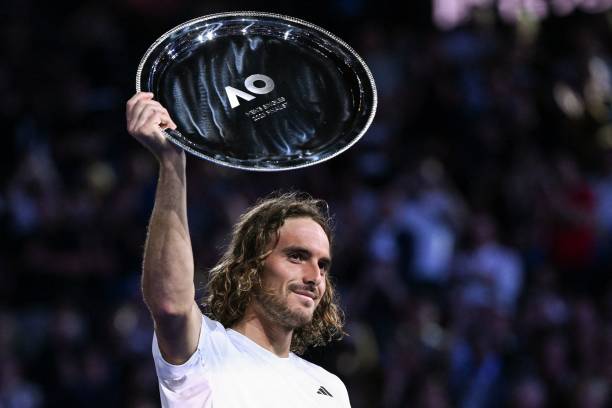 Tsitsipas was very complimentary of Djokovic in his post-match speech, at one stage declaring him the greatest tennis player of all-time, and doubled down in press.
"The numbers speak for themselves, 22 [Slams] isn't it… we have other great champions – Nadal and Federer are two of the best we've seen in sports, others who've contributed so much but I definitely meant it, he's earned it with dedication and professionalism in everyday life.
It's a wake-up call for me to learn from that and use it for my benefit, blessed I get the opportunity to do that with all the information you can extract from social media, this is the best era to play tennis."
Now a two-time Major finalist, the Greek star has two Masters 1000 titles (Monte-Carlo in consecutive seasons) to his name and rightly craves more after this latest disappointment.
"I'm not thinking about the match anymore, happy to be in another Grand Slam final, was dreaming of the trophy last night.
I have to think ahead, not backwards, losing a final is not the best feeling in the world, might be easier to absorb a semi-final loss – not dealing with the final spotlight, but I'd rather play the final than lose in the semis… need to take that next step now – Masters 1000 events and Slams."
Tsitsipas played a busy schedule last year, thrusting himself into three tournaments in February after losing at the semi-final stage against Daniil Medvedev. Felix Auger-Aliassime ended his final hoodoo against him in Rotterdam, while Cam Norrie was a surprise winner in Acapulco.
While he's still young (24y, 5m) and hungry for silverware, it's important he is smarter with his event selection so he doesn't burnout too early and is able to peak in big competitions.
Holger Rune (R4), Nick Kyrgios (R3) and Daniel Elahi Galan (R1) all won early at his expense during the season's three other Grand Slams, something he'll look to change this time around.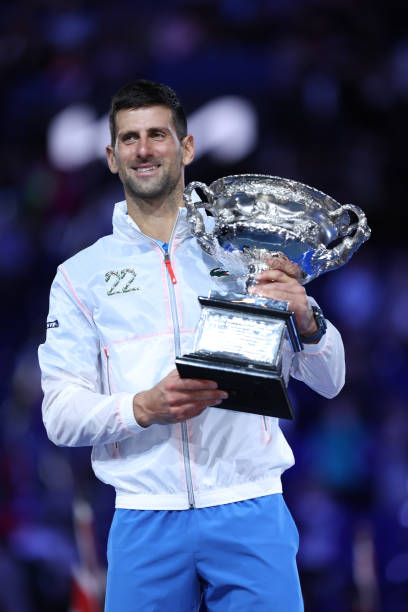 As for Djokovic, father time – and injury – appear like the only obstacles stopping him from continuing to reign supreme on tour for the next two-to-three years.
He always keeps his body in optimal condition, motivation isn't an issue as he continues breaking records and is hungry pursuing even more, while the younger generation will always provide the competition he needs to stay sharp.
Now former world no. 1 Carlos Alcaraz, who would've been watching with vested interest with his team at home, and the aforementioned Rune are just two.
Jannik Sinner pushed him close at Wimbledon last summer, Alexander Zverev beat him in the Olympic semis two years ago – something he'll undoubtedly look to rectify in Paris next summer – and there are more storylines besides the Nadal angle.
"Of course, I'm motivated to win as many Slams as possible – the biggest motivational factor for why I compete. 35 isn't 25 even if I want to believe it is, but there's still time ahead of me.
I never really like comparing myself to others but a privilege to be in the GOAT discussion, very flattering because I know I give as much effort and energy into trying to win Slams as anybody else. I still have a lot of motivation, let's see how far it takes me… I don't wanna stop here.
I feel great about my tennis, when I'm feeling good, I have a chance to win any Slam against anybody. I like my chances going forward, but nothing is given. You never know how much time you have left, I don't take it for granted. Hasn't been smooth sailing the last four weeks, makes this more special… as good as 2011, 2015 and 2016 where I had strong seasons afterwards."
Picture source: Getty Images, quotes via Eurosport broadcast