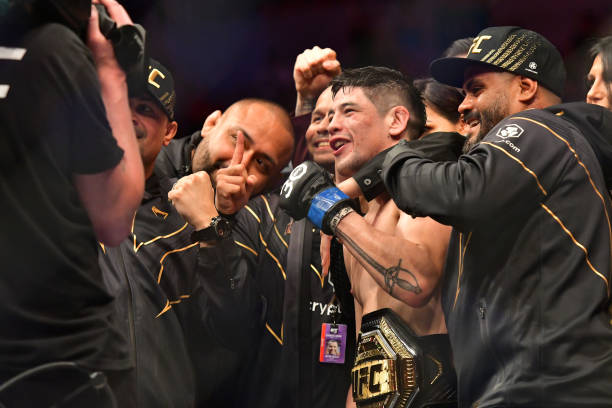 Having unified the flyweight championship, ending his three-year long tetralogy series with Deiveson Figueiredo at UFC 283 on January 21, reigning titlist Brandon Moreno has publicly insisted his wish to remain an active champion in 2023: two more fights – one in June and another in November or December – including a title defence vs. former foe Alexandre Pantoja.
Mexico maybe? Moreno angling for home title defence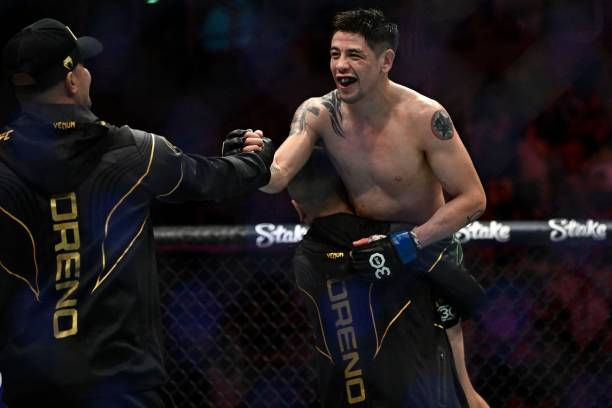 After a brief spell as champion first time around, reigning titlist Brandon Moreno wants a long-reigning, active campaign in his second stint atop the UFC's 125lb division.
Hopeful his first defence can be on home soil, much like now-former titlist Figueiredo experienced in Rio de Janeiro late last month, The Assassin Baby wants to avenge a defeat against Alexandre Pantoja before the year is over. He recently told MMA Junkie in Spanish:
"I would like to fight two more times this year – one in June and then again in November or December. I was fighting three times a year, had that rhythm before the whole thing with Figueiredo started, so I'd like to pick that back up.
But if UFC gives me the perfect excuse to wait until September for a pay-per-view in Mexico City, the launch of the Performance Institute [in Mexico], which I think this year gets launched, I think that's an incredible excuse. I wouldn't be surprised if they offer me Pantoja for the next one, so I think that would be the ideal scenario for me."
The last time the promotion went to Mexico City was Sept. 2019, for a Fight Night card headlined by Yair Rodriguez vs. Jeremy Stephens at featherweight. Moreno featured on that bill against Askar Askarov, a matchup resulting in a split draw.
Since then, he has fought eight times – including five championship bouts. That experience could prove decisive in a trilogy bout against Pantoja, who has beaten him twice (2016, 2018).
The first was a second-round submission (rear-naked choke) during an exhibition on The Ultimate Fighter, while the Brazilian outpointed him two years later (30-26 x 2, 29-27).
That was his last defeat before what proved a historic title run, especially when you consider he was released from the promotion in late 2018 and fought his way back into prominence.
---
Pantoja ready to pounce?
Pantoja is currently riding a three-fight win streak and weighed in as a back-up option for the aforementioned title fight two weekends ago. On the subject of facing him again, Moreno said:
"Whether you want it or not, that thorn remains. 'Hey, I know I can beat this guy, and he's beaten me in the past.' Something I have very present in my head and I'm very convinced of, is that the Moreno that fought Pantoja in their respective times, those weren't his best versions.
It's not making excuses, Pantoja never fought the best Moreno at that time. I truly believe that, and would love to prove that in future."
After Pantoja's most recent win, a second-round submission (rear-naked choke) against perennial contender Alex Perez, former two-division champion Henry Cejudo had this to say:
Matheus Nicolau [5] is riding his own Moreno arc, earning success aplenty after similarly being released in 2019. Manel Kape's on a three-fight win streak, while the likes of Muhammad Mokaev [12] are quietly driving their way up the rankings. Who said the flyweight division was boring?
Picture source: Getty Images, quotes hyperlinked