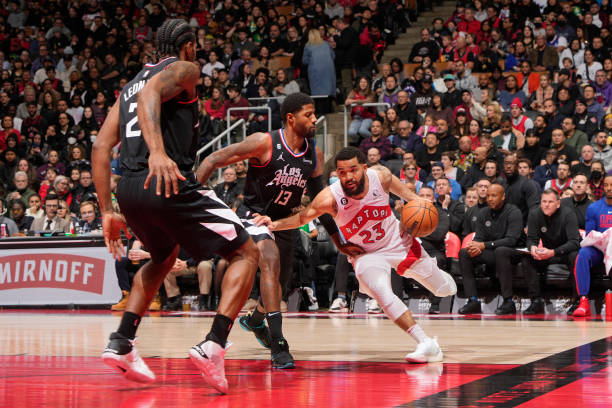 The February 9 trade deadline is just a week away, and Rui Hachimura's surprise trade move to the LA Lakers last month – January 23 – hasn't exactly caught fire as far as opening the floodgates for moves across the league. That much should change though before long, so here's a round-up of the latest news and chatter, including the Clippers' search for a guard.
kings, warriors interested in 76ers defensive stopper thybulle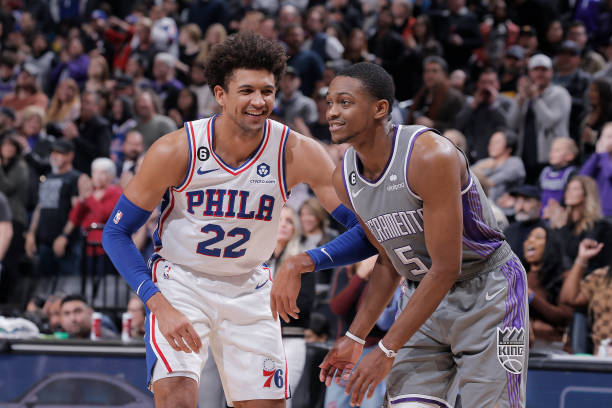 After a 16-season playoff drought, the Sacramento Kings are – barring any injury disaster – destined to end those postseason woes, and have exceeded expectations so far this term.
Armed with a 29-21 record and deemed a buying ball club before the deadline this time next week, league insider Marc Stein said they're eyeing a more defensive-minded option on the perimeter and Philadephia 76ers' Matisse Thybulle has come up in their shortlist of targets.
The move makes sense: while boasting the league's second-best attack (scoring 115.3 points per 100 possessions), their defence by contrast has dearly struggled (allowing 112.7 points per 100).
Thybulle's not known for his scoring touch, but the 25-year-old has developed a reputation as one of the league's best perimeter defenders and was an All-Defensive second team selection in the last two seasons to boot. However, Year 4 has been his least productive in terms of minutes.
---
Thybulle's raw stats from his rookie year to now
Year 1: 4.7 points, 1.6 rebounds, 1.4 steals in 19.8 MPG
Year 2: 3.9 pts, 1.9 rebs, 1.6 stls, 1.1 blocks per game in 20 MPG
Year 3: 5.7 pts, 2.3 rebs, 1.7 stls, 1.1 blks and 50 FG% in 25.5 MPG
Year 4: 2.7 pts, 1.2 rebs, 0.9 stls, 33.3 3P% in 12.1 MPG – started six of 46 regular season games
---
Unsurprisingly, the Kings aren't alone with their interest in the defensive wing given his unfavourable situation. The defending champion Golden State Warriors have had internal discussions about trading for Thybulle too, per the Philadephia Inquirer's Keith Pompey.
In the final season of an existing rookie-scale contract, it's unclear what the Sixers' asking price would be given his defensive abilities and room for further growth as an all-round role player. However, it's unlikely he'll be able to truly blossom if his minutes continue dwindling like this.
The JaMychal Green experiment was well-intentioned as a shrewd offseason free agent signing, but despite flashes hasn't gone well yet in Oakland – so the Warriors could look to offload the 32-year-old and upgrade their bench depth with a better defender. Let's wait and see though.
---
lowry, conley and more: Clippers clamouring for a guard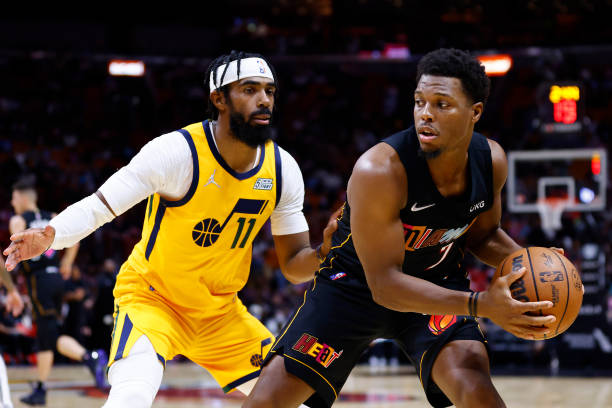 The Los Angeles Clippers have repeatedly featured in the rumour mill as an aggressive buyer given their title ambitions. That championship window won't be open forever, either.
While there is uncertainty over Miami's Kyle Lowry and Timberwolves guard D'Angelo Russell's future for different reasons, the Clippers have been linked with both. However, Mike Conley in Utah and Toronto's Fred VanVleet would probably represent acquisitions more warmly received.
Terance Mann's versatility has been on display throughout the season so far, with both he and Paul George starting at point guard in place of Reggie Jackson and offseason pickup John Wall.
The juicy headline – Kawhi Leonard talking to their front office – finding a bonafide floor general the motive, means reunions with either Lowry or FVV would be welcomed by their star forward.
That sentiment was supported by a report from Action Network's Matt Moore, as teams aplenty look to strengthen with the All-Star break fast approaching. For context, Ty Lue's men hold a 29-25 record at the time of writing, the fourth-best record in the Western Conference.
The league's second-most experienced side, behind the Milwaukee Bucks – who they play tonight – they are clearly in win-now mode given the ages of their key pieces.
Leonard (31) and George (32) aren't getting any younger, while the aforementioned backcourt duo are both 32 – as is sharpshooting wing Robert Covington. Marcus Morris (33) and veteran power forward Nicolas Batum (34) are both the wrong side of 30 too, so you get the point.
---
Lakers, Heat, Knicks and Mavericks mentioned in LaVine swoop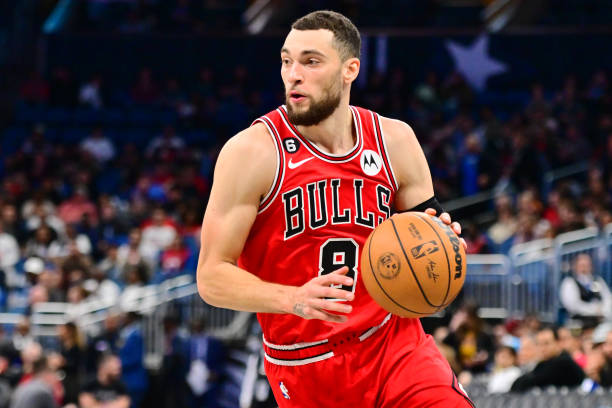 Rewind six weeks, back to where the Chicago Bulls were soaking up a series of indefensible defeats and embarrassing scorelines. Zach LaVine, who signed a five-year, $215m max deal to stay this past offseason, was said to be a key disruptor and trade speculation intensified.
Despite alternating morale-boosting wins and disappointing losses across the calendar since, there's still no decision on Chicago's stance: sell or stick?
LaVine, for what it's worth, has personally averaged 26 points, 5.4 rebounds, 4.3 assists and 39.2 3P% per game in the 21 he'd played since their blowout loss to Minnesota back on Dec. 18.
They'd lost three in their last four games before a 114-98 home win over the Charlotte Hornets tonight – but will they maintain the core as currently constructed or make a move? If they opt to sell, there is no shortage of suitors for LaVine, despite his injury history and defensive defiencies.
League executives have consistently mentioned the aforementioned quartet as teams with a desire to trade for the 27-year-old shooting guard, while the Portland Trail Blazers were interested in signing him during this past offseason before his max extension was agreed.
Whether they can provide a package that would entice Chicago into negotiations, remains to be seen. His recent improvement may cloud their judgment, or prove a blessing in disguise. Given the going rate for scorers of his calibre, it's unlikely and especially this close to the deadline.
---
Boston, Heat looking at Olynyk reunion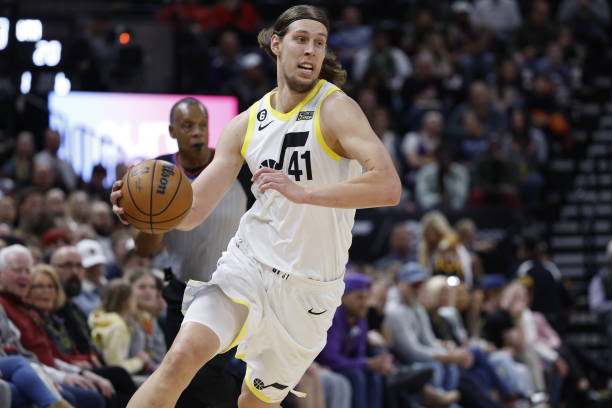 After a quieter year in Detroit last season, 31-year-old Canadian big man Kelly Olynyk finds himself part of a Utah Jazz side who quickly exceeded early season expectations and are packed with players who've got a chip on their shoulder. So much for their sharp rebuilding project.
Despite two five-game losing streaks a month apart, the Jazz – who traded away their two cornerstones in Donovan Mitchell and Rudy Gobert – sit a game over .500 (27-26) after Lauri Markkanen's 28-point effort helped them edge past the Toronto Raptors 131-128 tonight.
Finnish forward Markkanen was tonight deservedly announced as a first-time All-Star after notching several career-highs across statistical categories so far this season, though Olynyk might not be a teammate of his for much longer if recent reports are anything to go by.
---
Rewind: What were the details of the Hachimura trade?
Lakers receive PF Rui Hachimura
Wizards receive SG Kendrick Nunn, three second-round draft picks (2023, 2028, 2029)
---
Heavy Sports' Steve Bulpett relayed information that the Heat are interested, as are Boston, but the potential price tag for a player with his skillset could prove a sticking point. That much is exacerbated by where they would rightly see him – as a second option behind others.
"Boston and Miami want to get another big player that's better than what they have – not necessarily better than [Rob] Williams and [Al] Horford and [Bam] Adebayo, but better than all of the rest of the guys after them."
---
Wolves, Hornets eyeing Nuggets guard Bones Hyland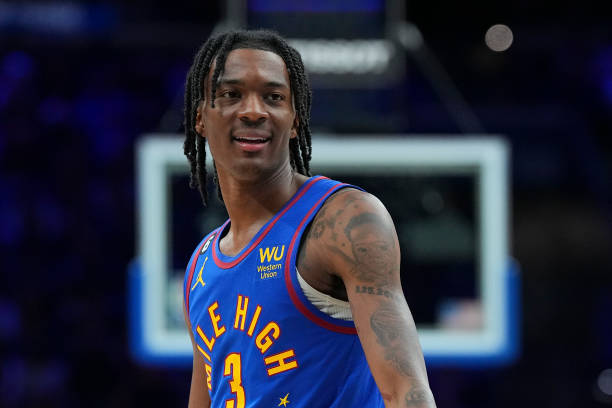 It was surprising to see the Denver Nuggets floating Bones Hyland in trade talks, given the second-year guard's impressive attacking displays provides them with another scoring option – largely off the bench. The 22-year-old has only started five of his 111 NBA games to date.
However, it's since emerged that he has reportedly had friction with their coaching staff over a desire to feature more prominently, though they are concerned about his defensive abilities.
Hyland is currently averaging 12.1 points, 3.0 assists, 39.9 FG% and 37.8 3P% per game in 19.5 MPG this term. He played just shy of five minutes against the New Orleans Pelicans on January 31, and was a DNP during their one-sided win over the Golden State Warriors last time out.
Minnesota, who enticed executive Tim Connelly from Denver last summer, are interested. Charlotte are also intrigued by the prospect of getting younger, should they start making moves to offload their veterans with 2020-21 Rookie of the Year LaMelo Ball the face of their franchise.
Picture source: Getty Images