Fresh from her split decision win over Mikaela Mayer in mid-October, unified super-featherweight champion Alycia Baumgardner has another tough test as she looks to realise her dream of becoming an undisputed titlist when facing France's Elhem Mekhaled later tonight.
Baumgardner: making my mark, leaving footprint on the sport
Alycia Baumgardner (13-1, 7 KOs) vs. Elhem Mekhaled (15-1, 3 KOs)
IBF, IBO, WBA, WBO, WBC super-featherweight world titles
Estimated ringwalks: Anywhere from 2am BST, Sunday
"Elhem is hungry, she's wanted the world title fight for a long time and that's great. We only have two minutes, don't give anything away and make a statement every round. I believe she'll come forward, I'll be sharper and set her up," Baumgardner on the Frenchwoman
After previously shutting down the possibility, 28-year-old now refuses to rule out Mikaela Mayer rematch: "It could definitely happen. She understands the game doesn't work in her favour, has to take a seat and understand things manoevure the way they're supposed to."
Mekhaled said: "I'm expecting a wall because Alycia is a puncher, I am too. I know how I feel today, this is going to be a great and big fight," after suffering first pro loss against former world champion Delfine Persoon (UD10) in May 2022, makes first appearance since then
When you're assuming the underdog role as much as Alycia Baumgardner has in recent times, you can understand bullish being a buzzword when you hear what she says during interviews.
"You might see a smile on a pretty girl, but don't get it twisted, I got the dog in me and the same hunger I had when I was eight – you cannot take anything from me – I hustled to get here, you aren't taking it."
This is a woman who scored a quartet of first-round TKO wins in five months as a professional, before contrasting decision wins set her straight on the path to world title contention.
A split decision loss by Greece's Christina Linardatou in July 2018 might have derailed her plans, but soon enough she returned to action and more fierce than before.
Riding a seven-fight win streak, which includes a stunning stoppage win against then-world champion Terri Harper in Sheffield and defending those titles with a shutout against Edith Soledad Matthysse, she inflicted Mikaela Mayer's first defeat as a professional on Oct. 15.
Now, she's back to complete the full set at 130lbs and has already earmarked long-reigning undisputed lightweight champion Katie Taylor as a future foe she'd love to step in the ring with.
Before then though, she has business to take care of this weekend and isn't entirely convinced Elhem Mekhaled will able to sufficiently handle her punch power. We'll have to wait and see:
"She's wild, her defence is a bit sloppy, so she's going to take a punch but can she take mine? I don't know, I have a different type of power, but we'll see. It's a KO for sure, I can feel it.

I'm the best in the world – no-one stops me but me – I took an early loss, brushed it off, learned from it and grew. I went to England as an underdog against Harper and Mayer, proved everyone wrong. I am here for a reason, speak truth to power and know I'll go down as one of the greatest female fighters of all-time."
---
What about long-reigning wba titlist Choi?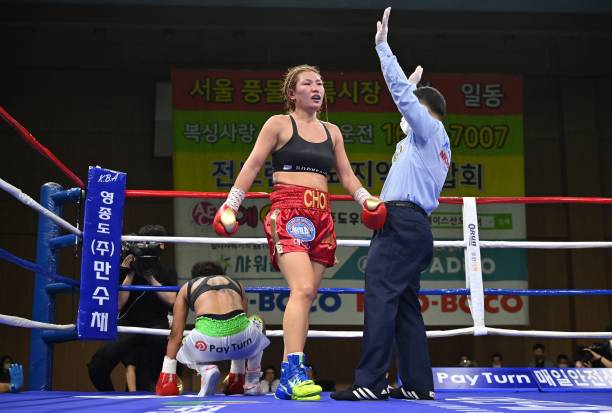 As I wrote in the final days of last year, Alycia could well be undisputed champion by the time long-reigning WBA champion Hyun Mi Choi returns from an undisclosed injury. It's one keeping her sidelined until late March at the earliest, so Choi was downgraded to champion in recess.
Although the judges' scorecards were scattered, Choi's last appearance was a unanimous decision win over Canada's Vanessa Bradford, four days after Baumgardner's win against Mayer and you'd naturally expect the 32-year-old will face the winner next once passed fit to return.
Baumgardner-Mekhaled is for all of the marbles in the co-main, on an intriguing card headlined by Amanda Serrano vs. Erika Cruz for undisputed status at featherweight. Given the recent buzz surrounding Taylor-Serrano 2 later this year, this weekend's action matters more for all involved.
Opening picture via Melina Pizano/Matchroom
, others from Getty Images
Fighter quotes via Matchroom