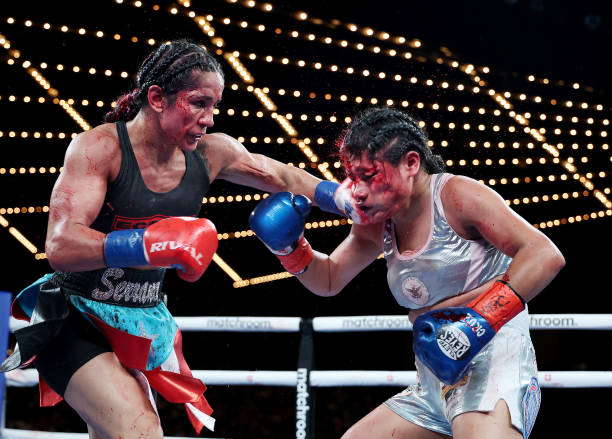 Alycia Baumgardner scored two third-round knockdowns en route to a hard-fought decision win over France's Elhem Mekhaled to secure undisputed status at super-featherweight, before Amanda Serrano found herself thrust into a similarly tough battle against a relentless Erika Cruz display – also victorious on points – setting up a Katie Taylor rematch for May 20, with the Irish undisputed lightweight star watching ringside and making a post-fight appearance too.
Baumgardner's power proves too much for Mekhaled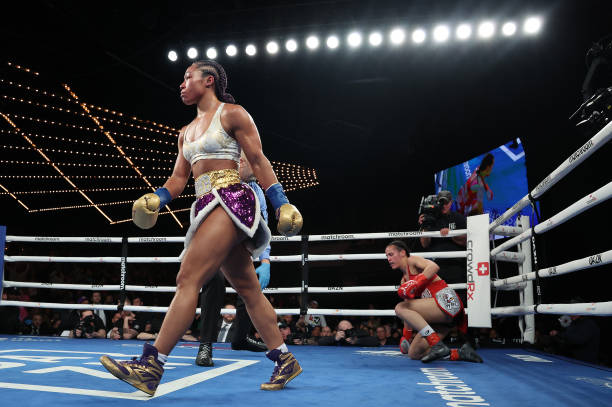 99-89, 99-89, 98-90: Alycia Baumgardner (c) bt. Elhem Mekhaled via unanimous decision, becomes undisputed world champion at super-featherweight
"I thought it was a great performance. I started my period today so that should tell you us women can do it all. We knew she [Mekhaled] was tough, salute to her, she kept coming like a champion should," the 28-year-old assesses her display in post-fight ringside interview 
"We want the big fights, this showed me there are levels to this – we want Katie Taylor, I want that challenge, that's how I know where [and how good] I am," American has reiterated desire to fight Taylor-Serrano 2 winner and is open to Mikaela Mayer rematch
The knockout punch she craved in the build-up didn't arrive as planned, but it didn't matter: newly-crowned undisputed super-featherweight champion Baumgardner was very close on a few occasions but outpointed a gamely Mekhaled showing during the evening's co-main event.
The ringside judges' scorecards were wider than I had it, and Baumgardner was guilty of punching herself out a few times in search of that ferocious finish.
Considering what was at stake, and the star-studded names watching ringside, her overenthusiasm in parts was understandable but alarming. Simply put, she needs to review the film and must pace herself better if she wants to succeed against the sport's toughest challenges.
That's not to say Mekhaled, ending a near nine-month layoff here, didn't bring her best – she did – and caused the powerful American problems. She timed her shots better in the early going, landing well as Baumgardner's face was already a cherry red colour after the first round.
Deciding to trade power punches in the pocket didn't bode well for the 31-year-old though, as the unified champion took her time landing body shots and the cleaner work in close.
Right on cue in the third, an overhand right hand dropped Mekhaled. She was still on unsteady legs after the first knockdown and found herself baited into another furious flurry with her back to the ropes, as Baumgardner threw more than 15 punches to floor her once more.
Given the intense pace and an eagerness to finish things prematurely in the third, it was no surprise to hear the commentators confirm Baumgardner was breathing heavy between rounds.
She essentially took the fourth off, having failed to get the stoppage, but that down round gave Mekhaled a chance to recover and unleash her own attacks once more without much resistance.
R5 was more of the same, Mekhaled refusing to go away in the face of danger and instead staying active, pesky with her punch output.
Former WBC light-middleweight champion Tony Harrison, Baumgardner's head trainer, told her in no uncertain terms: throw one-twos and stop settling for single shots before the seventh.
R6 was another competitive round that could've gone either way, and he wasn't satisfied with his charge's punch selection. She listened intently and in the subsequent round, wobbled the Frenchwoman again after connecting with a powerful flurry up against the ropes.
Again, Mekhaled's legs were shaky and she was frantically trying to hold on up close with survival in sight after being firmly second best – this was Baumgardner's first clear round since a 10-7 in the third. That success wouldn't last though, as the spirited challenger won the next two.
Landing more power punches, Alycia looked to be clearly tiring, was flat-footed and not moving her head often enough to evade sneaky shots.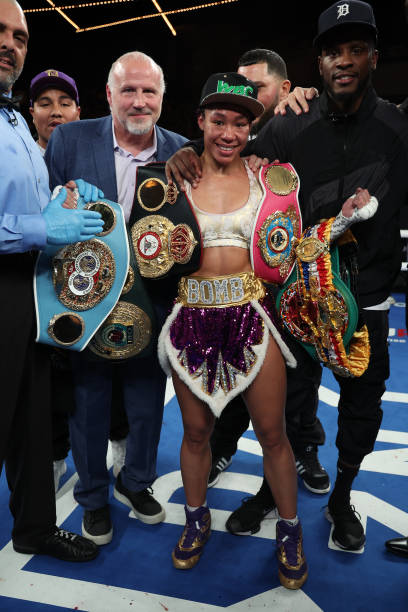 That didn't make for a good visual, but Baumgardner dug deep to finish strong in the final round as both landed haymakers and her body work appeared to pay dividends.
After seeing her narrowly outpoint Mikaela Mayer last October, it was refreshing to see a new wrinkle to the Detroit native's repertoire.
It's unlikely she'll get the Taylor-Serrano 2 winner before the end of this year, and while there is appetite for it, there's no rush for a Mayer rematch either – so perhaps WBC champion in recess Hyun Mi Choi is next on the agenda.
Either way, she has the luxury of multiple options to choose from and it's another fantastic result for someone most didn't know a mere 15 months ago before her stunning Terri Harper victory in Sheffield.
---
Serrano battles past courageous Cruz, sets up Taylor rematch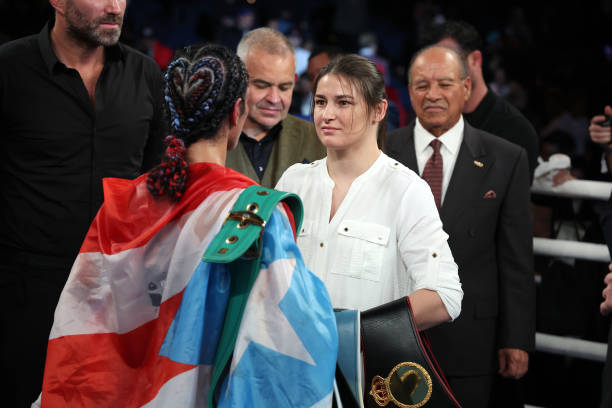 98-92, 98-92, 97-93: Amanda Serrano bt. Erika Cruz via UD, becomes undisputed featherweight world champion
Cruz landed 202 of her 968 punches thrown over 20 minutes, the most any Serrano opponent (44-2-1) has managed in the Puerto Rican's 14-year professional career – but despite such suffocating pressure at times, wasn't as accurate in eight of ten rounds 
"I thought it was a great performance, was cheering her on because I wanted this fight. The first was epic… the next will be exactly the same. More than a dream come true, my debut in Ireland against her. Incredible," Taylor on the rematch, set for May 20 in her home country
"She's a true champion, came to New York, she deserves to fight in Ireland – it'll be bigger and better over there. Loss didn't bother me too much, learned a lot and know what I need to do now. I've done enough [to improve] and will do more," Serrano before the pair's face off
As Serrano lapped up the adulation, praising everyone that had motivated her and of course, Puerto Rico, her trainer Jordan Maldonado spoke for her when asked what was next.
It wasn't exactly a secret, after all.
"We're going to Ireland next!"
"Of course, we have some unfinished business Katie," Serrano smiled.
Then the production team rolled the pre-filmed video announcing as much, reflecting on their unforgettable first fight at Madison Square Garden and confirming Taylor-Serrano 2 in the unbeaten Irish star's home country on May 20, emblazoned with the national colour of green.
So for the first time in the four-belt era, two reigning undisputed champions will face off.
It's still the biggest fight in women's boxing, they reiterated, and Cruz threatened to rip up the script in an action-packed main event as both threw more than 900 punches in 20 minutes.
The now-former WBA champion won her title on US soil, against Jelena Mrdjenovich in unwanted circumstances. Having defended it twice since, including once against the Canadian last September, those very same conditions threatened to prematurely end this firefight.
Cruz was content standing up close and willing to trade, brawling in the pocket – their exchanges were closer than the commentators would have you believe. Nip-and-tuck action, with Serrano connecting on some body work too, it was bubbling up nicely through two rounds.
An accidental clash of heads opened up a big cut on the Mexican's head in R3, around her hairline, and the blood was spraying everywhere.
Several replays of the same would've distracted most about what they were seeing: Cruz's relentless pressure – despite the cut – causing Serrano problems, as she ducked down and repeatedly landed shots from an angle, giving her sustained success in the pocket.
Serrano improved as time wore on, but she wasn't afraid to get hit and instead responded with more volume herself while connecting with more jabs too.
A right and successive left hooks left Cruz on shaky legs in R6, but much like Mekhaled earlier, she knew how to weather the storm and throw back defiantly to keep things finely poised.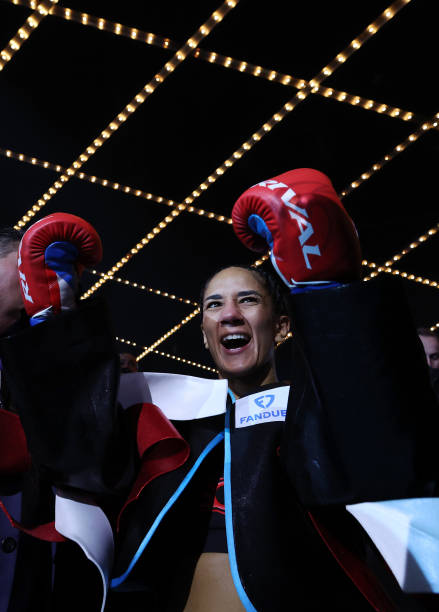 Naturally, the Mexican's furious pace from the opening bell saw her start to slow in the eighth.
Serrano had landed more frequently, especially with power, and absorbing those shots was starting to take a toll.
Her corner urged her to go for it before the final two minutes, and she briefly found a second wind as they both threw with bad intentions in the final seconds.
A fitting end to an early Fight of the Year contender, and many will question whether 34-year-old Serrano – like Artur Beterbiev last week – is showing signs of age after being hit too often for comfort.
She was willing and ready to trade big shots in the pocket, having immersed herself in what was a raucous atmosphere at the MSG Theater on home soil in New York, where she resides. That can't be the same gameplan on enemy territory in three-and-a-half months' time, though.
Picture source: Getty Images