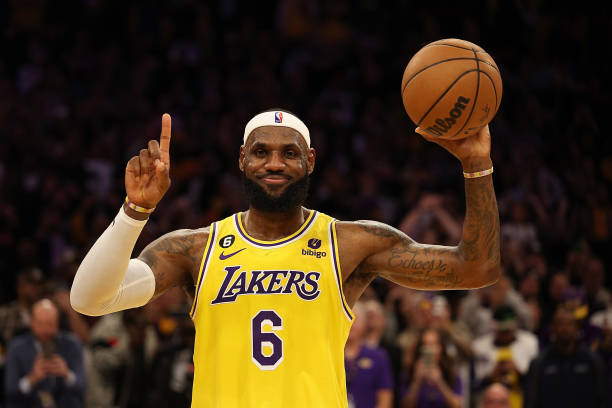 Lakers star forward LeBron James made history in the early hours on Wednesday, breaking Kareem Abdul-Jabbar's 38-year record as the league's highest points scorer of all-time. A recurring foot issue saw him sidelined late on but didn't dampen the mood on a celebratory night, despite what proved a narrow 133-130 home defeat against the Oklahoma City Thunder.
thunder can't spoil the party, as LeBron breaks Kareem's record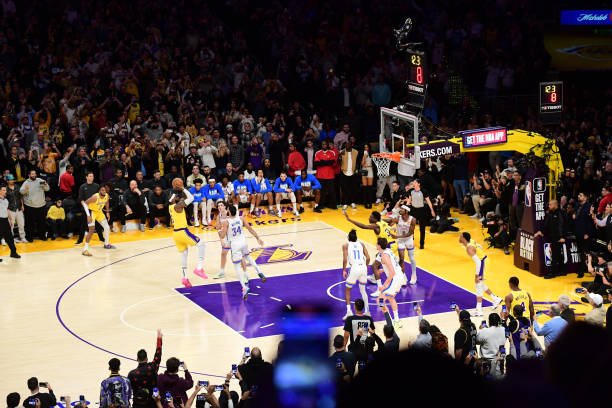 LA Lakers 130-133 Oklahoma City Thunder
LeBron James, struggling with a foot issue, reels off 38 points on 13-of-20 shooting
Gilgeous-Alexander, Giddey combine for 50 points and 14 assists as OKC silence the crowd
"Never thought this record would be touched, to have this longevity… The minutes I've played – regular and postseason – to still be at the apex of my game is a surreal feeling. Just a pleasure to be in this league, however long I can go, a hell of a ride." LeBron post-game
Hall of Famer Kareem Abdul-Jabbar hails 38-year-old for his 'indefinable' leadership qualities, says his career was one where he quickly showed he had the size and talent to step right into the league at a young age… immediately having an effect
Every time LeBron James touched the ball, stood up to check-in near the scorer's table, shaped to hoist a shot or was wide open for a pass, the soldout Crypto.com Arena crowd rose as one – suspended in anticipation and excitement – willing the man himself to deliver as expected.
All the attention, cameras fixated on his every move, this night would've been emotionally exhausting. After sinking a fadeaway jumper over Kenrich Williams' contest with 11.2 seconds left in the third quarter, he had finally done it. Relief and a sense of vindication etched on his face.
To put this latest achievement into context, LeBron was eight months from being born the last time the league's scoring record was surpassed. That very player was watching courtside.
It felt fitting that, midway through Year 20 of an illustrious career, he was being celebrated this way in what to many would've been classed as an otherwise normal regular season game.
There were celebrities and all sorts going on during a historic night, so Thunder head coach Mark Daigneault's questions about whether his young team would be distracted by the buzz were justified. He needn't worry – the final minutes of the fourth proved an exception to the rule.
Why? This was the second game in a back-to-back slate, so with fatigue in mind, his players theoretically had no right to maintain such high performance levels against a Lakers side with a near-identical record in the standings. Well, you try telling them and their youthful core that.
Whether it was the backcourt duo of Shai Gilgeous-Alexander, a deserving first-time All-Star, and the crafty shooting guard Josh Giddey, or the three-pronged Williams forward combo: Jaylin, Jalen and Kenrich, they took over with a series of aggressive runs the Lakers couldn't match.
That fast play, as well as Thunder's hot shooting streak from long-distance, magnified every sloppy touch, mistimed shot and needless turnover they committed – Anthony Davis' passivity returned, Russell Westbrook's bright moments didn't stop him being far from the fan fury either.
Mike Muscala seemingly couldn't miss from three-point range early on, drilling a trio in the first quarter alone, while the Lakers tried but predictably failed to keep pace with them. They're still in the league's bottom five for 3P% (26th, 33.6%) and this was no different when it mattered.
From 53-52 down midway through the second quarter, Oklahoma City went on a 20-4 run with multiple players involved: Muscala, Isaiah Joe, SGA, Giddey and Jalen Williams all on the board.
Gilgeous-Alexander finished with five turnovers and five fouls, but often made the right decision when under pressure: clever shot selection, cool composure, sneaky steals and more besides.
Speaking of steals, Jalen had a game-high six and didn't disappoint when shooting the ball: 10-of-19 from the field, as the rookie guard finished just shy of his season-high with 25 points.
LA collectively looked a few steps slow defensively, on multiple occasions, and were lax to stop backdoor cuts nor thwart the Thunder from taking turns imposing themselves in the paint.
Even with the bulk of his teammates struggling, LeBron did what he does: converting consecutive and-one plays, driving through traffic and letting the ball fly after shrugging off an 0-2 shooting start to drain 12 of his next 14 shot attempts – a variety of different ways.
You had the record-surpassing shot, a fitting one given his arsenal:
Before an impromptu, near 20-minute special ceremony at mid-court with a speech from the man himself, some words from league commissioner Adam Silver, an embrace as all the family members accompanied him and more besides. Could you imagine this going any other way?
LA's defensive deficiencies are such that their championship aspirations as their currently constructed won't change overnight with one trade, but LeBron in his age-38 season has still proven himself to be one of the league's best players – something to consider after this term.
It wasn't too long ago that genuine questions over his future in LA were raised. Having signed a two-year $97.1m max contract extension, complete with a no-trade clause before this existing deadline, the noise quietened for a while. How long that lasts, depends on team performance.
Given how dominant he still is on court, it's difficult to see his scoring rate slow down anytime soon, either. Availability is the best ability: he has only missed serious time through injury over past four years in Los Angeles, so managing the physical workload (and aspirations) will be key.
---
What's next?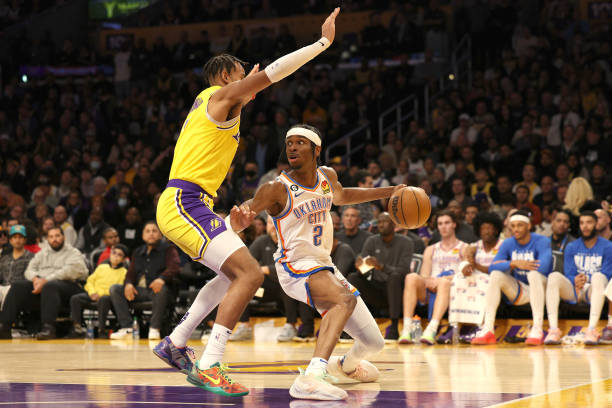 After another televised clash against the Milwaukee Bucks this Friday, a two-game road trip awaits the Lakers – the reigning champion Golden State Warriors and Portland Trail Blazers – before a home clash against the New Orleans Pelicans, their last before the All-Star break.
As for OKC, who were handily beaten by Golden State 24 hours ago, they get a few days' break before facing Portland in the early hours on Saturday before a two-game home stint (Pelicans, Rockets) to finish the pre All-Star portion of what has been a topsy-turvy campaign so far.
Picture source: Getty Images, quotes via TNT broadcast