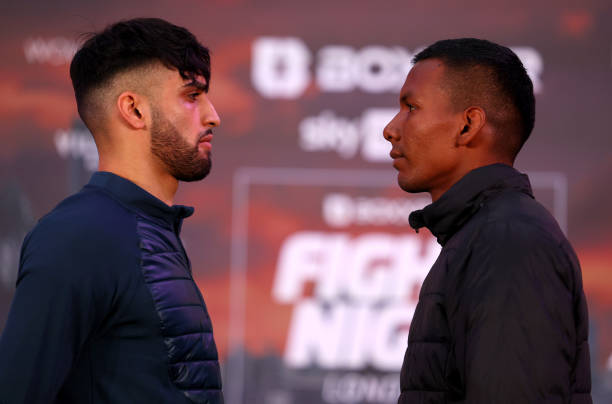 Light-welterweight prospect Adam Azim prepares to headline his second card in eleven weeks this Saturday against an unknown quantity in fellow unbeaten boxer Santos Reyes, topping the bill from Wembley's OVO Arena. Zak Chelli returns at super-middleweight against stern overseas opposition, Tyler Denny defends his English middleweight strap vs. a determined Brad Pauls while Caroline Dubois and Viddal Riley are among the notable names also set to feature.
Activity the buzzword for ambitious Adam Azim
Compared with the cauldron of Manchester Arena for Eubank-Smith last month, asked to provide insight into how some of the night's fights may unfold on Sky's pay-per-view broadcast, Shane McGuigan's east London gym resembled home for unbeaten pro Adam Azim (7-0, 6 KOs).
He feels comfortable here in these surroundings, stressing to me how much he's already learned under the tutelage of his 35-year-old trainer – whose stable includes the Dubois siblings and Adam's older brother, welterweight prospect Hassan Azim (5-0, 2 KOs) – and you believe him.
"It's a family gym, we all love each other and work hard together.

I've had a professional style since I was an amateur, throughout my career I've kept that philly shell [stance], it wasn't a big chance for me… Shane taught me how to punch down, knock people out, I've learned so much coming here." 

Adam on the dynamic under McGuigan with two pairs of siblings in the gym, as well as how his style has translated from amateur to the pro ranks
Still only 20 and growing his profile, Sky have proven the perfect platform for Azim's progression in a division that, until recently, didn't seem particularly compelling on the domestic scene.
Jack Catterall's controversial split decision loss by then-undisputed champion Josh Taylor this time twelve months ago threw a spanner in the works, and you could argue there are half-a-dozen British contenders in the mix with regards to genuine world championship potential.
Adam is among them, but knows he must keep winning and producing statement performances at that. That expectation will continue this weekend against an unknown opponent in Nicaragua's Santos Reyes (12-0, 3 KOs), making his first appearance outside his homeland.
McGuigan made a good point when asked about Reyes wanting to 'change his life' with what would be a shocking victory, as well as benefiting mentally from not knowing how to lose.
Nicknamed Starboy, he won the WBA Fedecentro light-welterweight title – a Central American sanctioning body – against then-unbeaten Bryan Jimenez (9-0) in late July and defended it with a 10-round decision win over Ricardo Cortez in early December – so they're on similar timelines.
Adam said he had watched some tape on Reyes, who made his professional debut 20 months earlier than him back in 2019, though we'll have to wait and see how things transpire:
"He's a good opponent, very durable, hopefully I get a knockout win. I don't go looking for it [the finish], but try to throw precise shots, can do rounds if I need to.

I've done twelve straight from three different people in sparring and don't get tired, had great sparring for this fight – middle and super-middleweight boxers – so I'm looking forward to it."
After reeling off five fights with a flurry of knockout victories, McGuigan said he wants Azim to stay active this year as that will help him develop massively. He's aware of the difficulties that lie ahead with Ramadan – the holy month of the Islamic calendar – which begins on March 22.
"I'd try to get two [completed fights] in before Ramadan, if we can't, three weeks of training and then something like: February, May, July, September and December.

Activity helps fighters to develop, they do so much quicker because you can do all the work you want out here [in the gym], it's different when it's out there [in competition]."

McGuigan on how in-ring activity is key at this developmental stage
As long as he can remain injury-free, that fight schedule should be doable. First things first: taking care of business this weekend trumps all else in his quest for ongoing success.
---
adapting: Caroline's opponent change, twice in quick succession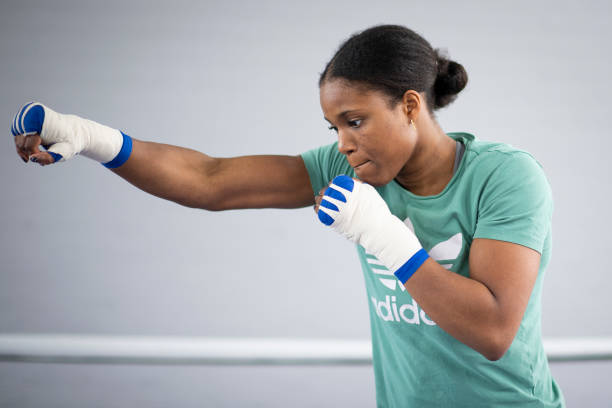 "My division is the busiest in women's boxing, stacked from 130 to 147lbs, I'm blessed and in the mix – can go up and down – hopefully by the end of the year, I'll be fighting a very big name or for a world title," Dubois tells me when assessing her division, goals for 2023
"Definitely realistic. I want her to fight five times this year, maybe an IBO world title [to finish], then let the public demand the fights. Once you get a name and perform the way she has, they'll want her to box all these elite fighters," McGuigan on Caroline's ambitions
22-year-old confirms her older brother and WBA (Regular) heavyweight champion Daniel has undergone ACL surgery, is rehabbing right knee and progressively building his strength back after rollercoaster ride to victory against Kevin Lerena in December
"Daniel's journey has helped me because it's personal, I see him everyday. When he was winning, everyone had good things to say… he lost to Joyce, had a hard fight [Lerena]… it's very humbling and good to see, this boxing game is amazing but can be the loneliest sport."
Caroline Dubois' much-anticipated step-up in competition will have to wait. With little over a week until her scheduled matchup against Yamila Belen Abellaneda – who had previously boxed a trio of now-former world champions – it had emerged the 29-year-old unexpectedly withdrew.
The reason was unclear, but McGuigan said her team were no longer confident after she suffered a split decision defeat against Lorena Edith Agoutborde back in her native Argentina on Jan. 14.
Training wasn't going well for the Argentine, but they appeared to have a late-notice option who would sneakily prove an even tougher proposition for Sweet Caroline. That too, fell through.
She was instead slated to fight Abellaneda's compatriot Maria Ines Ferreyra (5-0, 2 KOs) next in a last-minute replacement, but that proposed option also fell through for undisclosed reasons.
Ferreyra, 25, is ranked #6 in the super-featherweight division by BoxRec – above WBA champion in recess Hyun Mi Choi as well as France's Elhem Mekhaled, who was competitive but ultimately second best against now-undisputed titlist Alycia Baumgardner last weekend.
Instead, she'll fight an opponent known to some UK boxing aficionados: Tanzania's Feriche Mashaury (10-7, 3 KOs), who began her career 5-0 before running into a pair of then-undefeated British hopefuls in Nina Bradley (UD10) and Terri Harper (R2, TKO) in the latter stages of 2018.
Natasha Jonas (UD6) and Chantelle Cameron (R2, TKO), have both beaten her across the country, and she's lost her last three – all by decision – having ended a 20-month layoff last April.
In terms of milestones: this marks a first eight-round fight for Dubois but given the destructive form we've seen from her recently, it's safe to assume Caroline won't go the distance here.
"I came in after the new year, working on slowing things down, my power punches and being present in the ring – comfortable under pressure.

The best way to relax, not be blown away by things, is to understand this boxing game is amazing but fickle. The moment you lose, people drop you and say all sorts, you have to stay working and dedicated. I train hard, try to do more and stay switched on." 

Caroline on what she's been working on recently, as well as the importance of not getting distracted by praise while reducing lull periods in fights
---
Elsewhere on the card…
Chelli in co-main slot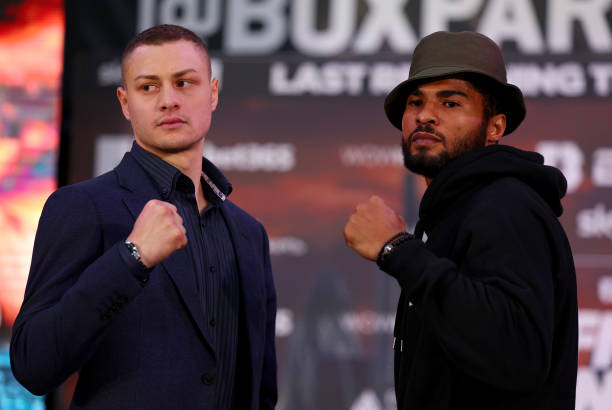 After his proposed bout against Lerrone Richards was cancelled through no fault of his own on fight day back in November, super-middleweight contender Zak Chelli will hope to produce over 10 rounds against his toughest opponent yet, in California native Anthony Sims Jr (23-1, 20 KOs).
A cousin of Hall of Fame boxer Floyd Mayweather Jr, the 27-year-old American built up a credible resume of his own before suffering a split decision defeat by two-time world title challenger Roamer Alexis Angulo in January 2020. That narrow loss seems to have inspired a fire within him.
He was spotted by journalists in the capital at the Tyson Fury vs. Dillian Whyte press conference last April and did an interview, confirming his appearance was no coincidence: he would be training full-time in the UK, not long after Eddie Hearn released him from his Matchroom deal.
Calling out any contenders at 168lbs, he was interested in the Demetrius Andrade vs. Zach Parker fight – which twice fell through. Parker instead fought John Ryder in November, retiring with a suspected broken hand, while Ryder targets a Canelo Álvarez showdown in May.
That's where Chelli comes into the mix.
Ranked #4 in the country by BoxRec – behind Ryder, Parker and Mark Heffron – the 25-year-old's last appearance was a UD10 win over Germaine Brown for the English title last June. Success against Richards would've seen him rewarded with a top-15 WBC ranking, but he'll have to wait.
Rather than wait on the sidelines, this matchup presents him with a different type of challenge but one that he needs if he's to continue progressing through tests at super-middleweight.
denny vs. pauls: mutual respect says all you need to know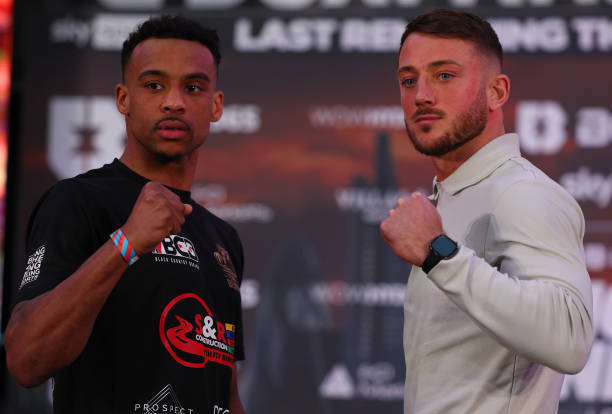 Reigning English middleweight champion Tyler Denny continues to get better with age, while Brad Pauls doesn't need to sell a competitive fight he knows is the toughest of his career yet.
That's what makes these matchups, with domestic titles on the line, so compelling: in one corner stands a man who keeps defying the odds. In the other, an opponent two years his senior yet to find out just how good he can be. Plus, it's a British title eliminator – even more at stake.
Denny has inflicted maiden career defeats for three former opponents since outpointing Tom Stokes to clinch the Midlands Area title six years ago. He's been stopped, narrowly outpointed himself and accrued a trio of draws on a busy but unfinished record since his pro debut in 2015.
The most recent scalp was a well-executed (UD10) victory against 14-0 contender Bradley Rea in Manchester back in mid-November, so it'll be interesting to see whether the 31-year-old can replicate that showing against The Newquay Bomb, making his first appearance since last May.
In the interview portion of yesterday's fight week media day, they said this:
Denny: "I just think I'm better, he obviously thinks he is, we'll find out Saturday. We both come to win, both hungry fighters – he's entertaining, my last three have been entertaining fights – it's got fireworks written all over it."

Pauls: "Tyler's established at this level, it's my time to step up, take my shot and show what I'm about – we can both dig deep if we have to. The styles will gel well for a good fight. There's so much to be gained from this, toughest opponent yet."
Riley-Taj: will it go the distance? probably not…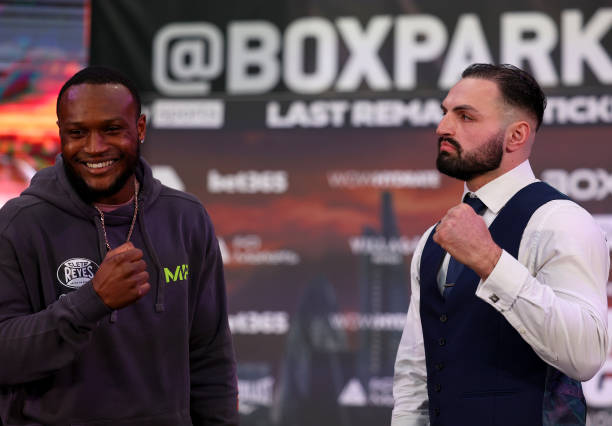 2022 was the most active year of Viddal Riley's professional career to date, but we still don't know just how good he is. Highly-regarded coming through the amateur ranks, a win over top cruiserweight contender Chris Billam-Smith (Apr. 2017) shows he is a genuine prospect at 25.
The opposition level has been lacking, but as he echoed on Wednesday, Anees Taj (7-2, 5 KOs) benefits from something none of his previous seven opponents have: additional time to prepare.
"I love it, he's got intention and something in place that he thinks he can pull off. I don't see it, if I don't knock him out in round one, there are other rounds for the punishment to continue.
I don't think at this stage of my career, my toughness is tested – my skill is too elite for that. He's definitely in the top three [of my opponents], maybe even top two, because I know he's coming with intent, the mentality is strong. He's had the most notice out of my previous opponents."
Taj, for what it's worth, began his career 5-0 before narrow decision defeats by Slovakia's Adrian Valentin and Ricky Reeves – the latter is slated to face Perry Howe for a Central Area title in April.
The pair both offered round-specific predictions for Saturday night: Taj said he'd stop Riley within six, before the unbeaten prospect said the 29-year-old wouldn't see round four.
After labouring to a six-round points triumph over Willbeforce Shihepo this time twelve months ago, having knocked him down in R1, Riley has since scored successive stoppage victories.
It's encouraging to see this is scheduled for eight rounds, at a time where he needs to continue logging that experience as the step-up in competition increases.
The highlight reel punch power means title talk is not far away either, and he could foreseeably go the domestic route before long – provided he doesn't slip on banana skin opponents like Taj.
---
Other notes, tidbits around the boxing sphere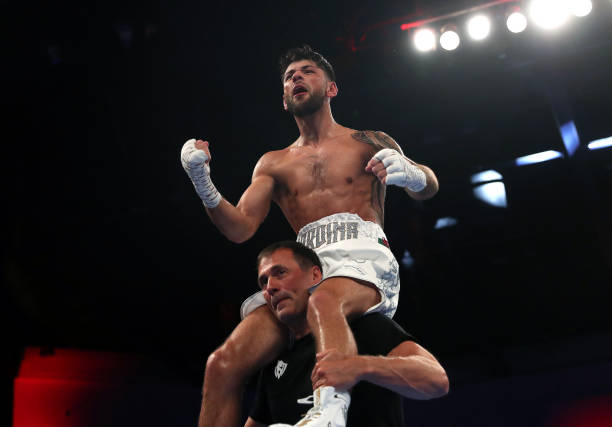 New fight dates
March 11: Callum Smith vs. Pawel Stepien, former super-middleweight world champion Smith's third fight at 175lbs with unified titlist Artur Beterbiev firmly in his future sights
March 25: WBO cruiserweight championship: Lawrence Okolie (c) vs. David Light, Jack Catterall will feature in a stay-busy fight after Josh Taylor rematch was again postponed through injury
April 22: Joe Cordina vs. Shavkat Rakhimov for the IBF world super-featherweight title
Chris Billam-Smith is hopeful they can secure a world title fight against IBF champion Jai Opetaia in late May-June, 32-year-old slightly favours Badou Jack to beat WBC titlist Illunga Makabu on Feb. 26… wants the winner if Opetaia bout can't be made next
The cruiserweight contender told me: "After that, I'd love the Riakporhe rematch. It's got to be a big fight next, can't just be – no disrespect – someone like my last opponent [Armend Xhoxhaj] who nobody really knew, I want a big fight and to keep pushing on."
Dec Spelman has retired from boxing after failing a brain scan before his proposed matchup against former Olympian Cheavon Clarke on next weekend's Nottingham bill
Dan Azeez remains coy on possible domestic matchups at 175lbs, focusing on France's Thomas Faure for the European title first – a bout originally slated for Azim-Reyes card
Azeez was suffering from illness two weeks ago, battled to try and keep the bout on as planned but hopeful he can return vs. Faure on the Okolie-Light card in late March
British heavyweight champion Fabio Wardley wants 3-4 fights this year, says Frazer Clarke should take inspiration from fellow Olympic medallist Joe Joyce by stepping up in competition before a possible matchup between the pair, either at year's end or 2024
Super-bantamweight prospect Dennis McCann expecting an April return after his Joe Ham R8 TKO victory while Hopey Price (vs. Thomas Masson, March 18) and EBU European champion Liam Davies (vs. Jason Cunningham, April 29) are both booked
Adam Azim reveals fighting at Liverpool's football stadium Anfield is one of his boxing dreams, would love to feature on Liam Smith vs. Chris Eubank Jr II card later this year
Richard Riakporhe: "People say I've got gaps in my style, we are trying to work on it and improve little-by-little… the ability to adapt. Courage and confidence is what I need, take the risks when they come," as the 16-0 cruiserweight wants Opetaia, Okolie fights
Trainer Shane McGuigan says WBO champion Lawrence Okolie has given up UK residence, training in Abu Dhabi with SugarHill Steward and calls it disappointing they won't be working anymore – but content with his existing stable and family life
Confirms another of his stable, 6-0 super-bantamweight contender Ellie Scotney, will return in mid-April, ideally wants her to fight for a world title before the year's end
After outpointing a durable Roberto Arriaza on the Bournemouth BOXXER show in December, southpaw welterweight Michael McKinson will return next month – an eight-rounder against Brazil's Sergio Dos Santos Carvalho (13-1, 11 KOs) in Roma, Italy
Joe Cordina vs. Zelfa Barrett's conqueror Shavkat Rakhimov is set for April 22 at the Motorpoint Arena in Cardiff, Wales – where Cordina R2KO'd Kenichi Ogawa last June. The 15-0 super-featherweight was dubiously stripped of the world title through injury
---
Saturday's card in full, is as follows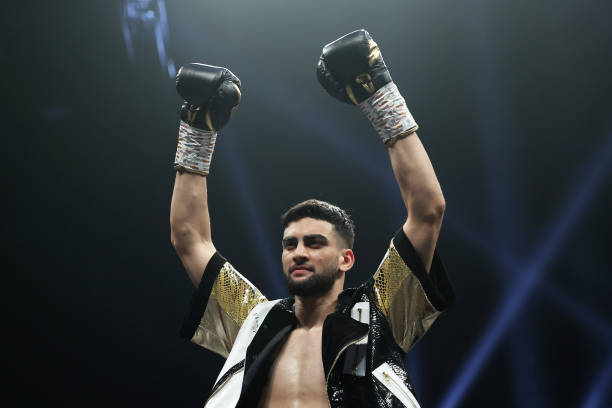 Card subject to change, running order not finalised
10 rounds
Light-welterweight: Adam Azim vs. Santos Reyes
Super-middleweight: Zak Chelli vs. Anthony Sims Jr
English middleweight title: Tyler Denny (c) vs. Brad Pauls
8 rounds
Women's lightweight: Caroline Dubois vs. Feriche Mashaury
Cruiserweight: Viddal Riley vs. Anees Taj
Heavyweight: Jeamie Tshikeva vs. Harry Armstrong
6 rounds
Super-middleweight: Jordan Reynolds vs. Mohamed Cherif Benchadi
Welterweight: Hassan Azim vs. Abdallah Luanja
4 rounds
Featherweight: Alireza Ghadiri vs. Hector Avila Lozano
Pictures via Getty unless stated — all quotes transcribed from my interviews unless hyperlinked