Sure, you would much rather fight reigning champion Alexander Volkanovski for the undisputed championship. However, an interim title shot is the biggest honour either Yair Rodriguez or Josh Emmett have managed in their respective careers and given the 145lb division remains in flux, both would be wise to seize it during tonight's co-main event.
Rodriguez reflects on long road to interim title shot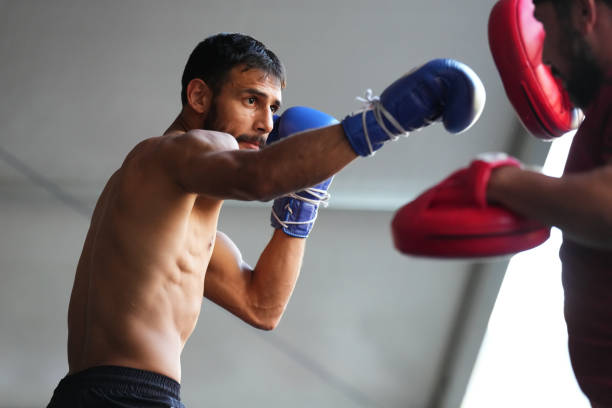 "The journey has been long – it's like 10 years for me to get here to this point finally," After two defeats four years apart, the 30-year-old looks back at his UFC run to this point
"I think he's a really dangerous opponent, can make some damage if he gets to connect a single punch so I'm gonna have to be very careful with him. I expect him to bring the best [of himself], it's a war as always," Rodriguez is aware of the dangers Emmett possesses
He's ranked No. 2 for a reason, so dynamic, elusive, explosive and crafty – you don't know what he's going to throw at you… but I've watched so much film on him. I'm going to go in there and execute my gameplan, capitalise on things I don't think he'll be able to correct in that 10-week camp, and going to beat him to the punch," Emmett backs himself to prevail
Eight months after losing a Fight of the Night battle against former champion Max Holloway, Yair Rodriguez found himself in an awkward situation – but a favourable one nonetheless – after Brian Ortega's shoulder injury saw their main event matchup end abruptly in R1 last July.
He was vocal in his attempts to pursue a Volkanovski matchup shortly afterwards, and while you can't blame him given the state of play atop a fluid featherweight division, it didn't really make sense to grant him the next title shot immediately after logging a victory in such circumstances.
Emmett, who edged past Kattar with a split decision victory a month earlier, fits the bill perfectly in a final eliminator for Volkanovski's next title challenger.
Having already bested Holloway, Ortega and The Korean Zombie in recent times, the affable Aussie has always insisted his willingness to defend his title with new opposition – provided they earn their stripes against similarly top contenders, rather than expecting him to do the leg work.
Emmett isn't an easy out – his fellow contenders know that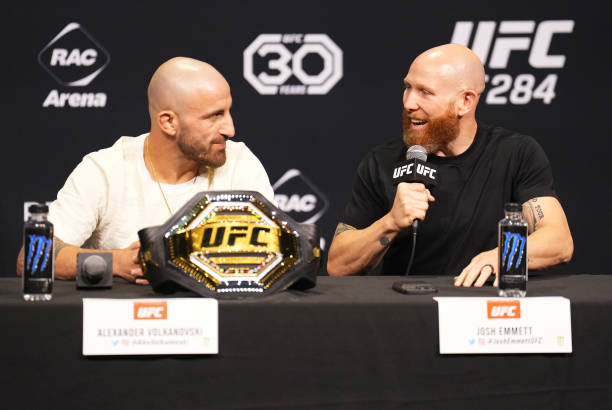 The division's all-time leader in knockdowns landed (11), Emmett's height and reach disadvantages won't deter him from causing Rodriguez some problems if El Pantera isn't defensively responsible and proactive throughout in the American's second five-round matchup.
He has a 10% higher strike defence percentage than Rodriguez, per UFC stats, and while his strikes landed vs. absorbed per minute are virtually identical, the 37-year-old has won a series of fights where he was actually outstruck besides Kattar: Dan Ige and Shane Burgos post-lockdown.
Calvin Kattar, who narrowly came off second best against Emmett last summer, feels a little aggrieved that he's not in the interim title slot. Instead, he's rehabbing an torn ACL injury…
Had he got the nod on one more judge's scorecard that night in Austin, he wouldn't have felt compelled to return sharpish against a surging Arnold Allen – where he sustained a serious knee issue in late October – scuppering his chances of a title charge in the short and medium term.
The 34-year-old said this when previewing the fight with MMAJunkie:
"I feel like I stand with the majority in thinking I should be in there that night, and it is what it is. As far as being a fan watching that one, I might have to just get the update on what happens and not watch.

I see Yair being the slight favourite everywhere, wherever the fight goes – but Emmett's been in the game for a while, a power puncher, lands a big shot… anything could happen.

Both have wrestling – neither's got the advantage there – you give Yair the standup edge, he's a little bit more dynamic with the strikes, but Emmett's got the power advantage. We just have to see how it plays out."
Volkanovski echoed much of that sentiment when asked for a fight prediction during his appearance on Michael Bisping's podcast in late December, saying:
"I feel like Josh will need to use all his tools. Obviously he's got the big hands, but I really think he'll be able to land some bigger shots if he starts engaging in some wrestling and all that.
He's gonna be a lot more powerful than Yair, have him second guessing and worrying about other things so he can start landing hands, then get him on his back. It depends if he tries to use all his MMA tools – he can do it – but if he just wants to stand there and bang, that favours Yair."
---
UFC 284 CARD, IS AS FOLLOWS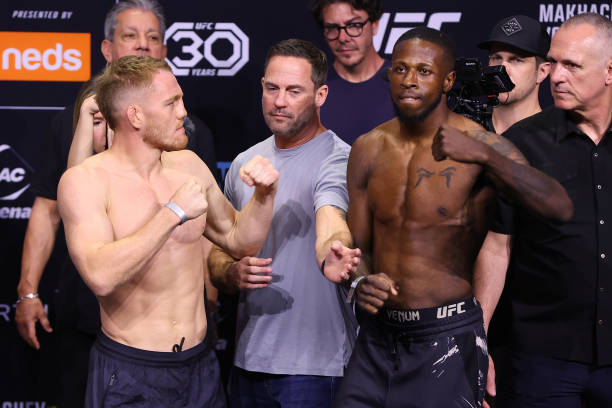 Main card (Sunday, 3am BST)
Lightweight championship: Islam Makhachev (c) vs. Alexander Volkanovski (c)
Interim featherweight championship: Yair Rodriguez [2] vs. Josh Emmett [5]
Welterweight: Jack Della Maddalena vs. Randy Brown
Heavyweight: Justin Tafa vs. Parker Porter
Light-heavyweight: Jimmy Crute [12] vs. Alonzo Menifield
Prelims (Sunday, 1am BST)
Light-heavy: Tyson Pedro vs. Modestas Bukauskas
Featherweight: Joshua Culibao vs. Melsik Baghdasaryan
Catchweight: Shannon Ross vs. Kleydson Rodrigues*
Lightweight: Jamie Mullarkey vs. Francisco Prado
Early prelims (Saturday, 11pm BST)
Featherweight: Jack Jenkins vs. Don Shainis
Women's strawweight: Loma Lookboonmee vs. Elise Reed
Featherweight: Shane Young vs. Blake Bilder
Catchweight (157.5lbs): Zubaira Tukhugov* vs. Elves Brenner
Brazilian flyweight Kleydson Rodrigues (20%) and Russian lightweight Zubaira Tukhugov (30%) missed weight on Friday, so forfeit disclosed fight purse percentages to their opponents.
Picture source: Getty Images, quotes hyperlinked