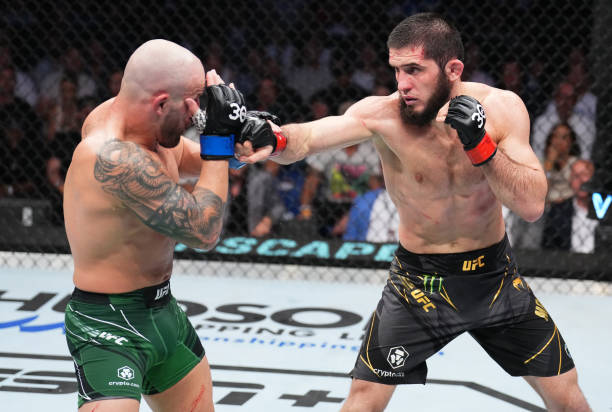 Lightweight champion Islam Makhachev was thrust into deep waters and finished an arduous first title defence on his back, but did enough over 25 minutes to outpoint featherweight titlist Alexander Volkanovski in a clash of two champions which lived up to the billing in-front of a manic 14,124 strong RAC Crowd in Perth, western Australia. Volkanovski will face new interim titleholder Yair Rodriguez at 145lbs, after his second-round submission win over Josh Emmett.
Makhachev goes the distance, as volk exceeds expectations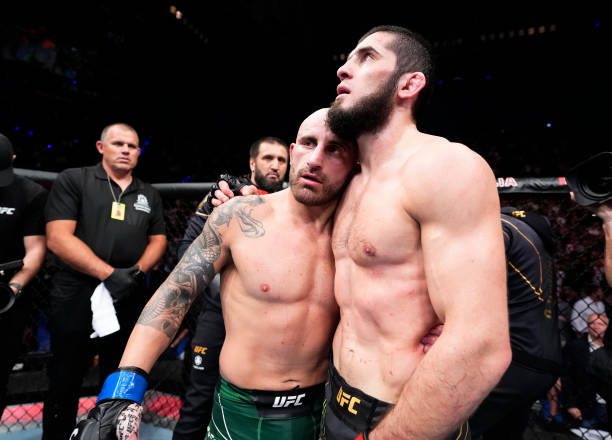 48-47, 48-47, 49-46: unanimous decision
Islam Makhachev [c] bt. Alexander Volkanovski [c], retains lightweight title
"I thought it'd be easy on the ground, how he prepared… he improved a lot. Many things happened, I need some tough fights to improve. You like or don't like [me], I showed why I'm the no. 1 fighter in the world right now," Makhachev on Volk and pound-for-pound status
"Maybe I could've capitalised in some positions better but what can you do? Obviously he didn't respect my wrestling and grappling, I didn't with his striking either, so fair play to both. I'll be back at lightweight again," Volk reflects while confirming Yair is next
In broken English, Islam Makhachev addressed the unhappy crowd and after thanking his opponent, demanded his respect: beating the #1 pound-for-pound fighter, in his home country on enemy soil, in a discipline no-one expected him to, how could you dare doubt him now?
Michael Bisping on commentary said it so confidently moments before the first horn: if this stays standing, Volkanovski is a double champion. If the fight goes to ground, Islam retains his title.
That proved precisely the inverse.
Although he didn't get the statement finish he searched for at times, Makhachev beat the bullish Aussie at his own game – before having his wrestling tendencies effectively nullified. They were going tit-for-tat, oneupmanship at its finest, between the sport's two pound-for-pound best.
All five rounds were competitive for different reasons, but the second was perhaps the closest. If because of his output and pressure, you gave it to the home favourite – roared forward by a boisterous RAC crowd – then he won 48-47. The other way around, and Islam gets the nod.
Such is the norm in combat sports a close fight can't just be labelled as such: the word robbery is a typical buzzword again used here, as Volkanovski fell narrowly short in an attempt to achieve all-time status. One thing that is about him, is Volk's relentless engine refusing to bow down.
There were moments where he could've easily done so.
That's just not him. Instead his stock rose after another defiant showing against a newly-crowned champion who many have tipped to clean a 155lb division stacked with old veterans and historical fan favourites whose style isn't conducive to winning world honours.
---
Rodriguez wades through fire to finish Emmett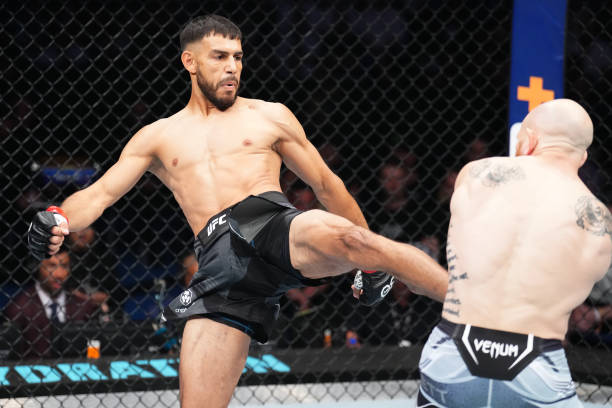 R2, 4:19 – Yair Rodriguez bt. Josh Emmett via submission (triangle choke), becomes interim featherweight champion
"I thought about beautiful words, visualised what I was going to say, amazing fans. Was practicing that submission, grabbing my foot down under my knee, did it a long time ago, learned that adjustment and remembered it today. All my respect to Emmett, he landed good punches and took me to the ground," Yair on the moment and Emmett's toughness
The commentators' observation that Josh Emmett had barely landed a strike through two minutes foreshadowed what was a definitive end to an interim title fight between featherweight contenders yet to really stamp their authority at the highest level. This was their apex moment.
Or rather, it belonged to Yair Rodriguez: his body kicks visibly hurt Emmett, though the power wasn't as frightening in comparison as they exchanged furiously up against the cage at one stage midway through the round – you could already sense Yair didn't like what came back his way.
That's because Emmett later connected with one clean punch and suddenly found himself in a favourable position on the ground, landing heavy elbows and big strikes with 70 seconds or so left during a round he was largely second best in. Would it remain this way? Not for long.
In R2, Rodriguez showcased his slick skills: transitioning from a jump knee into a takedown attempt up against the fence, where he trapped Emmett in a triangle choke. Just like that, the fight was all over and Emmett's cautious approach had worked against him rather drastically.
The decisive manner of this latest defeat leaves Emmett in a tough spot with decisions to make as far as his championship credentials are concerned, given how quickly age can play a diminishing factor at the highest levels – moreso in the lower weight divisions like featherweight.
He turns 38 on March 4, the same day of UFC 285 next month, and has one fight left on his existing contract – aware that challenges aplenty remain at 145lbs, but he much like The Korean Zombie will probably now have to fight down in the rankings before earning another big slot.
As for Yair, he'll feel vindicated but might have to defend his interim champion status before facing Volkanovski next, depending on how things shake out in the coming months. Brian Ortega will argue he didn't beat him fair-and-square last July, while others wait in the wings too.
---
Rest of main card, featuring two blistering first-round finishes
Randy Brown said he was taking this fight at the right time, against an undeniable talent in rising welterweight Jack Della Maddalena.
Within two minutes, the 32-year-old – riding a four-fight win streak – faceplanted the canvas rather theatrically after absorbing a big right hand and was in survival mode as Maddalena rained down hammer fists before having him climb on his back, threatening a choke submission.
Soon enough, he tapped and it was all over.
After rightly declaring it his biggest career win to date, he called for a top-15 opponent next and played coy when asked about how he was able to produce such a showing.
Meanwhile heavy-handed heavyweight Justin Tafa needed even less time than Maddalena: 66 seconds: blitzing Parker Porter with a punch-perfect counter left hook and follow up shots.
Jimmy Crute [12] was rightly surprised by Alonzo Menifeld's speed and persistence, and can count himself slightly lucky to have emerged with a majority draw against the American.
It was a back-and-forth tussle but the instance came after referee Marc Goddard correctly deducted a point, having spotted Menifeld grab the fence to defend a takedown attempt midway through R3 with both tiring and desperate to secure any sort of advantage possible.
He could have no complaints and ultimately lost the round anyway, but would've emerged victorious and seen himself with a top-15 number at 205lbs next week had he not fouled.
---
Prelim, early prelim results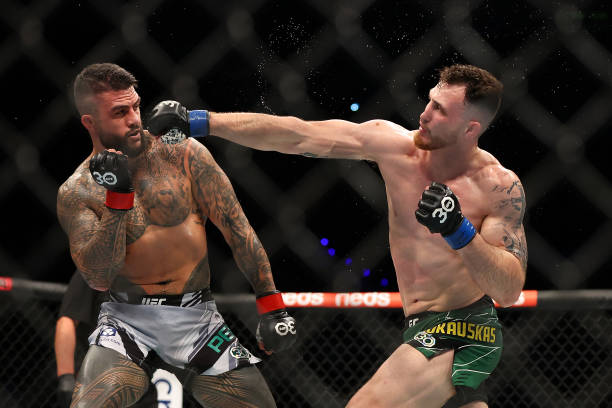 Prelims
Light-heavyweight: Modestas Bukauskas bt. Tyson Pedro (30-27, 29-28, 29-28)
Featherweight: Joshua Culibao bt. Melsik Baghdasaryan via R2 submission (rear-naked choke)
Catchweight (127lbs): Kleydson Rodrigues bt. Shannon Ross via R1 TKO (punches)
Lightweight: Jamie Mullarkey bt. Francisco Prado via UD (30-27, 30-27, 30-27)
Early prelims
Featherweight: Jack Jenkins bt. Don Shainis via UD (30-27, 30-27, 29-28)
Women's strawweight: Loma Lookboonmee bt. Elise Reed via R2 submission (rear-naked choke)
Featherweight: Blake Bilder bt. Shane Young via UD (30-27, 30-27, 29-28)
Catchweight (157.5lbs): Elves Brenner bt. Zubaira Tukhugov – split decision – (29-28, 28-29, 30-27)
Picture source: Getty Images, quotes via UFC broadcast