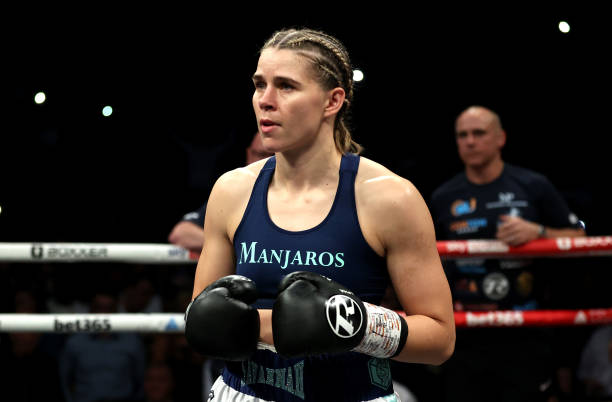 Now-former WBO middleweight champion Savannah Marshall remains adamant she'll avenge her loss to undisputed titlist Claressa Shields with different tactics a second time around, but the 31-year-old expressed a readiness to challenge Franchon Crews Dezurn for the undisputed belts at 168lbs as the Hartlepool native's stock has risen despite a first pro defeat last October.
Marshall on 'massive gamble' with tactics employed vs. Shields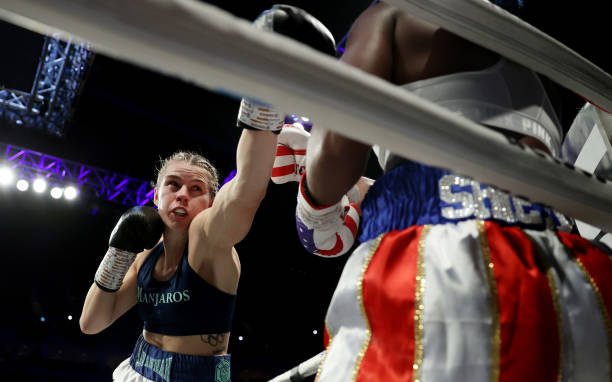 "I did take a massive gamble on the tactics – chose to come forward and push her back, which was something she'd never done before," Marshall on her strategy in October
31-year-old admits her trainer, Peter Fury, got the lion share of blame in aftermath following the ill-fated tactic and concedes she was devastated after first pro defeat
"Now she knows after seeing what happened at the O2, the viewing figures and response, she knows I'm the cash cow. This is why she wants a piece," Marshall on Crews Dezurn, a former amateur foe – who is now the current undisputed super-middleweight champion
October 15 was a monumental day for women's boxing, not only at London's O2 Arena where the rescheduled Claressa Shields vs. Savannah Marshall card exceeded expectations, but worldwide after the record-breaking show was broadcast to an even bigger audience elsewhere.
It's no surprise the word rematch was on the lips of many almost immediately after the main event's conclusion, much like the co-main between Alycia Baumgardner and Mikaela Mayer for unified status at super-featherweight. Baumgardner's recent success has sparked movement.
Although she was captured watching ringside earlier this month, it's official: Mayer's going in a different direction after an announcement today confirmed she'll move up to lightweight and challenge Christina Linardatou (14-2) on the Joe Joyce vs. Zhilei Zhang undercard on April 15.
Linardatou – who has a split decision win over Baumgardner – has defeats nearly three-and-a-half years apart: first by Delfine Persoon (UD10) in the summer of 2016, before undisputed lightweight champion Katie Taylor outpointed her the month prior to Christmas in 2019.
It feels fitting the only two who've bested the Greek had a two-fight series themselves, with Taylor controversially edging both contests 14 months apart.
---
amateur foe, undisputed 168lb champ Crews Dezurn may be next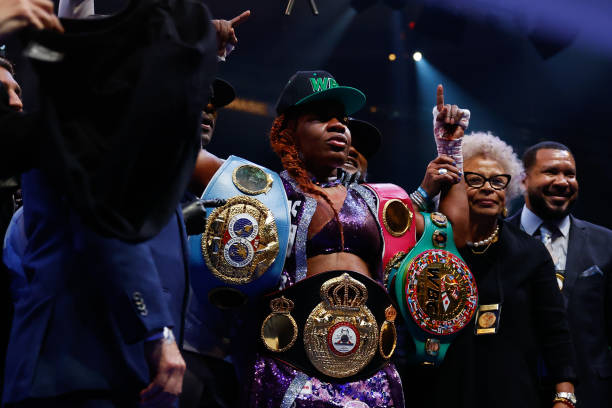 Nonetheless Marshall, like Mayer, needs to move on from a first career defeat and it makes sense that she'd similarly seek other big-name opponents.
The prospect of a Shields rematch isn't going anywhere long-term, but why not strike while the iron is hot and test herself against different opposition?
That's where a former foe – Franchon Crews Dezurn – comes into play. They met as amateurs back in Nov. 2011 during an Olympic test event, the Brit winning 14-12 over four rounds.
"I do remember that fight, the first shot she threw was this big, massive overhand right, missed me by a mile. I think Franchon's last fight was probably the best I've ever seen her box, she's tough, a handful. Likes to rough you up and that's her game, really gritty and it all adds to a perfect fight with me and her."
Dezurn's only career defeat to this point came on her debut against none other than Shields in a four-round contest back in November 2016, although she's won and defended the world super-middleweight titles a few times in subsequent years.
Why not try and avenge an amateur loss like her compatriot recently managed?
Picture source: Getty Images, quotes via Sky