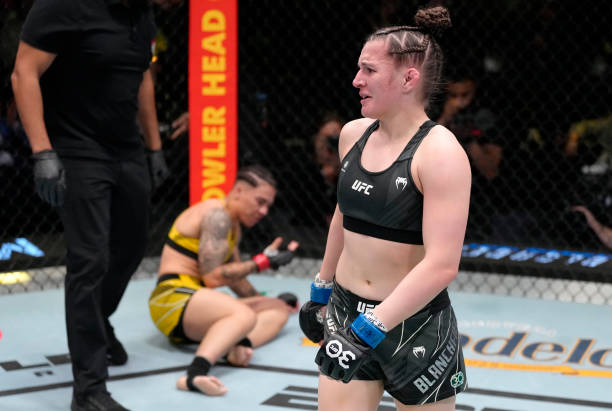 Tatiana Suarez's long-awaited return to the Octagon is scheduled for tonight after nearly four years on the sidelines. So, what better time than now to reflect upon an career-best victory last week for flyweight contender Erin Blanchfield over a former strawweight champion in Jessica Andrade last weekend?
Blanchfield wades through fire, calls for title shot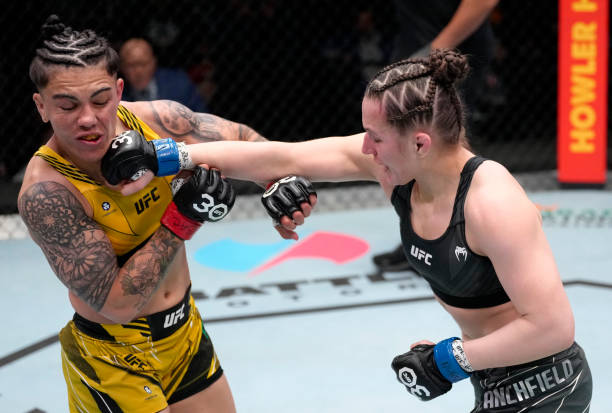 R2, 1:37 – Erin Blanchfield [10] bt. Jessica Andrade [3] via submission (rear-naked choke)
"I know she's a good striker and didn't wanna go to the ground with me. She hits really hard but as soon as I got the clinch… [it was over]. Definitely don't wanna get hit as much next time, but a good experience."
It's easy to get caught up in the story, especially after watching a pre-recorded TV package hyping Jessica Andrade as a focused Brazilian fireball ready to continue her impressive recent form against a first-time main event fighter.
Erin Blanchfield quickly proved she belonged on that headline stage though, en route to an emphatic finish – one that has many musing she'll be one of the youngest UFC champions of all-time before much longer.
After quickly finding herself in the fire, it took the 23-year-old just 40 seconds before opting to introduce her grappling skills.
Andrade defended intelligently in response to the first few attempts, but they were less telegraphed as time wore on and soon enough, she seized an opening.
The former 115lb titlist was punished for having her chin up in the air during their stand-up exchanges, though both landed their fair share of big shots in the pocket.
Blanchfield utilised her reach advantage to good effect, it must be said.
That's what you should've come to expect from the rising star, especially given her pre-fight comments about adjusting fight styles – one Brazilian replacing another. After all, former title challenger Taila Santos was replaced on short-notice.
Wading into a firefight sometimes means you'll get burned and that was the case too: she was briefly wobbled after eating a counter right in the final minute of R1.
It was a close first round, but the finish came early in the second: Blanchfield timed her takedown entry perfectly and quickly got to side control without fuss, after which she secured the 31-year-old's back, sinking in a choke.
Now on an eight-fight win streak and having passed her latest test, it's no wonder she feels deserving of the next title shot.
Valentina Shevchenko makes the eighth defence of her 125lb strap against Alexa Grasso in the co-main event of next weekend's UFC 285 card – more on that coming shortly – and bullish aptly describes Blanchfield's youthful mindset.
In a division that lacked true #1 contenders to match Shevchenko, you could argue there are three – excluding the Mexican across from her on March 4.
Why not rebook the Santos-Blanchfield matchup originally planned for this card, and Manon Fiorot [1] can fight a five-round title eliminator against the loser once fully fit?
---
Also read:
#1 contender Fiorot aims to avoid misstep of others before her own title chance
Former title challenger Lauren Murphy expresses belief Valentina won't win forever
---
As for Andrade, you can't fault her for activity but she was bested by a bigger, stronger, savvy opponent who was too much to handle on the ground. Considering she's long held a desire to move back down to strawweight, there's no shame in that.
Picture source: Getty Images