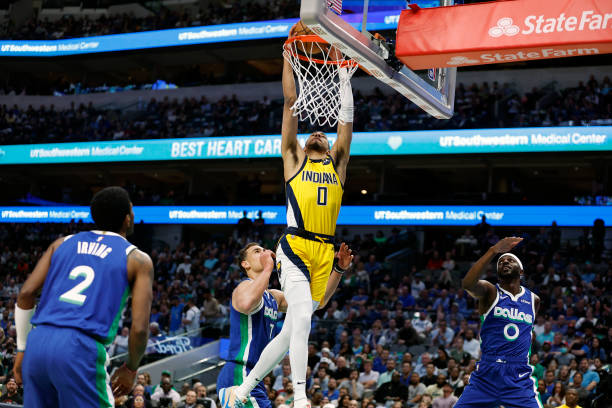 Luka Doncic led all scorers with 39 points but in the battle of two All-Star birthday boys, Tyrese Haliburton had the last laugh. The 23-year-old reeled off an efficient 32-point display, complete with seven rebounds, six assists and a sneaky block on Kyrie Irving – who missed a go-ahead stepback three late, as the Mavs were resigned to an alarming fifth defeat in their last six games.
Mavs miss on their last six attempts, lose thriller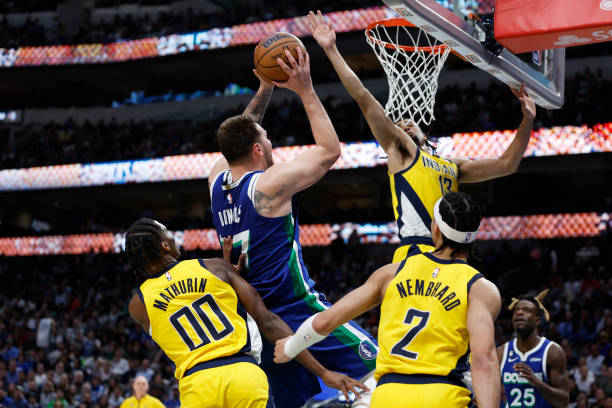 Dallas Mavericks 122-124 Indiana Pacers
Doncic records 39 points (14-of-25 shooting), nine rebounds, six assists — Irving had more shot attempts (18) than points (16), Christian Wood also struggled
Rick Carlisle gets valuable bench minutes from Jordan Nwora and Jalen Smith — Haliburton and Myles Turner again doing damage, combine for 56 points
Indiana Pacers' All-Star guard Tyrese Haliburton has now scored 30 or more points five times this term, after repeatedly slicing through the Mavericks defence and getting to his spots in a frenetic duel at the American Airlines Center overnight.
He was 12-of-15 from the free throw line, a career-high in attempts and makes, as Jason Kidd's side didn't adequately deal with his threat until it was too late.
His big man Myles Turner produced more blocks (4) than the entire Mavs team combined, alongside 24 points on efficient shooting (10-of-13) and seven rebounds.
It's the latest in a series of narrow defeats for the Western Conference playoff hopefuls, sitting one game above .500 now (32-31) and face Philadelphia on Friday.
By contrast, Doncic drew attention aplenty and showcased his deft playmaking skills on multiple occasions to find open teammates, with varying degrees of success.
Starting small forward Reggie Bullock looked at one stage like he couldn't miss from deep – especially when left wide open in the corner. Tim Hardaway Jr too, has the potential to be deadly from long-distance and can get hot if he's in a groove.
Crucially, both were cold during a hectic last two-minute sequence where neither side was comfortable, after Haliburton gave Indiana a 122-120 lead from the foul line.
It's still early days for the Doncic-Irving combo, but a tug-of-war for preferential playoff seeding awaits out West given their big trade deadline gamble.
They haven't got much time to straighten out any growing pains, such are the risks of a midseason trade. Irving acknowledged the pressure afterwards and said he needs to scale it back on a personal level, per ESPN:
"I just appreciate the coaching staff, my teammates trusting me with that shot and just the comfort they gave me afterwards.
Really want to win here, put a lot of pressure on myself at times – think I need to scale it back a little bit, just because the second half of the season, just feeling like we've got to be great every single possession, and usually these learning curves or moments happen in preseason, it's happening now.
So it definitely puts a glaring eye on what we're doing right and wrong, easy to criticise but I've just got to focus on being the best that I can be, showing up for not only Luka but my [other] teammates."
Kidd, who has publicly criticised his franchise star player recently, was captured looking unhappy on the sidelines as the 24-year-old couldn't help himself but complain to officials on several occasions mid-game about foul calls.
One such outburst got him a technical foul, on another evening where opposition players didn't mask their overtly physical attempts to slow him down.
Andrew Nembhard might've missed a pair of game-icing free throws, but the rookie guard did his bit defensively – alongside Aaron Nesmith and others – stifling Doncic.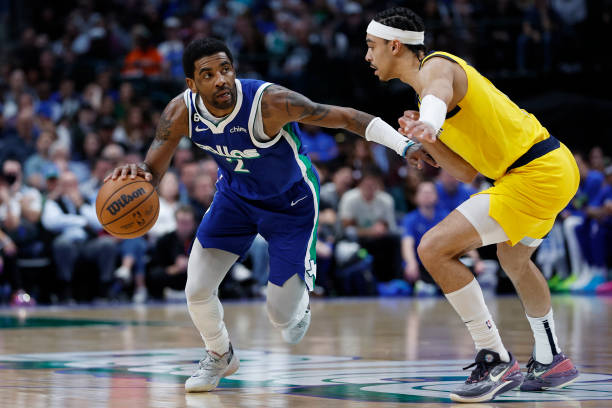 Nesmith didn't get much run during his two-year stint in Boston, but the third-year small forward has settled into a solid starting role with a rebuilding Pacers side – while Nwora looks to experience similar after two-and-a-half years in Milwaukee.
He backed up his 18-pt, six-ast showing against Orlando on Sunday with a 16-point display this time around – sinking the most amount of threes (3) he's made in a game since mid-January, as a Bucks player (4-of-4 3PM) against his future teammates.
Irving and Maxi Kleber missed three-point attempts down one end, before Kleber's shot contest smothered Haliburton on a driving layup with the shot clock dwindling.
Bullock missed a triple, before Nesmith – penalised for traveling a minute earlier – made up for that forced turnover in the corner by swatting away an Irving layup with 35.8 seconds on the clock after Doncic rebounded and fed him under the basket.
Hardaway Jr missed another deep-range shot coming out of a timeout, before Haliburton sunk both free throws after Bullock's take foul to stop time again.
Nembhard missed both free throws shortly afterwards as the sequence repeated itself with 7.1 left, and Dallas fans were expecting a dramatic finish: a three to clinch it, or a two sending this into overtime.
Justin Holiday inbounded for Irving, with T.J. McConnell guarding him tightly behind the three-point line. Stepback jumper hoisted, courtside fans up from their seats and it was narrowly short – to the point where Turner almost inadvertently tipped it in.
---
What's next for both?
As previously mentioned, Dallas play the Philadelphia 76ers overnight Friday. Phoenix, armed with new acquisition Kevin Durant, follow on Sunday before Utah, New Orleans and a back-to-back against Ja Morant and the Memphis Grizzlies.
Indiana (28-35) have won consecutive games for the first time since Jan. 8, and are now two games behind tenth-placed Washington. Bradley Beal's 37 points helped them edge past Atlanta overnight, spoiling new head coach Quin Snyder's debut.
Their four-game road trip continues in San Antonio early Friday, before finishing in Chicago against another Eastern Conference play-in hopeful on Sunday evening.
Picture source: Getty Images