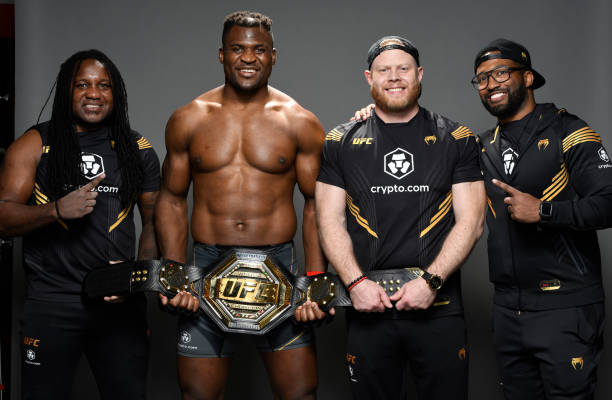 Regardless of the result from this weekend's UFC 285 main event between former interim heavyweight champion Ciryl Gane and a returning Jon Jones for the vacant title, Xtreme Couture head coach Eric Nicksick will still consider his charge Francis Ngannou the promotion's undisputed champion. All things considered, it's another defiant nudge during the biggest fight week for a while.
Ngannou focused on boxing after rejecting extension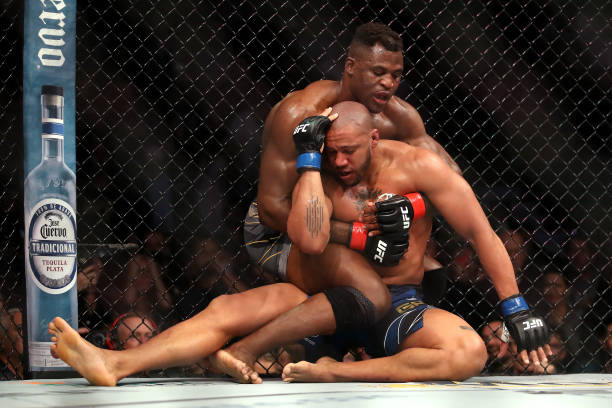 "I'm actually kind of torn, because I'm rooting for both guys in a lot of ways. The winner out of that fight, I don't think is really gonna stake claim as the undisputed – we all know who the real champ is."
– Eric Nicksick, Francis Ngannou's head coach
It's been 14 months since Ngannou made the first and only defence of his UFC heavyweight title, defying medical advice to fight with a serious knee injury, showing new wrinkles in his game to outwork Ciryl Gane.
This weekend, a new champion will be crowned. Although anticipation is palpable given the stakes at play, it feels wrong to declare that man the undisputed king.
After all, Ngannou won't be involved. Stripped of a title he didn't lose in the Octagon, having rejected a lucrative contract extension to test free agency, the promotion swiftly moved on without their devastating knockout artist.
The one they spent so much time building up into a fearsome-yet-lovable colossus packed with his own complexities many only get to see a glimpse of.
The show must go on, and Jon Jones' long-awaited return after a three-year layoff is enough to distract many from the void left – yet a sense of injustice still lingers.
It wasn't so long ago Jones found himself in a similar position to Ngannou, though time has again healed all wounds as far as he's concerned.
Ngannou's desire to box was a compromise the UFC had to factor into their contract negotiations – taking a leaf from the Conor McGregor playbook.
It would've been easy for him to get distracted by the outside noise, instead he buckled down and exposed Gane's grappling deficiencies in a competitive clash.
Jones, widely regarded as the greatest of all-time, is a two-time light-heavyweight champion. Many critics declared he wouldn't ever return, after another lengthy absence – his last fight was a close UD win over Dominick Reyes in Feb. 2020.
---
"I'm stuck fighting guys like Reyes – who had been dreaming of fighting me, probably since college, and [he] was just relatively unknown to the general public.
I just wanted more, to be nervous and have fear again. I think fear is healthy, and now we're in this position. The heavyweight division has never been scarier, and I'm glad to be in the middle of it." – Jones on his motivation for moving up
---
Yet here he is, back again. Receiving fervent adulation most contemporaries dream about, two days away from potentially becoming a two-weight world champion.
Beating the former interim champion in Gane (#1) to do so would be an impressive achievement, not least given his ring rust.
If victorious, Jones will become the UFC's eighth two-division champion in promotional history. He'd be third to do so at light-heavy and heavyweight, after Randy Couture (2003) and former rival Daniel Cormier (2018).
Regardless, he wouldn't have dethroned the actual champion Ngannou – a fight which sold itself. It might still happen one day, but the optics will never be the same.
That was something Jones himself conceded in mid-January, shortly after Ngannou's release was made public.
"It does [take something away], Francis is the more intimidating of the two, more known in America, this big scary intimidating man, where Ciryl is relatively unknown.
Obviously Francis has the belt, so taking it from him would have been nice. I'm very honoured to fight Gane, I knew that would be happening eventually, inevitably."
He said he was "really bummed" that a duel against former champion Stipe Miocic didn't materialise for this card, but injury permitting, that could easily be rectified before 2023 ends. As for the Ngannou situation, that's much more complex.
---
UFC 285 card, is as follows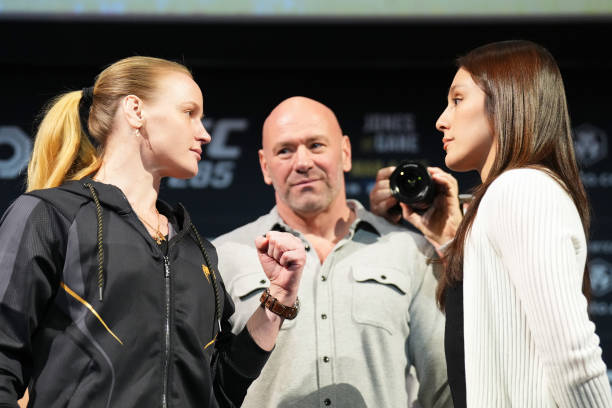 Main card (Sunday, 3am BST) 
Vacant heavyweight championship: Jon Jones vs. Ciryl Gane [1]
Women's flyweight championship: Valentina Shevchenko (c) vs. Alexa Grasso [6]
Welterweight: Geoff Neal [7] vs. Shavkat Rakhmonov [9]
Lightweight: Mateusz Gamrot [7] vs. Jalin Turner [10]
Middleweight: Bo Nickal vs. Jamie Pickett
Prelims (Sunday, 1am BST) 
Bantamweight: Cody Garbrandt vs. Trevin Jones
Middleweight: Derek Brunson [5] vs. Dricus du Plessis [10]
Women's flyweight: Viviane Araujo [8] vs. Amanda Ribas [9 at strawweight]
Middleweight: Julian Marquez vs. Marc-Andre Barriault
Early prelims (Saturday, 11pm BST) 
Welterweight: Ian Garry vs. Song Kenan
Bantamweight: Cameron Saaiman vs. Leomana Martinez
Women's Strawweight: Jessica Penne vs. Tabatha Ricci
Bantamweight: Da'Mon Blackshear vs. Farid Basharat
Lightweight: Esteban Ribovics vs. Loik Radzhabov
Picture source: Getty Images, fighter quotes hyperlinked