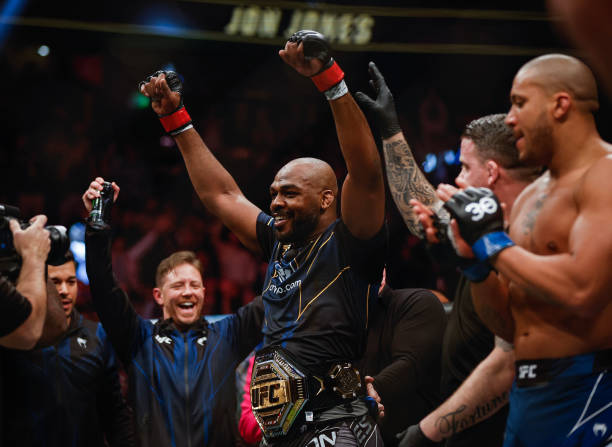 Jon Jones needed less than three minutes to clinch UFC heavyweight gold as he ended a three-year layoff in style, submitting Ciryl Gane on his long-awaited return. That finish came after Alexa Grasso's stunning submission win over long-reigning champion Valentina Shevchenko, crowning her the new women's flyweight queen after big wins for Shavkat Rakmonov and more in Las Vegas.
Jones just does it again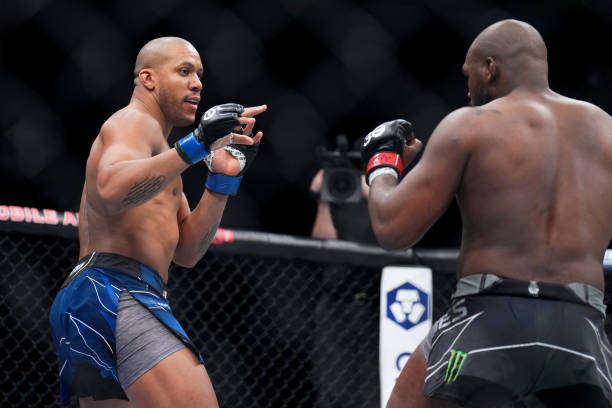 R1, 2:04 – Jon Jones bt. Ciryl Gane [1] via submission (guillotine choke), wins vacant UFC heavyweight title
Jones reflects after a razor-sharp finish: "I've been working for this a long time, a lot people said he's not coming back, I've been faithful to my goal. There were days I didn't wanna train, thank my family, teammates… I really had the strong conviction, get him down to the ground, it's my area."
"Wrestling since I was 12, when you're kickboxing you never know, might zig when he zags. Once I had my hands on him, knew I could take control." 
Declares desire to face former champion Stipe Miocic – potentially at UFC 290 on July 8 – who watched cageside: "You're the greatest heavyweight of all-time but I hope you're training, I want you real bad."
It was always going to be interesting, seeing how Jones translated to a new weight division as all eyes were transfixed on him.
Then there was some possible drama moments before the cage door closed: several NSAC personnel insisted tape on the 35-year-old's left foot needed to be cut.
That and absorbing an accidental low blow foul – a kick to the groin – after just seven seconds, a lot could've gone wrong. Instead, he exposed Ciryl Gane as soon as he made the slightest mistake, making the former interim champion look ordinary.
The Frenchman missed with a straight left hand, Jones quickly dragged him to the ground and wore on him against the fence, locking up a RNC submission. Decisive.
As mentioned above, he made sure to shout out two-time heavyweight champion Stipe Miocic, who watched with a vested interest cageside.
Miocic hasn't fought since March 2021, losing his title to Francis Ngannou in their rematch, and is already 40 with a part-time firefighter profession on the side.
As far as both are concerned, it's another legacy-building matchup but must be next. Where either, especially Miocic, goes in the aftermath remains hazy.
Jon signed a new eight-fight deal before the Gane fight, but there's not a row of fear-inducing top contenders. Sergei Pavlovich [3] and Curtis Blaydes [4] are probably the only other opponents he'd be enthusiastic about defending his title against.
Those two are set to face off in a five-round UFC Fight Night headliner on April 22, while Gane licks his wounds after suffering his first "real" defeat. During his portion of the post-fight press conference, he said:
"This was the first real loss, so now this is in the past. I must go forward, see the future, gonna go straight back to the gym – work on my ground game. We work [on it] a lot but I don't have good reflexes, gotta do more."
---
Grasso submits Shevchenko in stunning upset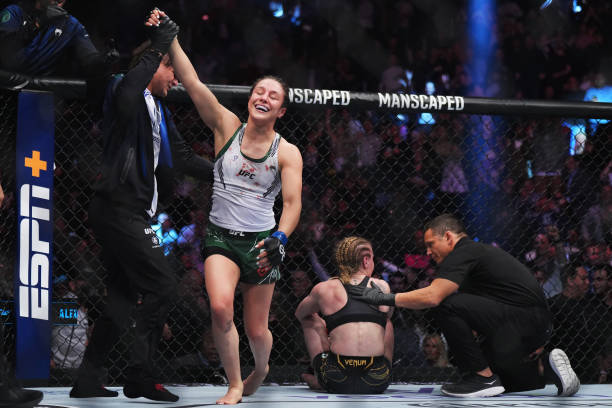 R4, 4:34: Alexa Grasso [6] bt. Valentina Shevchenko [c] via submission (face crank)
Grasso: "Feel like I'm dreaming, dreamed of this moment for so long, thanks so much. I trained for this, I know she hits hard and does that spinning stuff – a great athlete – trained like I'd never before!"
Shevchenko seeks immediate rematch: "This is what happens, you're winning and then a stupid situation can change the whole game. Congrats to Alexa, if not for the spinning back kick, a different result."
When you're a long-reigning champion, you'll always get the incoming challenger's best. Alexa Grasso came to shock the world and did just that, deep in R4 with a slick back take en route to the second submission victory of her 11-year career.
R1 was an encouraging one for the challenger, despite a few hectic moments: absorbing a spinning backfist and left body kick, just as Daniel Cormier on commentary stressed boxing was her best chance of victory.
He wasn't to know what would happen, less than half-an-hour later.
They exchanged strikes up close, Grasso bouncing forward and wobbling the champion with a few stinging lefts, though her corner urged her to feint more after both charged takedowns to finish the round.
It was a competitive opening stanza but Shevchenko's corner were unhappy: be faster and counter quicker, they stressed.
In R2, Shevchenko began with a beautifully-timed takedown and slid into side control. Grasso was visibly trying to push up but couldn't wall walk at the first time of asking, eventually doing so with half the round left – much to the crowd's delight.
However, another period of aggressive pressure from the challenger was punished as Valentina scored her second takedown once the Mexican overextended.
R3 threatened more of the same, Grasso having success on the feet and Shevchenko looking to grapple.
They exchanged furiously in the pocket after Valentina telegraphed a takedown attempt. The second time around, there was no such criticism of the champion, again timing her entry well to hold her down.
Referee Jason Herzog stood them up with a minute left, Shevchenko went almost immediately back down to the mat and threatened a choke before Grasso's last-second guillotine reversal.
R4 began with a stuffed takedown by Grasso, as her corner audibly celebrated in response.
The exchanges were tense between them at distance, before Grasso pushed the champion up against the fence looking for a takedown of her own.
Dirty boxing and clinch strikes saw them return to centre ring, then Shevchenko made a fatal mistake with a spinning back kick. Timing her entry to perfection, Grasso grabbed the back and pulled her down, slipping an arm across the face.
Soon it was under the chin and with less than 30 seconds left in R4, women's flyweight had a new number one in surprising circumstances.
Given Shevchenko's reign lasted more than 1,500 days and she was winning a competitive title defence – this was her eighth – an immediate rematch feels fair.
Valentina's not getting any younger: celebrating her 35th birthday this coming Tuesday, so needs to stay active as questions over an inevitable decline persist.
Murmurs of a Mexico PPV card have already circulated, this title fight potentially featuring on the same card as Brandon Moreno vs. Alexandre Pantoja.
UFC 289, likely in June, doesn't have a location yet but reading between the lines, a quick turnaround could work to avoid logjam atop the 125lb division if both are healthy and available for that date. Who said women's flyweight was boring?
---
Rest of the main card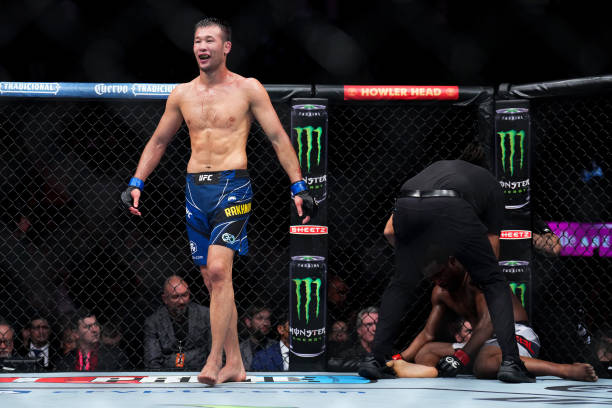 R3, 4:17 – Shavkat Rakhmonov [9] bt. Geoff Neal [7] via submission (standing rear-naked choke)
28-year-old unbeaten Kazakh Rakhmonov (17-0, 8 KOs and 9 SUB) ties promotion's longest-active finish streak with HW contender Sergei Pavlovich [5]
Calls for a welterweight title shot or Colby Covington [2] next through a translator post-fight
"Before, I was saying I need one or two more fights before the title shot. I think I'm ready now – no-one finished Neal before me."
Joe Rogan said Geoff Neal looked a touch soft as he stepped into the Octagon, with the commentary booth discussing the perennial contender's weight miss – 5lbs above the welterweight limit.
Was he still injured after withdrawing from a January headliner? Would that have an adverse impact on his cardio over 15 minutes?
Well, these questions would certainly be answered against Shavkat Rakhmonov, whose forward pressure and heavy-handed strikes forced him to fire back.
Having been read the riot act by head coach Sayif Saud in-between rounds and absorbing a series of leg kicks early in R3, Neal briefly rocked the highly-rated Kazakh but it proved a false dawn.
Rakhmonov's relentlessness was key, refusing to lose faith despite Neal's staunch takedown defence, and soon enough he forced him against the fence before securing a standing rear-naked choke.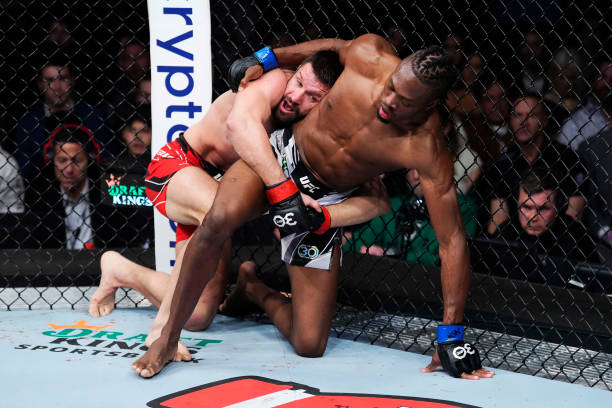 29-28, 28-29, 30-27: Mateusz Gamrot [7] bt. Jalin Turner [10] via split decision
After a back-and-forth R1, Jalin Turner [10] consciously knew he would have further openings to hurt and press Mateusz Gamrot [7] into uncomfortable positions.
He scored a knockdown late in the round, having been taken down prior, and Gamrot had issues with the 31-year-old's reach advantage during close combat.
That didn't stop him peppering the legs, landing single shots whenever the chance arose, though Turner hurt him midway through R2 with a series of stinging shots forcing the Pole into evasive action.
He circled away close to the cage and having had a takedown stuffed, Gamrot secured crucifix position on the ground shortly afterwards, aware that he was losing the bulk of their stand-up exchanges.
Gamrot landed damage on the ground to potentially steal R2 and Turner's corner told him as much in-between rounds: you need to show everyone why you're here, they implored.
Well, Mateusz masterfully kept him stifled in the final five minutes with timely wrestling sequences – no matter how quickly Turner scurried towards the fence or pleaded with referee Mark Smith to separate them.
Gamrot got him back down to the ground once more, after absorbing a slick one-two in centre ring, and finished assertively in mount position before calling for a top-5 opponent later this year, after a well-deserved holiday.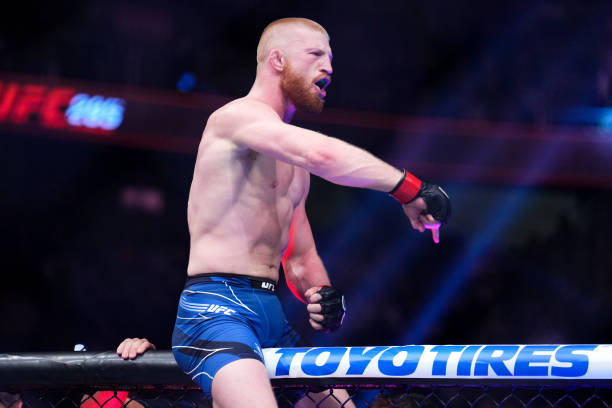 In the main card opener…
Rising middleweight prospect Bo Nickal did exactly what he said he would: racing to a R1 submission win (arm-triangle choke) against Jamie Pickett, who withstood a barrage of pressure on the ground after being taken down – but it didn't last long.
Afterwards, the 27-year-old Division 1 wrestler stressed this was only the beginning:
"I've been training my whole life for this, to dominate and that's what I did. For me, I'm 4-0, 27, been doing MMA for a year-and-a-half, gonna keep getting better – get that belt and be #1 pound-for-pound before I'm done."
---
Prelim, early prelim results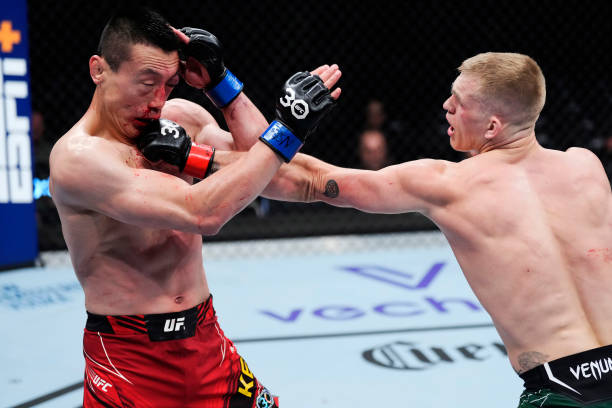 Bantamweight: Cody Garbrandt bt. Trevin Jones (29-28 x 3)
Middleweight: Dricus du Plessis [10] bt. Derek Brunson [5] via R2 TKO (doctor stoppage)
Women's flyweight: Amanda Ribas [9 at strawweight] bt. Viviane Araujo via UD (29-27, 30-26, 30-27)
Middleweight: Marc-Andre Barriault bt. Julian Marquez via R2 TKO (punches)
Welterweight: Ian Garry bt. Song Kenan via R3 TKO (punches)
Catchweight (137lbs): Cameron Saaiman bt. Leomana Martinez via majority decision (29-26, 28-27, 28-28)
Women's Strawweight: Tabatha Ricci bt. Jessica Penne via R2 submission (armbar)
Bantamweight: Farid Basharat bt. Da'Mon Blackshear via UD (29-28 x 3)
Lightweight: Loik Radzhabov bt. Esteban Ribovics via UD (29-28 x 3)
Up next: UFC Fight Night 221 – headlined by a compelling bantamweight main event battle between former champion Petr Yan [2] vs. Merab Dvalishvili [3]
Picture source: Getty Images