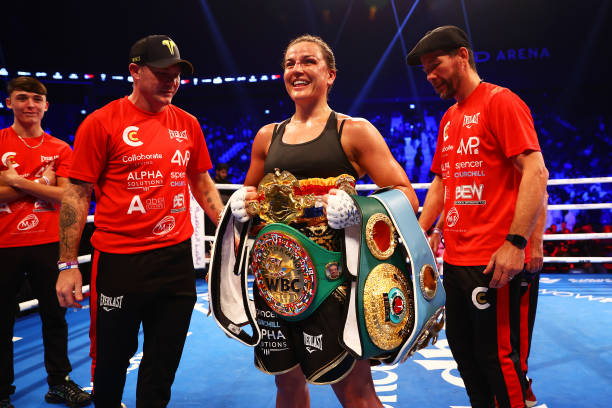 The worst-kept secret in women's boxing was announced on Saturday night, as undisputed light-welterweight champion Chantelle Cameron prepares to make the first defence of her belts against undisputed lightweight titlist Katie Taylor in nine weeks' time on enemy territory. The 31-year-old described it as a surreal feeling, and now has a chance to avenge an amateur defeat 12 years later.
Cameron: My whole pro career based around this fight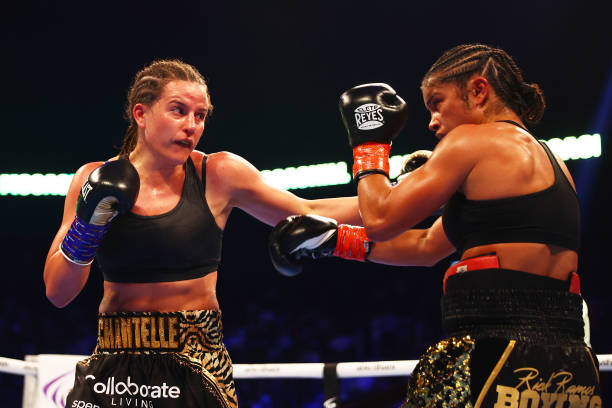 Katie Taylor (22-0, 6 KOs) vs. Chantelle Cameron (17-0, 8 KOs)
IBF, IBO, WBA, WBC, WBO world light-welterweight titles
3Arena in Dublin, Ireland on May 20
Cameron, who outpointed long-reigning champion Jessica McCaskill (UD10, November 2022) away from home, vocal about opportunity to add to her own legacy while spoiling Taylor's homecoming debut
"It feels surreal the fight is actually happening, it feels like my whole professional career has been based around this and I never imagined it would happen. I'm no stranger to boxing away from home, going into Katie's backyard is massive – the fight will be electric," Cameron insists
31-year-old replacing undisputed featherweight titlist Amanda Serrano for May 20 headline spot, after Puerto Rican withdrew with undisclosed injury late last month following Erika Cruz showdown a few weeks prior
"Once Serrano pulled out this was the natural fight to make, two undefeated, reigning undisputed world champions going up against each other and the first time that's ever happened in the modern era of the sport. I'm looking forward to becoming a two-weight champion," says Taylor
One door closes, and another opens.
Amanda Serrano's undisclosed injury shelved her proposed rematch with Katie Taylor in the short-term, but there will still be a compelling opponent across from the decorated Irishwoman when she returns to action in three months' time.
Far too many times in recent years that hasn't been the case for a 36-year-old unbeaten star in the back half of a Hall of Fame career and needs challenges from the best to truly inspire her highest level. Serrano at MSG merely amplified that.
Natasha Jonas started slowly and didn't finish assertively enough in a spirited defeat (UD10, May 2021) but besides her and a two-fight series against Belgium's Delfine Persoon, Taylor had seldom been tested since turning pro after the 2016 Olympics.
That's not a wise way to utilise a champion's prime. Cameron presents a different challenge than Serrano, but like Jonas, is another former foe from their amateur days. An important difference though, is her advantages in strength and youth.
June 3, 2011 in Poland saw the Irishwoman win the EUBC EU Championships semi-final bout at Cameron's expense over four two-minute rounds, before returning the following day to outpoint Karolina Graczyk in the final.
This is a matchup many have clamoured to see in recent times, intensified by Cameron's dominant victories post-lockdown – collecting world titles along the way.
---
Chantelle's last five fights
Oct. 2020: Cameron bt. Adriana dos Santos Araujo to win vacant WBC world light-welterweight title
May 2021: Defends her title with R5 TKO win over Melissa Hernandez in Las Vegas
Oct. 21: Outpoints IBF champion Mary McGee to unify titles at 140lbs
May 22: Then goes on to defend those two belts with 100-90 decision shutout against Argentina's Victoria Noelia Bustos
Nov. 22: 31-year-old adds IBO, WBA, WBO titles to complete undisputed set vs. McCaskill as champion-turned-TV star Kali Reis is made champion in recess
---
Importantly, this isn't a stay-busy or a squash bout on paper, it's one II Capo can win.
Many tried to justify why McCaskill – who fought Taylor five years prior – looked ordinary, sluggish and second best against Cameron. Did she get old overnight?
No, Cameron outboxed her from the first bell and was good enough to invite risk in the latter stages, something that would've emboldened her to take this impromptu defence against an opponent who Serrano reminded everyone is human.
If Amanda can wobble and seriously hurt Taylor, how about the reigning champion two divisions above Serrano's natural weight?
As BoxingScene's Corey Erdman wrote earlier today, this announcement adds another wrinkle to what is becoming an increasingly stacked schedule with world-class bouts: the best fighting the best, something the sport hasn't had enough of.
Picture source: Getty Images, quotes via Matchroom press release