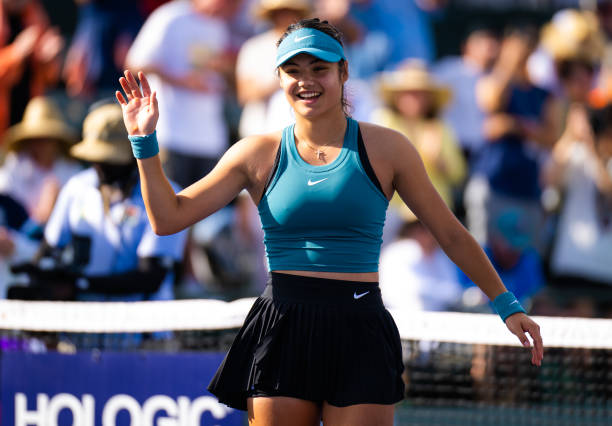 Monday was the day of youth – don't tell Holger Rune – as Jack Draper followed up Emma Raducanu's character-building deciding set victory with an unforgettable one of his own against an idol and mentor in former world no. 1 Andy Murray. His reward? A matchup against tournament top seed, Carlos Alcaraz, after he logged his 100th tour-level win over Tallon Griekspoor.
Raducanu outlasts Haddad Maia in scrappy tussle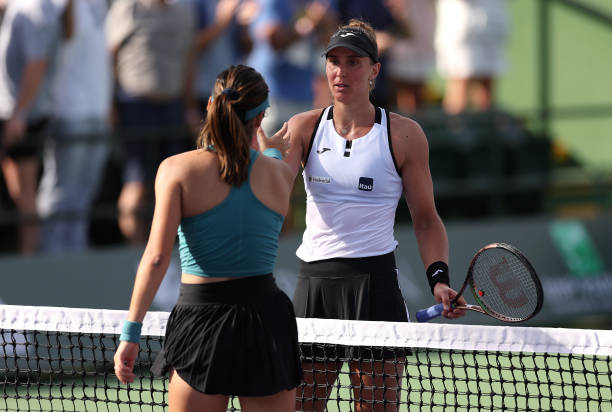 Raducanu bt. Haddad Maia [13] 6-1, 2-6, 6-4
2021 US Open champion Emma Raducanu cited Daniil Medvedev's resolve some 20 hours later as motivation for her deciding set response, earning her second biggest win by ranking to knock out Brazil's Beatriz Haddad Maia last night.
The 20-year-old got off to the perfect start with a love service hold, before sustained depth on rally balls and forehand pressure saw her swarm the 26-year-old in no time.
Brilliant ball-striking, excellent court coverage and an aggressive game from inside the baseline helped reel off a 6-1 first set in 34 minutes for the Brit.
Would she maintain that level to close it out? The answer was quite rapidly answered early in set two, as she mirrored the world no. 13 by double-faulting to go 2-0 down.
A drop-off felt inevitable, but Haddad Maia also made adjustments to wrestle her way back into contention.
Having seen a whopping 30% differential between them in shots taken inside the court from the opening set, the Brazilian took balls earlier and served much better too, levelling the score at a set apiece.
The 40-10% graphic on the screen had shifted to 26-21 in Haddad Maia's favour, so how would the youngster fire back in the third? With stubborn, scrappy persistence.
Making the Abu Dhabi semifinalist play an extra rally ball, or four, might not have worked immediately but you could see the gears starting to turn after Raducanu's backhand down-the-line winner, levelling the score at 2-2.
Having saved a break point herself with a clever finesse shot at the net, she was back in her groove again.
Whether that be a crazy crosscourt winner on the stretch, or a remarkable point where she hit a half-dozen overheads to put Haddad Maia under the kosh.
She too saved a break point and aced her way to an important hold, but it wouldn't last. A combination of good hand skills and untimely errors gave Raducanu a 4-3 lead, before consolidating the break.
Haddad Maia saved two match points, asking the serve it out question.
An up-the-line winner and two more unforced errors helped present the Brit with two more match points, and her celebration said it all after the Brazilian netted a forehand on the fourth time of asking.
"I'm happy with how I fought and dug in, dropped a little in the second so very happy how I regained focus and intensity in the third.
For me it's pretty amazing, haven't prepared or practiced so to come out here and be competitive is a great sign, to see those two weeks [training block] in London show up in crucial moments is exciting."
Up next, an even tougher test against world no.1 Iga Swiatek (from 3am BST) after her 6-3, 7-6 (7-1) win over fellow Major champion Bianca Andreescu in the night session.
---
Draper downs Murray in war of attrition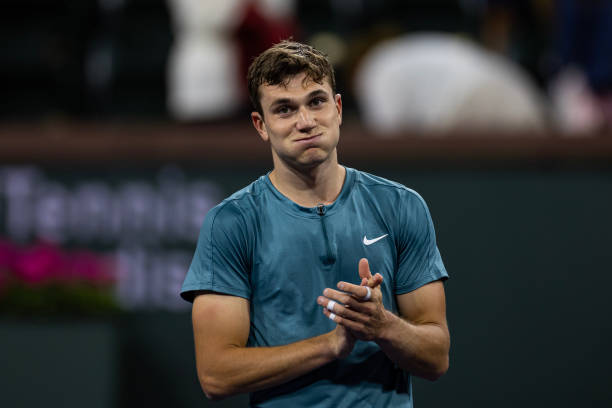 Draper bt. Murray 7-6 (8-6), 6-2
After an ill-advised slice shot at 30-all, he looked a bit frazzled. Set point down, Jack Draper produced a 136mph ace down the t and that big first serve set the wheels in motion on a straight-sets win over a familiar face.
It wasn't just a compatriot or friend on tour, it was his idol – and afterwards he said he'd never forget that moment. How could you? The ensuing tiebreak was tense, back-and-forth action, until a ridiculous point by the 21-year-old at 6-6.
A crosscourt backhand return on the stretch gave Murray plenty of space to exploit near the net, but somehow the youngster sped over in time and made Murray miss.
A 119mph serve out wide sealed set one and just like that, Draper had a set lead to protect. That he did, but not before an injury scare as the physio wrapped some heavy strapping to his right thigh.
Both were flagging physically between points, but looked determined in their efforts to outsmart the other during pulsating rallies.
Injuries and illness have been an unfortunate staple in Jack's budding career so far, but he thrived in the moment and was full value for his ever-increasing advantage.
Draper's success at the net and ability to hang with Murray in their longer exchanges was decisive, as the 35-year-old too seemed compromised towards the finish line.
40-0 up and serving to stay in the match, 5-2 down, a few loose points gave Draper a glimmer of hope to finish in quicker time.
A double-fault on match point felt like an anti-climax given the two hours' tennis that came before it, but he won't mind.
"I'm very proud of myself. Beating Dan Evans as well [in R2], a fierce competitor who I've looked up to, that gave me confidence to go out there tonight and think even though it's a really tough mental challenge again, I can do this.
This is my first tournament in the last couple of months since I played Rafa [Nadal, Australian Open]."
He went on to highlight the work done with 'incredible' fitness trainer Dejan Vojnovic over the last three months in what he describes as a long-term project, while conceding right hip soreness remains a day-to-day issue he's having to manage.
It'll be interesting to see how he manages the task against world no. 2 Carlos Alcaraz overnight, after his 7-6 (7-4), 6-3 win over Pune champion Tallon Griekspoor.
The winner will play either Australian Open semifinalist Tommy Paul or Felix Auger-Aliassime in the quarterfinal, after contrasting wins over Hubert Hurkacz [9] and Francisco Cerundolo [27] respectively.
Paul, who stressed his desire to go deep in bigger events following a career-best Major run two months ago, reeled off an excellent comeback win over the Pole.
Auger-Aliassime had a serving day to forget (6 aces, 8 double-faults, 49% first serve) but got the job done for the second time in three months against the Argentine.
---
Tuesday's matches to watch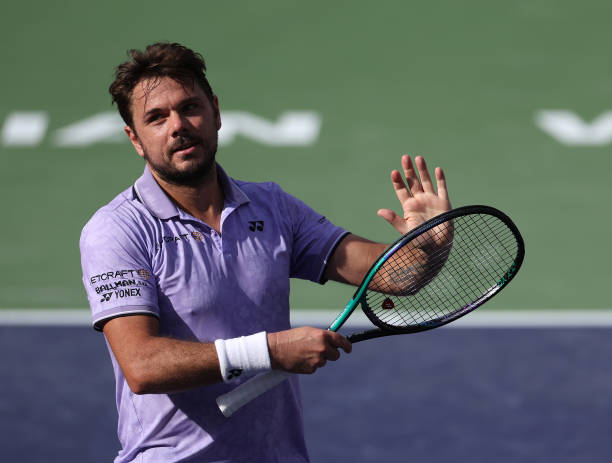 Men's draw
Daniil Medvedev [5] vs. Alexander Zverev [12]
Andrey Rublev [6] vs. Cameron Norrie [10]
Carlos Alcaraz [1] vs. Jack Draper
Jannik Sinner [11] vs. Stan Wawrinka
Women's draw
Barbora Krejcikova [16] vs. Aryna Sabalenka
Maria Sakkari [7] vs. Karolina Pliskova [17]
Petra Kvitova [15] vs. Jessica Pegula [3]
Iga Swiatek [1] vs. Emma Raducanu
Picture source: Getty, quotes via Prime Video and BBC