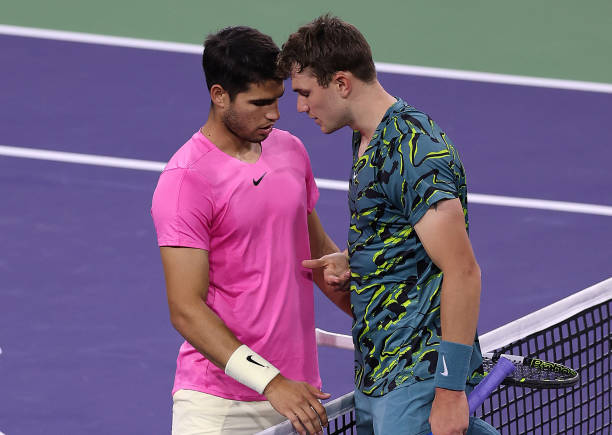 World no. 1 Iga Swiatek endured some stressful moments but won in straight-sets over Emma Raducanu, who faded physically despite an encouraging display in places. That came after Jack Draper was forced to retire with an abdominal injury against Carlos Alcaraz, who now plays comeback king Felix Auger-Aliassime in the last-eight – who he has never beaten (0-3 H2H) before…
Swiatek navigates through stressful moments in style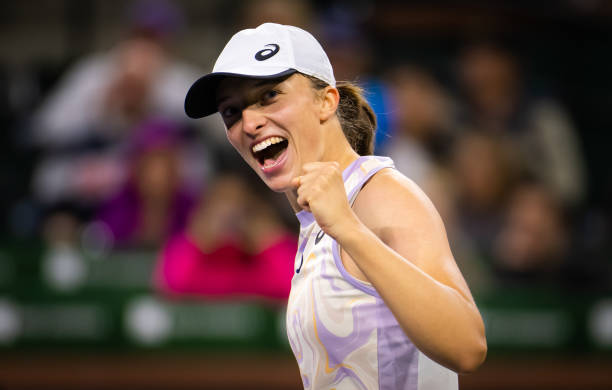 Swiatek [1] bt. Raducanu 6-3, 6-1
For the best part of half-an-hour, 2021 US Open champion Emma Raducanu was posing all sorts of questions for world no.1 Iga Swiatek to solve.
They both faced break points on serve in the first three games and the Pole was uncomfortable, something she later acknowledged in her on-court interview.
Shot variation and pressure on the forehand wing gave the three-time Major champion something to think about, while her own ball-striking was anything but clean in the early exchanges. Would this last?
Not long enough for Raducanu to seize the opportunity, as momentum shifted and after some defiant shot defence, Swiatek earned a break.
That was all the encouragement she needed to storm away with set one, having now found her groove and absorbing Raducanu's best efforts.
It wasn't for want of trying, but the Brit was consistently susceptible to leave wide portions of open court that Swiatek successfully exploited.
That, coupled with a need to hit line-kissing winners just to end points, meant she found herself having to manufacture positive reinforcement – which only goes one way when the scoreboard continues to dwindle against you.
Swiatek's ball-striking was much improved and she ultimately raced to the finish line, where Caroline Garcia's conqueror Sorana Cirstea awaits next.
During her on-court interview, she said: "In longer rallies I put pressure defensively, sometimes she played tricky slices but I'm happy with my composure and discipline in a solid game.
[On Cirstea] We've practiced together a few times, tennis is tricky as everyday is different but she deserves to be in the QFs, I'll be 100% ready to do my best."
---
Alcaraz accelerates to QFs, as injured Draper retires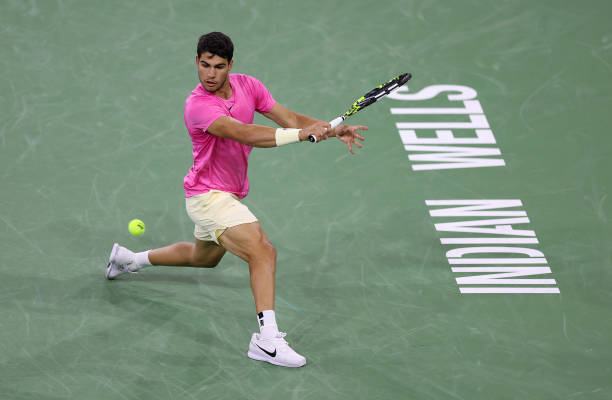 Alcaraz bt. Draper 6-2, 1-0 ret.
After being tetchy in places against Tallon Griekspoor last night, there was no such issues as he upped his level against Jack Draper.
The 21-year-old gave as good as he got in the early exchanges, but a few loose points proved decisive with the Spaniard repeatedly crunching forehands.
The scoreboard continued to mount for a bullish Brit who, after a morale-boosting win over Andy Murray, couldn't sustain such high levels as he appeared hampered.
Laura Robson on Prime's commentary said it best: you can't afford to be anything other than 100% against the US Open champion, who will return to world no. 1 if he wins Indian Wells this weekend.
"Nobody wants to win or get to the next round like this [with an injury-forced retirement] but tennis is hard – health is most important, Jack did well to retire so he can see what's happening in his body, wish him a speedy recovery.
I hit and returned really well, have more confidence for the next round."
Draper was in serious discomfort and despite a medical assessment at the end of set one, the physio's decision not to administer treatment suggested his awareness it wasn't a problem that would improve with time – only getting worse.
Clearly taking pace off his serves and struggling to scamper from corner to corner, he eventually made an unfortunate but wise decision to call it a day.
Alcaraz will now play Felix Auger-Aliassime in the quarter-finals tomorrow evening (from 6pm BST), after the eighth seed showed nerves of steel: saving six match points with big serves and composure to earn a massive turnaround win over Tommy Paul.
---
Cam avenges Rublev result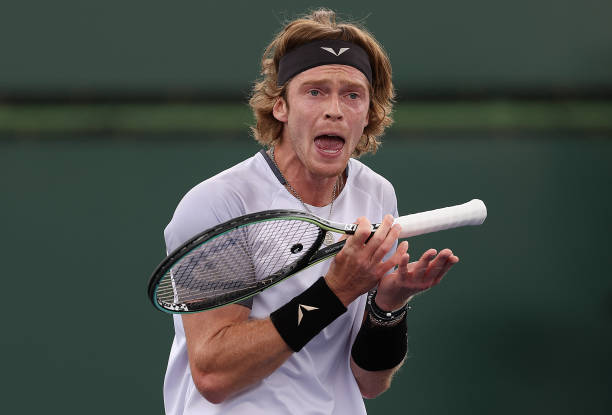 Norrie [10] bt. Rublev [6] 6-2, 6-4
Having persisted despite three consecutive breaks of serve early in set one, Britain's no. 1 Cameron Norrie avenged his disappointing US Open defeat in style with a straight-sets win over Andrey Rublev late on Tuesday evening (BST).
Rublev won with a trio of 6-4 sets back at Flushing Meadows in their last-16 clash, but there was to be no repeat for a Russian who was in a bad mood and didn't play his best tennis against an opponent whose playstyle baits you into mistakes.
Gesticulating plenty and often shouting after missing some routine rally balls, it was far from a comforting watch for the world no. 7 or his team, having recently acknowledged mentality issues remain a problem he's working to improve upon.
Three consecutive errors saw Norrie save break point, holding to go 3-1 up in an edgy first set, and despite Rublev serving well to earn a love-hold in the subsequent game, the Brit's lead would soon intensify after executing well on a pair of pressure points.
He didn't panic as they found themselves in a nervy rally and Rublev rushed forward to the net – but he stayed composed to pass him with a clever backhand winner.
Next, Rublev hit the ball fearsomely but could only lift his hands in exasperation after Norrie's line-kissing backhand from behind the baseline left him helpless.
A trio of reckless shots from 40-0 up, including a needless double-fault, gave Norrie a golden opportunity to break again and a forehand down-the-line clinched it.
Although Rublev was more competitive in set two, he was broken to go 2-1 down and Cam saved two break points to go 4-2 up, before breaking again in the next game.
Almost half (30-16) the unforced error count, Norrie was consistently and rightly pleased to get through without much fuss.
"Off the ground I was rock solid, really able to feel like I had a lot of time on the ball today, really playing well in the big moments. Andrey's not an easy guy to beat, could've been a little bit easier but pleased with the performance." 
---
… before Tiafoe stung him in the quarters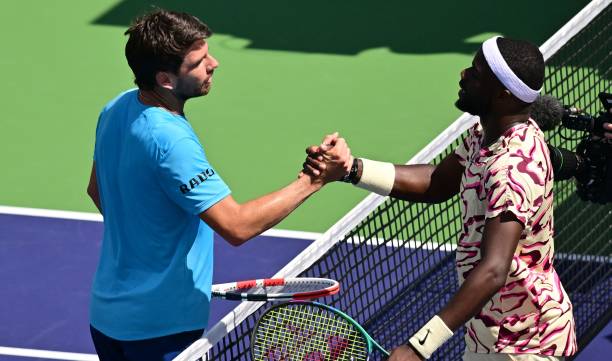 Tiafoe [14] bt. Norrie [10] 6-4, 6-4
2022 US Open semifinalist Frances Tiafoe finds himself in the last-four of a Masters 1000 event for the first time in his eight-year career after scoring his first win over Norrie – who surprised many to win the tournament in October 2021.
Norrie started promisingly, winning the match's first five points before an impromptu 20-minute rain delay – split into two sections of inactivity – as Tiafoe was unhappy with the weather conditions. When they returned though, it was a pulsating battle.
Tiafoe needed some big first serves to avoid danger at 2-1, then suddenly seized control of set one after displaying brilliant shot defence behind the baseline, a clever chip-and-charge point and ferocious forehand winner in the seventh game.
A graphic showed he had won 11 of the last 13 points at one stage, having executed better in the most important moments, while Norrie couldn't mask his frustration having missed a forehand at the net in the set's final game, rather typifying his issue.
Exchanging breaks to start set two was hardly a comforting sight, and it was about to get worse for the 27-year-old.
Hitting rally balls early and with sustained power, for better and worse, put Tiafoe in favourable positions during their longer rally exchanges.
Eventually he edged in-front once more and would not relinquish it, winning four successive games to lead 5-2. Norrie got a break back, at the fourth time of asking, but the American raced to a love-hold – earning a hard-fought scalp.
He'll hope for another long-awaited H2H victory against former world no. 1 and 2021 US Open champion Daniil Medvedev, after the Russian shook off an ankle injury scare to prevail 6-3, 7-5 against Spain's Alejandro Davidovich Fokina [23] elsewhere.
In five meetings, the 25-year-old American only has one win – dating back to a Nice qualifier on clay in May 2015. He's lost four in a row, earning just one set during that time, so Medvedev will be quietly confident of a repeat on Saturday evening.
Picture source: Getty Images, quotes via Prime Video