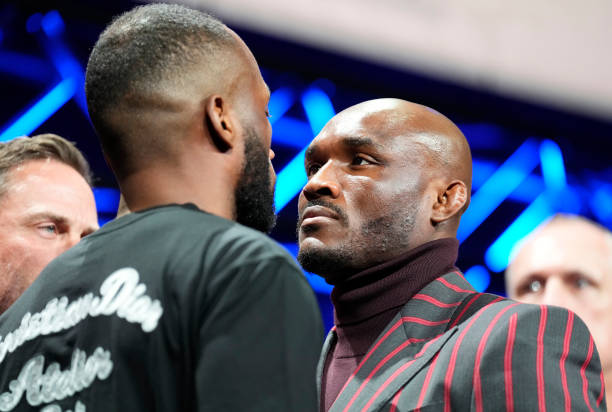 Ahead of this weekend's heavily-anticipated trilogy bout between new welterweight champion Leon Edwards and long-reigning, now-former titlist Kamaru Usman, both have different mindsets before their latest title fight. Usman wants nothing more than a marquee win on enemy soil, while Edwards feels he'll open the door to retirement for a 35-year-old with other interests.
Edwards feels Usman is on his way out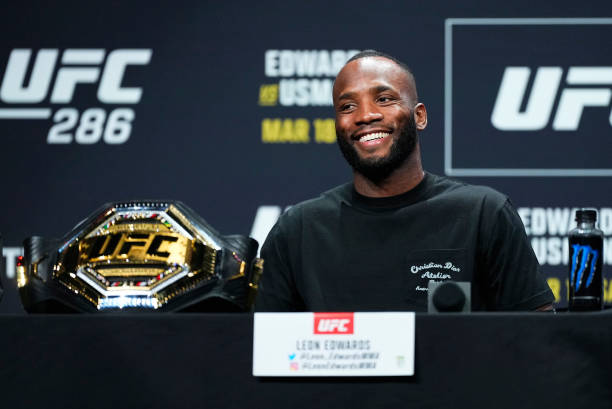 Leon Edwards remains convinced that his dramatic fifth-round head kick KO win over Kamaru Usman at UFC 278 last August has impacted Kamaru mentally, and he wouldn't be surprised to see him retire if he falls short on Saturday night.
As quoted by mmajunkie, he said:
"Our mentalities are in two different places. I feel like he's on his way out, and I was going to open the door for him – give him another path to follow his fashion dreams and follow wherever he wants to go.
I think he's already got one – something's out the door and I was going to add to that. Whether he retires after or not, it's up to him."
Much has been spoken about Edwards' lacklustre display for sustained periods of their rematch before the finish, though he attributed that to Salt Lake City's altitude – something Usman is used to – as the Brit tired but didn't feel any real danger.
"I know Kamaru – he's using that as, 'Oh yeah, he was tired in the fight.' Whether I was or not, you got knocked out – and that's it. So at the end of the day, that's all that matters. Even though I was tired, he couldn't hurt me.
It was more a fatigue issue, wailing at my gloves and catching it [strikes] all on my gloves. Even on my worst day, I defeated him. He's improved from when we've first fought, but so have I."
While it's encouraging to see increased confidence from the new champ heading into their trilogy matchup, Edwards' comments need to be taken with a pinch of salt.
Usman outstruck him considerably in all four completed rounds, and landed 14 of 21 strikes in the final stanza before the head kick.
Connecting on 83 of 135 significant strikes marked a new career-high for an Edwards opponent in 15 UFC fights too, all while logging over 10 minutes' control time.
Usman: Minor adjustments needed, it will be more difficult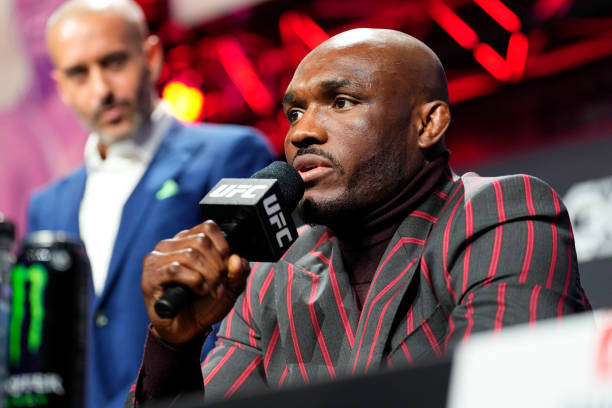 During an interview on the Pivot Podcast with co-hosts Ryan Clark, Channing Crowder and Fred Taylor, Usman spoke about the pressure seven months prior, as people hoped he'd lose – drawing parallels to Floyd Mayweather's invincibility.
"Once it [defeat] happened to me, it was the kick heard 'round the world. It was the only weapon he used that worked, just a good kick. I didn't do a good job, or do as well as I should have to stop it… but just a beautiful kick. Hats off to him."
Still the betting favourite for Saturday, Usman knows some changes have to be made after being left unsatisfied by some mistakes he made, before the stoppage.
In addition, he suffered a setback and was seen sporting a brace on his left hand – several months following hand surgery on his right.
Injuries are an unfortunate inevitability in MMA, but Usman's hand issues and his well-documented knee pain after decades of wrestling add fuel to the fire suggesting he could call it a day soon, allowing him a chance to explore other business interests.
"There are minor adjustments I have to make, but whenever you go into a fight, there's a lot more going on than what the public can see. There's a lot I have to battle through just to make it to the fight.
But that's why I think I've been successful – because if I don't put myself through the fire, then I don't feel as confident knowing that I can deal with anything being thrown at me once it's time for real.
I've never been in this position, but I know that mentally, nothing has changed for me. This is the same guy that I beat up before – still going to be the same.
I have to remind him who he is right away. When I fight guys, I fight their heart because I want to break their heart. I want to break their spirit and their soul.
It's going to be a little bit more difficult this time. In his head, he forgot about the four rounds before the kick. He forgot that I was taking his soul, so I have to remind him that I'm someone who took his soul twice."
---
Food for thought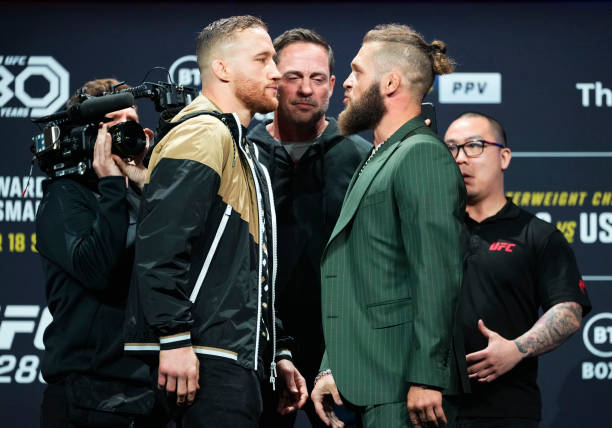 Justin Gaethje declared himself the UFC's most exciting fighter of all-time earlier this week and while self-professed claims are never wise, the former interim lightweight champion's assertion is understandable in this instance.
Importantly though, that electric style hasn't got him the undisputed gold he's long coveted and that's why Rafael Fiziev presents a fresh challenge for the 34-year-old.
He's fallen short twice in title fights less than two years apart, despite moments of serious success against Khabib Nurmagomedov and Charles Oliveira.
No-one managed to amass his 64% significant strike success during Khabib's UFC career, while he scored two early knockdowns but found himself submitted shortly afterwards by a crafty Brazilian who smartly used his emotion against him.
It's one thing to acknowledge you can't fight like that again, but actions speak louder than words – especially with other contenders seizing their opportunity of late.
Beneil Dariush [4]: Since R1 KO loss to Alexander Hernandez at UFC 222 in Mar. 2018, on eight-fight win streak and faces Oliveira at UFC 288 in May
Mateusz Gamrot [7]: 5-2, bounced back from Dariush defeat with split decision win over Jalin Turner at UFC 285
Arman Tsarukyan [8]: 6-2 at lightweight, Fight of the Night defeats by reigning champion Makhachev (Apr. 2019) and Gamrot last June
Damir Ismagulov [12]: 5-1 at lightweight, lost to Tsarukyan before Christmas
Renato Moicano [13]: 4-2 since moving to 155lbs, defeats by Fiziev and RDA on four days' notice
Fiziev has won bonuses in each of his last five fights, including a spinning wheel kick KO vs. Brad Riddell and a R5 finish over former champion Rafael dos Anjos last July. He's ready for another step-up, but can Gaethje fight more intelligently?
Marvin Vettori is being treated as an afterthought after being thoroughly outboxed by former middleweight titlist Robert Whittaker last September, a result which has created some separation between him and the top echelon at 185lbs.
Unlike Gaethje, he still has a good chunk of years left but can't afford to rest on his laurels against surging contender Roman Dolidze, who has already called for a title shot should he beat the Italian tonight. Ambitious new blood, that's for sure.
Highly-rated flyweight prospect Casey O'Neill returns after a 13-month layoff, having torn her ACL last April, and what better step-up than a former title challenger in Jennifer Maia – who has only ever lost to world-class opposition in the Octagon?
---
UFC 286 card, is as follows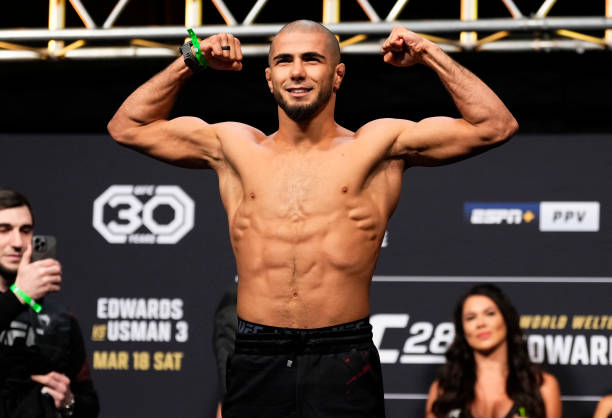 Main card (9pm BST)
Welterweight: Leon Edwards (c) vs. Kamaru Usman [1] for welterweight title
Lightweight: Justin Gaethje [3] vs. Rafael Fiziev [6]
Welterweight: Gunnar Nelson vs. Bryan Barberena
Women's Flyweight: Jennifer Maia [8] vs. Casey O'Neill [12]
Middleweight: Marvin Vettori [4] vs. Roman Dolidze [9]
Prelims (7pm)
Featherweight: Jack Shore vs. Makwan Amirkhani
Lightweight: Chris Duncan vs. Omar Morales
Lightweight: Sam Patterson vs. Yanal Ashmoz
Flyweight: Muhammad Mokaev vs. Jafel Filho
Early prelims (5pm)
Featherweight: Lerone Murphy vs. Gabriel Santos
Middleweight: Christian Leroy Duncan vs. Dusko Todorovic
Flyweight: Malcolm Gordon vs. Jake Hadley
Women's Flyweight: Joanne Wood vs. Luana Carolina
Lightweight: Jai Herbert vs. Ludovit Klein
Women's Flyweight: Julianna Miller vs. Veronica Macedo
Picture source: Getty Images