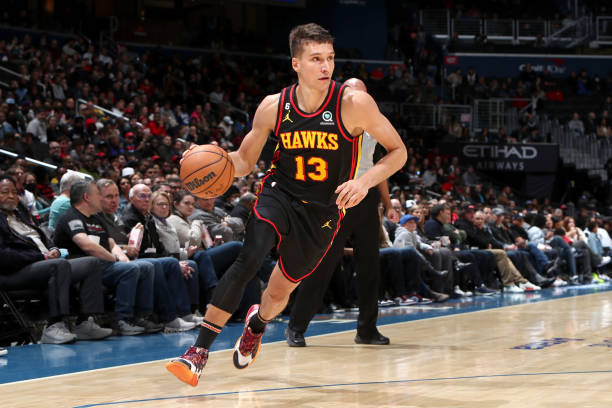 Fans and critics alike were surprised upon hearing the news of Atlanta's latest move overnight, tying up sharpshooting guard Bogdan Bogdanovic to a long-term $68m extension – ignoring injury concerns and much more, including their Kevin Huerter trade decision that hasn't exactly aged well, eight months on.
Bogdanovic declines player option, agrees extension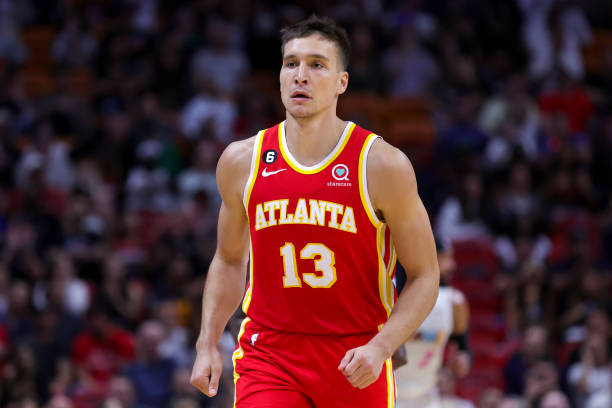 The saying goes: hindsight is a wonderful thing, but foresight is better.
As far as Atlanta, with new head coach Quin Snyder in tow, are concerned, that previous sentence speaks to their lack of forward planning.
Nine months after signing a four-year, $65m rookie scale contract extension, Kevin Huerter was shipped to Sacramento and hasn't looked back since.
Huerter is currently averaging career-highs of 15 points per game, 40.8 3P%, 48.7 FG% in same avg minutes played (29.6) as his final season in Atlanta
Bogdanovic is averaging 14.1 points, 40.1 3P%, 43.7 FG% in 43 games so far this term – having made his season debut in early December
The fact Huerter has a minor hamstring injury (day-to-day) making national news rather speaks volumes as far as his impact has been in an unpredictable Western Conference this term.
Sacramento (42-27) sit second in the West, appear poised to break their 16-year postseason drought with aplomb and still have 13 regular season games still to play.
Atlanta sit eighth in the East, half a game above Toronto in ninth and two games better off than the 10th-placed Washington Wizards – but have lost their last two.
Bogdanovic has taken a pay cut – declining an $18m player option to return on a sliding scale (15.1m, 16.3m, 17.6, $18.8m until 2026-27), but that's not the story here.
Atlanta committing that much money to a talented shooting guard who, isn't exactly a figure of durability, is unsettling to see.
Especially considering they have five players with guaranteed money over the next three seasons – while Dejounte Murray is an unrestricted free agent next summer.
You fancy them not splashing high money on an extension for him, given the high price they paid to complete a trade package with his draft club San Antonio?
What about the De'Andre Hunter-shaped elephant in the room?
Big things were expected of the 25-year-old small forward after his first two seasons in the league, hamstrung for different reasons, and he's about to begin the first of a four-year, $90m extension himself.
New acquisition Saddiq Bey has a club option for 2023-24, but is reportedly seeking a Hunter-type contract in free agency – are they willing to pay that much, or trade him elsewhere while they have a chance to get something back?
That's why the Trae Young noise has intensified in recent months. Is he a franchise cornerstone piece that can propel them to championship glory out East, or was their 2020-21 run to the Eastern Conference finals merely overachievement?
When I asked Jack (@CFCJack2712) for his opinion on the ceiling with Trae as their #1, his answer was telling.
"I love Trae and but because of his size and defensive issues, I'm just not sure. He needs an elite wing or big to cover up his weaknesses – definitely believe he's good enough to win a chip though.
With Atlanta a smaller market they aren't going to attract any sizeable free agents, so wouldn't be surprised if he was traded within the next few years."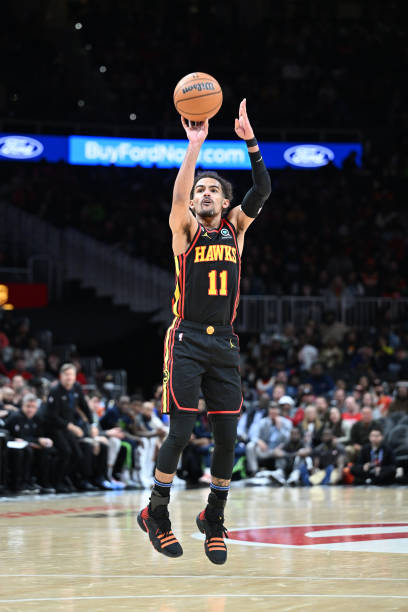 He's too small, ball-dominant, a defensive cone, egostical, inefficient, has skewed decision-making and more besides.
The criticisms that fall at Young's feet are at times fair, but often overexaggerated all things considered.
Murray's arrival was supposed to streamline the backcourt issues, but he needed adjustment time before proving a seamless fit – and his shooting efficiency has been anything but lately.
As much as we hear about John Collins' dynamic partnerships or Clint Capela's playoff experience, it won't work unless both are purring from the same hymn sheet.
Bogdanovic is a solid player, and the extension may age nicely from the franchise's perspective.
It's also easy to forget how close the Serbian was to joining the Milwaukee Bucks at the end of 2020, or how 'half the league' were supposedly monitoring his situation just two months ago and testing free agency was inevitable.
But when I see basketballreference's similarity scores linking him with T.J. McConnell and Josh Hart – super solid role players – with 'most similar performance arcs' through five seasons, why not just stick with Huerter in the first place?
Six years younger, less injury-prone, thrived during the rare moments he had to shine… Have they missed a trick here? Only time will tell.
Picture source: Getty Images