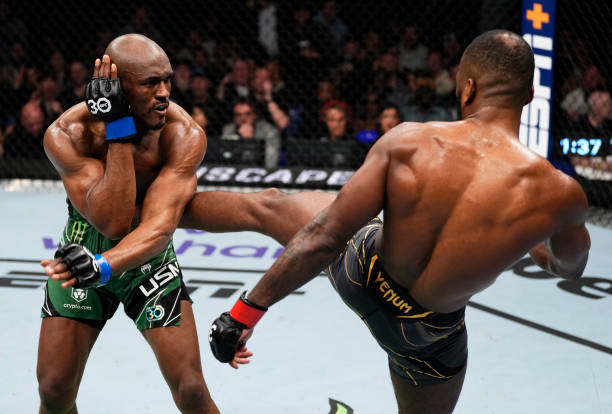 Leon Edwards' persistent kicks helped him manage risk vs. reward and ultimately prove successful over 25 minutes during his first welterweight title defence against Kamaru Usman, after Justin Gaethje's impressive majority decision win over Rafael Fiziev in the night's co-main event.
Edwards outpoints Usman in trilogy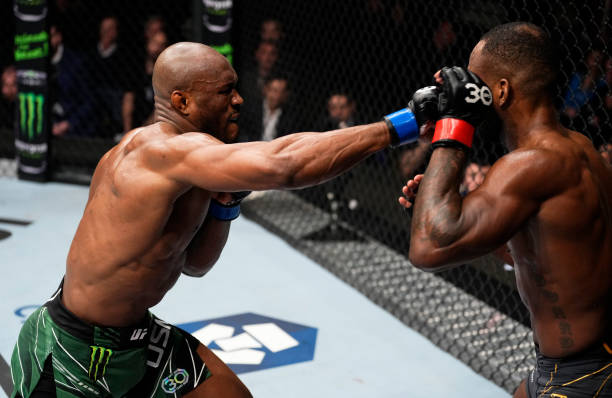 48-46, 48-46, 47-47: Leon Edwards (c) bt. Kamaru Usman [1] via majority decision
There was plenty of feinting by both early on, understandably tentative for the challenger but Leon Edwards was throwing some kicks aplenty to establish himself with a solid R1.
Referee Herb Dean warned the champion for grabbing the glove late in the round, as Usman tried to secure success with the 31-year-old's back up against the fence.
Early in the second, Usman complained of a low blow and just looked irritable.
He absorbed a big knee and wobbled backwards, then landed a sharp jab and secured a takedown against the cage, though Edwards did well to return to the feet on two separate occasions.
Probably 1-1 through ten minutes and being fought at a furious pace, Usman completed another takedown before Dean deducted a point for blatant fencegrab as Edwards tried to stop himself going down to the canvas once more.
Warned for another low blow as his barrage of kicks continued, Edwards' tactic of making Kamaru worry about what kick was coming next looked to set-up the same head kick he won the title with.
Edwards briefly dropped Usman with a kick and looked to secure a choke, before a scramble to the fence saw them separate once more as a graphic showed the Brit had amassed his career-high for significant strikes just from kicks (prev: 28, 39 through R4).
Staunch takedown defence from the champion was key during the penultimate round, though both were tired and looked vulnerable for different reasons heading into the fifth.
Edwards landed a series of significant strikes early in the fifth: an uppercut, elbow over the top, two big knees and a head kick – all of which would've wilted most other opponents.
Usman, bloodied mouth and all, kept shooting for takedowns and pressed forward as the London crowd cheered in celebration every time Edwards stuffed or stifled one of his attempts.
More analysis to follow shortly…
---
Gaethje's jabs do just the trick against Fiziev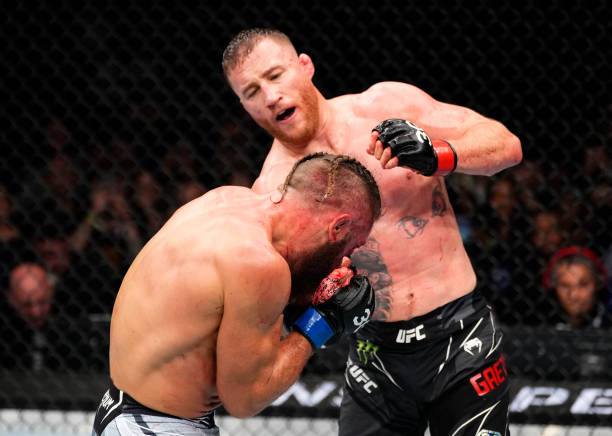 29-28 x 2, 28-28: Justin Gaethje [3] bt. Rafael Fiziev [6] via majority decision
I spoke on Thursday about Justin Gaethje fighting intelligently and he needed an adjustment, but did so midway through the third – jabs and uppercuts – to overwhelm surging contender Rafael Fiziev during an action-packed co-main event.
He conceded he's not too far from the exit door and wants one more title run before then. Current titlist Islam Makhachev was an interested viewer on social media, so it'll be interesting to see how the promotion matchmakes his next fight.
"I literally tried not to do that! Got my takedown, everyone – my critics – can shut the fuck up now. These guys are young, hungry, that [Fiziev] is a dangerous motherfucker. One more run at the title, so glad you got to enjoy it with me.
Trevor got me to believe in it [jab work and boxing at distance], being outside and at further range would serve me well. Once he was on the back foot, I had to keep pressure on."
More analysis to follow shortly…
Picture source: Getty Images