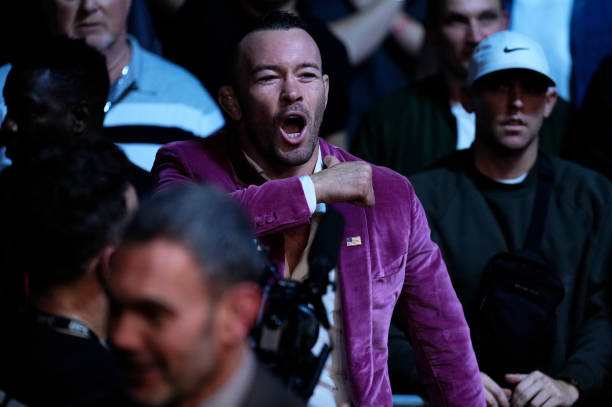 UFC president Dana White says he doesn't make fights immediately after cards, but declared former interim welterweight champion Colby Covington is the next challenger for Leon Edwards' 170lb belt. Considering the 35-year-old's relative inactivity and underwhelming resume, a myriad of questions have been asked.
Covington getting coveted third shot angers many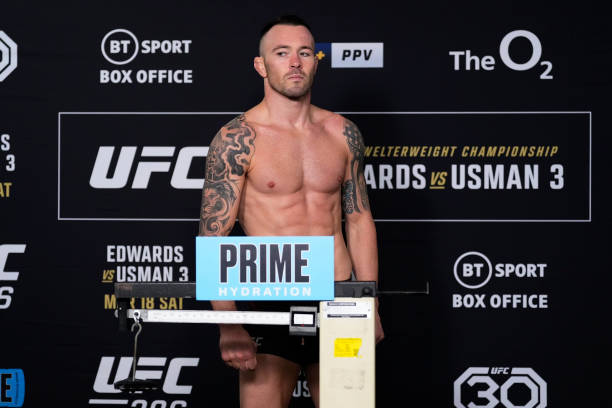 Colby Covington in the UK, weighing in as the back-up option for a world title fight?
When both were asked in the pre-fight press conference, they nonchalantly brushed it off and said it was the first they were hearing of such speculation.
Then, during Friday's weigh-ins, there he was. Stealing the limelight – as he often does – the most convenient third wheel in a welterweight title picture that has long featured his name over the past half-decade.
Perhaps that's why there was such consternation when UFC president Dana White doubled down afterwards, announcing Covington would represent Leon Edwards' next title defence. Given his recent resume, what's the justification for that?
ALSO READ
After a productive 2021, Belal Muhammad seizing his chance in flimsy 170lb division
We want new blood, you could almost hear fans and critics baying as the 35-year-old – a former interim champion back in 2018 – has already fallen short on two occasions, two years apart, against now former champion Kamaru Usman.
How could one ranked win in five years, against a fading star and friend-turned-foe Jorge Masvidal possibly earn him another shot?
Well, the same way Julianna Pena earned herself a shot of a lifetime against Amanda Nunes, or Conor McGregor inevitably seems one marquee victory away from the title picture across two weight divisions. Heat (and in turn, controversy) sells.
Immediately after Edwards' majority decision win over Usman, Colby was backstage with Megan Olivi for an impromptu interview and had plenty to say about the Edwards-Usman trilogy.
"I didn't see anything special, looks like he [Edwards] got the title and cashed out, gonna get some homecooking judging but now it's time to come see me.
It was a close competitive fight, thought it was a coin toss – he been working on that [takedown defence] but hasn't fought anybody like me, Usman fought him southpaw in the first and he doesn't like that [stance].
Leon's talking like he's the champ, there's only one real main event and that's me," he concluded with, making sure to stay in the WWE-esque character.
He cited international fight week – early July – as a potential month to fight and considering his own period of inactivity, it would make sense that Colby wants a return before much longer.
Khamzat Chimaev [3] continues to be linked with a permanent move up to middleweight after his well-documented weight miss last September.
Meanwhile Belal Muhammad [4] and Shavkat Rakhmonov [6] are unlikely to feature until July, as both are practicing Muslims currently observing Ramadan.
Guess we'll have to wait and see, but the 170lb division – just like lightweight – has been heavily criticised for having long-reigning contenders sit on their ranking over time. This won't be settled in the short-term, should Covington get the next shot.
Picture source: Getty Images