They say revenge is a dish best served cold and it certainly was for this year's Indian Wells champions: Elena Rybakina bested Australian Open champion Aryna Sabalenka in straight-sets, before Carlos Alcaraz ended Daniil Medvedev's 19-match winning streak with aplomb in the men's final.
Rybakina outlasts Sabalenka
Rybakina [10] bt. Sabalenka [2] 7-6 (13-11), 6-4
It was far from straightforward, as expected, but the reigning Wimbledon champion held her nerve in the biggest moments to end a 0-4 H2H record against the woman who pipped her to a maiden Australian Open title two months prior.
A trio of double-faults in the first set tiebreak were too much for the Belarusian to recover from, even as Rybakina was guilty of overcooking rally balls with momentum frequently shifting from one side to the next on serve with tension building.
It was a set the Kazakh needed to settle her nerves and truthfully, Sabalenka never recovered fast enough after the break to take their encounter into a decider.
She still produced a series of booming winners and gasp-inducing shots, both from behind the baseline and when defending during their longer rally exchanges, but Rybakina importantly maintained control in a tussle between two big ball-strikers.
The 24-year-old took it in her stride, joking during the subsequent ceremony that it'd be Elena's first and only win at her expense but as far as the tour is concerned, they'll certainly hope not.
Sabalenka's serving is so often a weapon that nervy, error-prone outings like this one behind her serve are quickly forgotten.
Rybakina will remember the tournament fondly, but reminded Prime Video's broadcast team that Miami is already underway – there's no time to celebrate.
Having dismantled world no. 1 Iga Swiatek for the loss of just four games in the semi-finals, then avenging a narrow defeat against the world no. 2 in the finale, she should be brimming with confidence.
---
Alcaraz confounds Medvedev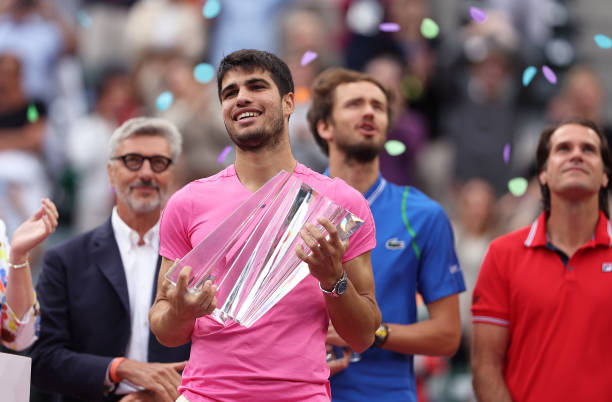 Alcaraz [1] bt. Medvedev [5] 6-3, 6-2
Juan Martin del Potro, Dominic Thiem, Cameron Norrie, Taylor Fritz, and now Carlos Alcaraz have all clinched Masters 1000 titles at Indian Wells.
The previous four earned their first in the Californian sun, while the Spanish teenager already has three to his name and one to defend this coming week in Miami.
He didn't drop a set en route to an eighth career title, briefly overtaking Novak Djokovic – unable to enter the US given his COVID-19 vaccination stance – as the world no. 1 – and there was a sense of inevitability about it all, fitness permitting.
Less than a month ago, he was limping to a runners-up finish in Rio de Janeiro at Norrie's expense and appeared hobbled again.
It's not the first time, and given his playstyle, won't be the last time he suffers through injury – but the subsequent reaction speaks for itself.
Medvedev's 19-match winning streak came to an end rather abruptly, against a player with such electricity and power that you wondered whether it'd be any different in a best-of-five format.
Alcaraz was imperious behind his first serve, winning 17/20 points in set one as Medvedev wasn't granted an opportunity to break the Spaniard's serve patterns and was frequently under the kosh himself.
That only intensified early in set two, as he was down a double break without warning and Alcaraz raced to the finish line without much fuss.
It's back to the drawing board for Medvedev, but not all doom and gloom for the ambitious Russian, who knows how fine margins can often decide high-quality matches – without necessarily looking like attractive scorelines.
Picture source: Getty Images