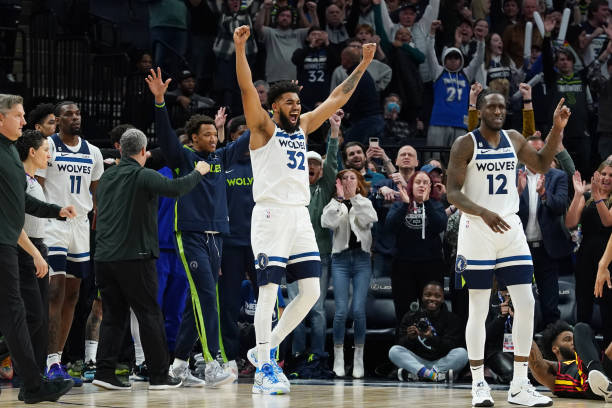 After a 52-game absence through injury, Minnesota Timberwolves star big man Karl-Anthony Towns marked his return with a storybook ending: scoring 22 points, including the go-ahead free throws in the final seconds, helping them overwhelm the Atlanta Hawks with a 125-124 victory last night.
Towns back in the fold, just in time…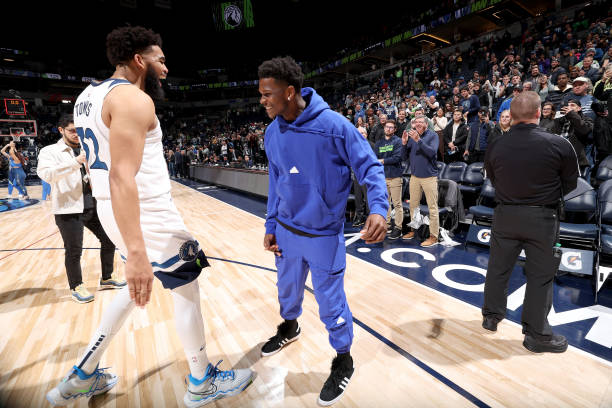 Given the uncertainty surrounding his injury status, and the Minnesota Timberwolves' playoff ambitions, Karl-Anthony Towns was duly greeted with a rapturous reception when he made his first appearance since Nov. 28 overnight.
The 27-year-old big man finished the game with 22 points, four rebounds, three assists and two steals in 26 minutes – as well as a game-high +13 plus-minus too.
Afterwards, he was quoted as saying:
"This is what movies are made of, you come back, [52] games missing, sellout crowd at Target Center, and you get the ball with seven seconds left, no timeouts. You've got to make it, it doesn't get better than that. To be able to come up big for my teammates is all I've ever wanted to do."
As a result of their 125-124 win, sweeping the season series 2-0 over Atlanta, the Wolves (37-37) are back to .500 in a uber-competitive Western Conference playoff race as the regular season draws to a dramatic close.
Select Western Conference standings, right now
5: LA Clippers (39-35)
6: Golden State Warriors (38-36)
—
PLAY-IN teams
7: Minnesota Timberwolves (37-37)
8: Dallas Mavericks (36-37)
9: LA Lakers (36-37)
10: New Orleans Pelicans (36-37)
—
11: Oklahoma City Thunder (36-37)
12: Utah Jazz (35-37)
They have eight regular season games left to maximise their chances of avoiding the play-in tournament, while meshing alongside Rudy Gobert will be back in full flow – a big man combo that has suffered teething problems in their first year together.
Their head coach, Chris Finch, echoed that sentiment:
"We've got to find a way to make the two-big lineup work. It has to be who we are in these last eight games, we have the flexibility to go a lot of different directions but when a guy's playing wthis well, he deserves to be out there in some form or fashion. It's my job to figure it out."
Fourth-year shooting guard Jaylen Nowell (knee) returned during their gritty road win against New York, while star guard Anthony Edwards (ankle) has missed their last three games but is expected to miss at least one more game.
Minnesota next have a back-to-back slate against West rivals Golden State and Sacramento on Sunday-Monday.
Picture source: Getty Images, data correct to March 24