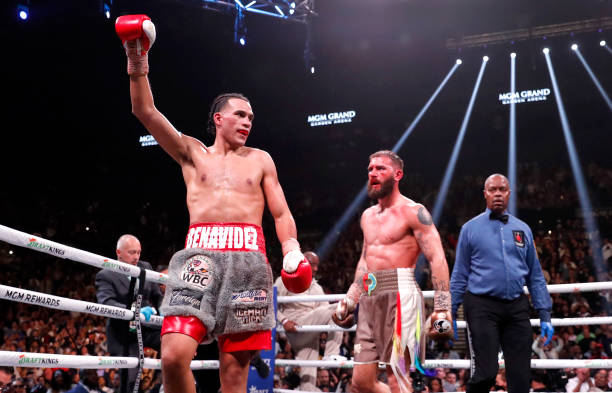 David Benavidez got what he wanted, a world-class opponent in former IBF world champion Caleb Plant – who posed questions aplenty for the 26-year-old. It required patience, especially with a trigger-happy referee, but he finished viciously in a commanding decision win before calling out undisputed super-middleweight champion Canelo Álvarez, who returns on May 6 vs. John Ryder.
Benavidez's pressure proves too much for Plant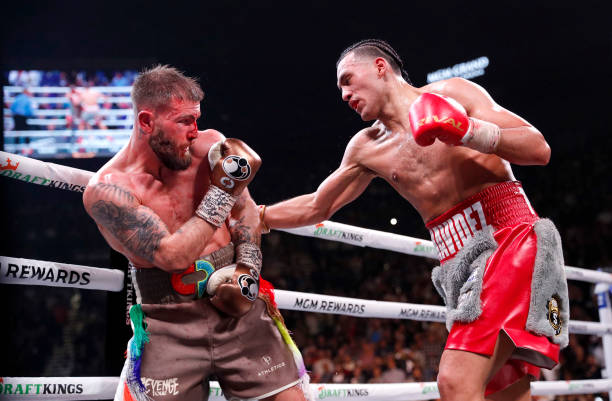 115-113, 116-112, 117-111: David Benavidez (ic) bt. Caleb Plant [1] via UD, retains WBC interim super-middleweight title
"I have a lot of respect for Canelo Alvarez but he has to give me that shot now. That's what everybody wants to see in September… I don't think he's trying to avoid me, just has a lot of options," Benavidez on Canelo matchup
He bemoans referee Kenny Bayless' decision not to give Plant any warnings throughout the fight for repeatedly holding, as the official struggled to properly impose himself whenever they clinched
Declares it the sport's 'best rivalry of the last five years', as both settle their supposed bad blood and display sportsmanship in the ring afterwards before questions about Plant absorbing so much damage
David Benavidez has long called for a worthy adversary to test his skills on the biggest stage, and Caleb Plant proved a willing foil at Las Vegas' MGM Grand Arena.
The conclusion was emphatic and it needed to be, such has been the hype and expectation surrounding the Mexican Monster since winning (Sept. 2017) and defending his first world title (Feb. 2018).
Much has been said about maturing after his public missteps outside the ring in years since, but this represented a career-best victory for him at a time where the 168lb division isn't exactly brimming with fresh contenders.
Plant longed for an opportunity at a Canelo rematch, and Benavidez pummelled him into submission on an electric evening where the lights shone bright and viewers worldwide were compelled by what they were witnessing.
Plant was boxing beautifully through six minutes, picking his punches aggressively and frustrating the interim champion – who wanted to keep him pinned in spots where he'd be able to unload powerful combos and hurt the 30-year-old.
Referee Kenny Bayless repeatedly broke them up whenever Plant initiated clinch exchanges, working in Sweethands' favour as stifling Benavidez's work was of paramount importance, though he was more successful in R3.
Plant probably edged the fourth too, landing a sneaky left hook and exposing Benavidez's defensive vulnerabilities after dancing away from danger upon occasion as the power shots whizzed by.
He knew he had to continue moving laterally and the mind games continued in the fifth, attacking the body and goading his younger adversary into frustration as the headhunting continued.
Benavidez had more joy at close-range in the sixth, snapping Plant's head back with a series of single shots while he could sense the aggression would force Plant into submission.
So in the seventh, he began viciously and connected well on his bigger shots early on. Plant countered at times, boxing comfortably on the back foot, trying to potentially steal the round with lunging straight punches and Benavidez was being punished for not setting up his haymakers.
Or so it seemed, as he rained down big power shots in the eighth and seriously wobbled Plant.
Bayless repeatedly separated them whenever they exchanged up close, almost sensing Plant was compromised, and calling a brief timeout after Caleb had a cut across his face – presumably an inadvertent head clash – but the optics were far from good.
Benavidez popped an increasingly bloodied face in the ninth, after Bayless gave him Plant a hard warning for a low blow early in the round.
Increasingly worn out in the tenth, you could sense history was repeating itself from Plant's perspective in the championship rounds as Benavidez's pressure was ominous.
He has a well-documented tendency to fade in the latter stages of fights, something that hurt him vs. Jose Uzcategui and recently Canelo. Would it happen again?
Uppercuts, chopping rights and lefts, hooks and more were the steady diet of damage as Plant found himself baited into exactly where Benavidez wanted him – exchanging big shots in centre ring, planting his feet and leaving himself susceptible.
No longer sticking to his jab, not moving nearly as much and subsequently becoming an easier target, Plant's chin was taking a pounding as he continued absorbing punishing punches.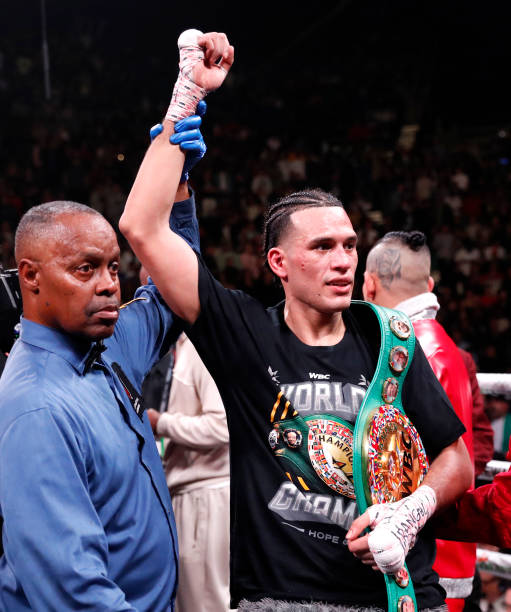 Somehow the barrage continued into the final round, Plant having landed 100 or so less punches per the PBC graphics but still throwing and making it dirty in places too.
It made for a fiery finish, but by this stage there was only one winner and Benavidez knew it too.
As mentioned in the intro, Canelo vs. WBO interim titlist John Ryder is already a lock for May 6 in Mexico – so you'd expect the sport's megastar to return around September, with a Dmitry Bivol rematch among his most attractive options.
As such, this tweet from WBA president Gilberto Mendoza has already done the rounds:
Picture source: Getty Images, quotes via Showtime broadcast