The world no. 4, twice a Major finalist over the last twelve months, has slipped to a 5-6 win-loss record on what has quickly proven an arduous start to the season following a rough three-set defeat by Botic van de Zandschulp overnight in Miami – dropping over 500 ranking points as his struggles with form persist.
Ruud left to rue missed chances, not for the first time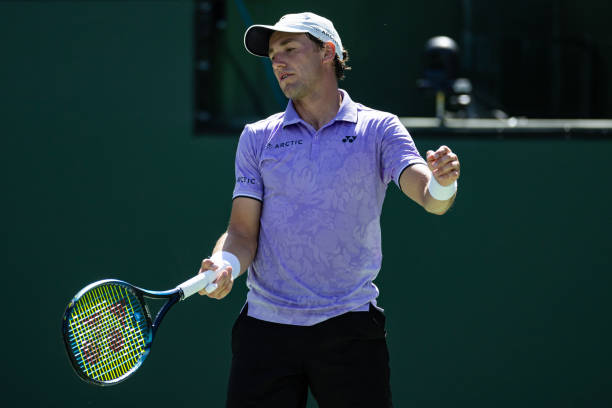 van de Zandschulp [26] bt. Ruud [3] 3-6, 6-4, 6-4 in two hours, 50 mins
The exasperation and relief on the Dutchman's face was unmistakable, coming to terms with the scale of what he had just managed: a first career top-5 win.
A few tipsy fans courtside reassured him afterwards that they were sure he'd win by his body language after losing set one, but actually executing it with steely defensive tennis behind the baseline and some timely serving was another thing entirely.
Ruud raced off into the night sky, sidestepping a big tennis ball dropped without warning as supporters above the tunnel tried getting the Norwegian to sign their memorabilia. With more composure down the stretch, he probably would've obliged.
Instead, he was left to rue a series of missed chances and only had himself to blame.
Forward forays to the net were hit-or-miss, typified by one sequence where he had to catch himself from falling twice as van de Zandschulp lobbed him for a winner.
A few points earlier, he attempted a backhand pass winner rather than do the same against a Dutchman under pressure – responding by saving numerous break points.
He saved seven of eight faced in set three, and 13/15 (87%) overall during a match which seemed to swing one way, then the next.
Ruud won seven more total points but statistics don't always tell the full story – he faltered on big points and VDZ was the latest to take advantage.
Some of his defeats over the past three months have been harder to take than others: Taro Daniel produced some inspired tennis in Mexico earlier this month, and narrowly won in a deciding set tiebreak that could've gone either way.
Other instances, like early exits at the Australian Open and Indian Wells, stand out in the opposite manner though.
---
Ruud's losses in 2023
United Cup: Matteo Berrettini (6-4, 6-4)
Auckland Open: Laslo Djere (3-6, 6-3, 7-6)
Australian Open: Jenson Brooksby (6-3, 7-5, 6-7, 6-2)
Acapulco: Taro Daniel (7-5, 2-6, 7-6)
Indian Wells: Cristian Garin (6-4, 7-6)
Miami: Botic van de Zandschulp (3-6, 6-4, 6-4)
---
Every player experiences poor form to some extent, an eventuality of a fast-changing sport that doesn't stop. Britain's Dan Evans has lost six on the trot after a three-set defeat by Lorenzo Sonego earlier this week, and is considering a week out.
Considering he didn't allow himself much of a break over the offseason, it'd be wise for Ruud to do similar before the Monte-Carlo Masters on April 9-16 – another Masters 1000 event which ended prematurely with a third-round exit last year.
No longer playing with the confidence that earned him the privilege of first-round byes and high seeds, it allows lower-ranked players a chance to exploit any hesitancy and make matches unnecessarily difficult. It's not a new phenomenon either.
Felix Auger-Aliassime has a tendency to suffer from this, while Alexander Zverev post-injury and Wimbledon finalist Matteo Berrettini are among the notable top players who've also experienced this problem in bigger tournaments.
The key is acknowledging and rectifying the most pressing problems, whether with a coach's guidance on the practice court or through specific film study, before things spiral out of control. Mid-season, there isn't much time in the calendar to do that.
He has big ranking points to defend (Barcelona, Munich, Rome, Geneva) between now and the French Open, so some tough decisions will need to be made. He didn't make it to world no. 2 by accident, and perhaps needs to remind himself of that.
Picture source: Getty Images