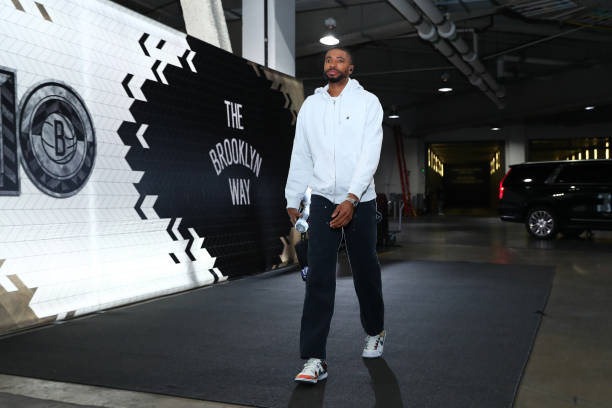 Absorbing knowledge from Chris Paul and Devin Booker in Phoenix, a stunning trade has offered Mikal Bridges the opportunity to show what he's learned offensively – accompanying his brilliant defensive skills – and he's flourished thus far among new teammates in Brooklyn. Given recent uncertainty surrounding the franchise, that bodes well for the Nets' long-term future.
Vaughn praise speaks volumes for Bridges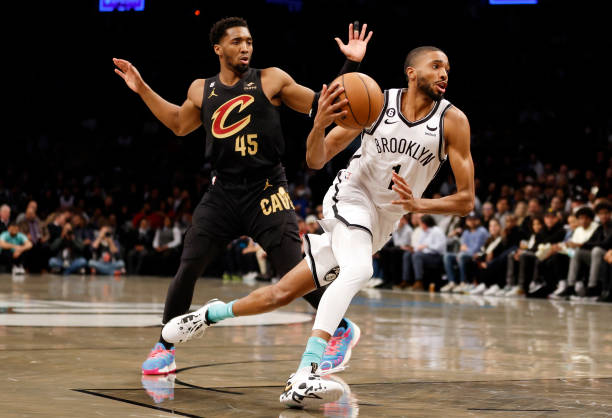 "He's a winner, that's how I describe him – he's trying to do whatever it takes on both ends of the floor to help us win, you've just seen his game grow," new head coach Jacque Vaughn full of praise for Bridges
26-year-old small forward has emerged alongside first-time All-Stars Lauri Markkanen and Shai Gilgeous-Alexander in Most Improved Award sweepstakes after excellent campaign across two ball clubs
Averaging a new career-high in points (26.8 PPG for BKN) with efficiency under more scoring responsibility, especially since surprising four-team trade saw him leave Phoenix for Brooklyn in Kevin Durant deal last month
The headline news surrounding Brooklyn today concerns three-time All-Star Ben Simmons' injury status, with head coach Jacque Vaughn announcing the 26-year-old has been shut down for the rest of the campaign due to a nerve issue in his back.
It marks an end to a forgettable, injury-plagued return season for an All-NBA talent who has been marginalised and relentlessly criticised since his tenure in Philadelphia was cut short rather drastically.
His long-term future remains uncertain for obvious reasons, but Mikal Bridges has shown Brooklyn that it's not all doom and gloom for the franchise.
Brooklyn sit sixth in the East, tied on a 40-35 record with Miami – but are 9-15 since Kyrie Irving left for Dallas, an eyecatching move which indirectly saw Bridges in a Nets uniform. Three days later, Kevin Durant followed suit in a four-team trade.
While Phoenix teammate Cameron Johnson has joined Bridges in Brooklyn, it's quickly turned into a franchise packed with a host of future draft picks over the next six seasons, rather than the championship-contending trio they once promised.
Through 20 regular season games with Brooklyn, Bridges has ascended with increased creative responsibility.
The 26-year-old is averaging career-highs in points (26.8), rebounds (4.6), FT% (91), with encouraging shooting splits (49.6 FG% and 41.2 3P%).
He reeled off 44 points, including a tied season-high six threes against the Orlando Magic on Sunday – having tallied a career-high 45 against Miami in mid-February.
Judging by Johnson's recent comments, his scoring surge is no surprise.
"Yeah, he gets one pull-up on the left, gets going and you can see him. He has a look that he's going to keep getting them [shots] up and has been hitting them, so credit to him."
---
Bridges' last nine games
Minnesota: 34 points, six rebounds
Denver: 25 pts
Oklahoma City: 34 pts, 4 rebs and blocks
Sacramento and Denver: 23 pts in successive games
Cleveland in a back-to-back: 50 pts, 10 rebs combined
Miami: 27 pts, seven assists
Orlando: 44 pts, 6 rebs
---
Unlikely to win, it's nonetheless no surprise to see him in the Most Improved Race behind first-time All-Star duo Lauri Markkanen (Utah Jazz) and Shai Gilgeous-Alexander (Oklahoma City).
That's esteemed company and in Year 5, he's starting to get the offensive credit his defensive abilities overshadowed earlier in his career.
He spoke about learning tendencies from being tasked with guarding the opposition's best players while learning from watching Devin Booker and Chris Paul – the latter a mentor for SGA during their year-long stint together in Oklahoma.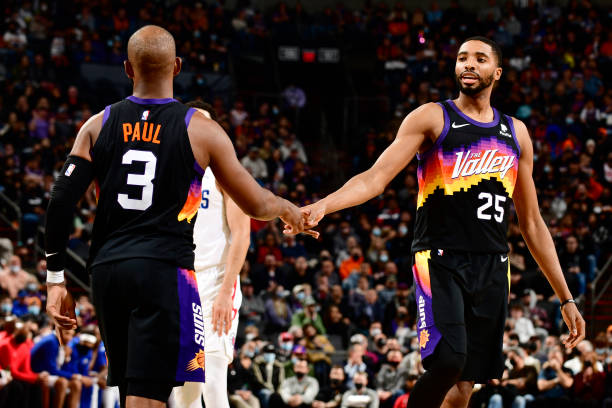 "Just trying to get to the line, be aggressive, that's a big thing. Coming from Phoenix, watching a lot of, being right there with Book and CP3, how they draw fouls… I've learned a lot.
Guarding the top guys, me getting silly fouls because they're so smart and give me an angle, let me foul them. It's an emphasis to be aggressive, good things happen when you get in the paint or go to the line; just opens the game up."
Vaughn doubled down on that notion, saying:
"He takes it hard when we lose, which is a good thing. He's grown to be a leader on our team, learning how to facilitate during games, have the No. 1 defender on him, while learning to do it on the other end, which is different."
As far as Brooklyn's core are concerned, they have a group of young players still getting better that will be eager to prove themselves.
Simmons remains the elephant in the room, one they'll probably take the summer to decide. What market is there for him, given how drastic the drop-off has been?
Cam Thomas (21) and Nic Claxton (23) immediately come to mind, while it'll be interesting to see whether Cameron Johnson (27) commits to a multi-year extension this offseason given he was left unhappy with his situation in Phoenix.
Spencer Dinwiddie, Dorian Finney-Smith and Royce O'Neale (all 29) are a trio of valuable veterans who contribute to winning in different ways, while Joe Harris (31) concedes he's at a career crossroads and Seth Curry (32) has had a down year.
In terms of their immediate future, Brooklyn host Houston early Thursday (12.30am tip-off BST), the first of a four-game home stint over the coming week.
They'll probably still make it into the postseason play-in tournament, by virtue of winning as many games as they managed earlier in the season, another opportunity to test themselves against similar opposition, which is never a bad thing.
Picture source: Getty Images, quotes via New York Post