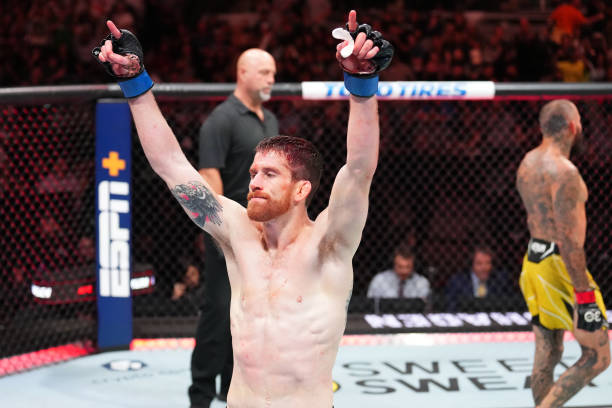 He apologised to the fans, aware they would've been underwhelmed by what they saw: but it wasn't his fault. Cory Sandhagen scored a decision win over Marlon Vera – split scorecards notwithstanding – before calling out Merab Dvalishvili after the Georgian's impressive win over former champion Petr Yan two weeks prior. The bantamweight division is bubbling up nicely again…
Vera's four-fight win streak ends with a whimper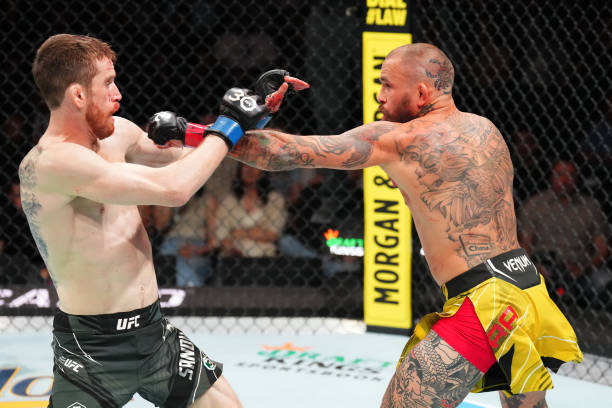 Cory Sandhagen [5] bt. Marlon Vera [3] via split decision: 47-48, 50-45, 49-46
This going in the record books as a split decision is unjust but nonetheless and more importantly, the right winner was eventually announced.
As such, they've switched places in the promotion's latest rankings update, and the UFC's bantamweight division continues to shake up – two more big fights await in the coming weeks including champion Aljamain Sterling's second true title defence.
He'll welcome back former two-division titlist Henry Cejudo from a three-year retirement at UFC 288 on May 6, after perennial contender Rob Font [6] defends his lofty ranking vs. surging contender Adrian Yanez [12] at UFC 287 next weekend.
Sandhagen's self-awareness is something not a lot in his position would've exercised, especially after outworking and outstriking a fan favourite on partisan soil in San Antonio, but his post-fight callout of Merab Dvalishvili makes sense.
He was submitted inside 90 seconds by the now-reigning champion back at UFC 250, a startling defeat he'll undoubtedly want to avenge at some point – but has spoken about needing to earn the right.
Many journalists, me included, felt he did enough to edge past TJ Dillashaw on the controversial former champion's return after testing positive for a trio of performance-enhancing drugs, but Dillashaw's five-round seasoning was decisive.
Three months later, he produced a spirited showing but fell short in a Fight of the Night affair against Petr Yan for the interim title. Would he finally get over the hump in a must-win fight, against one of the division's rising contenders?
Vera, who was outclassed and outfoxed by impending Hall of Famer Jose Aldo in Dec. 2020, had won performance bonuses across all of his four-fight win streak and rode a wave of momentum many didn't foresee possible three years ago.
August 22: Dominick Cruz – Performance of the Night
April 22: Rob Font – Fight of the Night
November 21: Frankie Edgar – POTN
June 21: Davey Grant – FOTN
Having scored a fourth-round TKO (doctor stoppage) against Song Yadong in mid-September, Sandhagen facing Vera on paper seemed like a violent dream would unfold for fans to savour with big title implications on the line too.
Instead, the Colorado native always seemed two steps ahead. When you consider that and him logging seven minutes' control time with three takedowns it made for a frustrating watch, acknowledging both were hard to hit post-fight.
---
Significant strike totals, round-by-round
All were in Sandhagen's favour
R1: 32-5 (46 to 38% sig. strike success)
R2: 18-6 (62 to 40)
R3: 32-20 (47 to 35)
R4: 24-13 (35 to 34)
R5: 22-14 (45 to 38)
---
Sean O'Malley, who eeked past Yan at UFC 280 and now sits #2 in the rankings, should theoretically have to defend that position against the Font-Yanez winner.
Given his ever-growing popularity and an eagerness from some detractors to see him lose, that matchmaking proposition is wishful thinking to say the least.
Having this week declared himself out of the running to be the title fight's backup option, Sugar Sean might opt to sit out and wait until a few more chips fall in place.
That's where Dvalishvili comes into play. After a career-best win saw him overwhelm and suffocate former champion Petr Yan last month, he's the new #1 contender.
Assuming Sterling beats Cejudo, he'll move up to featherweight and give his close friend a chance to win gold at 135lbs – an arrangement often spoken about of late.
The determined Georgian declared his style a difficult one to decipher – armed with relentless pressure – shouting that he was hungry for more challenges.
Dvalishvili broke a UFC record for most takedown attempts in a fight (49, completed 11) and landed 147 of his 338 significant strikes thrown over 25 minutes against Yan. The next highest was Cain Velasquez (33) against Junior Dos Santos, back in Dec. 2012.
Sandhagen provides precisely that, and they could set it up for this summer without much issue after neither was injured during their dominant decision victories.
Picture source: Getty Images