Two Wasserman shows live on Channel 5 in consecutive weeks, and last-minute replacements for main event boxers in both. The situation is far from ideal, but nonetheless one that unbeaten light-welterweight Harlem Eubank can't pay much attention to – he's busy plotting 2023 as the year where he truly establishes his pedigree on the domestic scene.
Antin, much like Crighton last week, has nothing to lose
After outclassing Tom Farrell over ten rounds in late November, Harlem Eubank's return soured by late replacement after original opponent – Mexico's Christian Uruzquieta – withdrew earlier today having fallen ill
29-year-old light-welterweight will now face unheralded Argentine Miguel Antin (20-11-1, 8 KOs), who has lost 11 of his last 15 fights including UK return on Bolton small hall show last time out against Kane Gardner
"Antin is coming in at short-notice, has nothing to lose and that makes him extremely dangerous. The way I'm feeling, been training, I plan on dispatching him in good fashion to set up a massive 2023," Eubank warns
Can you still be regarded as a hot prospect, aged 29? That question (the answer's no) applies to any sport, but especially one as taxing and unpredictable as boxing.
It's why Kalle Sauerland's comments this week about his charge create intrigue, given Harlem's steady build to relevancy in the domestic ranks at light-welterweight.
"We want to present new challenges for Harlem this year, on the best possible platform – live on Channel 5 – he will have eyeballs on him, which brings extra pressure, but will help in very big fights."
As much as winning and building momentum is important, reeling off decision wins on small hall shows just isn't sexy in an entertainment business.
His last four fights have been on TV, tomorrow night marks his second main event slot and he's earned the increased attention – even if most of his opponents haven't.
---
My other recent boxing articles to read:
Benavidez excels late vs. spirited Plant display, as he calls for Canelo clash
Okolie defends WBO cruiserweight title with drab decision win vs. Light
Zurdo Ramirez's big weight miss earlier this month was a blessing in disguise
Chantelle Cameron gets legacy-building wish on May 20 vs. Katie Taylor

---
Kalle namechecked Harlem's agemate in Lewis Ritson (23-3, 13 KOs) as a potential option next, going through the gears. Ritson suffered a R9 KO defeat by Ohara Davies during a competitive clash in his hometown of Newcastle earlier this month.
That prospective matchup would've been more interesting had we seen how well Harlem handled Uruzquieta, considering Ritson scored a R9 stoppage against the Mexican back in Dec. 2021.
Instead, you're left wondering whether it's a wise fight for the Sandman to take altogether at a stage of his career where he's falling short against better opposition.
Six months prior, recent world title challenger Jeremias Ponce bossed him from start to finish before a R10 TKO win.
BoxRec has the pair alongside one another in the world rankings (Ritson 34, Eubank #35) but the gap between domestic and world level is a big one as current British titleholder Dalton Smith was another featuring in Sauerland's sights for Harlem.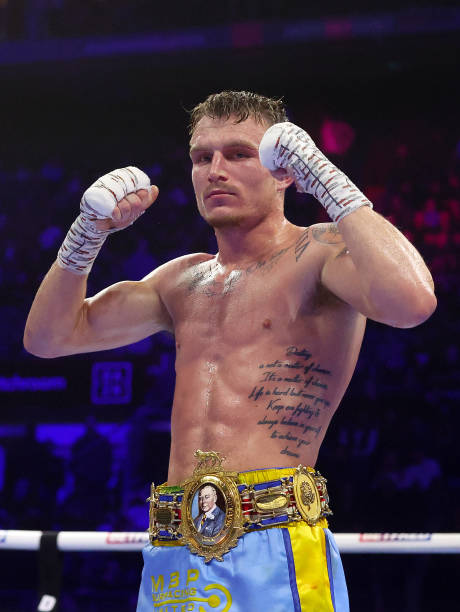 "Dalton is a talked-about talent, like Harlem, and if that is ordered, we won't shy away from it. But as a promoter I think we need to build both guys a bit more, for them to maximise that fight."
The unbeaten 26-year-old has been ordered to face Sam Maxwell (17-1, 11 KOs) next and will make that defence in the summer after suffering a big facial cut during his wide decision win over Billy Allington last month.
All of this foreplanning is rendered insignificant if Eubank doesn't get the job done and in style tomorrow, against a short-notice opponent that could make life difficult for him just as Lyndon Arthur experienced in Bolton last Friday.
Given his underwhelming resume and recent form the likelihood of that is low, but stranger things have happened. On a weekend where Anthony Joshua returns against lesser opposition, the common theme is refusing to take your eye off the ball.
---
Friday night's York Hall card, is as follows
10 rounds
Catchweight main event: Harlem Eubank vs. Miguel Cesario Antin
English cruiserweight title: Nick Parpa vs. TBC
WBO European light-middleweight title: Harry Scarff vs. Jordan Dujon
8 rounds
Light-middleweight: Abass Baraou vs. Ferenc Katona
6 rounds
Heavyweight: Matty Harris vs. Milos Veletic
Featherweight: Sophie Alisch vs. Bec Connolly
Light-middleweight: Jake Henty vs. Petar Aleksandrov
Light-middleweight: Lorenzo Grasso vs. Charlie Sheldon
4 rounds
Light-welterweight: Jesse Brandon vs. Borja Lopez
Featherweight: Codie Smith vs. Luca Genovese
Light-welterweight: Jurrell Patterson vs. Vasif Mamedov
Picture source: Leigh Dawney/Wasserman Boxing, Dalton Smith image via Getty