Harlem Eubank earned knockdowns in rounds six and seven en route to another wide decision victory, this time against short-notice opponent Miguel Antin in a scrappy, gruelling co-main event at York Hall overnight. Elsewhere on Wasserman's card, there were R1 finishes for Jesse Brandon and Matty Harris before Harry Scarff's enthralling battle with Jordan Dujon in the headliner.
Eubank stays unbeaten, but not without a real tussle
99-89, 98-90, 97-91: Harlem Eubank bt. Miguel Cesario Antin, now 17-0 
It wasn't a straightforward assignment, but Harlem Eubank waded through fire at times and emerged unscathed to remain on course for bigger fights this year.
The 29-year-old light-welterweight talent finds himself right in the mix domestically, a division featuring the likes of Ohara Davies, Lewis Ritson, British champion Dalton Smith while rising young prospect Adam Azim lurks too.
As Kalle Sauerland said earlier this week, those are the sort of names he needs to test himself against – bridging the gap between prospect and bonafide contender.
This was a last-minute opponent, with Mexico's Christian Uruzquieta falling ill and being replaced on 24 hours' notice, but you wouldn't have known it early on.
Antin was sneaky from the off and landed a series of probing flurries to wobble the Brighton man against the ropes in separate rounds.
Back-and-forth exchanges and periods of dirty boxing in the clinch were a theme during the first two rounds, with Eubank getting the better of their close combat while jabbing well on the back foot.
Digging body shots didn't deter the seasoned Argentine, who was wobbled seconds before the bell in R2 and began the third with some performative antics to goad Eubank into centre ring and needlessly overextend. He didn't oblige.
That's because when he did, he paid the price. In R4, Antin connected flush on a series of straight shots and briefly rocked Eubank himself, enough to motivate him into staying firm with his tactics.
Going back to the jab in R5, Harlem landed impactful single shots but was again on the receiving end of a furious punch flurry. Pockets of fans were getting restless, others a touch worried.
As much as you're bound to get hit when boxing at this level, Eubank was expending a lot of energy to keep the 31-fight pro off his chest.
Right on cue then, the crowd were applauding and cheering as they saw Harlem land some slick counterpunching sequences in the sixth.
He produced a body shot knockdown moments before the bell rang, Antin beating the count to prolong the pain into another round.
After dropping him with another body shot midway through R7, it felt inevitable that Eubank would wear him down and make his agemate surrender.
Instead, the Barcelona resident did enough defensively to keep him at distance and recovered his bearings – while maintaining that threat of danger – so on they went.
Things looked clumsy and untidy in the eighth, as the referee warned Antin for punching after he'd told them to break and then had to mop the canvas after both slipped on separate occasions.
R9 was more of the same, another Eubank round where he displayed lateral movement aplenty and you could see Antin get visibly discouraged.
After all, his best periods of success were when they were in close quarters. Not having to chase and cut the ring off against a moving target.
Smart ringcraft in places, shaky and unconvincing elsewhere as Antin again landed the most notable punches in R10 after largely being second best.
He shook Eubank up against the ropes twice, once where it looked as though the official was going to separate them but decided against it.
A few wild haymakers narrowly whizzed past his chin, otherwise danger would've intensified in some of the more dicey spots for the heavy favourite.
Afterwards, he spoke about the importance of boxing and moving against an unpredictable opponent on such short-notice, while saying he fights to entertain and produced 10 rounds of that.
Logging rounds is important for development, but there were multiple occasions where he could've had an early night with more intensity in some spots.
He finished by saying he's ready for all comers later this year and while a solid showing given the circumstances, urgency and a defensively astute approach is needed against tougher opposition.
---
Rest of the card, featuring Codie Smith's pro debut
Back-and-forth over eight rounds rather than the scheduled ten, Harry Scarff ended a year-long layoff at light-middleweight with a gruelling decision win (79-73, 78-74, 77-75) over a gamely Jordan Dujon effort in the main event matchup.
Those who stayed to watch past midnight were in for a pulsating treat, as both boxers produced periods of success while the other bided their time waiting patiently to unload again.
In the featherweight division, Codie Smith prevailed on his professional debut with a 40-36 decision win over four rounds against Luca Genovese.
The Hull-born youngster, who turned 19 a week before Christmas, picked his punches well and had the Italian bloodied after absorbing clean shots in R1.
With an eyewatering 21-year age difference between the pair, as well as their contrasting physiques, it was surprising to see Genovese refuse to relent.
He was frequently pushed backwards in R2 and hurt by a body shot, while Smith threatened a finish at the end of R3 – and again in the dying embers of the fourth.
It was a commendable debut, against a 40-year-old who had suffered his 20th career loss but still never been stopped in a nine-year professional career (4-20-5).
Smith will be wishing he could've seized the opportunity to step on the accelerator when Genovese was hurt, mind.
Back at the scene of his pro debut in Nov. 2021, 23-year-old heavyweight Matty Harris needed just 23 seconds before blasting Milos Veletic into submission – a sequence akin to highly-regarded teenager Moses Itauma in Telford last weekend.
Four consecutive first-round finishes now, and two in 2023, the big man should continue to remain active with more fight dates wherever possible.
In a light-middleweight clash, Abass Baraou was assertive from the off and got his reward in thunderous fashion.
Multiple body attacks and a big right-hand knockdown late in R1 signalled the beginning of the end for Ferenc Katona, whose corner threw in the towel as he looked destined to be stopped on his feet (R3, 0:25).
Light-welterweight prospect Jesse Brandon reeled off a pair of knockdowns in quick succession, overwhelming Borja Lopez and needed just 104 seconds to earn a flashy first-round stoppage win (R1, 1:44).
Elsewhere…
Light-welterweight: Jurrell Patterson vs. Vasif Mameq ends in R1 technical draw after accidental headbutt
Light-middleweight: Lorenzo Grasso bt. Charlie Sheldon via decision (40-36)
Light-middleweight: Jake Henty bt. Petar Aleksandrov (59-55)
Featherweight: Sophie Alisch bt. Gemma Ruegg (60-52)
---
Other notes, tidbits around the boxing sphere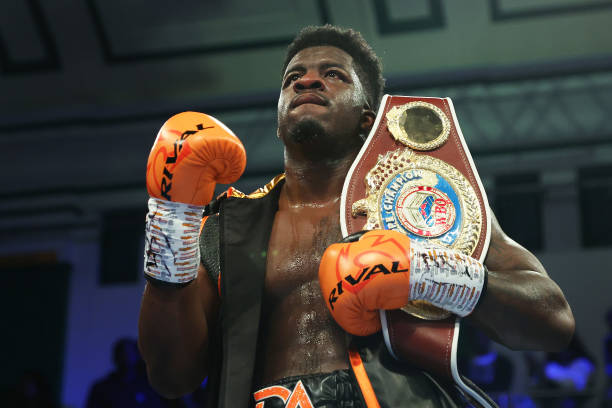 WBO European heavyweight champion David Adeleye tells me he'll return sometime in May, presumably to defend the new title
Plenty can change before then, but the only Queensberry date announced in that month is Luis Alberto Lopez vs. Michael Conlan on May 27
Having last defended his English light-middleweight title on the Azim-Charlton card (Nov. 27), Sam Gilley tells me he plans to return either on the Bournemouth show (May 27) or another Azim headliner (June 10)
Stanley Stannard (10-0, 4 KOs) vs. Lee Cutler (12-1, 7 KOs) has been ordered as an eliminator for his title and is set for June 24
British champion Josh Kelly was in attendance for this York Hall show too, his in-ring return expected soon after Troy Williamson masterclass (UD12) in Newcastle before Christmas
Having now signed with Eddie Hearn and Matchroom, IBF flyweight world champion Sunny Edwards wants June-July return
Inactive since Josh Taylor (SD12, Feb 2022) and seemingly unsuccessful in Regis Prograis world title talks, Jack Catterall joins Matchroom stable and cites earning career-defining fights as motivation for move
After suffering a majority decision loss to Ekow Essuman on Eubank-Smith undercard, welterweight Chris Kongo set to feature on the BOXXER Bournemouth card in late May
Harry Scarff ended a year-long layoff here at 154lbs vs. Jordan Dujon, but has been ordered (and agreed) to fight Essuman for his British welterweight title
Training camp said to be going well for Tottenham's 4-0 heavyweight prospect Jeamie Tshikeva before trip to Poland for BOXXER's latest co-promotion event later this month, opponent TBC
Nick Parpa (10-1, 6 KOs) was slated to fight Michael Webster (7-0, 5 KOs) for the English cruiserweight title on this card, but latter confirmed that wasn't the case during fight week, fight was quietly scrapped
Purse bids have been ordered for him to face Jamie Smith (6-1, 5 KOs), with Cheavon Clarke (5-0, 4 KOs) then boxing the winner
Following a successful four-fight debut year under BOXXER banner, Hearn declares super-flyweight prospect Shannon Ryan is now with the 'best promoter for female boxing'
Picture source: Leigh Dawney/Wasserman Boxing