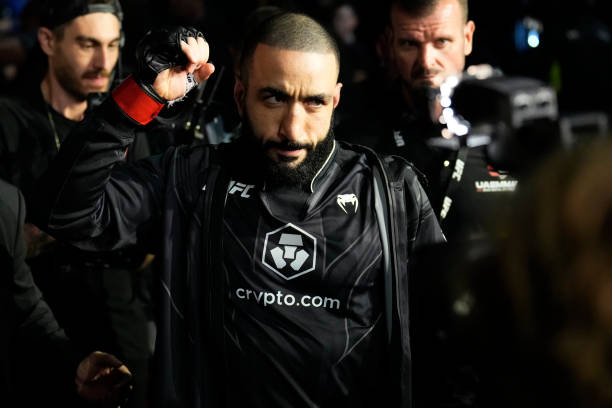 #4 ranked welterweight Belal Muhammad has reaffirmed a desire to fight up, eager to finally earn a #1 contender spot with potential fights against former champion Kamaru Usman, Colby Covington or a rematch with current titlist Leon Edwards – rather than having to fight down the rankings once more against Shavkat Rakhmonov [6]. Whether that will materialise, is the question.
Belal not backing down from a challenge, but still bullish
Muhammad explains how he called his manager with confusion after surging contender Shavkat Rakhmonov was namechecked as his possible next opponent by UFC president Dana White
As I wrote last month, two-time title challenger Colby Covington reportedly getting the next title shot despite inactivity and a weak winning resume of late has prompted credibility questions from many
"For me, now, I'm only looking upwards. Kamaru didn't take no damage in this [last] fight and is still fighting, that makes sense. I've had two title challengers in my resume – Demian Maia and Stephen Thompson, the hot contender [Vicente Luque] and prospect [Sean Brady], but not a name everybody recognises and that's a former champion," on his mindset
Belal Muhammad was keen to stress the fact he's never backed down from a challenge, but doesn't see much sense in fighting another exciting prospect as his title pursuit won't last forever.
Turning 35 himself in July, it's easy to forget Belal has been an MMA pro for 11 years now and seven of those have been in the UFC (13-3, 1 NC).
MMAFighting.com reported the career-long welterweight recently met with UFC president Dana White and the decision-making brass to discuss what's next for him, though no definitive choices have been made yet.
"I'm never a guy that shies away from the tough fights. I've been calling for the toughest forever, he's obviously on a good run and a streak but I just beat the hot prospect, the guy that was 15-0.
He's a dangerous fighter, but to me it's still fighting backwards, downwards. If you beat him, 'Well, he wasn't as good as we thought he was. Who's that?'
After beating Sean Brady, [I heard], 'Oh he's nobody, you think you're going to get a title shot off of that?' I'm sitting here thinking if Sean won, he'd have got next in line because 16-0 and they're like, this guy's amazing."
Leon Edwards has spoken about not wanting to defend his title against Colby Covington, based off the principle that he was removed from the rankings for inactivity – much of which wasn't his fault.
Yet they appear to be rewarding their former interim champion for doing similar, and he was the back-up option for last month's championship clash in London.
Belal said he'd be happy to face Colby next instead this summer in June, but it's unlikely that would the case. SI reported this weekend that a plan is tentatively in place for Edwards-Covington to headline another London card on July 22.
With the bulk of high-ranked welterweights at the end of their peak or declining, it'll be interesting to see how much movement we get over the coming months as Rakhmonov and others look to bridge the gap. We'll have to wait and see.
Picture source: Getty Images, quotes via MMAFighting.com