10 days after he shook off the cobwebs in a drab-but-dominant world title defence against mandatory challenger David Light, WBO cruiserweight champion Lawrence Okolie was surveying the scene in a Marylebone hotel. Why? A quick turnaround awaits in a tough ask on enemy soil down the south Coast, against friend Chris Billam-Smith and former trainer Shane McGuigan.

Okolie keen for activity, eager to make a statement
Lawrence Okolie (19-0, 14 KOs) vs. Chris Billam-Smith (17-1, 12 KOs)
May 27 at AFC Bournemouth's Vitality Stadium
Live on Sky Sports in UK, full undercard TBC
"Why now? I came over here [to BOXXER] to be active, enjoy fighting against the best, I don't talk about it… I make it happen. I love and respect Chris but here, I want to make a statement. This is bigger than me and him!" Okolie says, declaring himself injury-free, ready and motivated
Billam-Smith reveals they approached other three world champions with offers before Okolie, says boxing politics and shenanigans shelved talks: "We've sparred over 300 rounds, learning curves for both of us, built ourselves to world-level – that's why this makes for an exciting fight."
BOXXER promoter Ben Shalom concedes they "didn't see this one coming," but praises both fighters and their teams for agreeing terms: "The journey for Chris has been incredible, now to headline a stadium in a world title fight… activity is key for Okolie, what a statement this is." 
The last time Lawrence Okolie fought twice in quick succession was in early 2019 – 49 days apart – when he scored two early TKO victories while still British and WBA Continental cruiserweight champion against Tamas Lodi and Wadi Camacho.
When boxers say they want to be active and give you possible in-ring return dates, you take it with a pinch of salt. Considering he went a full 12 rounds against David Light, it was even more surprising to see him in the Sky studios last week:
But he doubled down on his desire to be more active during Tuesday's press conference, having avoided any niggling injuries last time out and keeping his weight down in another training camp – his second with new trainer SugarHill Steward.
"I rate him as a fighter and for taking it, others were umming and ahhing for the fight, as Shane [McGuigan] and Chris both said, they were up for it, I pushed but it's good that it's happening. They have the advantage of doing [sparring] rounds with me so have familiarity – it's different with 10oz gloves on.
This is bigger than me and him [Billam-Smith], Shane helped me win a world title, I'll show them who I really am. He knows he can't win a points decision against me, the best way is to be too far out and hope I fall in, or get on my chest and work, I'll be very prepared, punch hard enough so we'll see."
Okolie on why they've taken it now, his motivations and Chris' potential gameplan
Chris Billam-Smith had a stadium booked and a date set, but no opponent.
---
My other recent boxing articles to read:
Eubank scores two knockdowns, improves to 17-0 with UD10 win over Antin
Benavidez excels late vs. spirited Plant display, as he calls for Canelo clash
Zurdo Ramirez's big weight miss earlier this month was a blessing in disguise
Chantelle Cameron gets legacy-building wish on May 20 vs. Katie Taylor

---
They were trying to get WBA Super champion Arsen Goulamirian (27-0, 18 KOs), who outpointed previously unbeaten challenger Aleksei Egorov a few weeks before his highlight reel knockout win over Armend Xhoxhaj.
IBF champion Jai Opetaia (shoulder) is still recovering from surgery after his career-best win over Mairis Breidis, and recently had a medical extension approved to June 1 with his mandatory challenger Mateusz Masternak waiting in the wings.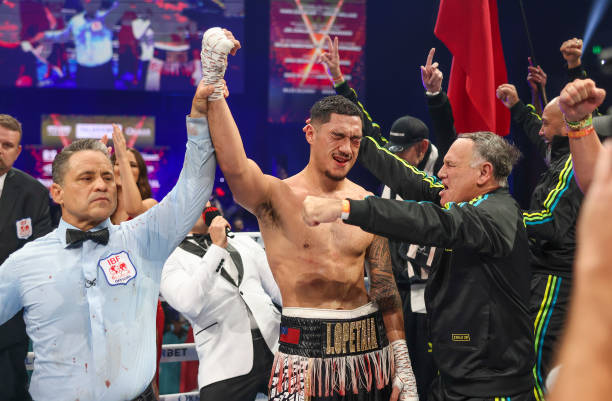 Newly-crowned WBC champion Badou Jack has fought all over the world in an illustrious career still going strong at 39, but never in the UK. Why would he agree to such terms, at a disadvantage, with a world title to defend?
So with that in mind, Okolie taking this voluntary defence is admirable after a year's inactivity, even if he'll be favoured among most critics to retain his title.
After all, he'll be the away fighter in Bournemouth against a friend that has sparred countless rounds together over the years, attempting to outsmart a trainer that declared him the world's best cruiserweight.
For now, Shane McGuigan made sure to add.
"[On planning to beat his former boxer] It's business, the way it is. Nothing against Okolie, he's a world champion and domestic – which makes more sense than Goulamirian or Opetaia – we tried but didn't succeed.
[Was the timeline a surprise?] The fact Light went longer [in their fight], we weren't expecting this… we thought he'd win in three or four rounds. We expect the best, like the one I had in the gym for three years.
He's physical, athletic, 6ft 5in, I believe he's the best cruiserweight on the planet for now and we'll devise the plan to beat him."
For an adolescent AFC Bournemouth season ticket holder whose feet weren't as good as his hands, Chris maintains it's just business and Okolie stands between him and realising a long held dream: winning a world title at his football club's stadium.
Predicting a knockout finish might raise some eyebrows, but that sign of confidence shouldn't be too surprising.
He stopped Tommy McCarthy in their rematch last April, repeatedly wobbled Isaac Chamberlain and produced a KO of the Year contender against Xhoxhaj on Dec. 17.
Even with home advantage, can you envisage him winning a 12-round decision against Okolie, who seldom loses rounds?
---
But before then, a compelling co-main event with hostility
British cruiserweight title: Mikael Lawal (c) vs. Isaac Chamberlain
Given their cordial tone, it would've been interesting to be a fly-on-the-wall in the minds of both headline acts, seeing the co-main event boxers going back-and-forth.
Particularly considering they both have wins over a shared opponent in Isaac Chamberlain, who makes his return against new British champion Mikael Lawal in a compelling clash neither wants to lose. Disrespect seems to be the buzzword there.
LAWAL: "I can't wait to fight this guy and get him to respect me. He thought he saw something [against Jamieson], when we fight he's gonna have to prove that. Got some good attributes, but I'm working on it, gonna have to expose him and show what real boxing is about, it's fighting, gonna beat him up. He'll bring the best out of me but I'll win." 
CHAMBERLAIN: "Everything is going great, can't say too much but we'll negate the stuff he brings, work with [coaches] Bobby and Conor. I can't remember the spars [something Lawal disagrees with], he can punch but everyone in this division can, he's fighting guys who are 2-47 with two weeks' notice or maybe two days. It's a different level here bro."
It all centres around courtesy, or the lack thereof, after Lawal's latest win back at Alexandra Palace in the last week of November.
The end of a gruelling week personally, bedridden with illness for two days and unhappy with his performance in a competitive clash as long as it lasted against David Jamieson, the 27-year-old was rightly pleased with a career-best result.
Chamberlain raced onto the scene to call his shot, as he was being interviewed outside the ring, and visibly took many by surprise.
It made for uncomfortable viewing, and while Isaac insists it was good-natured fun, the optics suggested otherwise. Judge for yourself:
Anyway, that's part of the reason for their animosity on display. Along with that, contrasting accounts of some old sparring and the typical trash talk in the build-up to a domestic duel as intriguing as this one, it's clear they don't like one another.
Chamberlain will enter as the favourite, having fought higher competition – even in defeat – and as Lawal alluded to during the presser, is coming down a level to fight him. Will Mikael continue to rise and make the 29-year-old eat his words?
Pictures captured by me, unless expressly stated otherwise