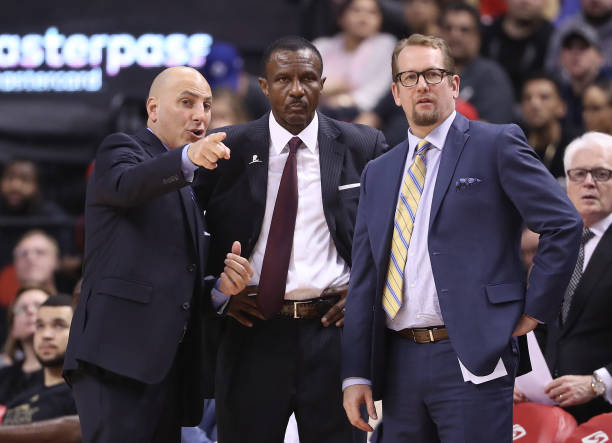 As is often the case come playoff time, there are many storylines and prospective scenarios that can play out a variety of ways over the postseason – with subsequent front office decisions often riding on the success or failure of a franchise or specific players in certain areas. This year is no different.
Udoka coaching return links resurface
Toronto HC Nick Nurse told reporters he'll reassess his future after the season's end. July will mark a decade since the 55-year-old's arrival in Canada and they face Chicago in the play-in tournament next Wednesday
Former Boston head coach Ime Udoka, who took them to last year's NBA Finals, has been regularly linked and was also attracting interest from both Brooklyn and Atlanta after they fired their coaches midseason
Nurse has been linked with Houston as a Stephen Silas successor – he coached their G-League affiliate Rio Grande Valley Vipers for two years
After rebuild, Rockets reportedly now hope to "take significant strides" towards postseason contention, armed with more than $61m in salary cap space this summer as James Harden reunion speculation continues
The NBA's regular season finally reaches its conclusion later tonight, with seeding for the Western Conference's play-in tournament teams still to sort out.
Oklahoma City weren't expected to be competitive after #2 draft pick Chet Holmgren's season-long injury but have guaranteed themselves 10th, while five different ball clubs could move – from the LA Clippers in fifth, to Minnesota in ninth.
Given their Kyrie Irving gamble, the fallout in Dallas has been major since the Mavericks fell out of playoff contention earlier this week, while there are sure to be others with internal inquests in the coming days and weeks that follow.
On Friday afternoon, Yahoo Sport's Jake Fischer wrote a piece with new intel surrounding a series of potential head coaching changes.
Given the volatility that comes with such high-pressure jobs, it's unsurprising to see a few ball clubs have already created contingency plans going forward.
As we've seen time and again in the trade market and among highly-coveted free agents, the dominos will all begin falling after the first bit of big news drops.
The first bullet point above touches on Nick Nurse's uncertain future in Toronto, and all things considered it shouldn't come as a surprise.
Since clinching their championship title in 2019, the Raptors have been stuck in the middle: not good enough to match the East's elite, nor poor enough to disappear.
Dwane Casey, Nurse's assistant and subsequent successor in Toronto, has a decision to make with Detroit. Does he stay on the sidelines managing a rebuilding side, or move into a front office advisory role ala Alvin Gentry in Sacramento?
They, like Houston, have "clear designs" on competing for the postseason next year.
Last season's number one draft pick Cade Cunningham had season-ending surgery on a left shin injury in December, and while rookie shooting guard Jaden Ivey has impressed, it feels too early to deem those goals realistic – young core or not.
Milwaukee Bucks assistant coach Charles Lee, regarded as one of the league's best, has been mentioned as a top candidate for the Pistons head coaching job – should Casey decide to vacate it this summer.
Toronto's Adrian Griffin, who has previously interviewed well for other vacancies, finds himself in a similar position and has ties to Detroit GM Troy Weaver.
Elsewhere…
Mavericks' majority owner Mark Cuban this week revealed his belief that under-fire head coach Jason Kidd isn't the problem, rather failing to recruit the right personnel with improved defence has hurt them dearly.
Washington GM Tommy Sheppard declared that Wes Unseld Jr's job is safe, in an Athletic exclusive this week – with many disgruntled fans asking why his staff haven't been upgraded and others turning their attention to Sheppard himself.
Picture source: Getty Images