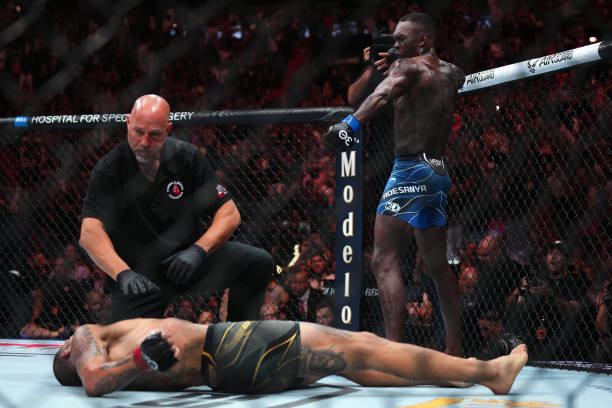 With his back to the wall and in danger, Israel Adesanya produced a second-round KO win over long-time rival Alex Pereira to regain his UFC middleweight title, after Gilbert Burns beat Jorge Masvidal into submission over 15 minutes before the two-time welterweight title challenger retired in his hometown.
Adesanya avenges Pereira defeat in style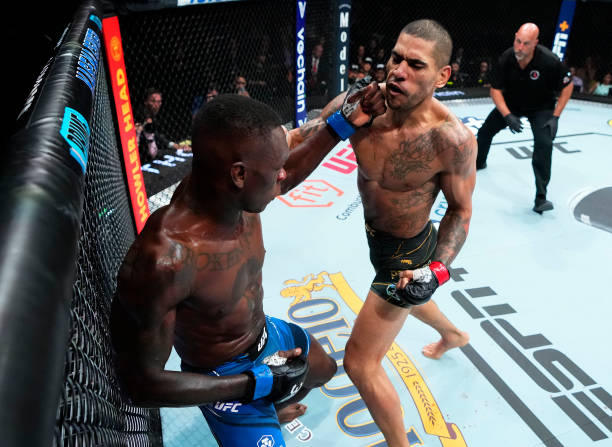 R2, 4:21 – Israel Adesanya bt. Alex Pereira, regains UFC middleweight title
"I told him [Pereira], beating me made me a better fighter… I stayed on the grind, put in the work, got tired [during training camp] so I don't get tired in here," Adesanya during his post-fight interview
Khamzat Chimaev and two former foes – Robert Whittaker and Jan Blachowicz – all hinting at future fights on social media afterwards
UFC president Dana White assumes Pereira will move up to light-heavyweight after losing 185lb strap in first defence: "He's a monster, there was an hour left [of weigh-ins] and he still had 2lbs to cut…"
Adesanya adamant in post-fight press conference that chapter is now closed, wants fresh challenges and cryptically suggests #6 ranked contender Dricus du Plessis in South Africa would be one of them
The tension was palpable and given what was at stake, would you be expecting any less? Adesanya began by throwing strikes (15 of 38) aplenty, trying to make reads in their stand-up exchanges as Pereira walked forward ominously.
The champion connected on calf kicks too himself, an x-factor that paid dividends in their November meeting down the stretch, during a competitive first-round.
Poatan's corner stressed as much between rounds, as Pereira told them he'd already got to his leg and was moving away from the former champ's patented right hand.
After exchanging kicks they came out swinging with bad intentions in the second and despite circling where possible, Adesanya's back briefly was up against the fence as Pereira looked to unload power shots and the pair exchanged strikes up close.
You could hear the crowd's ooohs as Pereira's jab snapped his head back, though Adesanya had success with two-punch combos and right-hands on the front foot.
His increased aggressiveness, something we haven't seen since his Paulo Costa win, was a double-edged sword because the leg kicks were clearly impacting him.
Just when you thought Pereira was timing him for a late finishing sequence in R2, Adesanya replied with an equaliser: two perfectly-placed right hands which froze, then dropped him in his tracks. A hammer fist followed, and it was over.
Adesanya spoke about the indescribable feeling of happiness he was experiencing post-fight – that will continue long into the night and for a while yet.
"I hope you can feel this happiness, at least one time in your life, but you won't if you don't go for something. They try to shit on you, put their foot on your neck, stay down and you'll never get that resolve."
While his line about playing possum sounded disingenuous in real-time, it's precisely the sort of grandiose self-belief one needs to have when you've lost three fights to the same man and you're defiant the result will be different a fourth time around.
It was a much-needed display that sees Adesanya's star shine even brighter given the jeopardy involved, though where that leaves the duo is unclear. Pereira propelled him to new heights, but will the Brazilian be satisfied with how this rivalry ends?
---
Burns outpoints retiring Masvidal, calls for title shot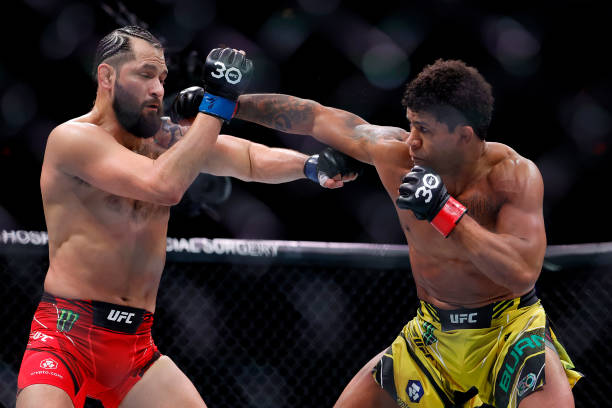 30-27, 30-27, 29-28: Gilbert Burns [5] bt. Jorge Masvidal [11] via UD
"It's been a long 20 years, I don't feel the same. UFC came here 20 years ago and it inspired me to chase this dream, hopefully I inspired someone to fight for theirs – sports, entertainment, 9-5 – whatever," Masvidal announces retirement after suffering fourth consecutive loss
"Leon [Edwards], Colby [Covington], whoever is holding the belt… I'm coming for you, come on!" Burns maintains desire for a second title shot
In post-fight presser… Dana grants his demand to be back-up option for Edwards-Covington title fight, tentatively set for July 22 in London
Gilbert Burns surprised some by being seemingly tentative early on, but the former title challenger boxed well in a tense first-round and finished it with a takedown.
If that wasn't enough to silence the electric Miami atmosphere behind their man, Burns raced to secure a takedown early in R2 – logging four minutes' control time.
Masvidal scrambled well enough back to his feet and then was thrown back down again, in a commanding round for the Brazilian.
Burns' head coach Henri Hooft stressed no stupid shit in the corner between rounds, aware Masvidal would be more gung-ho with his attacks in the final stanza.
He took his time, but Burns seriously hurt the hometown hero with a series of rights as he picked up his pressure and the jab was frequently finding its target.
Masvidal fired back well enough, though his defence was poor and head movement almost non-existent by this stage, as Burns continued to wear on him.
Soon enough, another takedown arrived and Durinho landed big elbows on the ground, before the final horn sounded.
The in-cage mics picked up Masvidal telling Burns to "go get the belt," and there was mutual respect there, as Burns paid homage during his post-fight speech.
"Shoutout to this king, still a king in this city – we're here because of him – 52 pro fights, 20 backyard maybe, thanks for coming," Burns said, before Masvidal announced his retirement. It was a much different theme in the post-fight presser.
Gilbert wanted a highlight reel KO, but said "a lot of high-level wrestlers struggled to do what I did [completing takedowns]," and conceded he got caught up listening to Masvidal's corner speaking Spanish about an aggressive gameplan in R1.
"I hate having a slow start, wanted to be more aggressive, I would've loved to start with [forward] pressure," before telling the assembled media about Masvidal's "dirty tricks," to be slippery in the cage.
He then told a story about how one can methodically moisturise their body in a way to gain an advantage in the cage, convinced the 38-year-old did so.
Nonetheless, Durinho has seemingly got what he wanted: the back-up slot in the next welterweight title fight, and has been rewarded for his activity. He stopped Neil Magny inside a round at UFC 283, and earned another rung on the resume here.
---
Font folds Yanez on his return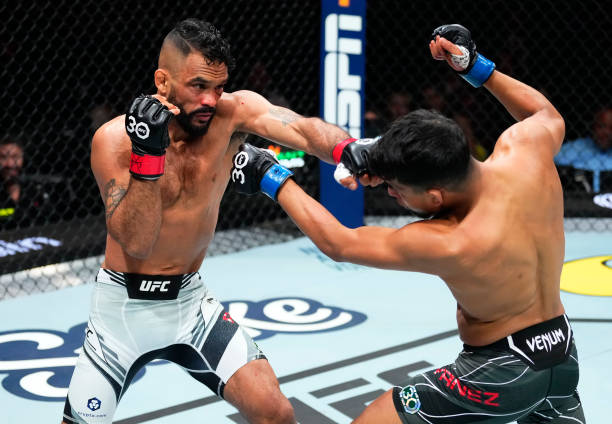 Font says in post-fight presser that he'd love to welcome two-time flyweight champion Deiveson Figueiredo to 135lbs
After nine-fight win streak saw him signed… Yanez loses first fight since Nov. 2018, a split decision vs. Miles Johns for the LFA bantamweight title
It was a striking war for as long as it lasted, but Rob Font defended his #6 ranking at bantamweight with a first-round TKO win (2:57) over rising contender Adrian Yanez.
"I'm super confident in my jab, if I get it going… I'm taking anyone out," Font said in his post-fight Octagon interview, and even after consecutive losses, it's hard to disagree with that notion when the end results look like that.
Whether he'll get much further up the rankings is uncertain, given his penchant for damage in a division where defence is needed, but this was a welcome return.
Yanez was lulled into a false sense of security after some success, as Font picked his punches well and was jabbing with the left to set up a powerful right – so it proved.
A right hook dropped the 27-year-old, having been wobbled earlier, and hammer fists followed before an emphatic stoppage was secure.
---
Rest of main card as Rodriguez, Holland win big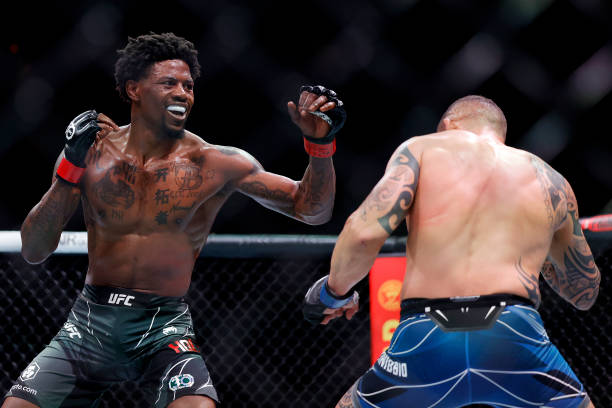 Affable welterweight veteran Kevin Holland showed composure, deft strike selection and importantly listened to his corner as he snapped the third two-fight losing skid of his career, with a R3 KO win over Santiago Ponzinibbio.
After a competitive opening round, the 30-year-old did the most notable work and dropped the Argentine late with a short counterstrike as he caught a kick.
Less accurate but with more output in R2, Ponzinibbio was marginally more efficient though couldn't contend with Trailblazer's pressure. That said, he was repeatedly stung with several leg kicks and his left calf felt the brunt of some powerful attacks.
---
READ: Remember this? Holland involved in a war with Wonderboy
---
Then midway through the third (R3, R:16), it was all over.
The 36-year-old immediately argued about the stoppage, but really couldn't have no complaints: a left hook faceplanted him, Holland landed one more follow-up shot before stopping himself as referee Dan Miragalotta swiftly stepped in.
He called out Miami's own Jorge Masvidal for a prospective matchup afterwards, but that callout – while ambitious – wasn't exactly original.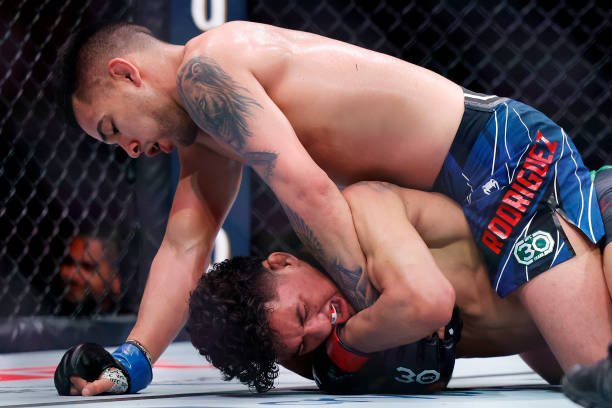 In the main card opener at bantamweight, Christian Rodriguez had to endure a fast-and-furious start, but did precisely that and exposed Raul Rosas Jr's shaky stand-up skills en route to a UD win (29-28, 29-28, 29-28) over the 18-year-old prospect.
Rosas Jr logged four minutes' control time in R1 and threatened a trio of submissions with Rodriguez's back up to the fence, including a face crank, as the crowd swelled in anticipation – expecting more of the same after his R1 debut win over Jay Perrin.
Rodriguez's corner stressed the fact that the teenager had blown himself out with all those attempts and relentless pressure after R1, and so it proved rather drastically.
He stuffed all eight takedowns in the subsequent ten minutes, had almost seven minutes' control time himself and showed deadly poise on the ground to reverse position while producing slick transitions too. The end result was stark.
---
Prelim, early prelims results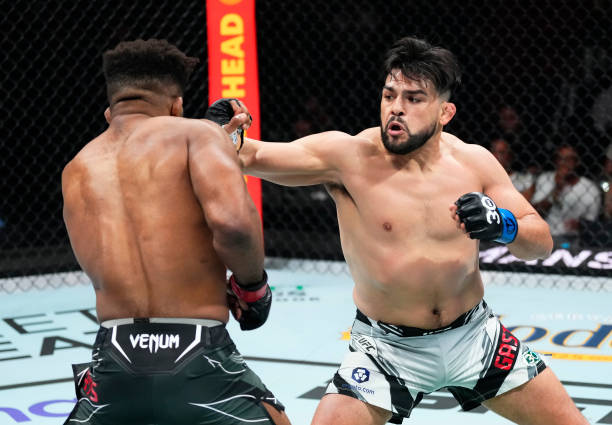 Former interim middleweight title challenger Kelvin Gastelum [15] conceded afterwards that he had to make radical changes, both physically and mentally, during a 20-month layoff where he switched camps and the company he keeps too.
It certainly showed, in a back-and-forth contest fought within boxing range against Chris Curtis [14] that had fans off their feet in awe and gave both a deserved standing ovation at the final horn after throwing almost a combined 400 significant strikes.
Gastelum confidently landed more (88-80 total, 83-70 sig) and was more accurate in every round, though an increasingly bloodied Curtis kept it close with their striking exchanges in R2 before winning the third on two of the judges' scorecards.
The split decision scorecards elicited boos, but she won't care: Luana Pinheiro [15] ended a 17-month layoff, earning a career-best win after a competitive clash over 15 minutes with perennial contender Michelle Waterson [10], her ninth straight.
As such, the 29-year-old Brazilian will find herself in the top-10 strawweight rankings next week, a division rich with Brazilian contenders – seven in the top-15 alone.
On his sophomore appearance in the promotion, rising 26-year-old middleweight Joe Pyfer needed little over three minutes to emphatically finish the job (R1 TKO, 3:15) against an experienced veteran in Gerald Meerschaert.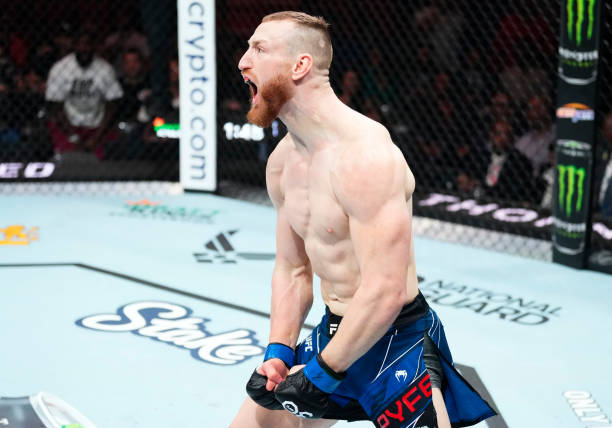 A heavyweight matchup between Chase Sherman and Karl Williams was scrapped on fight day, after Sherman withdrew with a medical issue.
Mexican strawweight Lupita Godinez will have a number next to her name after next week's rankings update, having earned a split decision win over long-time contender Cynthia Calvillo (28-29, 29-28, 30-27).
Calvillo landed more strikes (significant, total) over 15 minutes but was considerably less accurate with her attempts against Godinez (31-48%) and despite logging a R1 takedown, that inefficiency hindered her as far as two judges were concerned.
Contender Series graduate Ignacio Bahamondes has won three straight after a UD win (30-27 x 2, 29-28) in a 160lb catchweight vs. short-notice opponent Trey Ogden.
In a fun fight at featherweight, both men scored knockdowns and Shayilan Nuerdanbieke had more than three minutes' control time in R1, but Steve Garcia responded well with a fast start in round two – ending the night with a body punch.
Jaqueline Amorim had ten takedown attempts and three submission manoevures, but couldn't get the job done against Sam Hughes in the strawweight opener – the 30-year-old making adjustments after a rough R1, returning to winning ways.
Up next: UFC Kansas City on Apr. 15, headlined by featherweight clash between former champion Max Holloway [1] and surging British contender Arnold Allen
Picture source: Getty Images, quotes via UFC broadcast