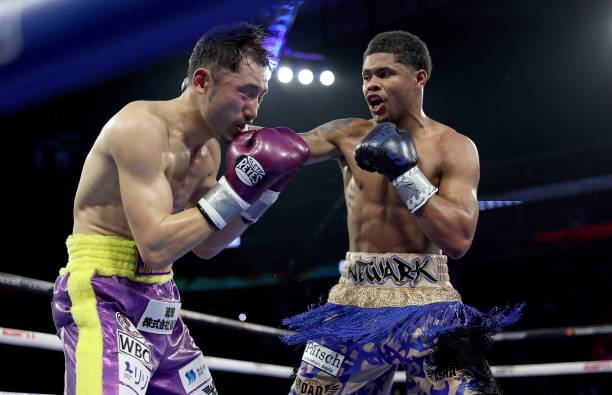 Two-weight world champion Shakur Stevenson did what he said he would against a previously undefeated contender in Shuichiro Yoshino – on his lightweight debut at the weekend – and now has his sights set on the Haney-Lomachenko winner this autumn. Is he ready to back up his bold comments?

After stellar showing, Stevenson eyes supremacy at 135lbs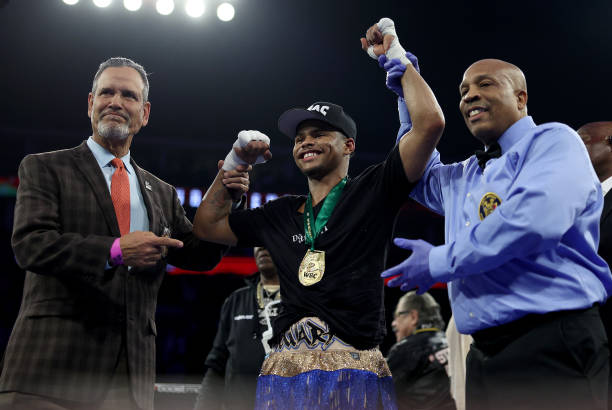 Devin Haney set to defend his undisputed titles against two-weight world champion, Olympic gold medallist Vasiliy Lomachenko on May 20
During post-fight interview, Stevenson says he "always got the best" against 24-year-old in their years' worth of prior sparring sessions and doubles down on desire to make that matchup before much longer
Yoshino (16-1, 12 KOs) unhappy with R6 stoppage, but referee Allen Huggins mercifully stopped a prolonged beating after two knockdowns
R6, 1:35 – Shakur Stevenson bt. Shuichiro Yoshino via TKO
"This dude been running around here saying that I don't have any power, that he's going to push me mentally. Let's see if he's ready to go to deep waters with me – I'm going to drown him. You're going to see everything in the arsenal, he's going to leave that ring knowing I'm the best fighter he's ever been in with."
Stevenson vowed to beat Yoshino up and box him into submission, and the scene played out almost perfectly for the 25-year-old Olympic silver medallist in his second successive fight on home soil. He would've loved a highlight reel KO though.
Fans couldn't help but exclaim with excitement as the Newark-born star chained together punishing combos, landed vicious single shots and scored a pair of knockdowns in the first four rounds. This wouldn't last much longer.
Yoshino started with output aplenty as he sought to implement a steady diet of pressure, different angles and jabs on the overwhelming favourite. Shakur was quickly in cruise control though, evidenced by this rope-a-dope midway through R3:
Yoshino threw 89 jabs to Stevenson's 71, but landed just two per CompuBox on another night where the two-division world champion's defence was in full flow – but his attack importantly came to the fore as he flickered through the gears.
One-sided decision wins over Robson Conceicao and Oscar Valdez boost the opposition on his resume, but there's been an eagerness to see Stevenson in his flow state offensively – like his R10 stoppage against Jamel Herring in October 2021.
Yoshino conceded that speed was a factor en route to his first professional defeat, but said he didn't feel fight-ending power from Stevenson's attacks. Only he knows if that last part's true or part bravado, though both knockdowns were sudden.
Stevenson slipped and bobbed away from some punches upclose with some slick head movement, before firing back a straight left that sat Yoshino down in R2.
Two rounds later, the Japanese international was on the canvas again: a right hook was the final blow in a three-punch combination, as Stevenson upped his intensity in spots and wasn't worried about the level of resistance coming back.
The referee urged Yoshino to show him something as he absorbed another sharp two-punch combo in the final seconds of R5, having leaned into his corner after R4.
That foreshadowed the finish, as the official didn't like what he was seeing: a nasty left uppercut a minute into the sixth saw him edge closer, examining ominously before a right-left combination prompted him to wave off the contest.
Stevenson landed 50% of his total punches, and 60% of his power shots during an impressive debut in a new division, having been stripped of the unified super-featherweight titles after missing weight last time out.
About Haney, he told a group of reporters post-fight: "I think it's going to be easy work, I'm going to smoke him. I think I'm going to shock everybody by smokin' him, making it a real easy fight – people be like, 'Damn, you is who you say you is.'"
While naturally bullish you've got to admire the conviction and perhaps that quote will age well, but we'll have to wait and see – this performance alone isn't enough.
Picture source: Getty Images, quotes via ESPN/Top Rank broadcasts unless hyperlinked