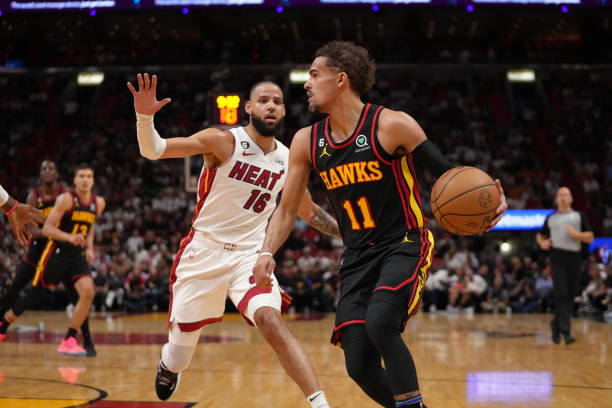 Trae Young led the way with 25 points, eight rebounds and seven assists as the Atlanta Hawks started fast and finished assertively en route to a double-digit road win in Miami during the league's maiden play-in tournament matchup of the season overnight. The result secures their standing as the Eastern Conference's seventh seed, and Boston [2] await them in Game 1 this weekend.
Boston vs. Atlanta set in R1, as Miami lose at home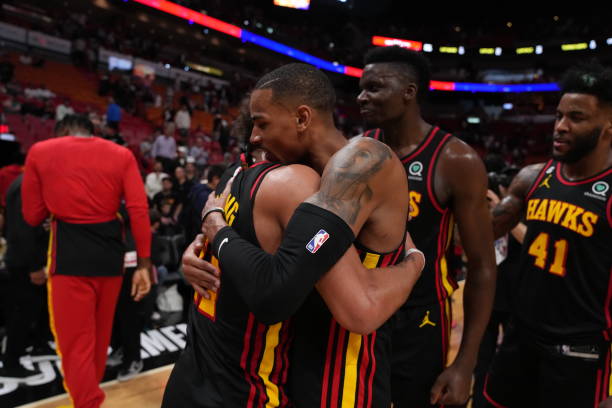 A day after reports emerged about the Hawks' front office having the green light to make any roster changes this offseason – potentially a Trae Young trade – the franchise's superstar led by example on away soil with a 25-point, seven-assist outing against a team that often stifles him
Injury-prone guard Kyle Lowry poured in a season-high 33 points and five assists off the bench for Miami, who were out-of-sorts early and struggled to secure consistent rebounds on both ends as Atlanta gladly pounced
Tyler Herro had 26 on 23 shots, Jimmy Butler recorded 21 on 19 attempts and the Hawks got multiple players going – seven players into double-digit scoring, including Saddiq Bey and Jalen Johnson off their bench
This was largely a scrappy game, but equally one of big scoring runs by both ball clubs. However, one of the most significant plays came early in the fourth quarter.
Miami were down nine, but scored on three consecutive possessions and the Kaseya Center was beginning to swell with anticipation as their comeback was in full swing.
Trae Young, the Hawks' leading scorer and creator-in-chief, had just missed a stepback three and Tyler Herro raced forward, looking for a quick basket.
Lowry ghosted past Young after a dribble hand-off, fed Bam Adebayo with a bounce pass and everyone expected an emphatic dunk moments later.
He got up high in the paint but Onyeka Okongwu met him at the apex, contested without fouling and skilfully blocked his attempt as a jump ball was called.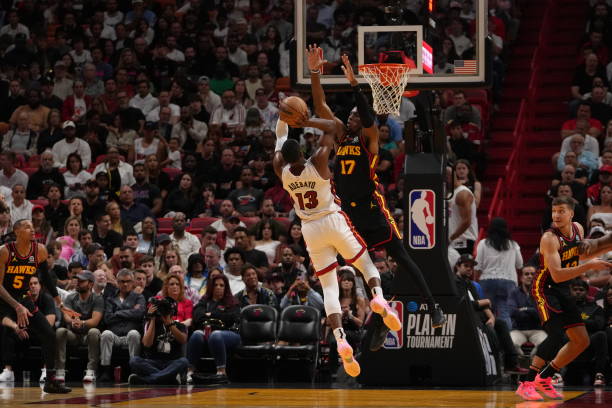 No overzealous celebration needed, the 22-year-old just nonchalantly handed the ball to the official alongside him and waited for the next play: winning the restart.
Despite good looks for Bogdan Bogdanovic and De'Andre Hunter, neither side scored for the next 63 seconds – an age in high-stakes games like these – and Bogdanovic briefly increased Atlanta's lead, before a five-point surge from Kyle Lowry.
It typified a frustrating game for Erik Spoelstra's side on both ends, unable to get their best players going until it was too late – Lowry notwithstanding – and severely outrebounded in ways you don't expect from a team as tenacious as the Heat.
They'll play either Chicago or Toronto in an elimination game this Friday, while Atlanta begin their postseason proper 24 hours later after avenging a defeat against the same side who gave them a gentleman's sweep in five games last campaign.
Picture source: Getty Images