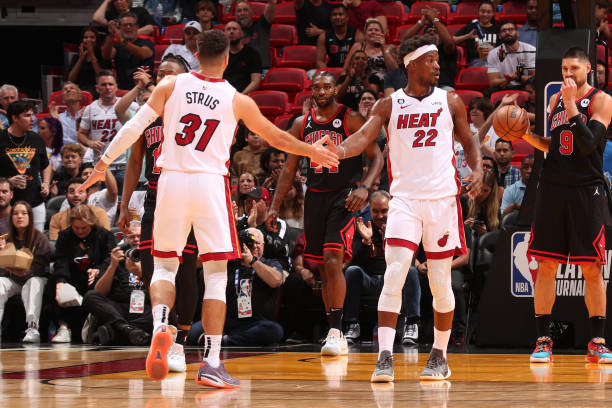 Having both endured an inefficient night as Atlanta bested them on Tuesday, Jimmy Butler and Chicago's own Max Strus combined for 61 points with clutch moments galore to help Miami overcome a six-point fourth quarter deficit against a reactive Bulls team, punching their postseason ticket. Top seed Milwaukee await them on Sunday night in Game 1, to finish a whirlwind week.

Miami are Milwaukee-bound after big late-game plays
Miami look for revenge against top seed Milwaukee Bucks, who swept them in the first-round en route to NBA championship two years ago
Butler believes Miami have a "really good shot" at causing an upset against Giannis and co, provided they remain together in good and bad moments after encouraging recovery response following Atlanta defeat
Questions persist regarding Heat's Kyle Lowry after sitting out last 9:51 with a knee injury, while Bulls HC Billy Donovan heavily criticised for taking out reserve guard Coby White while on hot shooting streak
Miami were crushed on the glass midweek, 63-39 against an Atlanta team who many critics expected to lose. Here at home against an enthused Chicago – similarly counted out prematurely away in Toronto – history was close to repeating itself.
Zach LaVine, fresh off a monumental game three nights earlier, couldn't back it up in another elimination encounter. He had more shot attempts (21) than points (15), coughed up a game-high five turnovers and was scoreless in six tries from deep.
Midseason acquisition Patrick Beverley wasn't any better in the Bulls' starting backcourt, while Alex Caruso was predictably tenacious while getting to his shooting spots with 16 points and four assists before fouling out with 26.1 seconds left.
By that stage, the outcome was well and truly settled. After the former Lakers guard assisted Coby White and DeMar DeRozan 90 or so seconds apart, the latter sequence giving Chicago a 87-85 lead, they only scored once more in the final 4:45.
Andre Drummond's impact off the bench was potentially decisive, logging eight rebounds, six points and a block in ten minutes – but White stole the show.
14 points, five rebounds, four assists, a steal and block, he drilled a joint team-high four threes (alongside Caruso) on an evening where they dearly needed that creative impetus. That's why there was such confusion over his crunch-time withdrawal.
DeRozan fared well (26 points, nine assists) but when a teammate not named LaVine is producing moments like these, you keep him in the game and feed the hot hand:
Instead he was sat for Beverley, who went scoreless on four attempts, and returned with no real opportunity to force any change.
They were suddenly down eight after an unsuccessful coach's challenge – less than a minute left – before Bam Adebayo put the icing on the cake for Miami with an emphatic block to snuff out LaVine's layup in mid-air.
Critics on social media were quick to point out his offensive flaws, but Adebayo did everything but score on a night where the small details and fine margins were key.
White looked stunned and given how the Bulls collapsed late in the fourth quarter, he won't be the only one as the dust settles on their season.
A restricted free agent this summer, there's sure to be plenty of big offseason decisions awaiting a Chicago ball club teetering towards tank mode all year long.
As for Miami, their excellent playoff record continues. Jimmy Butler took charge and did more than just score – 31 points, five rebounds, three assists and two steals doesn't tell the whole story – while Strus atoned for a three-point outing perfectly.
Much like Minnesota two hours later, they did what they were supposed to. Whether this can be replicated over a seven-game series against much sterner opposition in the Bucks starting Sunday, is unclear given their depth and inconsistency.
Picture source: Getty Images