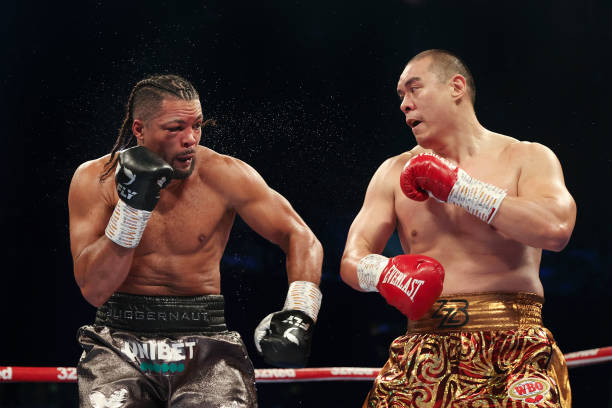 Zhilei Zhang took Joe Joyce's best punches, beckoned him forward, and repeatedly stung the 37-year-old with a steady diet of left hands in what proved a commanding victory on away soil. Joyce's right eye was closing, the fight stopped midway through R6, and a new WBO interim heavyweight champion has been sealed as the valiant Brit experienced his first professional defeat.

Zhang plays spoiler as Joyce defensively exposed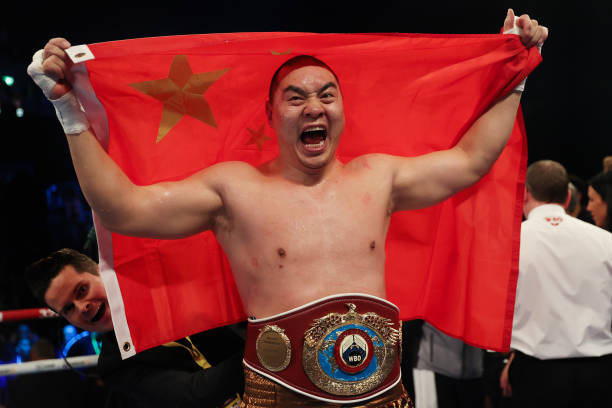 R6, 1:23 – Zhilei Zhang bt. Joe Joyce via TKO (doctor stoppage), is new WBO interim world heavyweight champion
As champion Joyce had a rematch clause inserted into the contract, but concedes post-fight he's unsure whether he'll take it or not. Needs to assess options with his team, but may fight someone else instead
Accuracy, not output, was key: CompuBox numbers recorded Zhang landing 55.7% of his power punches (78 of 140), and 45.6% total (82/180), compared to Joyce's 18.3% total (85/464) and 23.7% power (60/253)
In battle of two Olympic silver medallists, Joyce's lack of head movement and inability to adjust defensively to Zhang's southpaw style decisive
Unified champion Oleksandr Usyk has already been mandated to fight WBA (Regular) champion Daniel Dubois next, but Zhang now features as one of his other mandatory challengers for the three titles he holds
Zhilei Zhang might be celebrating his 40th birthday in little over two weeks' time, but the decorated amateur delivered exactly as he promised during fight week to stun the Copper Box Arena into silence during a career-best showing against Joe Joyce.
Booed into the ring and respectfully cheered in the aftermath, an unapologetically partisan east London crowd could appreciate the boxing skill they were witnessing from the away corner during a fight most expected Joyce would win rather handily.
Yet while the inquest into Joyce's defeat and where he goes next will rage on over the coming weeks, there was a sense of foreshadowing about the manner of this display.
All week, team Zhang were bullish about their man's chances and rightly so. Joyce was willing to take on the best challenges available to him, but had acknowledged tendencies during Thursday's presser that he himself failed to correct on fight night.
Boxing against a hard-hitting southpaw, he said he respected Zhang's power and wouldn't engage recklessly. He cited the right hook to the back of the head – the same shot which floored Filip Hrgovic last August – as something to be wary of.
So you could understand the confusion and frustration head coach Ismael Salas would've been feeling in the corner, after seeing his charge absorb a trio of the same patented punch – among other scoring shots – midway through the first round.
Salas told Joyce he was sleeping in between rounds, but rather than wake up and provide some encouragement, proceedings worsened in the second.
Zhang was already timing his entries well when Joyce threw shots, but it came to the fore midway through round two as the champion's impatience in the pocket and defensive frailties were countered to bruising effect.
Rocked backwards by another sharp left hand, Zhang would've scored a knockdown seconds later had he not rushed his work shortly afterwards.
Rather than move his head or switch angles, Joyce provided a stationary target that was continously peppered with big punches both at distance and up close.
The tension was heightened, a sense of danger with every punch, but Joyce was repeatedly getting tagged and fans couldn't fathom why he didn't make adjustments.
Telegraphing his slow yet thudding punches while sporting an increasingly damaged face, the signs were far from comforting through six minutes.
Joyce's nose was splattered, his right eye starting to close as they began the third. Zhang again was connecting on the better shots, more one-two combos and countershots as Salas urged his man to be more mobile, a cry which fell on deaf ears.
Zhang landed a lovely short uppercut as Joyce kept trying to go tit-for-tat, an unsustainable strategy given what he had already absorbed.
Trying to split the Chinese's high guard was easier said than done, but Joyce used little pit-pat shots to good effect early in the fourth.
Zhang ate a right-hand and responded by snapping Joyce's head back with two more counter lefts, before another one-two combo pushed the younger man backwards once again.
The commentators questioned whether Zhang was starting to fade physically, breathing a bit laboured in the fifth, but every time Joyce upped his attack to land a good punch or two, he was being pinged backwards with interest.
So much so that the doctor inspected Joyce's eye before the sixth.
Zhang knew the writing was on the wall, dancing and playing to the crowd in the neutral corner, before the fight-ending sequence: a seven-punch flurry of clean punches, referee Howard Foster called another timeout as his eye wilted further.
There was no way he'd be in any fit condition to continue and thankfully as far as his health is concerned, it was stopped after another inspection on the ring apron.
So, what happens next? 
I asked whether Joyce would again win in destructive fashion or fall into a Sebastian Fundora-shaped trap, and the latter was clear.
Daniel Dubois led on two of the three judges' scorecards that night he took a knee with a damaged eye against Joyce, and perhaps it would've been better had the Juggernaut lost the same way Fundora did to Salas-trained Brian Mendoza last week.
Fundora won every round until making a critical technical mistake which saw him frozen in a highlight reel KO. Joyce by contrast, was often battered in their exchanges and worn down by an operator who warned him against adopting that approach.
Sure, there's a rematch clause. I've heard multiple sources close to Joyce in the aftermath seriously question whether they dare activate it, and that's a sobering reality of just how quickly everything can turn on its head.
---
Other results: Contrasting wins for Mayer, Bentley and more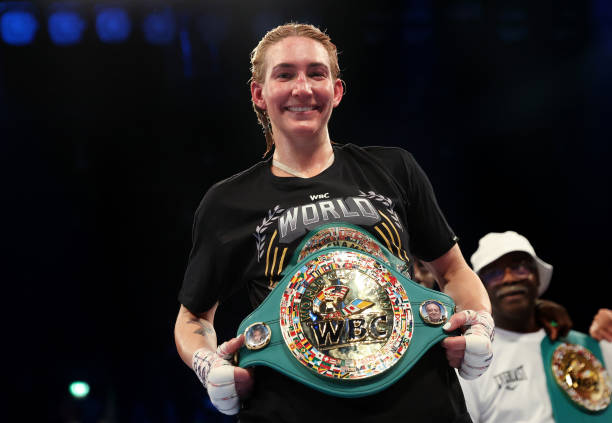 Mikaela Mayer earned a unanimous decision win (98-92, 98-91, 100-90) on her lightweight debut, and secured the WBC interim strap for good measure against a short-notice opponent in what proved a gamely Lucy Wildheart showing.
The result means she becomes the next WBC mandatory challenger for undisputed champion Katie Taylor, who returns next month against Chantelle Cameron.
The title shouldn't have been up for grabs, after her original competitor Christina Linardatou was dramatically pulled before Friday's weigh-ins, but such is the murky waters with which boxing tends to operate.
Nonetheless, Mayer couldn't afford to dwell on things out of her control and instead focused on a matchup where her new foe had nothing to lose.
Wildheart produced a respectable but reactive start in R1 as Mayer used her reach and height advantages to good effect — jabbing her way to success, sneaking body punches while being countered too upon occasion.
R2 started better for Wildheart, having some success up close as it was clear she needed to close the distance and earn the American's respect. Back-and-forth they exchanged in the pocket, Mayer not as accurate with her flurries at that stage.
Wildheart continued her forward pressure in the third, and knew she'd be met with stern resistance whenever they landed shots up close.
So it proved, and just as Mayer had a better round in the fourth, the short-notice opponent kept returning fire with single shots and hooks to keep her occupied.
Body-head combos were doing the trick for Mayer in R5, as Wildheart's intensity slowed and she connected less with punches in the pocket.
That was to be expected, given Mayer had a dedicated training camp, while the Brentwood-based Swede stepped in on barely 24 hours' notice.
R6 featured more of the same with Mayer beginning to take over, while the crowd largely sounded disinterested as any potential intrigue had dissipated.
Mayer picked her punches better in the seventh and at one stage, looked like she would overwhelm the 30-year-old into a finish near the ropes in the final seconds.
Wildheart was warned for leading with her head in the eighth, and again they exchanged big shots in the pocket – Mayer repeatedly stinging her but on she fought.
Wildheart appeared to get her second wind early in the ninth, throwing early and often before Mayer took over in the second-half of the round.
She winced after absorbing a body shot and took a backwards step, as you could sense a stoppage might be near, but instead the bell sounded.
Into the final stanza they went, Mayer digging to the body and Wildheart slow to land counters. Her nose was bloodied, face cut and a crimson red by the end, though she battled admirably given the circumstances so should be applauded as such.
---
Bentley blasts past Smith, as his next options appear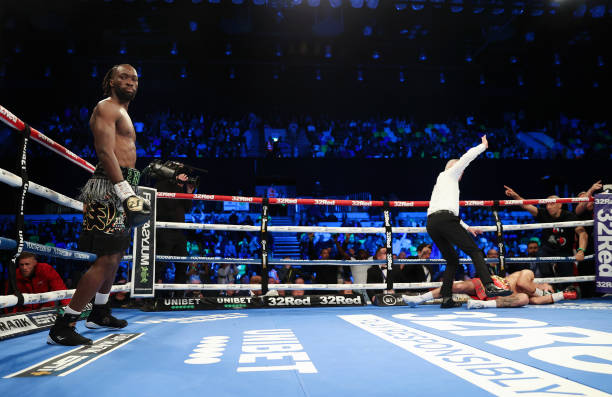 World title challenger Denzel Bentley returned to domestic level in style, retaining his British middleweight title with a vicious R1 KO win over mandatory challenger Kieran Smith during a final eliminator for Hamzah Sheeraz's Commonwealth strap.
It was all rather sudden too.
After a feeling out processs in centre ring by both, a short check left hook wobbled Smith to the ropes before two rights – one to the body, another to the head – landed clean as the Scotsman was rendered defenceless before hitting the canvas.
The referee immediately waved off the contest, with 45 seconds the time of Bentley's emphatic stoppage. Sheeraz was an interested spectator ringside and when I spoke to him in February, he hinted that this outcome would unfold.
No-one expected it so soon.
Mooted for a July return, the 23-year-old has been inserted as the next challenger by the BBBofC and as I reported in November, Bentley is open to the challenge.
Much like Fabio Wardley vs. Frazer Clarke for the British heavyweight strap, that fight would answer a lot of questions on both sides between the former sparring partners.
Itauma banks some invaluable rounds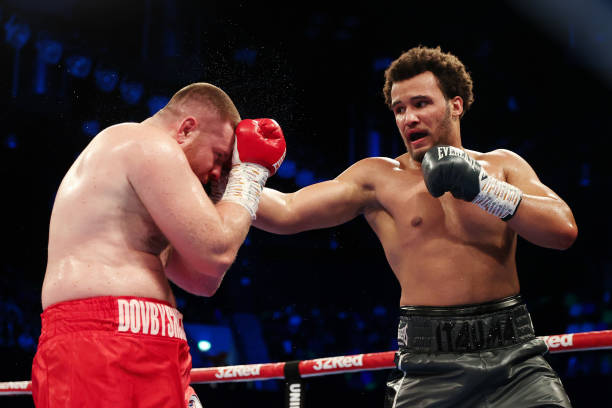 Highly-rated teenage heavyweight prospect Moses Itauma picked his punches carefully, landed spiteful jabs and sharp body punching, as well as a series of fearsome combinations but didn't get the finish many expected.
Nonetheless, he logged some rounds and showcased skills en route to a 60-54 decision win over a durable Kostiantyn Dovbyshchenko, who hadn't been stopped during his previous 12 defeats. Despite a tough first round, you could see why.
The 18-year-old began like a young man with somewhere else to be, but soon realised it'd be a considerably longer evening than his first two professional bouts.
He connected on uppercuts and kept the Ukrainian backed up against the ropes constantly, while you could hear sections of the crowd groan ringside as the 31-year-old stood his ground without firing back much resistance.
Dovbyshchenko goaded the crowd and Itauma with some histronics after eating a big shot early in the third, having been pinned back against the ropes late in R2.
As time wore on and the intensity laboured, Dovbyshchenko was increasingly comfortable despite absorbing damage as he plodded forward with a high guard.
A three-punch combo split the guard midway through R4, but rather than aggressively approach and leave himself defensively open for a counter, Itauma boxed patiently and moved around the ring.
Wincing between punches as though he'd hurt his right hand, R5 didn't feature much of note besides the referee warning Itauma for a pair of unintentional low blows.
Good counterpunching and more body attacks were the key to Itauma's offensive game in R6, having long resigned to going the distance in his third professional fight.
---
Elsewhere…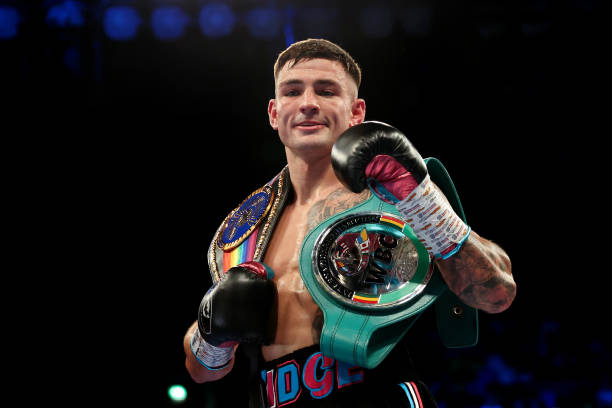 In a matchup set for 12 rounds, Sam Noakes barely needed more than a round to defend his WBC International Silver and Commonwealth lightweight titles.
Armed with ferocious power in both hands as well as blistering speed to throw in bunches, the 25-year-old scored a standing stoppage late in the first round as it quickly became clear Karthik Sathish Kumar was overmatched.
The Indian's negative body language only emphasised the skill discrepancy between them, repeatedly second to the punch and backed up against the ropes constantly.
There was a sense of inevitability about what would come next and soon enough, it unfolded as such: Noakes let fly with another probing combo, and referee Jon Latham had seen enough as he promptly stepped in (R2, 1:17).
Sam can only beat who is put in-front of him, but he would benefit from more competitive matchmaking going forward if he's to step up the levels at 135lbs.
Gavin Gwynne vs. Craig Woodruff 2 takes place next weekend for the British title, and there's no reason to think he can't beat both if given the opportunity.
Eithan James improved to 11-0 as a pro with a 60-54 decision win over Georgi Velichkov at welterweight, after fellow unbeaten prospect Sonny Ali (6-0) also went the distance in a shutout victory against Richard Helm.
In the light-heavyweight division, Seth Gyimah banked some rounds against a durable southpaw in Darryl Sharp (40-36) on his sophmore pro appearance.
Joel Kodua, who made his debut on the Bentley-Morrison undercard last September, ended a seven-month layoff with another comfy points win (40-36) against Dale Arrowsmith over four rounds.
Picture source: Getty Images