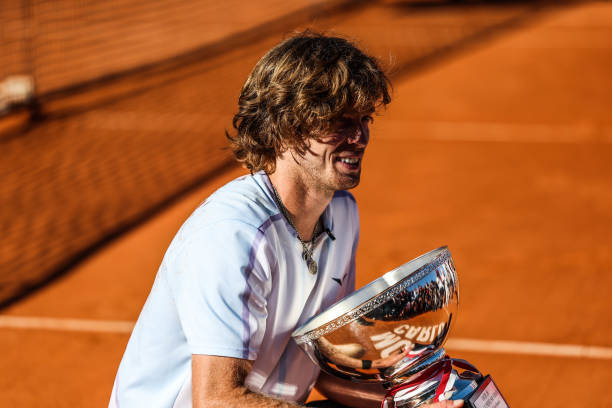 Before Sunday afternoon, Andrey Rublev had won 12 ATP tour-level singles titles, three in doubles competition as well as Olympic gold in mixed two years ago. By 6pm that day, he claimed the biggest trophy of his career and did so in a manner he'll never forget: recovering from 4-1 down in the deciding set to topple Paris Masters champion Holger Rune. How will he build on that success?
Rublev has new pressure to navigate, after weekend victory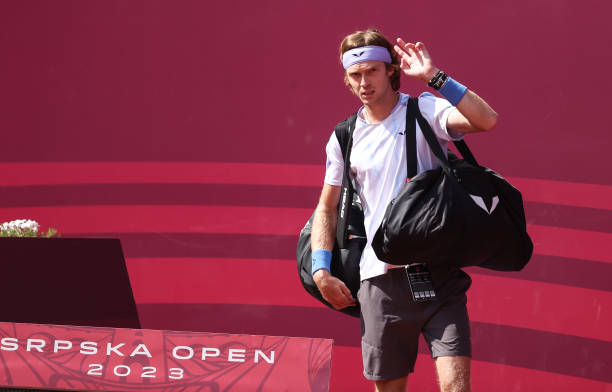 The tennis calendar is so relentless, that a player can go from clinching a career-best title to losing their very next match in an ATP 250 event shortly afterwards.
Rune suffered that fate upon starting his 2023 season against Japan's Yoshihito Nishioka in Adelaide, fresh from cracking into the world's top 10 after recovering to topple Novak Djokovic at the Paris Masters. Djokovic won the Adelaide title.
Andrey Rublev avoided the same trap after making quick work of Peru's Juan Pablo Varillas yesterday (6-2, 6-2) in his second-round match (given a R1 bye), five days following a new career highlight in Monte-Carlo. Expectations will rise, though.
---
Banja Luka quarter-finals, ATP250
Alex Molcan vs. Laslo Djere
Damir Dzumhur vs. Andrey Rublev [2]
Novak Djokovic [1] vs. Dusan Lajovic
Miomir Kecmanovic [4] vs. Jiri Lehecka [6]
---
That's not to say they haven't already been elevated for the 25-year-old, at a time where two of his compatriots have experienced this newfound feeling in previous seasons and a younger crop of contenders are impatiently bursting through.
2021 US Open champion Daniil Medvedev is a former world no. 1, while Karen Khachanov is twice a Major semifinalist who won Olympic silver in singles too.
Medvedev's recent metronomic winning run was snapped in a Masters 1000 final and that's why the big guns have been held in such high esteem for decades.
We're not even talking about Grand Slam tournaments, but instead one of the nine most prestigious events (outside of them) you can win in a calendar year.
From the start of the 2010 calendar, there have been 25 players not named Djokovic-Nadal-Federer-Murray to clinch one of the Masters 1000 tournaments.
---
Masters 1000 winners outside the big four
2010: Ivan Ljubicic, Andy Roddick, Robin Soderling
2011, 2013, 2015 and 2020: none
12: David Ferrer
14: Stan Wawrinka, Jo-Wilfried Tsonga
16: Marin Cilic
17: Alexander Zverev, Grigor Dimitrov, Jack Sock
18: Juan Martin del Potro, John Isner, Karen Khachanov
19: Dominic Thiem, Fabio Fognini, Daniil Medvedev, Stefanos Tsitsipas
21: Cameron Norrie, Hubert Hurkacz
22: Taylor Fritz, Carlos Alcaraz, Pablo Carreno Busta, Borna Coric, Holger Rune
23: Andrey Rublev
Roddick, del Potro, Wawrinka, Tsonga and Cilic had all won big titles elsewhere
---
There were seven before 2017, and it's exploded since Alexander Zverev won consecutive titles (Rome, Canada) three months apart on different surfaces that very year.
Medvedev (7) is one big title away from tying his tally after winning in Miami last month, while Carlos Alcaraz (4) has already leapfrogged Stefanos Tsitsipas and other rivals in that regard – the Spaniard doesn't turn 20 for another fortnight.
The issue is translating that success to a best-of-five format, with a heavy physical workload over a fortnight's play, something none have managed to master.
Dominic Thiem, Medvedev and Alcaraz are the only recent Major champions – all at the US Open – while Tsitsipas and Zverev have repeatedly fallen at the final hurdle.
Rublev lost to both players in Masters 1000 finals two years ago and is a seven-time Major quarterfinalist, something he wants to improve upon in the coming seasons.
The sport's highest heights are unobtainable for 90% of his contemporaries but the inevitable comedown from such an achievement is sharp, how do you bridge the gap and maintain that consistency with a bigger target on your back?
Casper Ruud, Matteo Berrettini, Felix Auger-Aliassime and others in a similar age-bracket (27 and under) will be wondering similar.
Tsitsipas didn't shy away from declaring himself a Major champion-in-waiting after winning the ATP Finals four years ago, and he's now a two-time runner-up.
---
Accepting his faults, something Rune must do too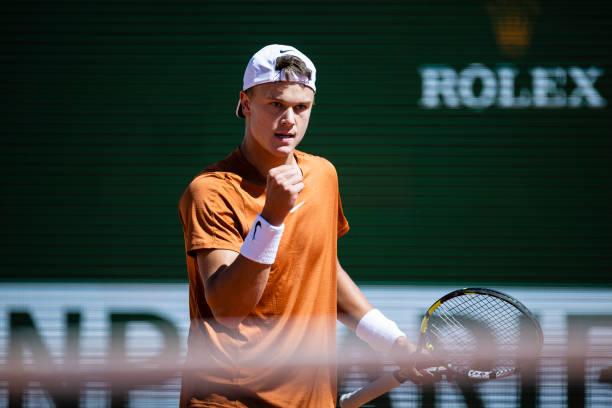 Rublev's candour was clear to see in Melbourne, acknowledging in press conferences that mental fragility has let him down – something the very best don't struggle with.
High-pressure situations aren't his forte, handling them remains dicey and the angry self-harm frenzy never feels far away when he's angry, but he's getting better.
He showed nerves of steel to outlast Rune in the last-16 three months ago, so it was perhaps fitting he did similar from a seemingly improbable position once more.
---
A reminder of what he said at the time, having recovered to save match points vs. Rune at the Australian Open…
"After being broken in the fourth, I was already thinking it was gonna be tough. He started to hit full power in the fifth, felt a lot of pressure and thought it's over. Thinking this way relieved me, playing focused and he got a bit tight – that's normal. I was thinking I will make it [saving match points], go to the tiebreak.
At 5-0 down… I thought it's over, I don't want a repeat of what happened against Marin Cilic at Roland Garros, so at least try to win more than two points. Was playing point-by-point… 9-7 and 9-8 I missed the drive forehand, played to him and he passed me.
Before, I was thinking about going to the semis or final [of Major tournaments] maybe… and nothing happened. At this level, it's all about [your] mental, they're better at the moment with this."
---
The two quote excerpts in bold are important for different reasons. A change in his mindset, feeling relieved by thinking he'd already lost, meant he could hit freely and without hesitation as the pressure shifted to the other side of the net.
It's an overused expression to describe momentum swings with compromising scorelines, but true nonetheless and was again apparent during Sunday's final.
Okay, how did he win Sunday's final?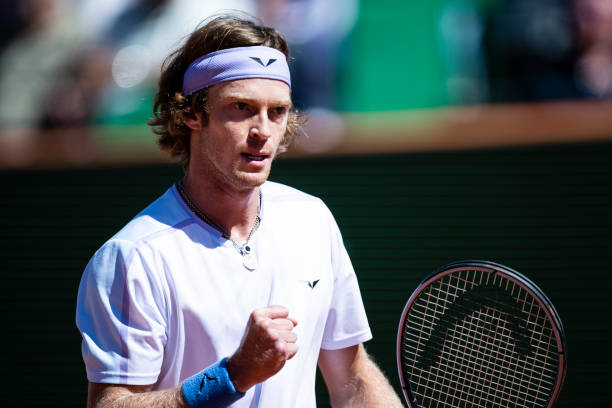 Rublev [5] bt. Rune [6] 5-7, 6-2, 7-5
His serving was off, particularly in the early going, but Rublev didn't play poorly and found himself 7-5 down inside an hour's play. Aided by a series of drop shots and booming forehands, Rune executed better during the bulk of their bigger points.
An inability to curb his high unforced error count (19 to Rublev's 12), prolonging games as a consequence, only served to hurt the Dane as time wore on.
After earning an early break in set two, Rublev cleaned up his unforced error count (11 winners, 4 UEs) and ran away with a 6-2 set to take them into a decider.
It would've been easy for him to capitulate, after he was 40-0 on serve and three deuces later, was 2-0 down.
He had a break point, down 3-1, after wrongfooting the teenager in a back-and-forth rally, only for him to virtually paint the baseline with a fiery forehand winner. An ace down the t saved a second and Rune secured an eight-minute hold.
4-1 up and with the finish line in sight, he called for the physio and visibly shook his muscles at the changeover – feeling the effects of a gruelling battle in the heat. After some salts were added to sports drinks, he continued but only won one more game.
Rublev served a 190km/h first serve and forced an error, just as Rune had a break point chance to serve for the championship.
The pressure flipped and Rune missed consecutive overheads at 5-5 before blasting two balls into the sky and sarcastically goaded the crowd to boo him more – willing them to cheer half-an-hour before. He was rattled, and Rublev didn't look back.
Rublev openly discussing his mental roadblocks, shows an awareness that negative thinking in the moment only works so far – he often takes it beyond that threshold.
Rune has been guilty of similar in a much shorter pro career, with many suggesting he's growing a bad boy reputation as immaturity hinders his game when the pressure intensifies. He has ample time to mature: his 20th birthday is next weekend.
He'd do well to take heed from Rublev's journey and experiences as there's always a younger, more exciting contender emerging from somewhere. France's Luca Van Assche and China's Juncheng Shang – both 18 – are just two examples.
Picture source: Getty Images unless stated