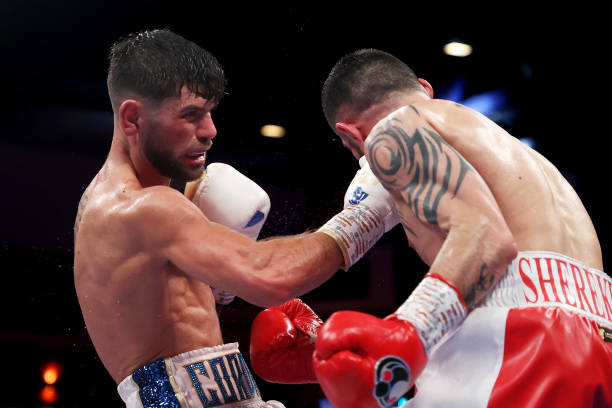 Joe Cordina absorbed some big bombs and scored a sweet second-round knockdown of his own, en route to becoming a two-time world champion at super-featherweight, after navigating through danger before ultimately outpointing a relentless Shavkat Rakhimov showing via split decision (115-112, 114-113, 111-116) in-front of a boisterous Cardiff International Arena crowd.

Cordina reclaims IBF title in tense thriller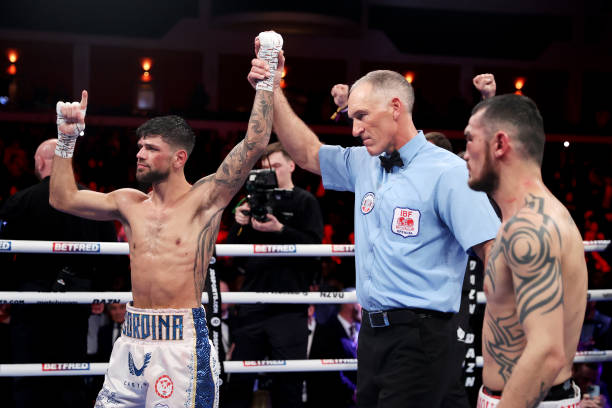 111-116, 115-112, 114-113: Cordina bt. Rakhimov via split decision
Joe Cordina stated, matter-of-fact, nothing would be able to top the emotional high of his first world title win against Kenichi Ogawa last June. This was mightily close.
He and head trainer Tony Sims knew the size of the task ahead, against a bullish champion who was again fighting on enemy turf but didn't seem to mind.
That, coupled with a raucous backdrop and booming atmosphere inside Cardiff International Arena, set the wheels in motion for a Fight of the Year contender between two unbeaten boxers who both could've conceivably emerged victorious.
Rakhimov targeted the body early, while Cordina's footwork allowed him to flow effortlessly off the ropes – he landed an uppercut and swivelled away to safety, though Rakhimov threatened after landing a two-punch flurry to finish R1 strong.
In the second, Cordina was under pressure immediately as Rakhimov looked to wear on him but the challenger gave as good as he got, before referee Steve Gray called a brief timeout to sternly caution the Tajikistani for leading forward with his head.
Much to the crowd's discontent, it wouldn't be the last time either.
Cordina responded with a punch-perfect left he didn't see coming, scoring a knockdown before Rakhimov narrowly recovered and finished the round foreshadowing the war that was coming: unleashing short sharp punches of his own.
Rakhimov started the third better and forced Cordina to briefly take a backwards step after connecting clean on the Welshman's chin, all-too-willing to engage and being stung as a result. When he held his feet and let his hands go, Shavkat's success grew.
Cordina though, was boxing beautifully and countered him at will with single shots to snap the 28-year-old's head back.
Into the fourth they went, ringside commentators convinced it wouldn't last muich longer if they persisted at such a high pace, yet on Rakhimov pressed anyway.
Cordina caught him clean with a few counters, but the champion was more busy and stole the fourth after an effective final half-minute.
If he stole the fourth, Rakhimov snatched the fifth with the two biggest punches: a straight left, and a lethal right that wobbled the home hopeful. He had to weather the storm, absorbing multiple body punches, as Rakhimov stalked his prey ominously.
Cordina fired the cheer-inducing shots once more early in the sixth, but Rakhimov responded in kind with more body punches to diversify his attacks.
The crowd were flickering between subdued and incredulous as their man traded, aware of the danger that was lingering around the corner.
Rakhimov's left eye had been closing for a few rounds and by the seventh, Cordina continued to time him perfectly with one-twos and counters – compromised eyesight didn't deter the champion, who somehow stayed upright and fired back.
The eighth was more of the same, both having periods of success but feeling the pace too, as they neared the championship rounds and neither was willing to concede control, during a back-and-forth contest that swung one way, then the next.
Rakhimov, virtually one eyed at this stage, was doing his best to bob and weave away from shots in the ninth but couldn't defend Cordina's combos quickly enough.
A left-right sequence wobbled him forward, yet forward he came once again and dug to the body as there was no question who was outworking the other at this stage.
The tenth was busy: Cordina cautioned for dirty boxing in the clinch, then pushing Rakhimov off him – typifying his pressure – as the champion continued his war of attrition, catching him against the ropes and snapping the challenger's head back.
Cordina continued to score with his single shots in R11, as their frenetic pace didn't show any signs of slowing down.
Both must've known it was fairly close and it was about optics: who had the last punch in a combo, who would exhibit the more positive body language?
Rakhimov was unhappy with Cordina encouraging the crowd's support late in the final round, but why risk danger in the final seconds of a round you were winning?
It proved narrowly enough for him on an evening where he answered some much-needed questions and will be dreaming of unification fights before much longer now.
---
Rest of main card
Seven fights as a pro, Ryan realises her world title dream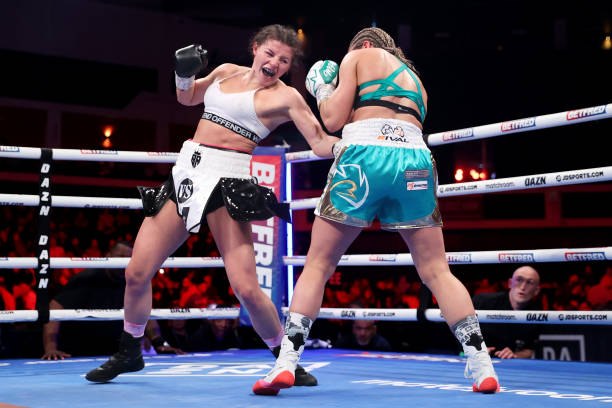 99-91, 98-92, 97-93: Sandy Ryan bt. Marie Pier Houle via UD
29-year-old Brit wins vacant WBO world welterweight title
Seven fights into her professional career, Sandy Ryan has claimed a world title and did so with a clever showing over ten rounds against a gamely Canadian in Houle.
Round one was predictably a cagey affair, both trying to assert themselves in the clinch and as the busier boxer with mixed success.
Houle led behind her jab in R2 and it worked well, landing the most noteworthy punches while pressing the Derbyshire challenger against the ropes too.
Ryan landed some good combos in the third, while Houle responded by coming out intently with pace and sharp single shots in the subsequent round.
Landing clean with a big left hand only served to snap Ryan into activity, as she responded by connecting on an unanswered punch combo – rocking the Canadian against the ropes – stealing that round with the stanza's best sequence.
R5 was again back-and-forth, Houle's work more subtle by contrast but her bloodied nose certainly wasn't, as Ryan asserted her physicality in the clinch and that became even more obvious in the latter stages of round six whenever both were up close.
Ryan was caught flush yet took advantage of the referee's passivity by continuing to push Houle against the ropes and work her way to another round on the scorecards.
Houle seemed hurt by a body shot late in the seventh, but much like Ryan, returned fire trying to mask her pain as both landed hooks with bad intentions.
The eighth was better from the 32-year-old, though she was still susceptible to absorbing combos immediately after connecting on some of her own.
During periods of the final two rounds, it was clear she was fighting a losing battle and Ryan had too much for her. Given everything she's been through, it was a triumphant moment for the decorated amateur in the evening's co-main event.
---
Gwynne settles the score with Woodruff in style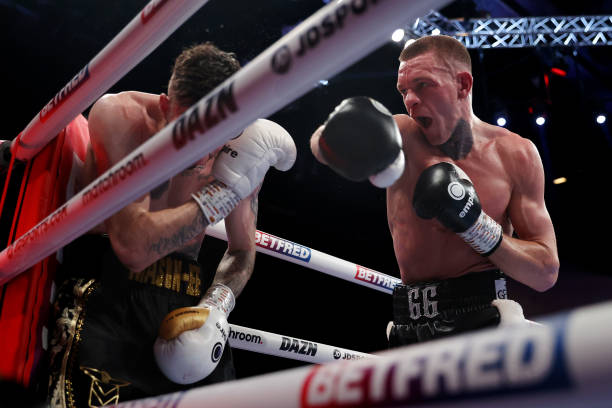 In a rematch for domestic honours at 135lbs, Gavin Gwynne and Craig Woodruff combined to create nonstop carnage in the pocket as they went back-and-forth – it was quickly clear this wouldn't last the full ten round distance a second time around.
The referee looked like he was close to stopping it in the final half-minute of the fourth, such was the ferocity and relentlessness of Gwynne's attack as Woodruff absorbed bombs with his back against the ropes.
Then, Woodruff would fire off a four-punch flurry just in time and the crowd would swell in anticipation as the sequence restarted.
Soon enough, the referee mercifully stopped it midway through the fifth as Gwynne unloaded another frenzy of punches and Woodruff provided little in the way of resistance against the ropes – his corner were considering throwing in the towel too.
---
Barrett back to winning ways in competitive outing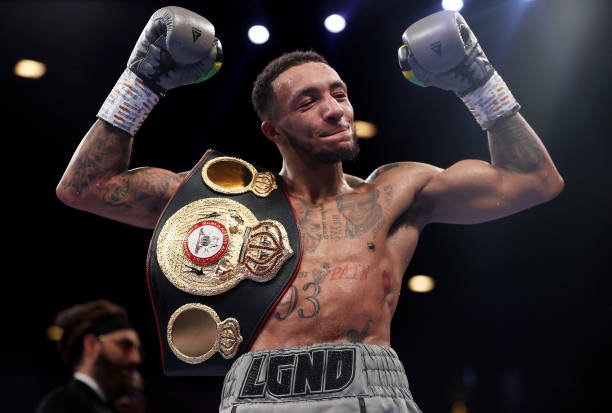 116-111, 118-110, 119-108: Zelfa Barrett bt. Jason Sanchez via UD
Crowned new WBA super-continental super-featherweight champion
In a battle of former world title challengers, Zelfa Barrett returned to winning ways but will have regrets he couldn't finish a durable opponent in Jason Sanchez after scoring a fifth-round knockdown and showcasing his vicious right hand punches.
Post-fight during a TV interview, promoter Eddie Hearn confirmed their plan is for him to face Cordina next. On the basis of this display, he'll have to do better.
Sanchez pushed an uncomfortable pace early, landing more often and pinning the Mancunian up against the ropes a few times too.
The forward pressure continued into R2, as Barrett winged shots in response and snapped the American's head back with an uppercut and right hand.
However, persistent uppercuts and body shots worked well as a tactic for the 28-year-old through six minutes.
Sanchez was rocked by a beautifully-timed uppercut early in the third, with Barrett repeatedly looking to take his head off as he threw right hands aplenty.
Whether short or whipped with power and speed, the success made him too comfortable as would eventually grow after absorbing his best punch.
That came in the fifth, as an overhand right clipped him on the ear and a delayed knockdown soon arrived – though he was unable to finish a 10-8 round decisively.
After being more competitive in the sixth, Sanchez upped his aggression and returned to his body barrage in round seven. Barrett almost knocked him down with the same overhand right punch again, which typified what this fight was becoming.
With cousin Lyndon Arthur up off his seat every time he landed a big shot, would he be the first to stop the 16-3 pro? No, and that reinvigorated his fearless opponent.
Sanchez fared much better in rounds eight through ten, unloading flurries and landing clean shots – some Barrett couldn't hide his frustration at – pressing the action and wobbling the favourite with a sneaky right hand at the bell to finish R10.
They were competitive stanzas that could've gone either way, though Barrett looked to be labouring and can't afford to do so against better opposition. After all, he did so against Rakhimov and was duly punished last November.
Nonetheless, he fared better in the eleventh and landed a number of three-punch combos on the back foot. The stick-and-move tactic worked well enough in R12, though it proved an anticlimactic end to a competitive clash.
Don't be fooled by the wide scorecards, this was closer than it seemed especially after a fiery first 15 minutes from Barrett.
---
Thompson too powerful for Watkins to endure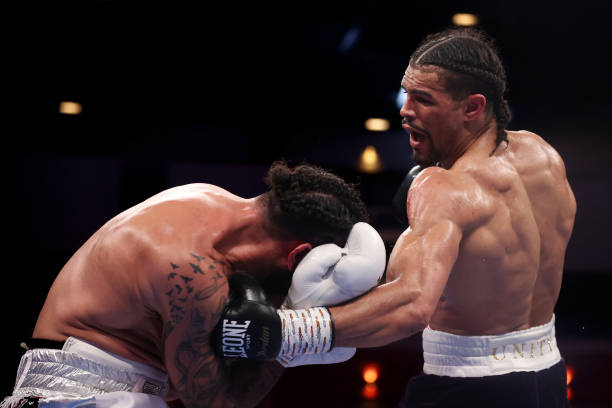 Jordan Thompson had to work hard, but retained his IBF European cruiserweight title with a sixth-round TKO win against seasoned challenger Luke Watkins.
Having only been beaten by reigning world champion Lawrence Okolie and former British titlist Isaac Chamberlain, the 33-year-old gave as good as he got after Thompson utilised his physical advantages to good effect in round one.
Watkins began timing him when Thompson led with his head in the second, then had an encouraging sequence where he landed a clean punch flurry as they were probably level at a round apiece through six minutes.
Thompson's stiff jab was landing, but Watkins landed two sets of punch combos that excited his section of supporters briefly during a nip-and-tuck round in the third.
Both had success, though the champion was more forceful and measured with his attacks, targeting the body and returning to his powerful jab that he flicked at range.
That said, he was leaving his head open too long, not moving enough laterally and paid the price by absorbing some unnecessary damage as Watkins' confidence grew.
More active and accurate, Watkins won the fifth round but Thompson again showcased his punch power in the sixth – scoring two knockdowns – digging to the body and throwing a flurry of uppercuts as Watkins collapsed against the ropes.
---
Undercard results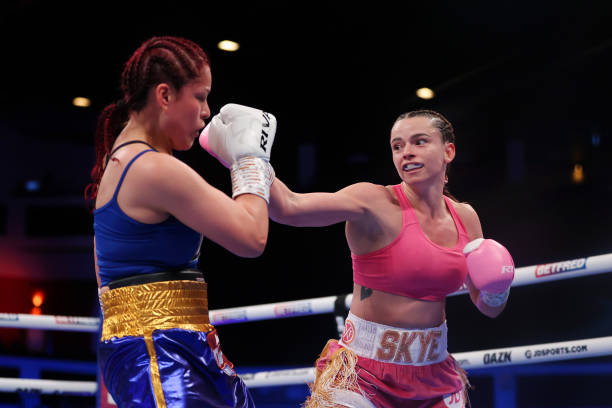 In the final prelim at women's featherweight, Skye Nicolson (7-0) stayed perfect as a pro and cruised to a 80-72 decision win against Linda Laura Lecca, who played possum and didn't offer much in the way of attacks for the Australian to worry about.
You saw the 27-year-old get increasingly frustrated by that demonstrative behaviour and soon enough, she began sitting on her punches in rounds five through seven.
Having threatened a finish up against the ropes at the end of the penultimate round, she settled for a comfy points win against a foe frustratingly unwilling to engage.
In her post-fight TV interview, she spoke of a readiness for the big fights at 126lbs and wants her next fight to be at championship level – excited as bigger challenges and more jeopardy is in her future against competition who'll truly test her credentials.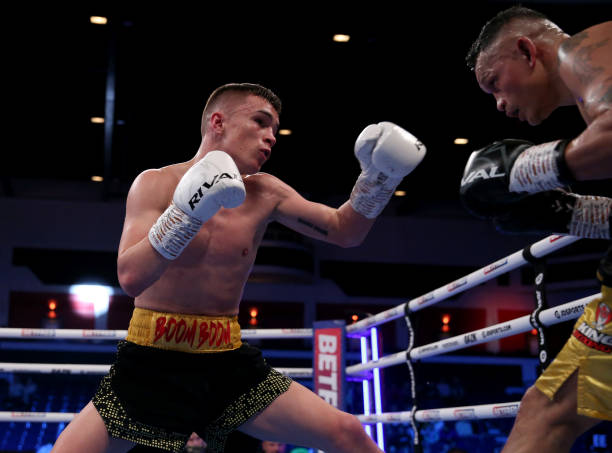 Swansea's super-featherweight prospect Brandon Scott improved to 5-0 with a four-round decision win (40-36) over 100-fight pro Reynaldo Cajina.
A series of unanswered punches out of the blocks got the crowd stirring from Scott, who needed to do a better job cutting off the ring and chaining his attacks together – despite sustained body work and flashy flurries in the first round.
There was more of the same in the second, with less output by the veteran and more lateral movement as he looked to avoid Scott's fast punch combinations.
Stay on the jab was the cry from the Cardiff crowd for their man in the third, as Cajina landed some sneaky shots in the pocket and offered more resistance but was visibly tiring with time ticking by. Would he be punished for that fatigue? Not quite.
The Nicaraguan complained that a body shot was low deep into the fourth, but the referee waved them on and Scott should've stepped on the pedal to finish him.
Instead, he let him off the hook and the encounter fizzled out after a promising start.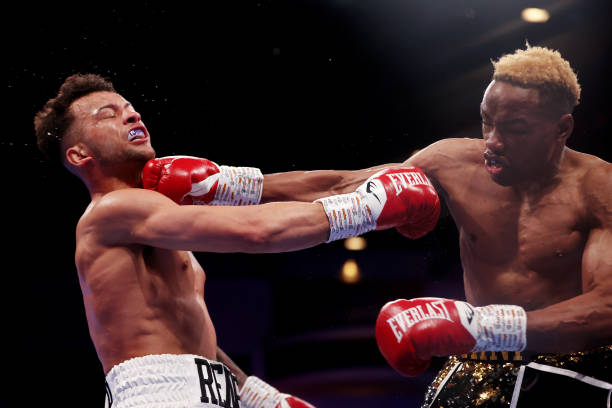 After a draw over six rounds against Jose Manuel Perez on his first appearance of 2023, Newport's Nathan Howells had a four-round assignment against Jahfieus Faure in another super-featherweight clash but dubiously won 40-36.
Faure started fast and landed the better shots through six minutes, repeatedly stinging Howells – reactive and slow to defend himself when they boxed up close.
Howells had a better third, but was guilty of smothering his work and frequently engaging in the clinch, where he didn't connect often enough to make it matter.
The fourth was more encouraging from the 28-year-old, boxing and moving enough to land a series of single shots while flirting with danger upon occasion too.
With all of that in mind, a draw – at best – should've been given. Instead though, 37-year-old southpaw Faure has suffered his 13th loss as Howells stays unbeaten.
Wales' own Sammy Lee would've liked an emphatic finish for the first TKO win over his professional career (2-0), but had to settle for a corner retirement as Juris Zundovskis withdrew with an injured hand after R1 of their light-heavyweight clash.
In the evening's first contest, heavyweight Miles Gordon-Darby improved to 4-0 and ended a 17-month layoff with a points win (39-37) against 48-fight pro Phil Williams.
Picture source: Getty Images