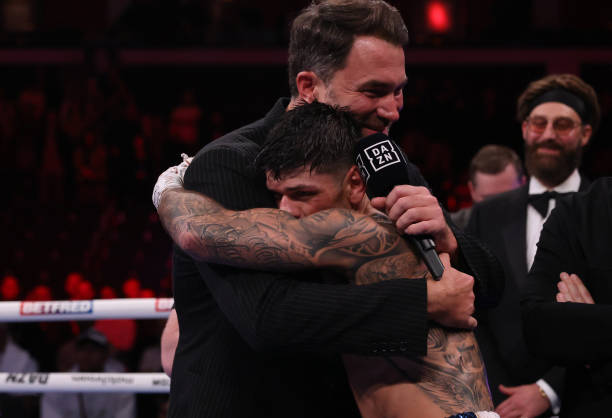 Saturday proved a night to savour in Cardiff, as Joe Cordina regained the IBF world super-featherweight title he never lost in the ring – after emerging stronger from a pulsating 12-round war with unbeaten champion Shavkat Rakhimov. Read on as his promoter, Eddie Hearn, told me plenty afterwards.
Hearn: Cordina-Barrett is an option for September return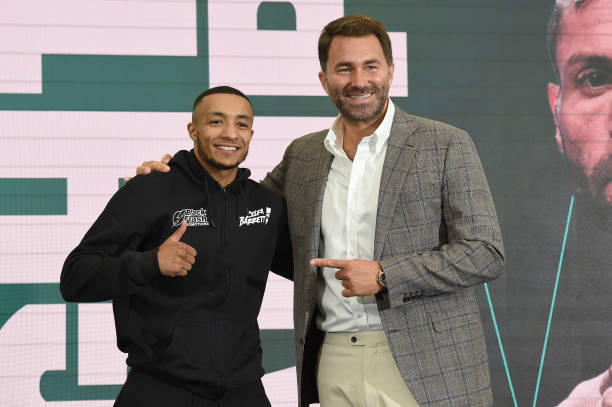 When asked which unification fight is easiest to make for Cordina and most wanted, Eddie Hearn talks about the prestige behind the WBC belt currently held by 29-year-old American O'Shaquie Foster (20-2, 11 KOs)
He also says, whether Cordina-Barrett is made or not later this year, he'd like to get the Mancunian another world title shot after narrowly falling short against Rakhimov for the then-vacant belt on November 5
A pair of right-hand injuries in the last three years has sidelined Cordina and he wants to make up for lost time – September was the month targeted for his in-ring return, presumably another venue in Wales
Shakur Stevenson was the catalyst, in more ways than one. Being stripped of his unified super-featherweight titles set the wheels in motion before a lightweight move, and now three new titleholders have been crowned in the last three months.
World champions at 130lbs
WBA: Hector Garcia
WBC: O'Shaquie Foster
IBF: Joe Cordina
WBO: Emanuel Navarrete
Cordina's the latest in that list, an unbeaten two-time champion, and naturally wants to set his family and future generations up financially by headlining bigger nights than what proved a momentous occasion at home in Cardiff overnight.
Barrett would figure as a convenient, voluntary title defence before moving onto bigger things. While he wouldn't have watched with much focus ahead of his own matchup, Zelfa's decision win over Jason Sanchez was solid if unspectacular.
---
Sunny Edwards on Barrett's display and a possible Cordina showdown
"I thought it was a mature, disciplined performance, didn't get carried away and fought on his advantages. He hurt him, won clear and big props to Sanchez – a tough competitor.
That fight will bring different styles out of both, where Joe stepped back [against Rakhimov], Zelfa will [be more inclined to fight that way], Joe would be more willing to engage, who knows until it happens.
It should be next, Wales or Manchester, a good opportunity for Cordina to sell out at the Manchester Arena and is the logical next step forward unless he can get a unification fight, which obviously bypasses that."
---
The 29-year-old features in the top-15 rankings with two of the four sanctioning bodies (IBF #8, WBA #15) and although it wasn't advertised as such, won the WBA super-continental strap against a fellow world title challenger this past weekend.
On his performance and where he goes next, Hearn said:
"I thought it was a brilliant, world-class performance against a tough opponent who was too tough for his own good.
I'd like to see, if Joe has a voluntary [defence], it should be Zelfa. Joe will fight in September, that would be a good fight [to make this year]."
---
Wardley-Clarke, Beterbiev-Smith and Sunny Edwards' return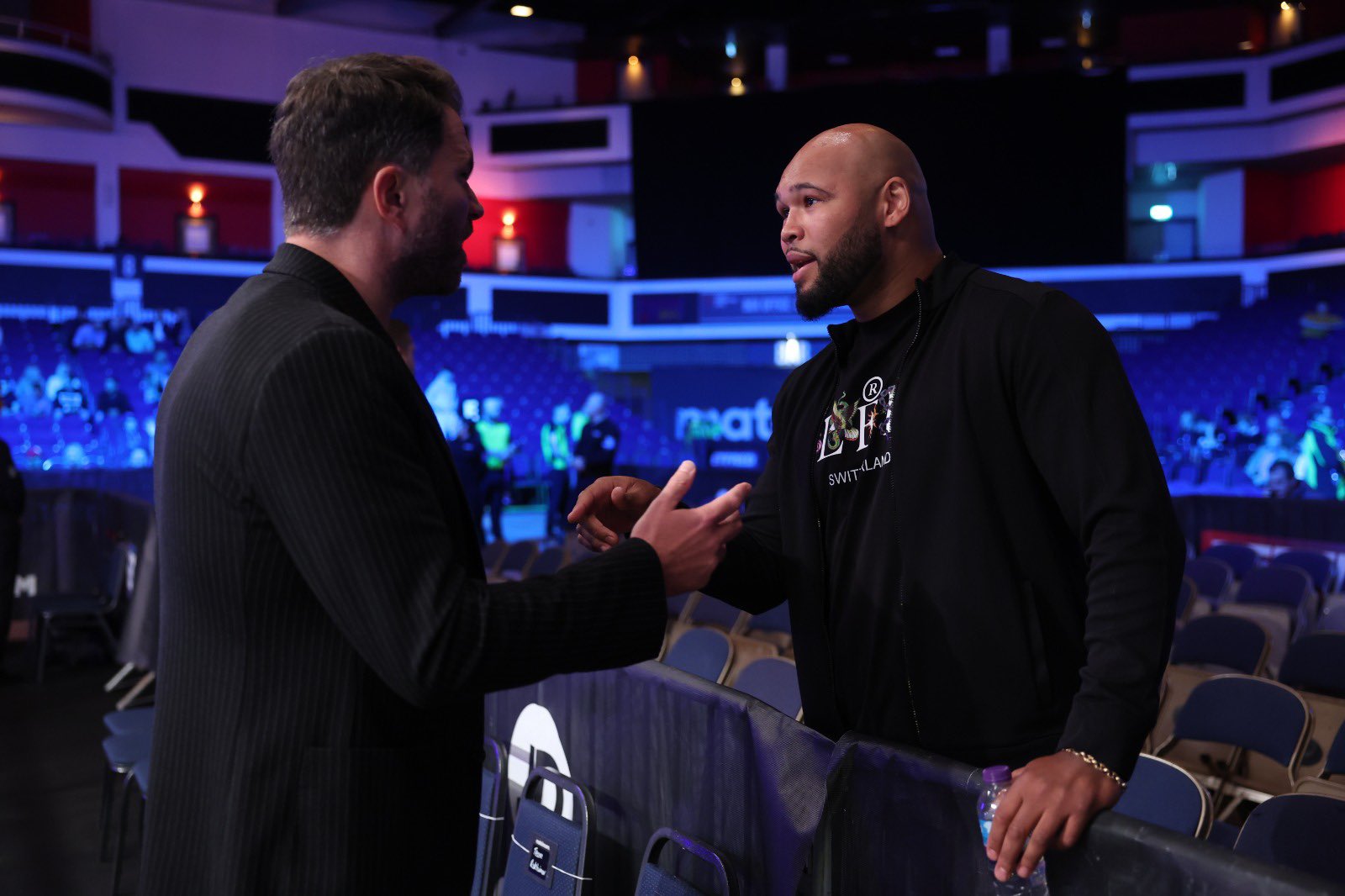 "Frazer is a really good heavyweight, almost a 50-50, but I pick Fabio to win. You have to do your best for the network, if they [BOXXER] don't feel comfortable rolling the dice, they won't take it… we'll see," Hearn cites politics as stumbling block stopping promoters working together more
"We'd like to take it to Liverpool around the end of July, Top Rank want to stage it somewhere else but hopefully we can agree a deal," on negotiations for unified LHW champion Artur Beterbiev vs. Callum Smith

"We've been looking at Josh Warrington [to return for that date], but Sunny Edwards might headline… we'll announce early next week," promoter confirms an update will come before London's June 10 event
Elsewhere, there was plenty to discuss as far as future fights are concerned.
British heavyweight champion Fabio Wardley vs. Frazer Clarke has been ordered and will go to purse bids (May 10), to be contested before the end of September.
Wardley has been promoted by Eddie Hearn and Matchroom since late 2018, while BOXXER won the race to sign Olympic bronze medallist Frazer Clarke to a multi-fight deal after the 31-year-old turned pro at the end of 2021.
Through no fault of his own, the opposition matchmaking has been weak for an ambitious boxer with his amateur credentials and Bogdan Dinu didn't change that trend when stepping up on short-notice in March. This is a considerable step-up.
Clarke was scheduled to box at York Hall on June 10 against an opponent TBC, and it's unclear what will happen now. Considering how little there is cross-promotion between the UK's big players, it's safe to say this has been a point of contention.
On why he believes Wardley beats Clarke, and why there isn't much compromise for bigger fights like these between promoters, Hearn said:
"I think Frazer is a really good heavyweight, inexperienced as a pro but has a lot of amateur pedigree. I like Fabio's momentum, sharpness, hand speed, mindset and confidence. You've seen his team aren't sure whether it's the right time for that fight, Frazer's very good and it's a good domestic fight.
Didn't he [Shalom] say the other week he wanted to work with everyone, that promoters need to come together… and now he's saying if he loses a purse bid he'll stop Clarke fighting on DAZN? It's mental.
If we lose it, I've got no problem with Fabio fighting over there. Like I told him today, congratulations [in that case], as they'll both make a fortune.
It's all about politics, you have to do your best for the network. They've invested a lot of money on Clarke, if they don't feel comfortable rolling the dice, they won't take it – they have easier fights and can build him on Sky." 
Artur Beterbiev defended his unified light-heavyweight titles with an eighth-round stoppage win over Anthony Yarde in late January, and there's a desire from Hearn to keep the Russian-born Canadian resident in the UK for his next defence.
Smith was set to face Poland's Pawel Stepien on March 11, but sustained an undisclosed injury in the final week of training camp and didn't want to take any risks. As mentioned above, late July is the target for that proposed matchup.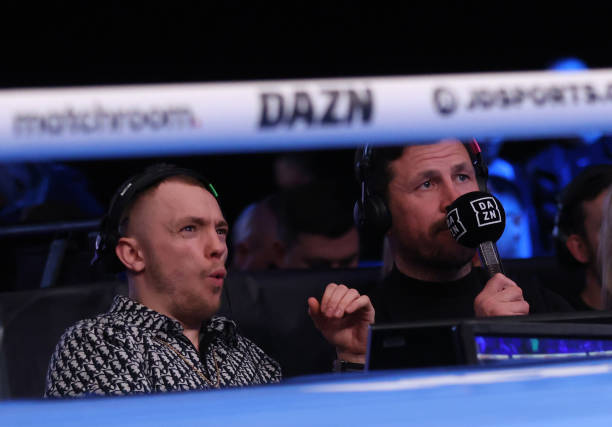 IBF world flyweight champion Sunny Edwards has defended his world title three times since dethroning two-time titlist Moruti Mthalane at York Hall in April 2021, but been left underwhelmed by the lack of big fights coming his way.
Aligning himself with Eddie Hearn, unveiled as one of three new signings alongside Jack Catterall and Shannon Ryan last month, he hopes to change that.
San Antonio's rising star Jesse 'Bam' Rodriguez became a two-weight world champion after clinching the vacant WBO strap earlier this month, but sustained a broken jaw in his UD12 win (118-110, 117-111, 116-112) over Cristian Gonzalez.
The 23-year-old is under Hearn's banner Stateside, and while a unification between the pair was mooted, it won't happen until year's end at the earliest now.
Edwards hasn't fought since November, so a stay-busy opponent in another title defence is expected sometime this summer. June-July was the timeline he gave personally, and Hearn has since hinted he'll potentially return on June 10.
Picture source: Getty Images, all quotes mentioned procured by me