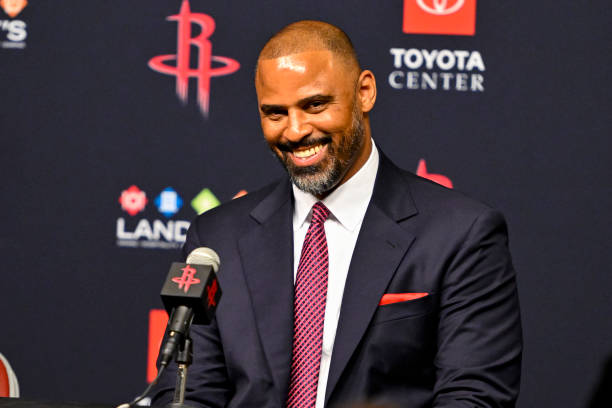 Houston have longed for a leader with championship credentials and after the news broke they were hiring Ime Udoka earlier tonight, it's a timely update for fans to get excited about – someone to build around for multiple years to come.
Nets & Raptors linked to Udoka, but a few factors sealed deal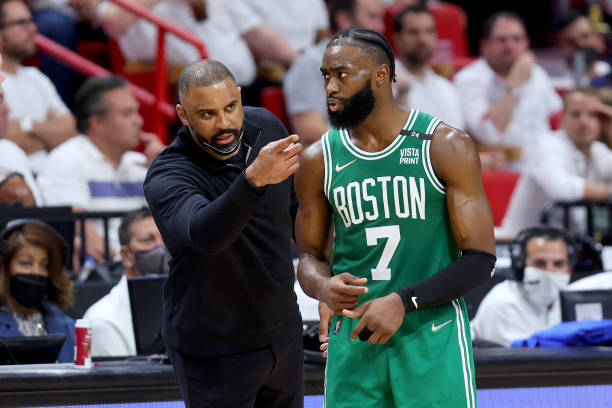 Udoka was a frontrunning candidate from the start of Houston's search, after it was confirmed they wouldn't pick up Stephen Silas' option to remain at the helm for another season following disappointing campaign
A young roster, salary flexibility and 14% chance to land French teenage phenom Victor Wembanyama in this summer's draft with the No. 1 pick were key motivators for the 45-year-old to accept terms per ESPN
Houston interviewed many prominent coaches in the process, including Frank Vogel (Lakers), James Borrego (Hornets) and Kenny Atkinson (Nets), and assistant trio Sam Cassell (76ers), Kevin Young (Suns) and Adrian Griffin (Raptors), the latter looking to succeed Nick Nurse
Victor Wembanyama officially declared for the 2023 NBA draft on Friday, and three days later one of the four teams with the highest chance of selecting him in June announced a coup of their own: agreeing terms to a multi-year deal with Ime Udoka.
---
Wembanyama is enjoying a historic season in France, averaging 21.5 points, 9.9 rebounds, 3.1 blocks and 2.3 assists per game while leading the French league in multiple statistical categories and an overwhelming MVP favourite. They're sat second (19-10) and could set up a deep playoff run extending beyond draft day on June 22.
---
The 45-year-old, who led the Boston Celtics to the NBA Finals as a rookie head coach last season, served a season-long suspension after news of an inappropriate relationship with a female subordinate broke in September.
Alongside Detroit, San Antonio, and Charlotte (27-55), Houston have a 14% chance at landing the #1 draft pick when the league's lottery is completed in three weeks' time.
As mentioned in one of the bullet points above, that was a factor in Udoka's decision-making before joining a franchise very much in rebuild mode. Speculation over the past few weeks suggests that won't be the case much longer.
While Stephen Silas was described as an understanding, supporting teacher-like coach who instilled confidence in young players and helped their development, Houston wanted his successor to have a fierier style – more critical when necessary.
The rebuild is no more. They want to start winning and have a perfect fit for that approach, as evidenced by Udoka's introduction as Rockets coach on Wednesday.
"Just trying to expedite the process of becoming professionals. One of my first messages will be youth is not an excuse.
Across the board, whether it's making the same mistakes, not making the right defensive assignments or shot selection, all that stuff has to be addressed but also improved on.
I had to change some habits there [in Boston] as well, those guys were more of a veteran group who had been around. It's no different from anywhere else, I'm looking forward to doing that here."
Their pursuit of a James Harden reunion isn't as far-fetched as it might've seemed 12 months ago, with multiple sources confirming the future Hall of Famer's openness to return to a franchise he made his own over eight years despite ending sourly.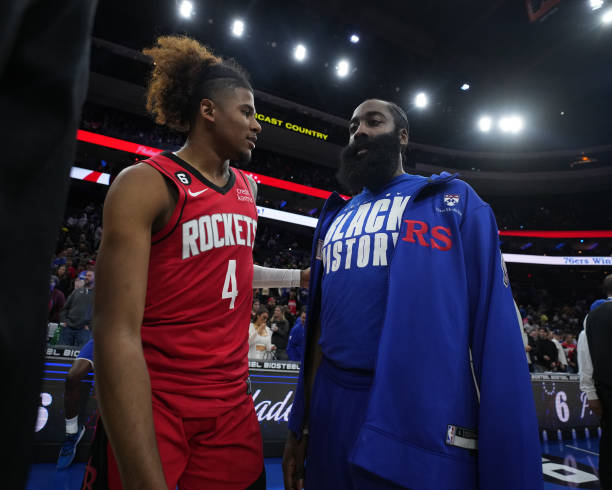 He might be the wrong side of 30, but others like his former teammate Chris Paul have shown how to transform their game and remain an important asset as they age – something he can do seamlessly given an underrated playmaking ability.
He led the league in assists per game (10.7) in 58 regular season contests this past campaign, and while a small sample size, is tracking for a new career-high (8.8) in postseason play after Philadelphia swept Brooklyn in the first-round this past week.
If he does re-sign and stay in Philadelphia, there are multiple free agents they can still entice to play under Udoka this coming offseason.
Rockets GM Rafael Stone confirmed they'll be aggressive if they find guys who fit where they want to go as a franchise, with a desire to fill their roster with veterans – matchwinning figures at that to help mentor their younger core.
---
The 23 and under club
19-year-old PF Jabari Smith Jr: averaged 12.8 points, 7.2 rebounds and 1.3 assists in rookie season
Alperen Sengun: Turkish second-year center posted 14.8 pts, 9 rebs, 3.9 ast and 55.3 FG% in 75 games
Jalen Green: 21-year-old SG – #2 draft pick in 2021 – averaged 22.1 pts, 3.7 ast and rebs in 76 contests
Kevin Porter Jr: PG had career-highs in points (19.2), rebounds (5.3), steals (1.4) alongside 5.7 ast in 59 games
Kenyon Martin Jr: Third-year SF averaged highs in pts (12.7), rebs (5.5), ast (1.5) and FG% (56.9), played all 82 but started 49
Josh Christopher, Usman Garuba, Tari Eason (all 21) among those too
---
They have a projected $59m in cap space and naturally have big names on their board, with a point guard, rim-protecting big and two-way help on the wing the biggest current needs per The Athletic's Kelly Iko earlier this month.
Cam Johnson (Suns), Jerami Grant (Blazers), Dillon Brooks (Grizzlies), Kristaps Porzingis (Wizards), Fred VanVleet and Gary Trent Jr (both Raptors), Brook Lopez (Bucks) were all mentioned – with many more they're probably monitoring.
As do multiple franchises who find themselves in similar circumstances, like many of the 13 other teams who didn't qualify for postseason play this campaign.
Udoka helped spearhead a Celtics side who were the league's best in defensive efficiency and top-10 in attack, while Houston by contrast finished bottom five across both categories (27 OFF, 29 DEF) this past term. How will they build on this coup?
Picture source: Getty Images, quotes via Houston Chronicle