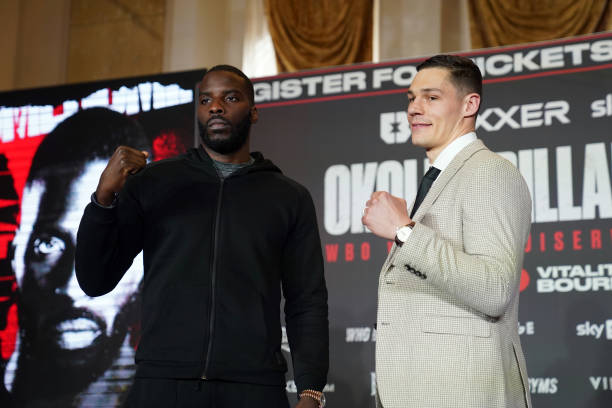 Bournemouth have won three straight away games to boost their chances of Premier League survival, and in a month's time today their fans hope one of their own can make it a summer to savour when Chris Billam-Smith challenges for his first world title at the Vitality Stadium. I spoke to him about that, and much more, as WBO cruiserweight champion Lawrence Okolie awaits him next.
Billam-Smith gets stadium wish, Okolie welcomes challenge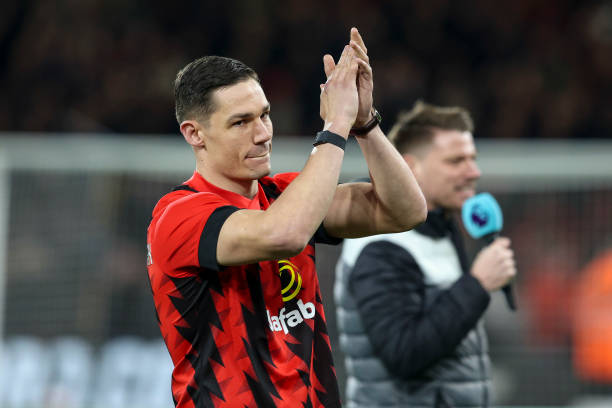 He apologises for another delay, again, though I reassure him there's no need.
Chris Billam-Smith is merely weeks away from the biggest fight of his career, a maiden world title opportunity at Bournemouth's Vitality Stadium, against a friendly face and former gym mate in WBO champion Lawrence Okolie.
Yet as he takes ten minutes out of his busy schedule for this interview, there's something far more pressing to deal with. His 11-month old son, Frank, had some jabs and vaccinations to complete in the capital.
Along with Chris' wife Mia, they're spending the night at the 32-year-old's London training base, and today is dad's turn to get him ready for bed. From listening to his voice as he describes the process, it's clear this is anything but a chore.
"They're not usually up with me, but rather than go up and back [to Bournemouth] in one day, they can stay for one night where I've got training tomorrow. I'll be up in London during the week, spend weekends at home, but staying in a hotel because he doesn't sleep all the way through every night and I can't take the risk! I need to get my rest so, doing all I can to get my recovery in.
That will be difficult [spending extended time away], but I spend all the time at home on weekends with him, going to bed at a reasonable time, put him to bed, shoot off to the hotel shortly afterwards."
It's the side fans don't get to see, and as he touches upon later, this daily bedtime routine is one of the many things that have seen him gain a different perspective on life and how that's changed for him – inside and outside the ring – over the past year.
---
My other recent boxing coverage to read:
Cordina beats Rakhimov in Fight of the Year contender — Eddie Hearn confirms plan moving forward
Exclusive: Anthony Yarde interview – Plotting his way back into contention
Zhang stuns Joyce with R6 TKO, crowned new WBO interim heavyweight champion
Chantelle Cameron gets legacy-building wish on May 20 vs. Katie Taylor
---
When we last spoke in February at the Adam Azim media workout, I asked Chris to assess the cruiserweight world champions and if he'd potentially fight Okolie.
To that question, he was clear. "We're stablemates and friends, never say never but I can't see that fight happening," instead floating IBF champion Jai Opetaia and a Richard Riakporhe rematch as bouts he'd ideally like to make next.
"It's got to be a big fight next, can't just be – no disrespect – someone like my last opponent [Armend Xhoxhaj] who nobody really knew, I want a big fight and to keep pushing on."
Having blasted past Xhoxhaj with a fifth-round highlight reel knockout at a bouncing BIC on December 17, it felt like the final exclamation mark in setting up an exciting 2023 for British cruiserweight boxing. If you don't ask, you don't get.
But how did things come about so quickly between himself and Okolie, who up until a few months back shared a head trainer with him in Shane McGuigan?
"We were looking at Opetaia and [WBA champion Arsen] Goulamirian, they were becoming more difficult to get over for the stadium date, chucked the idea out to Boxxer the week before Okolie-Light, said why don't you ask him?
We thought he'd get rid of David Light in a few rounds then be happy to stay active, then he said *that* on Sky Sports, worked well for us."
Fair enough. Okolie will be the first to concede he produced an unflattering showing over 12 rounds against mandatory challenger Light, but activity is key for him after a disruptive 2022 and while injury-free, why not?
Chris would've known about the May 27 date a few weeks prior to Okolie negotiations, so when did he start ramping up his training schedule?
"I've been training all year and turning it up every couple of weeks with more intense sessions. It's been a different camp in the sense that I'm not half-fit from my previous fight, I had a good few weeks off after Xhoxhaj, then did three days a week punching, six or seven sessions a week for the first month [back].
Now we're doing 10-11 a week at a higher intensity, it's just managing them and making sure they're all based around the technical sessions – sparring or pad work – that's the most important bit at this stage of camp. It's all about focusing on fight night, getting the gameplan down, being technically sound as all the physical work has already been done, the engine has been built."
Chris' former opponent Isaac Chamberlain makes his return in the evening's co-main event and looks to snatch away Mikael Lawal's newly-won British title – ending his unbeaten 17-0 record too.
At the launch press conference earlier this month, I asked the south Londoner how he reflected on the whole experience nine months after losing a competitive, exhausting 12-round battle with Billam-Smith on the south Coast last July.
He enjoyed a three-month holiday to refresh and gradually get his mind back into things. As for Chris over an eventful 12 months which began with an R8 KO in his Tommy McCarthy rematch, his answer was much different.
"It's been a crazy year to be honest. Starting with that McCarthy fight, all been very positive for me, got that win then was out of the gym for six weeks when Frank was born. I had another four weeks out, then got the phone call for the Chamberlain fight – six weeks after that – an intense time, a lot of emotions as I had to go away from my family and son for the first time to train for that fight.
Then you have huge highs in that great fight, been riding that wave ever since really in terms of my career and personal life. I'm enjoying being a dad and spending time when I can, when I'm not training, with my wife and son.
Definitely having a child, becoming a father has given me a lot of perspective on life, zoning in on what is important and what to concentrate on."
His candour on a sensitive yet overlooked part of his life outside the ropes is refreshing to hear. Boxers often get bad publicity, and in turn generalisations are made, when it comes to how they behave in the public eye and their personal lives.
It's easy to forget when you're watching them trade leather up close that they're human too, even if some are wired differently in certain respects.
One day Chamberlain is viciously vowing to hurt Lawal as their rivalry bubbles quietly under the surface, the next he's all smiles with his beautifully curious 17-month-old toddler Zion at a media workout. Children indirectly teach humility.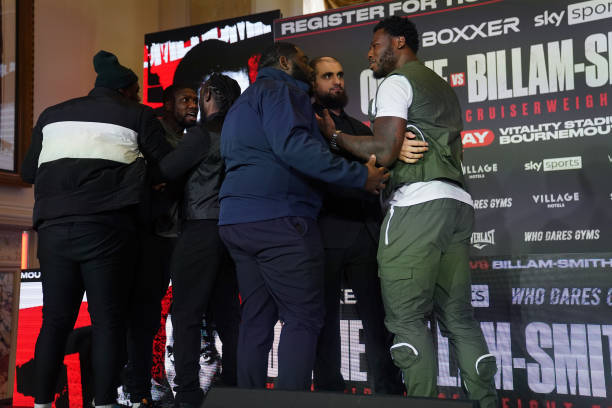 Speaking of Isaac, does Chris dare make a prediction for a fight between divisional contenders he knows both fairly well?
"Hmmm. I've shared the ring with both, Isaac was obviously competitive and I've done a lot of sparring rounds with Mikael, believe he's got a new coaching team now. I haven't sparred him in a long time and he would've improved since then, but having spent 12 rounds with Isaac, giving everything I had, I know how tough he is and just think he'll be a bit too clever and sharp for Lawal.
Y'know, Mikael can really whack. He's got a great punch on him, can punch with both hands, it's not just like a big right hand or anything like that – a good left hook as well – he's a heavy-handed guy, looked calmer and controlled in his last few fights but I fancy Isaac to win. They're both really good fighters though."
Interesting answer with a diplomatic finish.
Back to the task at hand as Okolie told me, and everyone within earshot, this fight means more than any before. Not only because it'll be Chris standing opposite him, but with Shane in the corner knowing his weaknesses both mentally and technically.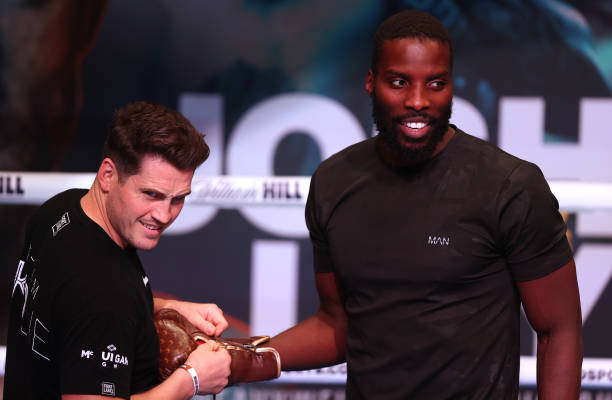 On other platforms, McGuigan has said Lawrence needs to be emotionally charged for occasions like this, that alarm bells are ringing in the camp.
New trainer SugarHill Steward wants to refine his fighting style ala Tyson Fury but can he afford to do so and will his charge implement those instructions, given Okolie's already 37 fights deep into a 12-year career from the amateur ranks to now?
Okolie's best performances are said to come in the gym, where there's no crowd or external pressures, while Billam-Smith rises to the occasion when there's an atmosphere behind him. So how does that whole dynamic impact this fight?
"Yeah, it's interesting and makes for a good story. Lawrence only just left the gym, one fight under a new trainer, two Brits fighting for one's world title. I think we're in a good position because we have four eyes, two good boxing brains that know him very well and can work that to our advantage.
Lawrence is a very tricky fighter – world champion for a reason – never looked close to getting beaten for a reason, always in control even if fights aren't entertaining, never looked like losing so it's a difficult fight for sure. He'll be a lot more improved than the Light win, definitely.
In other recent interviews promoting next month's fight, Chris has described Okolie's awkward style as a strength and weakness.
Some critics deemed the world champion overly cautious and hinted that perhaps he doesn't trust his chin, which would go some way to explaining why he boxes defensively despite such physical gifts, looking to mitigate risk.
---
As far as taking unnecessary punishment is concerned…
He's a much different fighter since then, but you travel back seven years and see how decorated Cuban amateur Erislandy Savon stopped Okolie after a rough first-round in the World Series of Boxing tournament:
---
As far as tactics are concerned, Okolie believes the only way Chris can be successful is if he baits him to engage from long range or gets up against his chest and makes it a firefight. Naturally, the challenger doesn't subscribe to that view.
"I think he's never really got hit, so why change a winning formula from his point of view? I've never seen him dropped or ever really hurt, he spent years in our gym, he may know something I don't, maybe there's a weakness there but that's for me to find out on fight night and try to unravel that. I can definitely beat him on points, got a high workrate and rack up a lot of rounds too.
My one loss [to Riakporhe, July 2019] was a split decision, I obviously win a lot of rounds and am up on the scorecards in stoppage victories so my style earns me rounds. I could beat him either way, don't think the only way is by knockout but that will be the plan – it always is."
---
Fight card, is as follows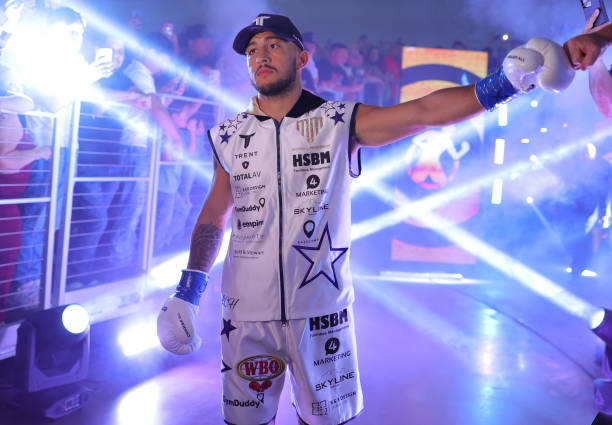 Running order TBC, more bout announcements and information in due course
WBO world cruiserweight championship: Lawrence Okolie (c) vs. Chris Billam-Smith
British cruiserweight championship: Mikael Lawal (c) vs. Isaac Chamberlain
Light-middleweight: Sam Eggington vs. Joe Pigford
English light-middleweight title eliminator: Lee Cutler vs. Stanley Stannard
Women's lightweight: Karriss Artingstall vs. Jade Taylor
Super-featherweight: Mace Ruegg vs. Dean Doge
Light-heavyweight: Lewis Edmondson vs. Vladimir Belujski
Heavyweight: Tommy Welch vs. TBA
Welterweight: Michael McKinson vs. TBA
Picture source: Getty Images